COVID-19: Converting Your Restaurant to a Takeaway Kitchen
June 5, 2020
4 min read
As the UK gets a little closer to the lifting of restrictions and a return to something that looks more familiar, if not completely 'normal', many hospitality business owners are looking at what reopening their restaurant, cafe, and pub could actually look like.
Whilst we all want to stay safe and protect staff and customers alike, opening up the dining rooms to socially distant customers and running at reduced capacity could potentially be more damaging than if they were to stay closed. Customers need to know that when they return, they will be safe to fully participate in the experience that restaurants, bars, pubs and cafes long to provide.
What Do We Know About the Transmission of COVID-19?
In March, Public Health England announced that it is 'very unlikely that you can catch coronavirus from food… it is not known to be transmitted by exposure to food or food packaging'. This is good news to caterers as it means food is not thought to be a vehicle of transmission. However, we do know that coronavirus is a respiratory illness that can be passed between humans, and that the virus can survive on contaminated surfaces for a period of three days.
With this in mind, increased cleaning and disinfection routines are essential throughout the customer journey to ensure their and staff's safety. Equally important is making sure all staff receive training in any new procedures you implement, and that they clearly understand what to do if they feel unwell.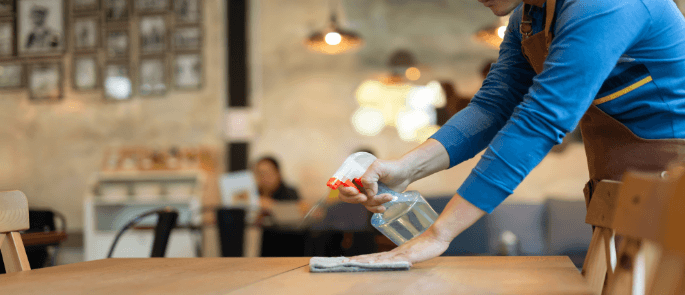 ---
Is Takeaway the Answer?
One such workaround to getting your business back up and running is to keep the dining room closed, but open up your kitchens for delivery and takeaway orders. This is something we've seen a huge upsurge of, as highstreet kitchens and independents alike move to meeting the demand for takeaways from their loyal customers.
We recently surveyed 2000 people who said they didn't see the nationwide lockdown as a reason to stop ordering takeaways, or even to stop eating restaurant food, albeit from within their homes. Furthermore, a quarter of respondents said they would like to see healthy options available to order. When asked what would encourage them to order from their local cafe, pub or restaurant now offering delivery, 42% said high food hygiene standards and the ability to pay online were the most important criteria, with contactless delivery coming in third at 28%.
Some businesses have decided that this offering could be the answer they need to stay afloat, or even to prosper. As is the case with Coqfighting, who committed to opening up a 'dark kitchen' every week until June. Not only is this approach allowing them to launch new products to an eager market, it is also keeping them and their teams busy. Other restaurants are using the departure from normal to be creative, get back to their roots or to try something new. For example, Noma, widely regarded as one of the best restaurants in the world, is reopening as a wine and burger bar. Similarly, Alinea in Chicago, holder of three Michelin stars, is running a constantly sold-out menu for customers to pick up and reheat at home. If the finest fine dining restaurants in the world can react and pivot to a new takeaway concept, anyone can.
If you do decide to run your business as a food takeaway or delivery service, there are some practical steps you can take to ensure the safety of your food, your staff and your customers.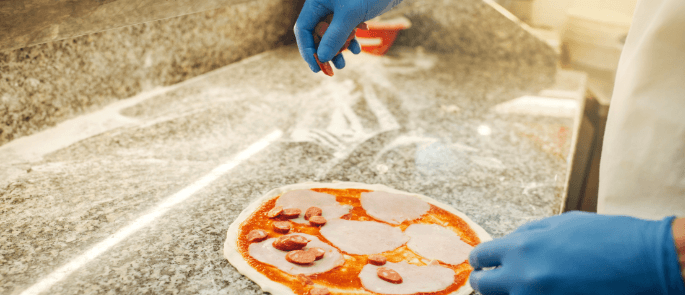 ---
Practical Advice for Converting to a Takeaway Kitchen
Here at High Speed Training, we've worked alongside our EHO specialists to create a new course to help our customers maintain the safety of their patrons and their staff during these times. 
The course discusses the practical steps you can take to ensure contactless customer interactions, contactless deliveries, and how to put in place social distancing measures for customers and staff. It will also give you guidance on making sure any changes to your operation are reflected in your food safety management system and in good food hygiene procedures. The course encourages you to further consider your procedures on such things as a reopening stock check, how to manage laundry, alcohol delivery and allergen communication.
In addition, there are several free downloadable posters that you can print and display in your setting which will help you communicate your procedures to staff and customers.
---
Giving your business a complete overhaul to be able to provide a takeaway or delivery service is not an easy task. Each business is unique in its operations, design, and in what it is offering, and so each one will face different challenges. We hope the guidance in our course will be a starting point for you to operate safely as a takeaway and delivery service. If you have any concerns the best places you can go for specific advice are your local council and EHOs.
To book or enquire about our courses, visit our website or call 0333 006 7000 to talk to our friendly sales advisors.
---
Further Resources: