COSHH Symbols Quiz
April 28, 2016
5 min read
Test Your Knowledge of COSHH Symbols
If you work with or around hazardous substances, you're likely familiar with hazard labels and the red and white pictograms found on them. These CLP (Classification, Labelling and Packaging) warning symbols must accompany substances and mixtures so to alert people to the presence and qualities of certain hazardous chemicals - but, do you know what they mean? If you work in an environment that handles hazardous chemicals, it's your duty under the COSHH regulations to ensure they are handled and stored safely, and these symbols will help you properly identify them. Take our quick quiz below to test your knowledge.
What does this pictogram represent?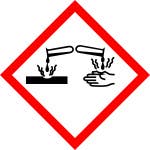 ---
Further Resources:
Subscribe for the latest Hub updates! Tell us what you're interested in hearing about:
We will always treat your personal details with the utmost care and we will never sell your details to other companies for marketing purposes.