Returning to Work After COVID-19: Guidance for Employees with Free Health & Safety Poster
July 3, 2020
6 min read
As the country moves out of an unprecedented period of lockdown, and businesses slowly reopen, your employer may ask you to return to work if you're unable to work from home. If you're asked to go in, there are some general dos and don'ts that you need to understand before you return.
This article will explain the key guidance you must follow, as well as provide you with further information on how to reduce the risks of COVID-19 transmission. It also includes a downloadable poster that you can display in your workplace to help remind you of how to work safely during COVID-19.
---
How to Stay Safe in the Workplace During COVID-19
Coming into work after lockdown can be worrying. However, it's important to remember that your employer will have considered the risk of COVID-19 and will have put in place the necessary control measures to reduce them. Your employer will also inform you of these procedures before you return to the workplace, as you have a legal responsibility to cooperate with your employer and follow these measures. This ensures your own safety, as well as that of others in the workplace.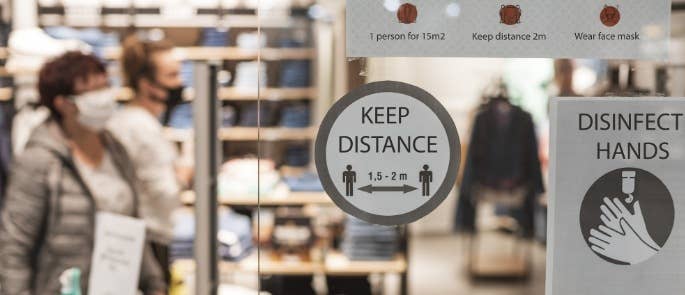 While certain aspects of the control measures will vary depending on your workplace and work activities, in general you must:
Follow your employer's advice.
The rules and recommendations have been enforced for your protection, as well as the protection of your colleagues and customers. If you fail to follow them, you may be putting yourself and others at risk of serious illness.
Maintain a high level of personal hygiene.
Both the NHS and Public Health England recommend that everyone washes their hands more frequently than normal. By frequently washing your hands, you will help to limit the risk of spreading the virus around the workplace. In order for your handwashing to be effective, you will need to wash your hands thoroughly with soap and water, or a suitable alcohol-based hand rub, for at least 20 seconds. You can find out more about effective handwashing here.
Clear your belongings at the end of your shift.
You should put away or remove any personal belongings and leave your workspace clean and tidy at the end of your shift. You should also follow any instructions your employer has given you for cleaning your work area or equipment, particularly for any shared equipment. This may require you to use hazardous cleaning chemicals and so it is crucial that you use these correctly and safely.
Communicate with your colleagues using technology, where possible.
Your employer may encourage the use of radio or online communications to prevent people moving around the workplace to talk to people. If so, you should follow all instructions given to you. You should also avoid handshakes or close conversations with colleagues, such as around tea and coffee facilities.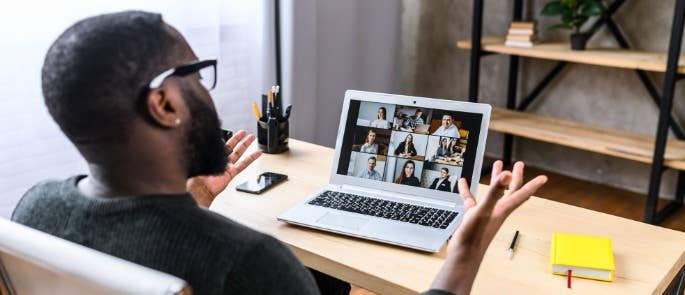 Keep any background noise as low as possible.
For example, any background music that may usually play should be kept low. This will prevent people from needing to raise their voices in the workplace or break social distancing.
In addition to the above measures, you should also consider the following:
Bring your own pre-prepared lunch from home. This will help to reduce the amount of people using the office kitchen facilities, and in turn help to maintain social distancing and reduce the risk of transmission.
Do not borrow or share resources like pens, paper, and other stationary. Using your own equipment and resources will help to limit the transmission of any viruses around the workplace. You should also refrain from touching any equipment to your mouth, eyes or nose, such as chewing on your pen or touching a stapler and then rubbing your eyes afterwards without performing hand hygiene.
---
Using Personal Protective Equipment (PPE)
While there has been a huge uptake in workplace and personal use of personal protective equipment (PPE), such as gloves and face masks or coverings, you shouldn't worry if your employer doesn't require you to wear any COVID-19-specific PPE, in addition to any PPE you may already wear for your normal duties.
The government's Department for Business, Energy and Industrial Strategy (BEIS), states that:
"When managing the risk of COVID-19, additional PPE beyond what you usually wear is not beneficial. This is because COVID-19 is a different type of risk to the risks you normally face in a workplace, and needs to be managed through social distancing, hygiene and fixed teams or partnering, not through the use of PPE."
Your employer will have considered the risks of COVID-19 and decided on the best control methods to reduce them in the workplace. If you are required to wear PPE while at work, you must still engage in good personal hygiene. It is important that you follow your employer's guidance on when and how to change and dispose of your PPE.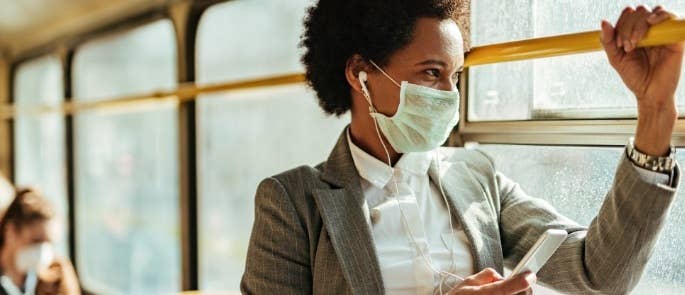 However, you should note that there are some specific circumstances when you must wear PPE:
As of 15th June 2020 you must wear a face covering on public transport or as a hospital visitor or outpatient in England or Scotland. If using public transport in Wales or Northern Ireland, a face covering is currently not mandatory but it is recommended.
As of 4th July, close contact workers, such as hairdressers and barbers, are able to return to work. Other close contact roles, including tailors, were able to return to work from 15th June. If you work in a close contact role, where you are unable to maintain a 2 metre distance (or 1 metre with risk mitigation) and have to be in close contact with a client for an extended period of time, you must wear a visor to mitigate the risk. This visor must fully cover your face and extend below the chin. You must not substitute your visor for a face mask or covering.
---
Free Dos & Don'ts for Returning to Work Poster
Our free Dos and Don'ts poster can act as a helpful reminder for you as you return to work after lockdown. You may wish to display it around your workplace to help yourself, your colleagues, and customers understand what actions must be taken at the premises to manage the risk of COVID-19. You can download the poster below: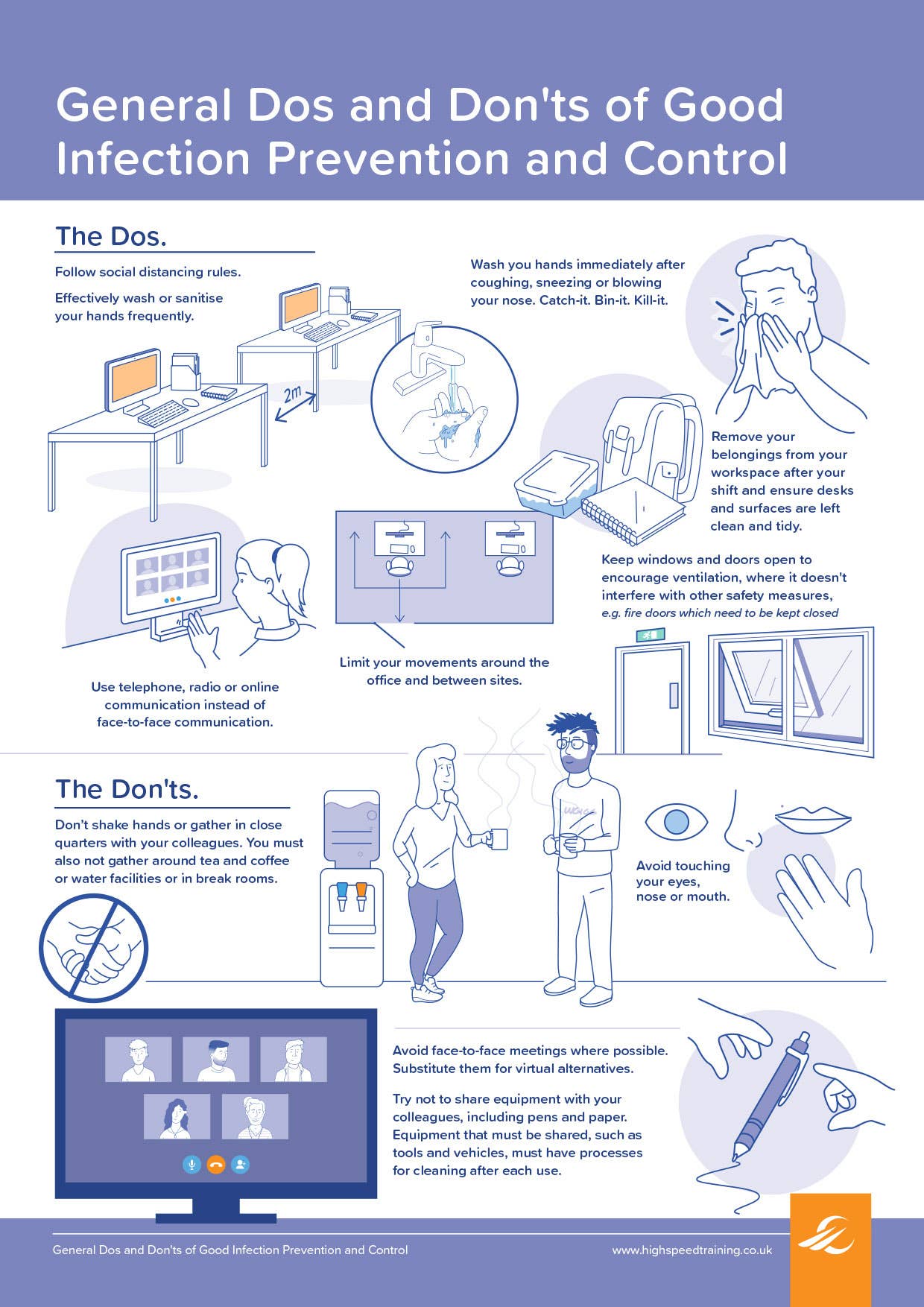 ---
Your employer has a responsibility to ensure they control the risks in your workplace and reduce them to an acceptable level. They will be working hard to ensure that the workplace is safe for you, your colleagues, and anyone who enters the premises, such as customers. However, it's normal to feel slightly anxious with all the uncertainties and changes surrounding returning to work. You should feel comfortable discussing any concerns or questions you have around health and safety measures in your workplace with your employer.
---
Further Resources: