Returning to Work After COVID-19: Guidance for Employers with Free Health & Safety Poster
July 3, 2020
6 min read
Since March 2020, England has operated in a state of uncertainty, as we go in and out of lockdown and different areas are placed under local restrictions. As businesses go through periods of being required to close and then permitted to open, employers have to ensure that, when they ask employees to come in, they are fully prepared for workers to return safely to the workplace. There are some general dos and don'ts that you need to understand before the workplace doors open.
This article will explain these key dos and don'ts, as well as provide you with further information on how to reduce the risks of COVID-19 transmission. It also includes a downloadable poster that you can display in your workplace to remind employees and/or customers to follow good practices.
---
It's important that you keep up to date with any government changes to who is allowed to return to work and the services that can be provided. This includes ensuring you are aware of any local restrictions that may be enforced in your area.
---
What are the Requirements for Returning to Work Following COVID-19?
The government has issued a range of key industry specific guidance documents that are designed to help employers, the self-employed, and employees return to work as safely as possible during the COVID-19 pandemic. While each guidance document contains specific industry measures, they are all underpinned by seven key steps. These are:
1. Carry out a COVID-19 risk assessment.
All employers must carry out a COVID-19 specific risk assessment before employees return to work. This means that employers must identify the hazards, assess the risks and identify and enforce control measures that will help to eliminate or reduce the risks of COVID-19 to as low as is reasonably practicable.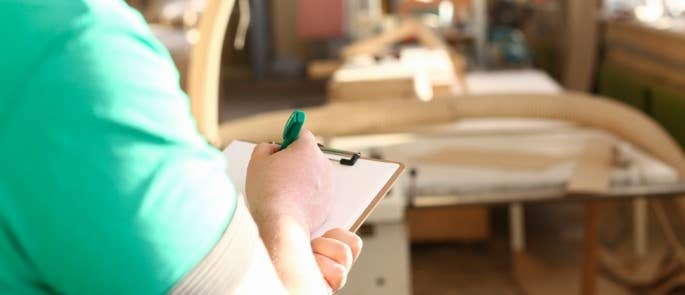 2. Develop frequent cleaning, handwashing and hygiene procedures.
Good personal hygiene is essential for reducing the transmission of COVID-19 in the workplace. It's important that all employees are provided with suitable hygiene facilities and that they understand the necessity for frequent handwashing, as well as how and when to thoroughly clean surfaces and objects.
3. Ask customers to wear face coverings, unless they are exempt.
In England you must wear a face covering by law on public transport, in shops and supermarkets, post offices, banks, building societies etc. A full list can be found here. You should therefore ask customers and visitors to wear a face covering when coming into your workplace. However, there are certain circumstances which mean that an individual is not required to wear a face covering and you must be understanding of these.
Examples of those who are exempt from face covering requirements can be found here.
4. Maintain 2 metre social distancing, where possible.
Maintaining social distancing is a key factor in reducing the spread of COVID-19. It helps to minimise the spread of infectious droplets and physical contact between individuals.
Where people cannot be 2 metres apart, manage transmission risk using risk mitigation tactics. Mitigation methods include increasing the frequency of hand hygiene, using screens and barriers to separate staff, and using staff pairing systems to ensure that, if staff have to work together, it's always the same individuals. Further considerations for risk mitigation are outlined later in this article.
5. Increase ventilation.
Ensuring good ventilation in the workplace is a key aspect of mitigating the risk of COVID-19 transmission. Before opening your premises, you should ensure that any air conditioning features are fully functioning and ensure they are operating whenever people are in the building. Fan speeds should also be increased to improve ventilation.
It's important that you maintain a fresh air supply around your workplace. You should keep windows and doors open, where it doesn't impact health or safety measures, and encourage air circulation with desk and ceiling fans, where possible.
6. Take part in NHS Test and Trace by keeping a record of all staff shifts, personal details of visitors and customers and the details of their visit for 21 days, where required.
This is a legal requirement for several businesses, including hospitality venues, tourism and leisure venues, close contact services and betting shops. Other retail businesses are required to keep staff and contractor records for 21 days, but not those of customers.
7. Turn away anyone with COVID-19 symptoms from the premises.
If an employee, contractor, customer or visitor is experiencing any of the following symptoms, they should be self-isolating and should be turned away from the premises:
A recent onset of a new, continuous cough.
A high temperature.
Any changes to, or loss of, their sense of taste or smell.
---
There has been a lot of guidance released by the government to help employers, employees, and the self-employed return to work safely during the COVID-19 pandemic. The following information outlines key points that employers and employees who are returning to work should consider.
---
What Should I Consider Regarding Workplace Safety?
The first thing to remember is that anyone who can be working at home should be doing so. You should encourage your employees to work from home and take all reasonably practicable measures to support them, such as providing them with the necessary equipment where doable.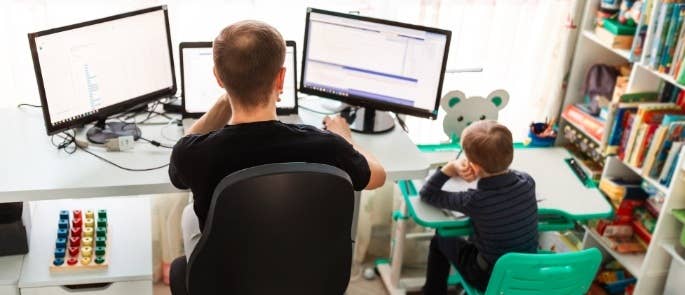 Where it is not possible for your employees to work from home, it's important that you carry out a COVID-19 risk assessment to identify the hazards and assess and manage the risks before asking anyone back to work. Key areas that you should consider include:
How many people are actually needed to carry out the work?
Think about how many people the work really needs. You should aim to minimise the number of people in the building at any one time. Additionally, just because you may need to ask some members of your team to come into the workplace, this doesn't mean everyone needs to come in. For example, if you require team assemblers to come to work, you can still ask reception and office staff to work from home if they are able to.
Can employees work in shifts?
Working in shifts can also help to minimise the number of people in the building. However, it's important to note that you should keep the same people on each shift to minimise social interactions. Furthermore, equipment and the workplace will need to be cleaned and disinfected between shifts.
Can employees follow social distancing measures in your workplace?
It's essential that social distancing can be maintained if you are asking staff to come into the workplace. You will need to ensure that social distancing measures are clear, such as by using floor tape or markings to outline safe zones and one-way systems. You should also provide employees with any necessary equipment needed to maintain social distancing requirements. For example, you might need to set up your employees with radio devices to reduce the need for face-to-face communication.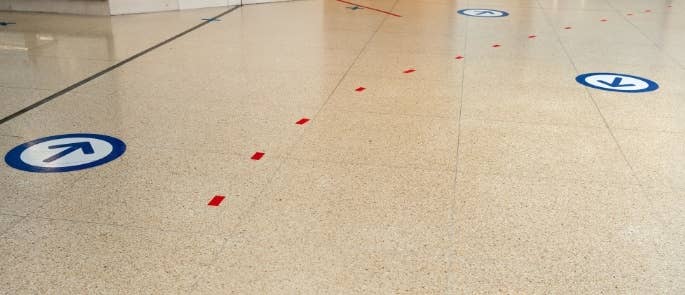 Additionally, you should restrict employee access to different buildings and sites. It's important to limit movements around the workplace, and employees should be encouraged to communicate virtually or over the phone, instead of face-to-face.
Do you have appropriate hygiene facilities?
Good personal hygiene is essential to reduce the risk of COVID-19 transmission in the workplace. You should place posters around the premises to remind employees to frequently wash their hands using the correct techniques. You can download our free handwashing poster here. You should also consider installing hand sanitiser points and providing workers with a personal supply of hand sanitiser.
Can employees arrive and leave the workplace safely?
You may need to consider staggering arrival and departure times to better allow employees to maintain social distancing. It's also important to consider what areas of your building are usually congested and whether a one-way system would be beneficial. These areas will usually include corridors, stairwells, lifts, and turnstiles.
Can you stagger break times?
Staggering break times will help to limit the number of people using break facilities at the same time, helping your employees to maintain social distancing. You should also encourage the use of safe, outside areas for breaks, but ensure that workers still maintain social distancing.
What cleaning arrangements will you need?
Proper cleaning arrangements can help to reduce transmission of microorganisms and limit their spread around the workplace. Therefore, cleaning properly is essential to limiting the spread of COVID-19. When you undertake your risk assessment, you will need to consider the type of cleaning arrangements necessary for your workplace, including the frequency of cleaning and which specific high-touch items around the workplace need regularly disinfecting.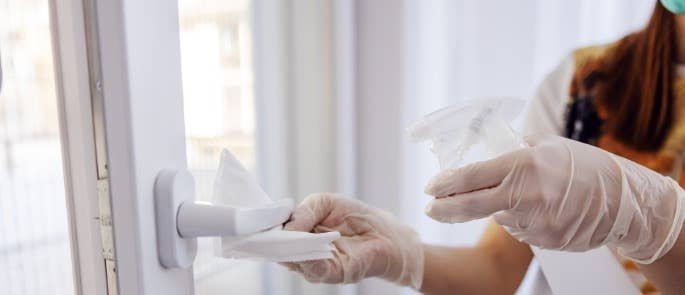 You may contract out your cleaning to another company, or have in-house cleaning staff but, during COVID-19, you'll likely need all your employees to help keep the workplace clean and tidy. For example, employees should clear their desks at the end of the day and you may provide them with disinfectant wipes to wipe down their desks and equipment on a daily basis.
What high-touch items do you have?
High-touch items include door handles, stairwell handrails, lift buttons, keypad locks, printers, interactive whiteboards, kettles, etc. You will need to ensure these items are cleaned frequently and their use is limited to reduce the risk of transmission. You should also consider keeping doors open, where it causes no additional safety risks, to reduce the amount of people touching doors and door handles.
What other arrangements will you need to reduce risks?
For example, you may need to put up screens between desks or stations, if you can't position workers 2 metres apart. You should also arrange workers side-to-side or back-to-back to reduce any face-to-face working. It's important that you assess your workplace and identify the specific control measures that you need to eliminate or reduce the risks.
This is not an exhaustive list of the measures you will need to consider and actions you must take. It's important you consider the risks specific to your workplace and enforce control measures to eliminate or reduce the risks to as low as reasonably practicable.
---
The Hierarchy of Control
You must consider control measures in the order of the hierarchy of control which is as follows:
Elimination – Can you eliminate the hazards?
Substitution – Can you substitute for less hazardous alternatives?
Engineering controls – Can the workplace or equipment be adapted or modified to reduce the risk?
Administrative controls – Can working procedures be made safer?
Personal protective equipment – What PPE can be used to eliminate or reduce any residual risk?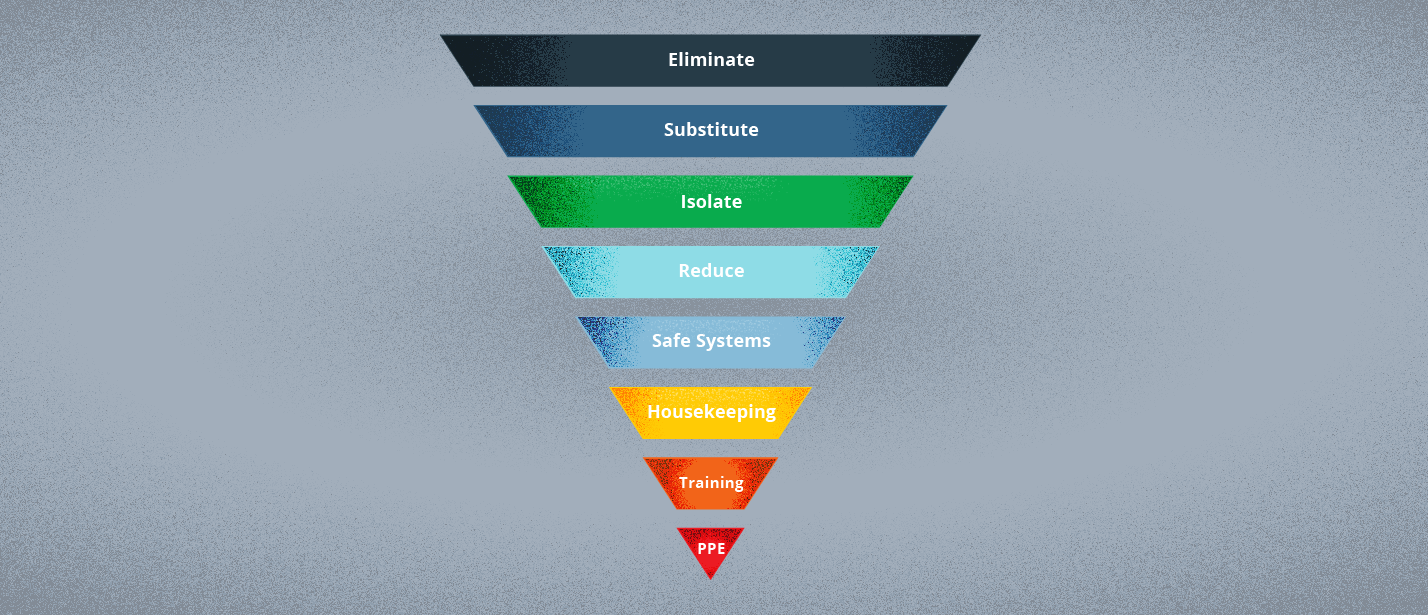 This means that you should not simply rely on personal protective equipment (PPE) without considering other methods first. PPE, such as face coverings and gloves, should be provided as a last resort and should not be used as a substitution for other control methods.
However, you should note that there are some scenarios where individuals must wear specific items of PPE. These are:
Wearing a face covering when using public transport in England, Scotland, Wales and Northern Ireland.
Wearing a face visor from 4th July if you provide close contact services, such as hairdressers and barbers. If you work in a close contact role where you are unable to maintain a 2 metre distance (or 1 metre with risk mitigation) and have to maintain close contact for an extended period of time, you must wear a visor to mitigate the risk. This visor must fully cover the face and extend below the chin. You must not replace visors with a face mask or covering. 
For further information on carrying out a COVID-19 risk assessment and selecting control measures in line with the hierarchy of control, you should consider taking our Risk Assessment Training Course.
---
Free Dos & Don'ts for Returning to Work Poster
To help your staff remember what actions they should and shouldn't be taking as they return to work, we have created a free dos and don'ts poster that you can display around your workplace. You can download the poster below: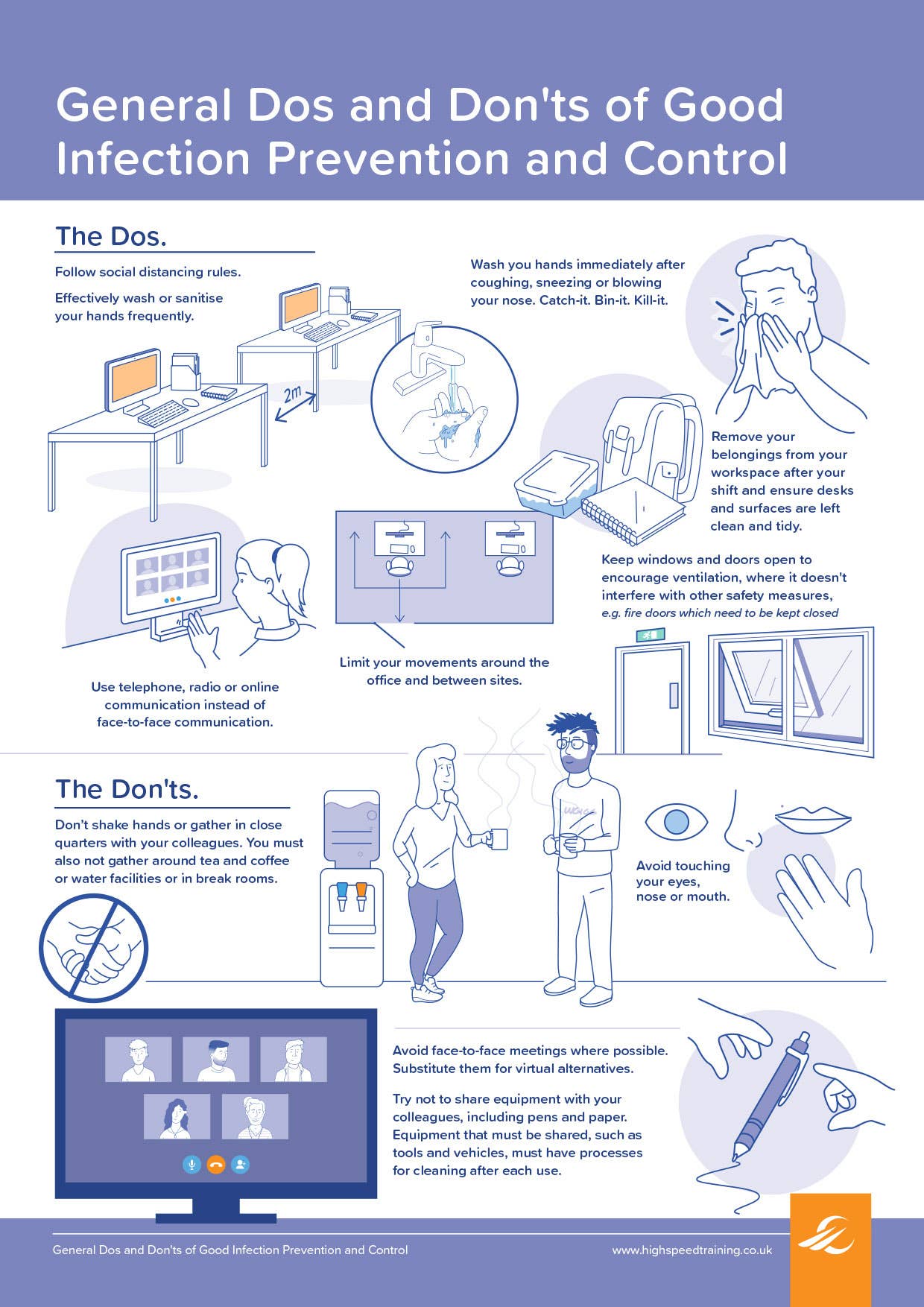 ---
As an employer, you have a responsibility to make your workplace COVID-secure to protect the health and safety of your employees. You must not open your business again until you have carefully considered the risks as part of your COVID-19 risk assessment and implemented control measures to reduce these risks. It's important that your employees feel safe while at work, particularly during these uncertain times, and so you must communicate these changes to them and address any concerns they may have.
---
Further Resources: