Marketing Ideas for Restaurants
September 18, 2019
5 min read

Our Head of Marketing, Ian Dowd, has extensive experience in both Marketing and Sales, spending time as Marketing Director and CMO. Ian has used his expertise in global businesses ranging from HR, SaaS and hotel chains. Ian has been quoted in Forbes and CNBC on issues such as Brexit and the Fourth Industrial Revolution. Here, he uses his knowledge to walk you through a plan for marketing your restaurant and attracting customers again and again…
---
Marketing a restaurant, particularly if it is a new venture, can be a daunting task. The prevalence of digital technology and online media has changed the food business for good. Today, over 3.6 billion people use the internet, compared with 1% of the population in 1995. Word of Mouth is no longer a reliable strategy by itself, with social media and ubiquitous mobile technology completely changing the game.
This should be exciting rather than scary, though, as there are lots of ideas, a range of marketing tactics and a host of ways to get creative to help with your strategy.
---
Just Another Guide to Marketing a Restaurant?
There are lots of guides to marketing for restaurants and, for the most part, the advice is the same: get social.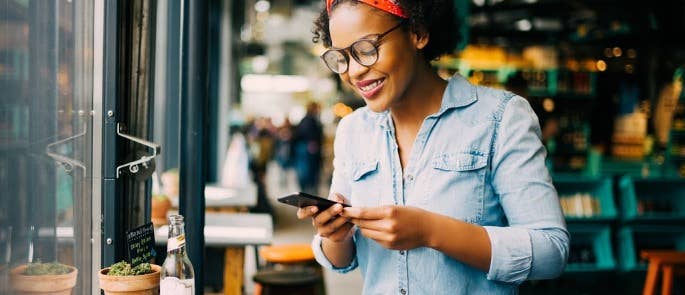 Many people are taking this advice and most restaurants you visit will have some form of digital presence, whether it's an app, a website, social channels or all of the above. However, when you consider that 60% of restaurant businesses fail, it suggests there's more to the strategy than simply being visible.
---
Marketing: Back to Basics
Let's look at some of the ideas that we know work and can easily be applied to marketing your restaurant. First, we get back to basics and turn to the fundamental questions of marketing for any industry:
Who are your customers and what do you want to offer them?
To answer this, you must answer the following:
Who eats in my restaurant?
To find out who your customers are and attract more of them, ask yourself the following questions:. Who are they? Are they local or do they travel? Will they pass by other restaurants to get to you? If you are predominantly focussed on serving your local area then it's important to understand the demand locally. Is there a demand for fast food, take-out, a high-end dining experience or mid-market eateries. If you are expecting customers to travel from further afield then you will need to offer something special, be it food, service, price or overall experience.
It's important to understand the market, the competition and how your restaurant is different, or better.
What makes my restaurant different?
Differentiation or price are two ways to compete. A differentiation strategy needs to offer customers something they value and in return, they'll pay a premium. This could be speed, convenience, food quality, service quality, overall experience, prestige or ambience. Assuming a minimum standard, some customers will choose price as the deciding factor. Offering the lowest available price will attract some customers and vice versa. It's important to note that this can be different for different customer groups or 'segments'. According to exclusive research from High Speed Training, however, the majority of customers value both quality of food and service over price point or location.
Different customer segments will have different expectations. It is possible to serve different types of customers either separately or together. Early bird menus, student/OAP discounts, theme nights, special offers and events or different menus are some ways of achieving this. The criticism of the pure price vs differentiation dichotomy is that for most businesses it's about balancing various factors.
The key is knowing who your customers are, or who you hope your customers will be, what they are looking for and what you are offering them.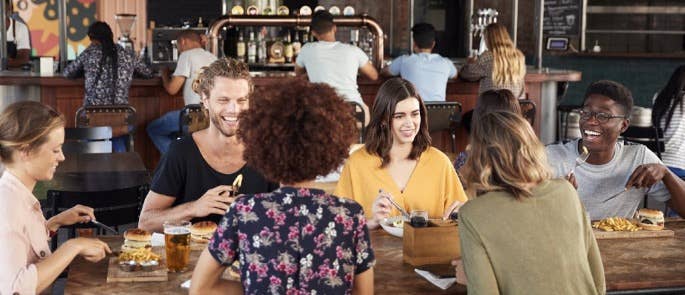 When do people eat in my restaurant?
Understanding the appropriate occasion and the type of experience customers should expect will help position your restaurant in the mind of your customers.
Some restaurants are geared to attract regular visits at certain times. Maybe a lunch-time favourite, a breakfast venue, somewhere to take the kids or a late night haunt. Other restaurants are for special occasions, maybe a birthday, promotion, date night or business lunch with an important client.
Many successful restaurants make it clear to customers when they should use it and appeal to different customers groups for different occasions or times.
---
How Do I Attract Customers to My Restaurant?
Not only do you want to attract customers, but you also want to keep them coming back to your restaurant. By answering the questions above, you will be able to better inform decisions around your market positioning, uniqueness, price, decor, menu options and the type of experience to offer customers. With the basics established, it becomes easier to be clear and consistent when it comes to promoting your restaurant, attracting customers and ensuring they come back. You will know who they are, who you are and what you are promising them.
Make the most of social media
One of the most important reasons a restaurant should have social media accounts is for conversing and communicating with customers. Social media allows you to keep in touch and build a personal connection with your customers, in a way that scales and was previously limited to face-to-face interactions. It's a great promotion channel and allows for shareable user generated content.
Many customers will also check online reviews before choosing a restaurant. Make sure you respond to comments you receive and reply to negative feedback as quickly as you can.
Take photos
Research conducted by High Speed Training shows that the quality of food is the main attraction for customers and keeps them coming back. Taking food photos is an excellent way to promote what's on offer. You can use photos to capture the ambience, atmosphere and experience as a way of enticing your guests. There are thousands of food related hashtags you can add to your posts to maximise your reach more powerfully than any word of mouth.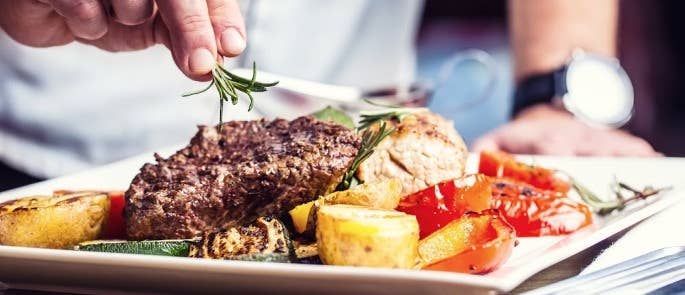 Think about the Mobile Experience
Customers in the modern world check places before they visit them. They may want to view the menu, book a table, ask questions or check the location. Most of these interactions will be from a phone or other mobile device. Some restaurants offer an app that allows customers to do these things, as well as placing orders or paying. Make sure you offer an easy web experience to avoid potential customers leaving your website in favour of another.
Once customers are in your restaurant you can offer them free wifi to connect to social media, check-in, take and upload photos, leave reviews and connect with their friends.
Remember email marketing
Most people have an active email account and it is still an excellent way to communicate to customers who have opted-in to receive updates. Remember the differentiation strategy we mentioned earlier: reinforce your unique message and provide offers to incentivise your subscribers.
Invest in special events
An opening event is a great way to draw attention to a new restaurant and get people through the door. Being part of a community will keep them coming back. Consider hosting a wine tasting event, or scheduling frequent events such as live music or pub quizzes. Such events bring people together inside your restaurant which can be promoted on social media and then shared long after. Get creative around special days, holidays, valentine's day, Fridays, weekends, charity events, date nights, food-themed events and birthdays. You want to keep the unforgettable experiences customers have had in your restaurant at the front of their mind in order to keep them coming back for more.
Get to know the regulars
As well as being on the hunt for new business, make sure your regulars feel valued. By getting to know them you'll show that you truly do care about them and their experience at your restaurant. They can be an excellent source of insight on positives and negatives that you can use in updating your format and promoting your restaurant to others. They are also a great source of word of mouth promotion, online as well as the old fashioned way.
---
Creative Marketing Ideas for Restaurants
Nailed down the basics and looking for a lift? Try these for even more unique restaurant promotion ideas:
Host cooking classes
Let's face it, people don't eat out every night. But when they're cooking your recipes at home they will be reminded of the great food, the friends they made and the fun they had – all in your restaurant. Keeping your restaurant on your customers' mind is key to creating a loyal base that comes back time and time again.
Share your recipes in a blog
Again, the key is keeping your restaurant in front of mind. By sharing some of your recipes, perhaps in an online blog, you'll make people remember that special dish they had at your restaurant. Offering content for free is yet another way to make customers feel valued.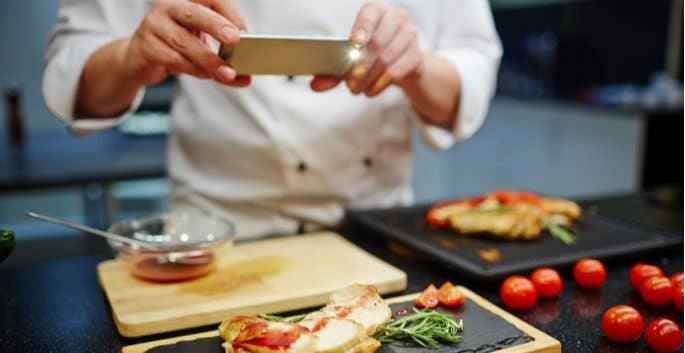 Go behind the scenes!
People love to see the characters behind their favourite creations — the chefs, the front-of-the-house staff, and anyone involved in making their restaurant experience incredible. Post people-focused images on your website that show the human side of your staff. Share favourite quotes and information about what each employee likes to do in their spare time. You could even arrange a monthly day or evening where diners can 'meet the chef' and hear first-hand how food is created. This makes diners feel more at home in your restaurant and emotional connections speak volumes in customer loyalty.
Don't forget to promote it!
Identify influencers and bloggers
Some consumers are hugely influenced by their own peers as well as the new celebrities online – bloggers and influencers. Reaching out to carefully chosen influencers to come and sample your menu in exchange for coverage is a good way to benefit from their reach and reputation. This can be done continually or, alternatively, by hosting a "blogger event" with food and drink samples, questions and answers with the head chef, etc.
---
The recurring theme is clear to see: interact with your customers, new and old, as well as being visible in today's media-led world. Making your customers feel valued and providing them with an unforgettable experience is the way to ensure they keep coming back, over and above your competitors. As well as using a range of marketing tools and tactics available, remember the basics.
---
What to Read Next: