World Mental Health Day 2020: Mental Health in the Workplace
October 10, 2017
4 min read
The 10th October is World Mental Health Day. This year's theme for World Mental Health Day 2020 is 'mental health for all'.
Mental health can affect anyone, at any time. Approximately 1 in 4 people in the UK will experience a mental health problem each year. This means that, if you work in a company of 40 employees, approximately 10 of these employees will be affected by mental health issues at any one time. This is a staggering and incredibly eye-opening statistic.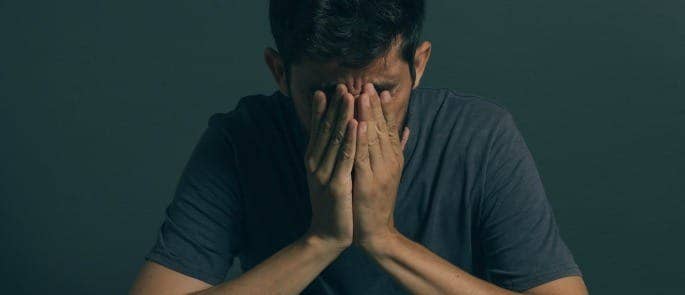 Mental Health Day is observed every year with one overall objective: to raise awareness of mental health issues around the world and mobilise efforts to support mental health.

Mental Health in the Workplace
The theme of mental health in the workplace aims to increase awareness so individuals feel equipped to help their employees and colleagues should they need it, whilst also increasing overall mental wellbeing at work.
Working conditions and the working environment can have a huge impact on an employee's mental health. Likewise, somebody's mental health can have a significant impact on whether they can perform well in their job.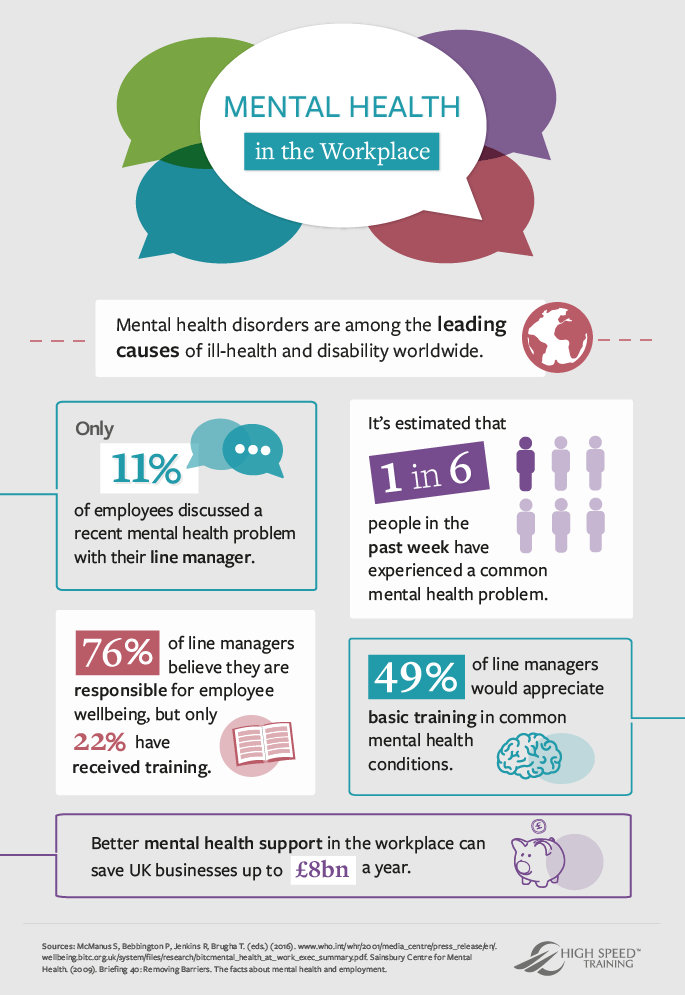 1 in 6 people report experiencing a common mental health problem in any given week. Suicide remains the largest cause of death among men under the age of 45. Not disease, not accident, but suicide.
Only 11% of employees discussed a mental health problem with their line manager – a statistic that is far too low. Providing an environment in which people can discuss any problems and concerns they have is crucial.
76% of line managers accept this responsibility and believe they are responsible for employee wellbeing. However, only 22% have received training. The difference between these two statistics is unacceptable: training in mental health should be more than desirable; it should be essential. Employers and employees must feel that they can discuss mental health problems openly and comfortably.

What Can You Do To Help?
Promoting good mental wellbeing in the workplace is everybody's responsibility. Poor mental wellbeing can result in repeated staff absences and make it difficult for individuals to work their best.  It is important to create an environment in which people feel comfortable, supported, and free from judgement.
Some ways to create this environment are outlined below.

Promote a Good Work/Life Balance
While long hours may sometimes seem necessary and manageable in the short term, they can have an adverse effect in the long run. Constant pressure and a poor work/life balance can quickly lead to stress and burn-out. It can reduce levels of productivity, performance, and morale, and lead to employees feeling overwhelmed.
To promote a good work/life balance, you should:
Encourage staff to take their full lunch breaks.
Ensure employees have time to rest and recuperate.
Discourage people from working at weekends, particularly from home.
Make sure staff take their full annual leave entitlement.

Allow Flexible Working
Flexible working times and locations can help improve staff mental wellbeing. For example, you could allow a staff member to start later twice a week to accommodate exercise. Studies have frequently shown that exercise reduces stress and improves overall wellbeing.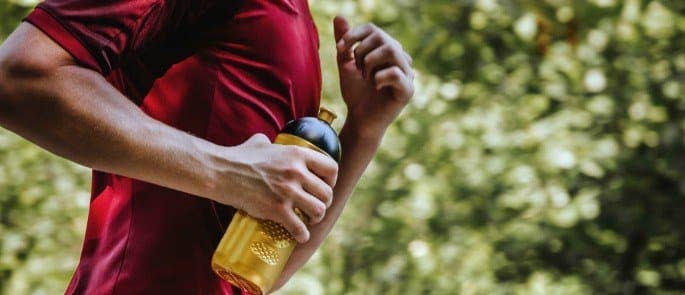 Celebrate Awareness Days
Celebrating awareness days, such as World Mental Health Day, shows employees that you are a company that cares about mental wellbeing. It demonstrates that you are aware of mental health issues, and that you welcome related discussion.
Doing something small, like putting up a poster to recognise the day, can go a long way.

Make Adjustments
Adjustments for mental health problems are generally very simple and practical, but can help dramatically. For example, you could:
Change the workspace – people could work in an area that is quieter or has more natural light.
Alter break times.
Relax absence rules.
Accommodate people who may need to leave at a short notice, such as for counselling appointments.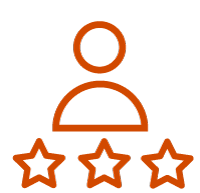 Need a Course?
Our Mental Health Awareness Course aims to promote positive mental health and demonstrate how easy it can be for employers to make adjustments in order to encourage tolerance and understanding in the workplace.
Talk Openly
Mental health is a topic that everyone should discuss openly, and you shouldn't shy away from it.
Consider putting up support posters and promote open discussion about feelings and emotions. Ensure that employees know help is available.

Hold Meetings
You should consider regularly holding one-to-one meetings with employees to give them the opportunity to discuss any issues. Poor communication is a significant cause of stress – if employees feel overwhelmed with their workload, or do not understand their work, they will likely feel stressed.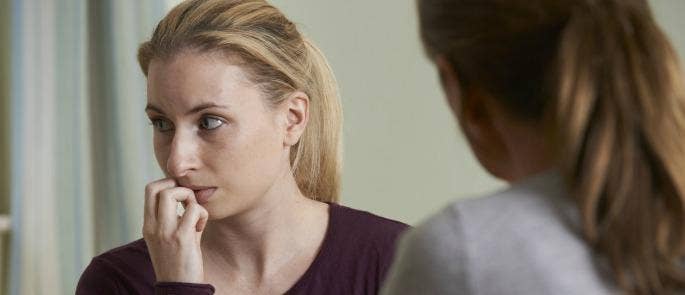 It is important for you to bear in mind that everybody has different coping strategies. While some may talk about their problems openly, others may prefer to deal with things alone. Ensure employees do not feel pressured to talk about their problems, but know that they can talk to you should they wish.

Show Staff They Are Valued
All employees should feel that their work is valued and meaningful. A positive work culture, one that values all staff members and their contributions, increases motivation and commitment levels.
Where possible, provide employees with development opportunities. These do not have to be major – minor changes such as job-shadowing opportunities can help progression.

Establish Peer Support
Some employees may find it easier to speak to somebody who isn't their manager. Establish peer support groups and encourage staff to speak to, and help, each other with their problems.

Be Social
Having good relationships with colleagues increases staff positivity, morale, and makes employees feel happier in their work environment.
In some workplaces, it may be difficult for employees to interact frequently. Arranging social events, such as a night at the local bowling alley, can help to build strong relationships amongst employees and management alike.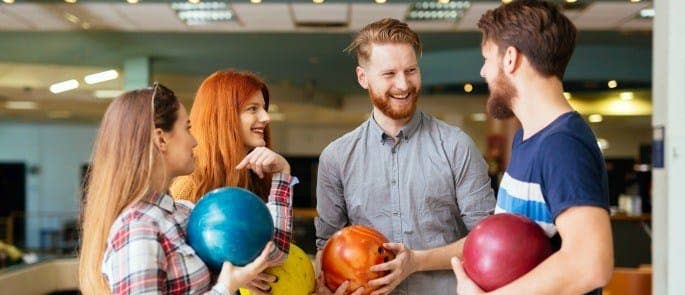 Mental health is a very real issue, and something that nobody should have to face alone. We must all work together to ensure that people feel supported and confident in discussing any issues, should they wish to.

What to Read Next: