How to Spot a Fake Food Hygiene Rating
April 8, 2019
6 min read
Could you confidently tell the difference between a real food hygiene rating and a fake one?
Within the last few years fake food hygiene ratings have been on the rise, with two UK TV series, 'Fake Britain' and 'Rip Off Britain Food', even addressing the problem. Clearly, there is a worrying trend of consumers being unknowingly deceived by incorrect food hygiene information. Indeed, 'Fake Britain' found that 1 in 5 restaurants in London were faking their hygiene rating.
If you know how to spot fake food hygiene ratings, you can decide whether you want to avoid these restaurants and help to bring their illegal activities to the attention of the Food Standards Agency (FSA).
---
What is a Food Hygiene Rating?
The Food Hygiene Rating Scheme (FHRS) was introduced throughout England, Wales and Northern Ireland to help potential consumers make an informed decision on where to eat. After an inspection by a food safety officer, all businesses where food is supplied, sold or consumed are given a rating. This ranges from 5 to 0, with 5 signifying 'food hygiene standards are very good'. The rating provides information about businesses' hygiene standards that is clear for consumers to understand.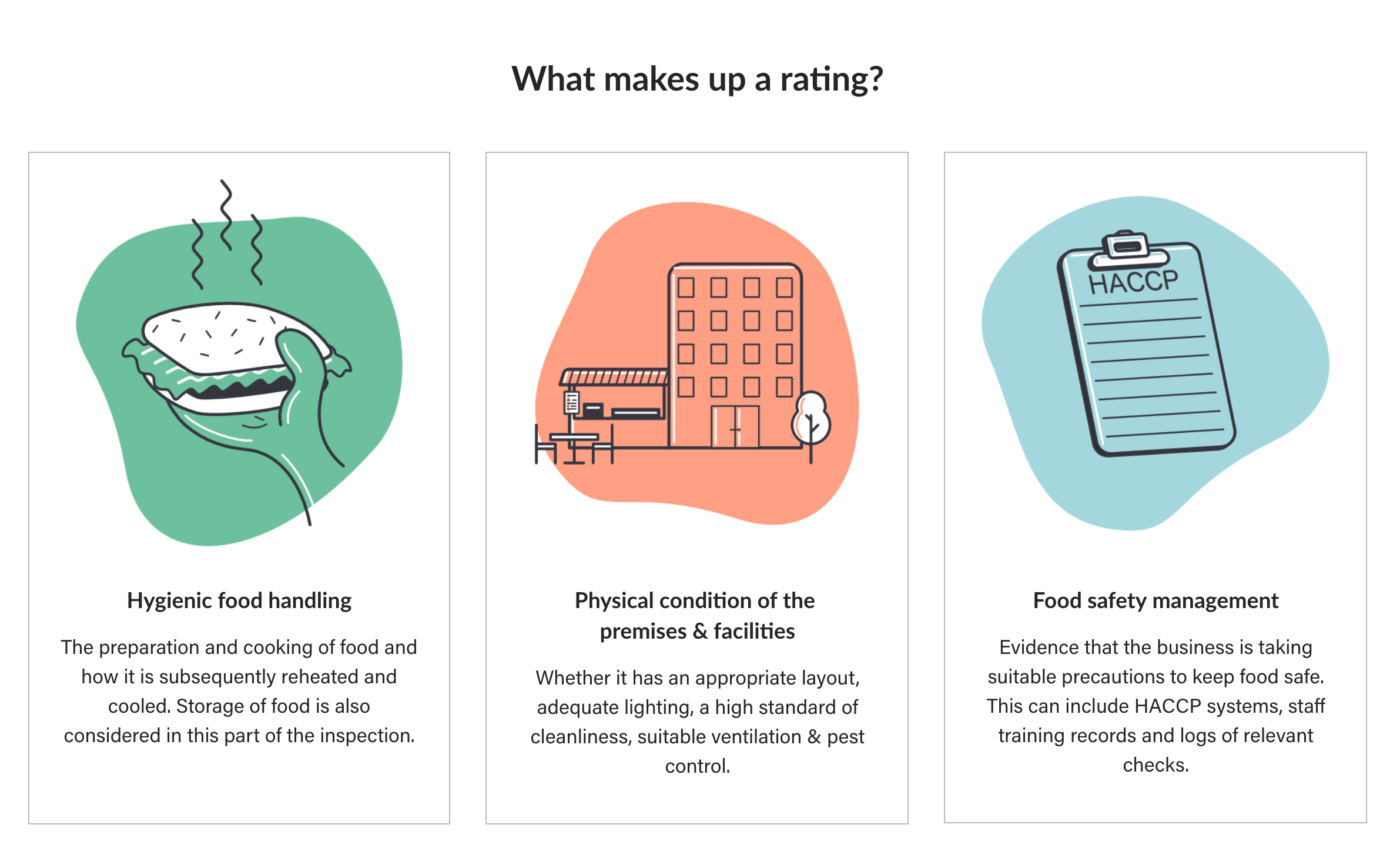 ---
Why do Businesses Fake their Rating?
Good food hygiene is typically an indicator that food business owners are aware of how important it is to protect the health of their customers. The scheme is intended to reassure customers, and is likely to influence their eating decisions. A restaurant with a rating of 5 is going to be more appealing than a similar one with a 1. The rating can be particularly influential in cases of competition between nearby eateries of similar cuisines. This is one reason why businesses decide to fake their food hygiene rating, claiming it to be higher than it actually is.
Currently, there is no requirement for businesses in England to display their food hygiene sticker or certificate to customers. In Wales and Northern Ireland, however, food hygiene ratings must be displayed by law. Using a food hygiene rating that is incorrect is illegal in the UK under the Consumer Protection from Unfair Trading Regulations 2008 (CPRs), to do so is to intentionally deceive the public. Despite this, the occurrence of fake ratings appears to be on the rise. Or, it may simply be the case that it is now easier to spot fake ratings.
---
In our most recent report, we looked at food hygiene ratings for a quarter of a million businesses across the UK to provide a picture of food hygiene standards from region to region. You can view the full study and check how your hometown compared in Food Hygiene: Know the Score.
---
Who is Faking their Rating?
The problem of fake ratings is more common than you would perhaps expect. The FSA themselves have issued warnings against doing so and threatened prosecution.
In April 2016, the company Four Brothers was taken to court. A restaurant under the company's ownership, Moza Derby, had been given a food hygiene rating of 1, and then 0 because no action was taken to improve. Despite this, three adverts were placed in a local magazine claiming the restaurant held a 5-star rating. They were charged with engaging in unfair commercial practices and fined £3,171. The owner himself had to also pay £1,271 in fines. Customer numbers drastically fell once this news became public and the struggling business had to close down. Then, the Insolvency Service looked into the conduct of the owner. In June 2018, he was banned from running companies for five years and ordered to pay a further £4,231.
Deputy Leader and Cabinet Member for Regeneration and Public Protection, Matthew Holmes, commented on the case. He stated that the prosecution is an example of 'action [being taken] to protect consumers and the integrity of the scheme'. It is reassuring to know that those who choose to deceive members of the public with an exaggerated food hygiene rating will face the consequences of their actions.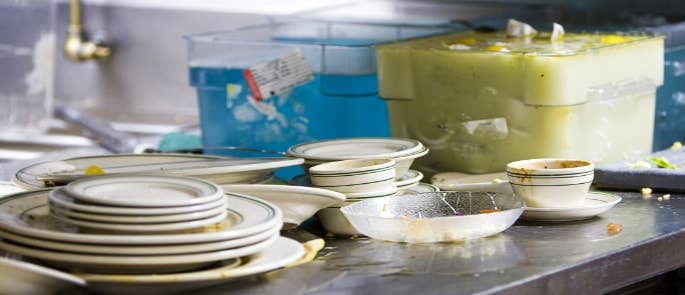 ---
How Can you Check a Rating is Legitimate?
It can be impossible to tell whether a company has falsified their food hygiene rating by just looking at the shop front. Their food hygiene sticker or certificate may be genuine, but it could also be outdated, or not even given to that particular premise in the first place. To avoid being tricked by fake food hygiene ratings you can check for yourself using one of the following websites:
The Food Standards Agency
The Food Standards Agency is a government department and has a website dedicated to food hygiene ratings. We recommend the FSA as your first point of call for accurate information about a particular establishment. You can easily find the ratings for restaurants, takeaways and food shops. Just search by business name and/or street, town or postcode.
Scores on the Doors
The Scores on the Doors website also provides food hygiene rating information. It gives you the option to search for premises using a number of filters, or by using a map. Conveniently, they also have a free app for mobile phones, allowing you to easily check the ratings when on the go. Just search in your app store for 'Scores on the Doors'.
OmgOmg
The OmgOmg website and social media pages also use official government data but makes the data clearer by adding pictures, location information and history. The full screen labelled map that you can navigate is especially useful.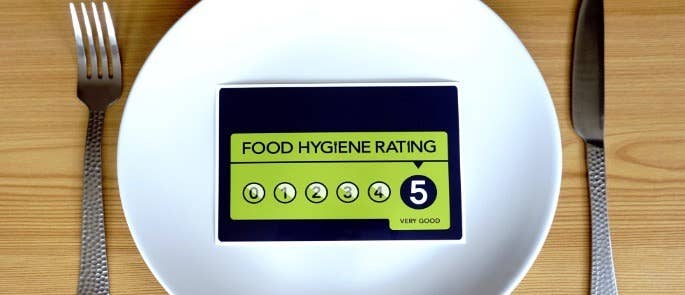 ---
All of these websites rely on the latest food hygiene ratings provided by the FSA. You can make a decision based on information that you know is factual, and feel reassured that where you choose to eat is following food hygiene regulations.
---
The Food Standards Agency take fake food hygiene ratings very seriously. If you are concerned that a restaurant is exaggerating their rating, check online and if the scores don't match you can inform the agency immediately so that they can take appropriate action. If you're a business owner, it's best to avoid faking your food hygiene rating, unless you fancy a hefty £9,000 bill, the inevitable bad press and a loss of consumer confidence. However, if you feel as though a recent inspection hasn't reflected your usual standards, use our guide to find out how to appeal your food hygiene rating.
---
What to Read Next: