Taking Reservations in Hospitality Following COVID-19
August 6, 2020
7 min read
Most people will be familiar with the concept of making a reservation. Used throughout hospitality venues, from hotels, restaurants and cafes, they serve to make life easier for everyone. Making a reservation gives you peace of mind that your go-to place can accommodate your party, and even more so that they expect you, making your experience smoother when you arrive.
As establishments reopen following the COVID-19 lockdown, reservations may become more common as there are new rules in place for restaurants, staff and customers to follow. This article will explain some of these changes and new procedures so that we can all be confident in both making, and taking, bookings in hospitality.
---
How Do Reservations Work?
We often see reservation systems used in high end restaurants, where sittings can sell out months in advance. Furthermore, we see them used in popular restaurants where wait times can be high as booking your table in advance means you don't need to wait in a queue. Nowadays, booking tables is common practice and benefits both parties.
For the venue, knowing how many people will be coming to them at a certain time or date makes planning for staffing levels and preparing meals much easier and more efficient. The process of making a reservation is the first interaction a customer has with the venue and getting information from them at this point can help restaurants provide the best dining experience possible.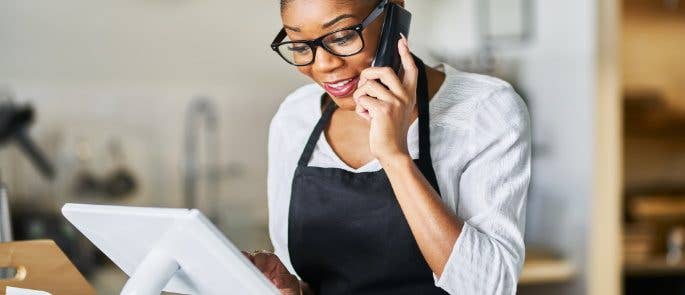 Making a reservation is easy, you just need to ask the venue for a table at a certain time on a certain date for a certain number of people. The venue may take some additional details from you, such as if there are any special requests or dietary requirements. You may need to be flexible if your choice is a popular one, as the restaurant may only be able to accommodate a set number of guests at that particular time.
---
Why Does My Restaurant Need a Reservation System Following COVID-19?
Reservation systems have a number of benefits for both the business and the customers. As we mentioned, for the customer it gives peace of mind knowing that you can go eat in your favourite place without meeting any issues with availability when you get there. For the business, there are even more benefits to using a reservation system, especially following COVID-19. Use the dropdowns below to explore some of the benefits for businesses.
General Restaurant Management
Having a restaurant reservation procedure means you can manage staffing levels and ensure you have enough staff working in the right places to cope with demand. Likewise you can use it to check that you don't have too many staff working, which in turn affects your bottom line. Large parties can also have a knock-on effect for the kitchen staff, so being aware of any big groups coming in can allow your chefs to prep enough food in advance.
Health and Safety
Having some forewarning of how busy your restaurant is going to be at a certain time or day can ensure you take appropriate health and safety measures. Following COVID-19, it is essential that businesses work to prevent overcrowding in their venue. They can use door staff if necessary to control the number of people coming in.
Businesses should also make sure they are well stocked on cleaning supplies and that there is a rota in place for cleaning high contact touch points in the premises, such as door handles, till screens and card machines.
These things are all necessary as businesses have a duty to keep customers and staff safe.
Implementing a booking system also allows you to contact the guests before their arrival, which you can use to brief them on the COVID-secure measures you have in the venue. This will help alleviate some of the stresses customers may be feeling about dining out and allows you to be transparent on your processes.
Social Distancing
To ensure customers are kept at safe distances from one another, restaurants can use booking systems to safely filter bookings into appropriate places. Large bookings can be assigned to larger spaces to ensure there is ability to move safely around them. Similarly, multiple bookings arriving at peak times can be allocated to different sections of the restaurant to prevent crowding.
Restricting the number of bookings allowed in a set time frame will also help staff manage the guests they do have, along with any extra duties they may have undertaken to remain COVID-secure, such as additional cleaning duties. Similarly, being able to close off a section of the restaurant may be beneficial if there is deep cleaning to be done in that area.
NHS Track and Trace
Under new guidance, hospitality businesses must take down customers' details to assist with the NHS Track and Trace system. This system works to track people who are infected with COVID-19 to prevent the spread of the virus. Under this guidance, restaurants and more should record the customer's name and contact details, which can then be provided to the NHS Track and Trace system. Hospitality businesses can use their reservation system to collect this data. We will go into more detail on this further in the article.
Cancellations
As well as making bookings, you should consider how easy it is for the customer to cancel their reservation, should they need to. We all have things that come up, and cancelling a table shouldn't be taboo, so long as it is done correctly and with reasonable notice.
Following the reopening of hospitality venues post-lockdown, there was outcry from several establishments as people made bookings and then failed to show up. Not only does this put added pressure on restaurant management but it has dire consequences for businesses who are already struggling – investing in food and staff and not having any spend come in is a financial burden many in the industry cannot cope with. As a result, we saw the hashtag #nomorenoshows trending on twitter as the industry lambasted selfish customers who failed to turn up for their meal.
To avoid this in the future, some reservation systems are taking deposits, whilst other venues are making contact with their booked customers to ensure their arrival as expected. Whichever way you go, cancellations are not ideal, but last minute cancellations are worse. You should do what you can to minimise the chances of this happening to you.
---
How Will Restaurant Reservations Work Going Forward?
There are a number of ways people can make reservations, from calling and booking over the phone, through social media messaging, to using online booking platforms. As society looks for more contactless solutions, setting up online systems to take bookings could lead to an integration of online ordering and payment systems in your business. There are plenty of platforms out there that will do these things for you.
However you go about taking reservations in your establishment, you must follow both the government guidance and the recommendations of the business risk assessment. The rules that have been implemented in your venue as a result of these are to protect the health and safety of everyone in the venue, and so must be followed at all times.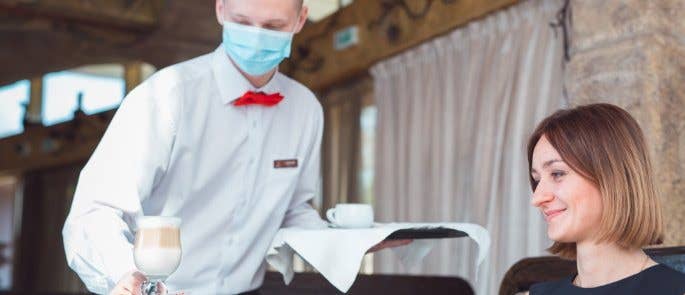 As lockdown changes throughout the UK there have been different rules for different areas, at different times. The Rule of 6 seeks to make this easier for businesses to manage. Each business is responsible for knowing the rules and implementing measures to ensure the health and safety of anyone who works for or visits them. 
When it comes to limiting the number of people inside the venue, that will be determined by the risk assessment. The business owner, or other responsible person, will conduct a risk assessment to ensure that guests and staff can be accommodated without an increased risk of general health and safety, of contracting or of spreading the virus. As a result, the establishment may rearrange tables or place a limit on the number of guests per section to ensure social distancing.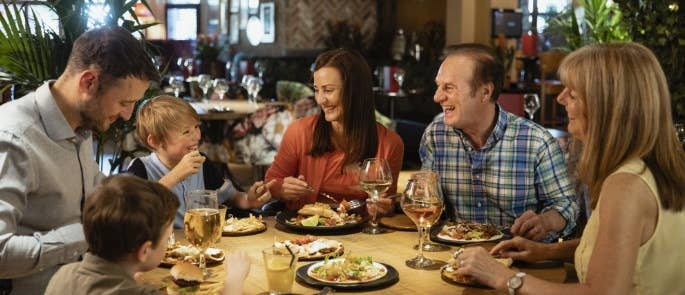 Whichever steps the business takes, all employees and customers must adhere to the procedures in place. For those places where households cannot mix, it is important that when taking a reservation, you consider the size of the booking and check that no one is breaking any rules.
One way to assist customers in following new procedures in the restaurant is to inform them of the steps you are taking to ensure their safety prior to their arrival. When taking a reservation, you could offer to email this information to them. Alternatively you could display it on your business website and direct customers to it.
This can also work as a customer contract for good behaviour, where you can outline what you expect from them as they arrive into your venue. Steps such as using the hand sanitiser on arrival, staying seated at their table and paying via an app can all be explained beforehand at the time of booking, which limits any tableside explanations from serving staff.
Is the same true for bars and cafes?
There are clearly a number of benefits to taking bookings, and no matter what establishment you run or work in, they are relevant to any setting. If you run a small cafe, you may want to set aside a few tables for bookings, leaving the rest for walk-ins.
In a bar or pub, the government guidance encourages you to provide table service, and you may find it easier to do this with a reservation system in place. Even if people are just coming for drinks, you can still encourage them to book a table in advance.
One of the biggest changes to reservations is the impact of the NHS Track and Trace service, which we will look at in the next section.
---
Guidance on NHS Track and Trace
As hospitality venues reopen and welcome back members of the public, the government asks for assistance with contact tracing of any infected individuals. For hospitality businesses, this means recording customer data, sharing it upon request and avoiding any breaches of data security. It can be difficult to understand what you need to do, but don't over-complicate things – do your best to follow the government guidance.
Below, we outline some of the key questions on NHS Test and Trace. Use the dropdowns to read the advice and avoid any headaches.
Do I have to take customer details?
Yes. The government, as of September 18th, has made it mandatory for hospitality businesses to record customer contact details in order to support the NHS Test and Trace service and provide them to this service if requested. This is enforceable by law and establishments that do not give or record this data can face fixed penalties.
What details do I need to take from my customers to support this service?
The key details that you should ask of customers are their name and a contact number. If your guests are from one household, one nominated person can be the lead member of the group so you only need to take down their name and contact details. Where there are more than one household, you must record details for each. You should also record the date of their visit, the time they arrived, and if possible, what time they left. If applicable, you should also record the staff member who served them.
What if my customers don't want to share their information?
Businesses must have a system in place to record this data, however, they are not responsible for ensuring guests leave accurate data. If your guest does not wish to leave their details, they can opt out. As a business, you should respect their wishes and not provide their information to the NHS Test and Trace, should the tracers ask for it.
Are there any other details I should record alongside customer data?
As well as customer data, businesses must keep a record of staff data, so that they can easily be traced and contacted should they need to be. Recording staff shift and contact details will enable you to see who worked specific days and times. You may wish to record which server waited on specific tables. This may help you should a member of staff come into contact with someone who tests positive for COVID-19 and needs to self isolate. If you have contractors or visitors on site, you should keep a record of this also.
How long do I need to keep this information?
The NHS Test and Trace service requests that you keep this data for 21 days. This duration reflects the 14 day incubation period for COVID-19 and allows an additional 7 days for testing and tracing of individuals and their contacts. After this time, the data should be destroyed in a safe and secure manner.
Do I need to record data for take away items?
No, if the customer is collecting food to take away and consume off the premises you should have other mitigating factors in place (such as social distancing, wearing face coverings and good hand hygiene) so you don't need to record details for takeaway customers.
How do I dispose of this information safely?
If you store this data electronically, you can delete this safely through the computer or via the service you use. If you keep paper copies, these must be kept secure to avoid data breaches – such as someone photographing the data. Paper copies must be destroyed in a safe manner without the risk of someone else coming across the data.
When do I need to share this with the NHS Test and Trace service?
NHS Test and Trace will only ask for this data where it is necessary, either because someone who has recently visited your venue tests positive for COVID-19, or because your venue is identified as a source of a local outbreak of COVID-19. If the tracers contact you, they will advise how best to share this information securely, and you should do so as soon as possible.
If NHS Test and Trace get in touch, will I need to shut my venue?
No, not necessarily. It could be that someone who has tested positive for COVID-19 has visited your venue recently. In this case you will need to assess the risk and take action to prevent further spread of the virus. The NHS Test and Trace service will assist you with support and guidance in this.
Can I use this data for any other use?
No. The data that this service requires is personal data and therefore cannot be used for anything other than what it is intended for. For example, you cannot take information acquired for the NHS Test and Trace service and add it to your marketing database. To do this would be a breach of GDPR.
What about data protection?
This data collection falls under the General Data Protection Regulation (GDPR) and must be handled accordingly. You should alert customers and staff to the fact that you are collecting this information to supply to NHS Test and Trace, should they require it. Displaying a notice on your website or on the premises to say what data is being collected and why will satisfy this requirement. You must be able to honor an individual's right to erasure or the right to rectification.
The most important takeaway from the NHS Test and Trace service is that it is here to keep everyone safe. It is looking to identify those who have come into contact with an infected individual to prevent the spread of the virus. Allowing contact to go on unchecked could result in a surge of cases that could severely affect your business. All staff should be trained on how to accurately and safely record customers' details, and should be confident and comfortable with doing so.
To explain to your customers what steps you are taking to support the NHS Test and Trace service, you can display a poster on your premises, or on your website. This transparency will reassure your customers that you are taking steps to be responsible, and that you are aware of the issues surrounding data that some customers may be wary of. We have created a poster for you which you can download and use in your business on the button below.
---
The restaurant reservation system is a useful tool that can help businesses better manage their customers. It provides information that managers can use to anticipate busy periods in their restaurant, bar or cafe. It also gives an opportunity to connect with customers in a positive way. As we emerge from lockdown, getting customers back to venues in a way that they feel safe will give your business a better chance of survival.
---
Further Resources: