Health and Safety in Construction: How to Work Safely Following COVID-19
January 13, 2021
5 min read
Although it was a rocky first few months of uncertainty for the construction industry, it has fortunately been able to continue operating during the COVID-19 pandemic, including during national lockdowns. In order to do so, however, the law requires employers and other duty holders to make the workplace COVID-secure.
As COVID-19 guidance is constantly changing, it's crucial to keep on top of government requirements for maintaining COVID-safe workplaces. Employers must put in place adequate COVID-19 control measures and ensure that workers receive the necessary information, instruction, and training about these measures. This will ensure employees are protected and confident in following procedures while carrying out work, and will also ensure anyone else who may visit the site is kept safe.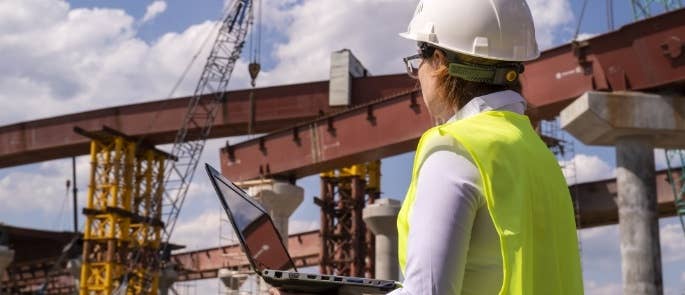 This guide will explain some of the key COVID-19 safety procedures for construction sites, as advised by the UK Government, UK health services, and leading industry bodies, such as Public Health England (PHE) and the Construction Industry Training Board (CITB).
This guide covers the following topics:
Use the above links to jump to a certain section of the guide.
---
COVID-19 Rules for Construction: Who Can Go to Work?
With businesses being yo-yoed in and out of closure, there is understandably a lot of uncertainty about who can and can't go to work. Ultimately, for construction sites, it will depend on the project in question and how they're affected by other businesses closing.
But, generally speaking, government guidance currently states that construction work can continue – even during national lockdowns – as long as it is COVID-secure.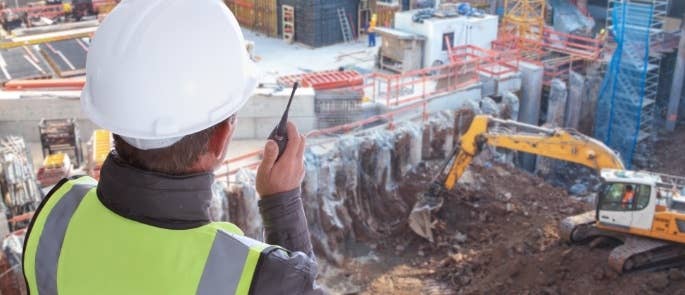 However, there are a few different rules for certain circumstances, which determine whether an individual should or shouldn't go to work.
Employers must know what these are, so they can organise work accordingly and ensure no one is put at risk. As a worker, knowing these is also important, so you understand how to follow the necessary guidance and know your rights if you feel that you shouldn't be at work.
When should and shouldn't you go to work?
The government states that, where possible, people should work from home. This of course won't always be doable for construction work.
Anyone who is well, isn't considered vulnerable, and doesn't meet the requirements for self-isolation should be able to go to work if it's COVID-secure.
However, you might not be able or must not go to work if:
You are clinically vulnerable. You should be able to attend work, provided your employer has put sufficient COVID-19 controls in place. They should also offer you the safest on-site role possible, where you can maintain social distancing. However, if it can't, your employer should assess what further steps are required to ensure that the level of risk is as low as is reasonably practicable. This may include working from home.
You are clinically extremely vulnerable. At the time of writing (January 2021), the current national lockdown guidance states that you should consider whether you can work from home. Where that is not possible, employers should not require you to attend work. They should discuss alternative arrangements, including use of the Coronavirus Job Retention Scheme (furlough) if necessary. As this is subject to change, depending on whether the country is in lockdown, tiers, or another system, it's crucial that you consult the government website for guidance.
You meet the requirements for self-isolation. You can work from home if possible and you are well enough while self-isolating. By law, employers must not knowingly require or encourage someone who must self-isolate to come to work.
Employers will also have to consider equality and diversity in light of COVID-19. Any steps they take must not have a negative impact on certain groups of people, such as those with caring responsibilities.
---
COVID-19 and Managing Health and Safety in Construction
The UK Government and leading organisations from the construction industry have issued COVID-19 guidance for construction sites. Although official guidance is constantly changing, some key requirements and information have remained firmly in place throughout the pandemic. For example, social distancing, hand hygiene, ventilation, and cleaning procedures – just to name a few. It's important to understand how these apply to you and construction work, particularly if you are an employer or other duty holder.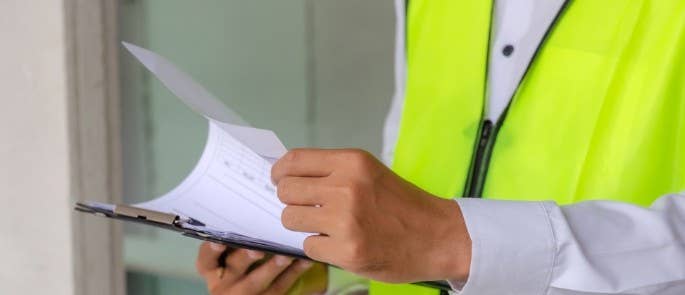 Below, we'll look at these fundamental aspects of COVID-19 safety on construction sites and highlight the areas that employers should pay particular attention to. This will give you a useful overview of what the law requires of businesses and how construction sites should be kept safe.
Priority actions for COVID-19
Employers must follow seven key steps, known as priority actions, in order to make their workplace COVID-secure.
The seven priority actions are:
Complete a COVID-19 risk assessment. The employer or another duty holder should do so and share the results with staff, so they know how they may be affected by health and safety risks, what's being done to protect them, and how to follow controls.
Clean surfaces and wash hands more frequently. The frequency of cleaning throughout the workplace should be increased. This is especially important for high touch surfaces. Likewise, handwashing should be increased. There should be suitable facilities and provisions that enable this, such as multiple hand sanitiser points and hand washing areas with hot running water.
Remind visitors and staff to wear face coverings where required. Face coverings are not a sufficient COVID-19 control measure on their own and in many cases will not be suitable at all, such as if workers need to wear RPE. We'll look at PPE in more detail towards the end of this guide.
Ensure everyone can maintain social distancing (2 metres, or 1 metre with risk mitigation where 2 metres is not viable). This is a fundamental COVID-19 control measure. Signs and one-way systems can help maintain this, but other procedures may also be necessary, which we will look at in more detail later.
Increase ventilation. The government emphasises the importance of good ventilation for indoor spaces. Where possible and provided it doesn't interfere with other safety measures, doors and windows should be kept open and ventilation systems should be used.
Take part in NHS Test and Trace. Your business must keep a record of all staff and contractors for 21 days. Staff who are notified by the NHS Test and Trace service or NHS COVID-19 app that they need to self-isolate must do so.
Turn people with coronavirus symptoms away from the premises. If you have visitors to your work site and they have symptoms of COVID-19, they must be instructed to leave the premises immediately.
There are also an additional five steps that construction sites should consider:
Reduce crowding. As part of the COVID-19 risk assessment, the employer must consider how many people can be in a space while maintaining social distancing and how to prevent crowding in busy areas. To keep groups separated, they should consider separating the site into smaller zones.
Work with the same team every day. Fixed teams or shift patterns will help reduce the number of people each person has to come into contact with.
Arrange workspaces to keep staff apart. To help maintain social distancing, measures may include barriers to separate staff, back-to-back or side-to-side working, and spread-out workstations.
Limit and clean shared equipment. There should be limits on the number of people who share tools, machinery, vehicles, and other equipment. These must receive frequent cleaning.
Communicate and train. Employers must ensure that their employees and anyone else who may be affected, such as contractors and visitors, receive the necessary information about safety measures on the site.
These seven priority actions and five additional steps for construction are a key starting point for making workplaces COVID-secure, but there are also various other factors to consider, including those specific to your worksite. This will all form part of the employer's COVID-19 risk assessment.
In the next section of this guide, we'll look at further guidance for working safely on construction sites during COVID-19.
---
COVID-19 Control Measures for Construction Site Safety
To ensure the safety of anyone who works on a construction site, as well as others who may be affected (such as contractors and visitors), there are a number of COVID-19 safety measures that employers must put in place and communicate to workers, so they can follow them.
The following list of controls is not exhaustive, but it covers a number of key areas to consider for construction work, which will help make your workplace COVID-secure.
Arriving and leaving the site.
Suitable arrangements for arriving and leaving the site will enable effective social distancing. Examples include:
Staggered arrivals and departures. This could also involve creating additional entry and exit points to prevent congestion at the beginning and end of the working day.
One-way systems at entry and exit points.
Additional parking or facilities, such as for bikes, to reduce the use of public transport.
Handwashing facilities at entry and exit points.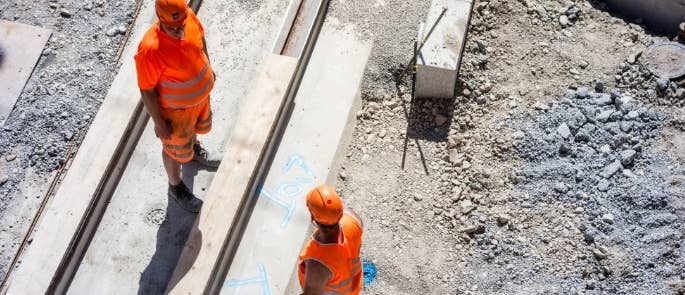 ---
Maintaining social distancing during work.
It's important to minimise person-to-person contact with effective social distancing throughout the workplace. Examples of arrangements for this include:
One-way systems around the workplace, as well as signage and ground markings to encourage social distancing.
Side-to-side or back-to-back working, as well as screens between people and reorganised layouts that enable staff to work further apart.
Consistent pairing systems if workers must carry out work that requires being in close proximity to others.
Minimising non-essential trips around the workplace. Some areas could be restricted, and the use of phones, radios, and/or other electronic devices may be encouraged.
Reducing job and equipment rotation.
Reducing occupancy of vehicles used for on-site travel, such as shuttle buses. Where these are required, everyone should follow social distancing measures when on board the vehicle.
Ensuring people can pass things to each other safely, such as tools and materials. Drop-off points or transfer zones can eliminate direct contact.
Running site inductions outdoors, with social distancing, where possible.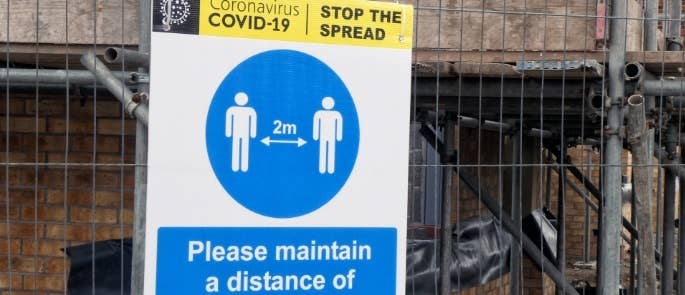 ---
Cleaning and handwashing.
There must be sufficient cleaning and handwashing procedures in the workplace:
The following should receive frequent cleaning: work areas, equipment, high touch surfaces (such as door handles, communal areas, and any tools, equipment, and vehicles that are shared), busy and communal areas, and toilets. Your workplace's usual cleaning products will be sufficient for general cleaning.
Suitable waste arrangements for removing rubbish, cleaning materials, and single-use PPE.
Various handwashing facilities and sanitisation points throughout the site.
Signs and posters that increase awareness of good handwashing technique and hand / respiratory hygiene. For example, people should know to cough or sneeze in tissues or their arm, rather than their hands.
Businesses must follow specific procedures for cleaning after a suspected or confirmed COVID-19 case, which you can find guidance about here.
Back to Top
---
Common areas, e.g. break and lunch rooms.
Shared areas need particular attention in terms of social distancing:
Break times should be staggered.
Outdoor areas should be used where possible.
Break and lunch areas can be extended by using additional space or other parts of the workplace that may have been freed up by remote working.
Seating and tables should be arranged in a way that reduces face-to-face interactions and maintains social distancing.
Workers should be encouraged to remain on-site during breaks and lunch where possible.
---
Communication and meetings.
Communication between workers and meetings can pose transmission risks, but as they are often unavoidable, measures will need to be put in place:
Remote working tools will help to avoid in-person meetings and communication.
Meetings should be outdoors or in well-ventilated rooms where possible.
To reduce the need for face-to-face communication, visual communications may be used, such as whiteboards and signs, to explain safe working practices around the work site.
People should avoid raising their voices when communicating to each other. For example, by instead communicating in quieter areas or via remote tools.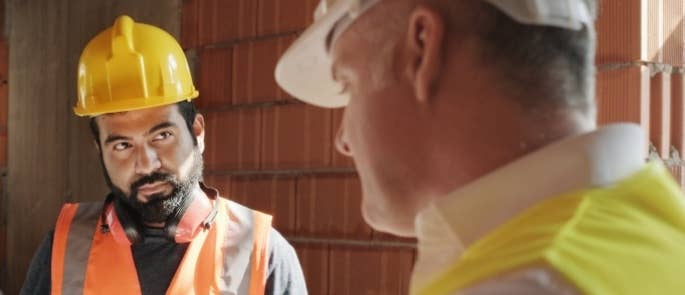 In addition, communication should be maintained with people who work from home. They should be able to stay connected with those still working on-site. Keeping in touch will also help to check that their working arrangements are still suitable, and that their welfare, mental and physical health, and personal security is all being looked after.
---
Information, instruction, and training.
It's crucial for workers and anyone else who may be affected, such as contractors and visitors, to receive suitable and ongoing information about the COVID-19 safety measures that are in the workplace, including how to follow them. This should be delivered in a COVID-safe way.
Employers should ensure workers receive clear, consistent, and regular communication to improve understanding and ensure ways of working are consistent.
They should engage with workers and their representatives to explain and agree on any changes in working arrangements.
Simple, clear messaging should be used to explain guidelines. Images and clear language are important, as well as consideration of anyone who may not fully understand English and anyone with protected characteristics, such as visual or hearing impairments.
---
Inbound and outbound goods.
To enable the safe movement of goods in and out of the site, appropriate safety measures must be in place:
Suitable pick-up and drop-off collection points to enable non-contact deliveries. These should have suitable signage and markings.
Reducing frequent deliveries, such as by ordering larger quantities of materials.
Having single workers or the same pair of people to load or unload vehicles, where it's possible and safe.
Encouraging drivers to stay in the vehicle, provided they know how to do so safely to minimise risks, such as drive-aways.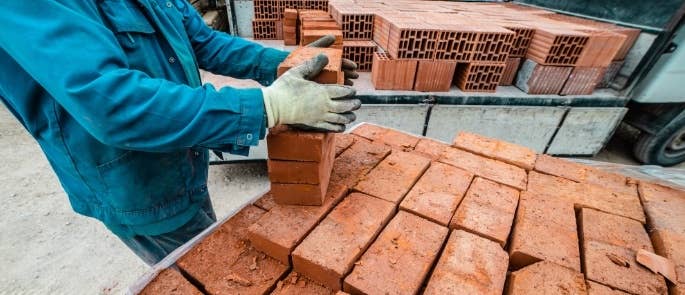 ---
Reducing contact with visitors.
The number of visits to the worksite should ideally be kept to a minimum, and risks should be reduced if they are unavoidable:
Where possible, run site visits remotely.
If you must have a site visit, guidance on social distancing and hygiene should be explained to the visitors when or before they arrive. You should also limit the number of visitors at any one time.
They should wear a face covering, particularly when in indoor spaces.
Use signage to help remind people of the procedures everyone should follow.
Organise the day in such a way that overlap between people is minimal during visits.
---
Personal protective equipment and face coverings.
Workers should continue to wear any PPE they already require on construction sites for non-COVID risks. Some additional PPE may be needed for COVID risks, but it's crucial to note that PPE is a last resort. Your employer must consider all other COVID controls first, like social distancing, hygiene, fixed teams, effective cleaning, etc.
If the risk assessment does show that certain workers need additional PPE or a face covering, then the employer should provide it to them and cover the cost.
For example, a face mask or face covering may need to be worn in enclosed spaces where social distancing isn't possible.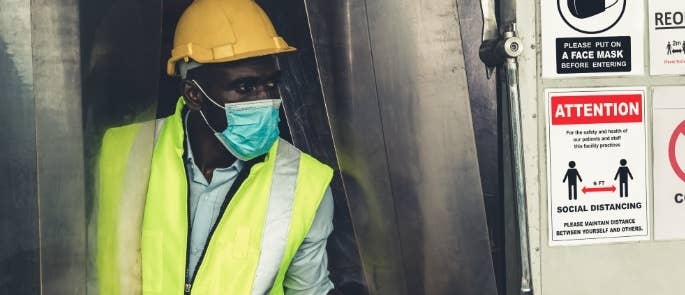 If so, good hygiene practices must be followed. Workers should wash their hands thoroughly before putting their face mask or covering on and after taking it off. They should change it if it becomes damp and should either dispose of it in accordance with their waste procedures or wash it in line with the manufacturer's instructions, if machine washable.
---
In order to continue operating, construction businesses must ensure their work is COVID-secure. It is the employer's duty to carry out a COVID-19 risk assessment and implement controls accordingly, many examples of which have been listed throughout this guide, though it is not exhaustive.
This guidance is based on official advice from the UK Government, which businesses should continue to refer to, but they should also consider any advice that has been produced specifically for their sector, such as from trade associations and unions. You can find further documents and guidance sites below.
Equally importantly, employers should consult and inform workers (and the workers' representatives) about control measures and any changes, so they understand what is in place to keep them safe and so they can effectively follow safety procedures.
---
Further Resources: