We've Been Recognised in Three Best Companies Lists 2021!
April 30, 2021
4 min read
We're proud to announce that High Speed Training has been recognised for its commitment to workplace excellence, after being listed as one of 'The UK's 100 best small companies to work for' by the leading industry body, Best Companies.
In addition, our company is featured in 'The best 75 places to work in Yorkshire and Humberside' and 'Top 25 places to work in education and training in the UK' – as voted for by employees themselves, with the full listing and final position to be released in May.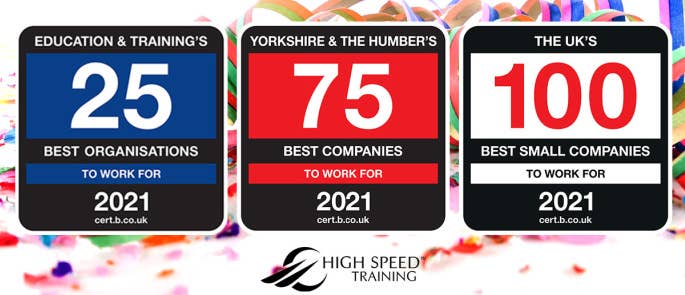 The listings come after receiving a 3-star accreditation rating, the highest accolade from Best Companies, which we feel is a testament to the hard work and commitment of all our employees.
The truth is, no company can become an exceptional place to work without that desire coming from the team that works there. A great place to work is about working with people who care and feeling like you are empowered to do a great job.
Dan Jordan, CEO of High Speed Training
---
Over the last year, High Speed Training have implemented a number of new initiatives to support our staff during the pandemic, such as company-wide wellbeing schemes, ongoing virtual support and virtual socials to support mental and physical health.
We have also introduced regular recognition initiatives through online softwares Betterworks and Perkbox. Staff members, as well as senior leadership, are encouraged to publicly recognise colleagues for their hard work and use quarterly allocated budgets for teams or individuals to claim "perks" of their choice.
At High Speed Training we are committed to putting people first and one of our core values is that we are all building a company 'together.' This achievement is testament to the quality of our staff and culture which is built firmly around teamwork.
Brenda Peake, Head of HR at High Speed Training
To read more about High Speed Training & the Community During COVID-19, click here.
---
Best Companies
Best Companies has over 20 years' experience in helping organisations measure and improve employee engagement using a robust methodology, with their accreditation standard certifying excellence in the workplace since 2006.
Congratulations to High Speed Training on their fantastic achievement of a 3 star accreditation, which demonstrates that they take workplace engagement seriously and continue to put their people at the forefront of all they do. This has been rewarded through world class levels of engagement – well done indeed.
Jonathan Austin, Founder and CEO of Best Companies
---
Join us in watching 'Best Companies Live 2021' which will reveal this year's Best Companies to Work For across the regional, sector and national lists, as well as host the conversation around the future of the workplace. Find further details here.
---
What to Read Next: