How to Reopen Your Business Safely Following COVID-19: Free Risk Assessment Template
July 2, 2020
5 min read
More and more businesses in England, and in the rest of the UK, are now starting to make preparations for reopening. As restrictions begin to ease across the country, the 4th of July is marked as being a key date for more businesses to reopen, with further key dates being revealed across Scotland, Wales and Northern Ireland.
However, this gradual shift towards 'normal' is not guaranteed to happen smoothly. It is therefore essential that all business and customers take extra precautions while planning to reopen. Employees and other people on the premises must be kept safe. Conducting a risk assessment of your business is the first step towards this and will help you identify risks from COVID-19, as well as other aspects.
---
What are the Health & Safety Responsibilities of Employers?
All employers have a duty to ensure the health and safety of all employees under the Health and Safety at Work, etc. Act 1974, so far as is reasonably practicable. Under the Act, employers must also ensure their workplaces are safe and do not pose risk to others, such as contractors, visitors or members of the public.
There are a number of further regulations that fall under the Health and Safety at Work, etc Act 1974, such as the Management of Health and Safety at Work Regulations 1999. This states that the key duties of employers are to carry out risk assessments, and to record the findings if there are 5 or more employees. Furthermore, employers should keep the risk assessment up to date – at least annually and more frequently if circumstances change – and they should provide health surveillance where appropriate. Employers should also provide workers with information on the risks to health, the preventive and protective measures and any procedures they are required to follow. Lastly, employers have the responsibility of ensuring workers are fully trained in health and safety matters related to their roles.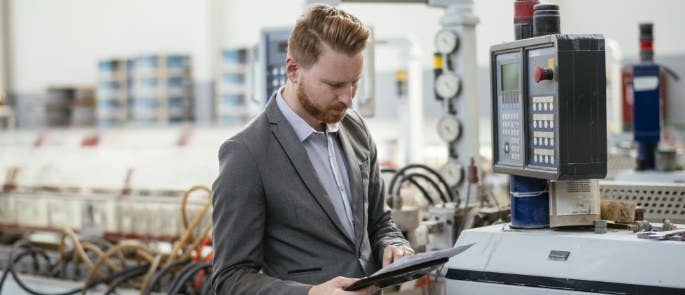 The Health and Safety Executive (HSE) provides legal enforcement for health and safety law within the workplace. The aim of the HSE is to 'prevent death, injury and ill health in Great Britain's workplaces'. In relation to COVID-19 control measures, the HSE has said that they will carry out work to check that appropriate measures are in place to protect workers from COVID-19. If any staff member develops symptoms of COVID-19, the employer is required to report this to the HSE.
---
What Adjustments Should I Make for Working Safely?
As an employer, your risk assessment will help you identify the specific needs of your business. However, the government guidance to working safely highlights 5 key steps that every business must adhere to. These are:
1. Carry out a COVID-19 risk assessment
As we have explained, it is the legal responsibility of employers to have completed a risk assessment of their business. COVID-19 is a new occupational health and safety hazard that you've never had to consider in a risk assessment before, so as places begin to reopen, businesses are encouraged to conduct a COVID-19 risk assessment.
This will not only identify the areas and methods in which you can keep people safe, but it will reassure your staff that it is safe to come back to work. Having a covid-secure workplace will also reassure your customers that they too can return to your business. Your risk assessment should therefore be thorough and you should aim to share it with all your employees and customers.
2. Develop cleaning, handwashing and hygiene procedures
Every workplace will have to increase their cleaning, handwashing and hygiene procedures. As you conduct your risk assessment you will identify the areas of your business that are high contact. These areas will need cleaning more often throughout the day, and employers are responsible for ensuring this happens. These areas will need cleaning more often throughout the day, and employers are responsible for ensuring this happens, whether that's by implementing cleaning schedules for staff to follow or increasing cleaners on site. Similarly, busy areas, such as waiting rooms or toilets, will need to be cleaned more frequently, more thoroughly and with appropriate disinfectants.
Handwashing continues to be essential in preventing the spread of COVID-19 and should be encouraged amongst all those on the premises – employees, contractors and visitors alike. Again, your risk assessment will highlight if your handwashing facilities are insufficient or if your business's approach to hygiene is lacking. You may need to install extra handwashing or sanitiser stations in the premises. Some businesses will decide to set reminders for staff and implement procedures such as handwashing every hour, or after every customer is served. Note that handwashing must be done correctly to be effective. For a reminder on the correct way of washing your hands, watch our video here.
3. Help people to work from home
As more and more sectors open up – such as retail, hospitality and leisure – many of us are coming back to the workplace. However, if employees can work from home, they should continue to do so. Employers should encourage working from home where it is possible, and should ensure staff have everything they need to be able to work safely. When employees are working from home, employers are also responsible for taking steps to help their mental health and wellbeing. For more guidance on home working and mental wellbeing, take a look at our article Working from Home: Looking After Your Mental Health.
4. Maintain 2m social distancing, where possible
One of the safest ways to prevent transmission of the virus is still to keep 2 metres apart. There are several ways in which businesses can do this. Some examples include marking out zones for people to work in, changing the flow within the building to avoid people crossing paths, holding virtual meetings instead of in person, limiting the number of people in a workplace and using posters to remind people to socially distance themselves. To learn more about infection control and prevention in the workplace, take a look at our course COVID-19 Essentials: Infection Prevention & PPE.
5. Where people cannot be 2m apart, manage transmission risks
The latest government guidance deems that 1 metre plus is acceptable where it is not possible for workplaces to keep people 2 metres apart. This means that people can be 1 metre apart, so long as further controls have been put in place. Such controls could include installing screens between workers and customers. For example, we have seen this at till points, between employee workstations or even between restaurant tables. Further controls could include switching to back to back working rather than face to face, wearing face coverings or additional PPE, or staggering shift times so that employees don't arrive, take breaks, or leave all at the same time.
Whilst the 5 steps outlined above are applicable as a guide to every workplace, there are clearly a multitude of ways in which businesses can approach reopening safely. Conducting a risk assessment of your workplace is the best way to determine which steps your business should take.
---
Why is it Important to Conduct a COVID-19 Risk Assessment?
As we have explained, employers have a legal responsibility to ensure the health and safety of their staff. To do this, they should carry out a risk assessment. It is now even more essential that workplaces conduct a risk assessment that carefully looks at the risk of COVID-19 and how to mitigate risks. This will not only identify how to keep workers safe from the virus, but also ensure that if any new measures cause other risks to health and safety, these are properly controlled.
When conducting a risk assessment, it is important to involve employees or trade unions. This will mean that any concerns from employees are heard, and that addressing these concerns will make the workplace as safe as it can be. This will go a long way in ensuring staff feel happy to return to work. Any new measures or procedures that emerge from the results of the risk assessment must be clearly communicated to all employees, and they must be trained and instructed on how to deal with the risks in their workplace. As an employer, you should record this training and make sure it is kept up to date with any changes in the workplace.
Furthermore, if an employer is exposing workers to risks, or is not carrying out their legal duties regarding health and safety, then workers can make a complaint to the HSE. Any business not protecting their workers could be liable for any injury or harm they come to at work. The HSE has the power to close a business or issue fines should they be found failing their duties.
---
Free COVID-19 Risk Assessment Template for Businesses
To help you carry out a risk assessment in your business, we have created a free downloadable blank template for you to use, as well as a pre-filled example risk assessment to highlight some of the COVID-19 risks you may find in your business. You can download them on the buttons below:
Once you have completed your risk assessment, the government has requested that any business with 50 or more employees publish the results on their website. This is to allow the public to see what control measures you have put in place. If you have less than 50 employees, you may want to publish the results anyway, as doing so will help build trust, both with employees and with customers. You can also print and display the results prominently in your workplace to remind employees and customers of the steps you should all be taking to promote health and safety at work.
---
Further Resources: