Planning a Christmas Dinner: Free Checklist
December 17, 2020
5 min read
Making the perfect Christmas dinner is something that we all aspire to, but it requires a lot of planning and preparation in the days beforehand. Trying to remember everything you need to do – and what time you need to do it – as well as attempting to spend time with family and friends can make the Christmas period more stressful than it needs to be.
To help you have a successful (and relaxing!) dinner, we will outline the things you might want to consider over the next few days and weeks, including your shopping list, time plan, and food hygiene necessities. We have also put together a free checklist that contains everything you need to know, which you can find at the end of this article.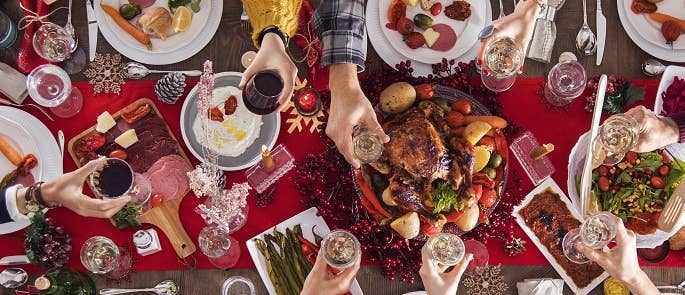 ---
What are the Christmas Dinner Essentials?
For the perfect Christmas dinner, you'll need to make sure that you've planned the menu and bought strategically – you don't want to go overboard or spend too much!
Items that you might want on your shopping list include:
Nibbles – you could buy ready-made canapés, or the ingredients to make your own (e.g. rye bread with salmon and cream cheese, stuffed dates, sausage rolls, or anything you fancy!)
Turkey, for a traditional dinner – or ham, beef or lamb for something different
Roasting potatoes (King Edward, Maris Piper, or Desiree potatoes are the best roasters!)
Parsnips
Carrots
Sprouts
Red cabbage
Swede
Broccoli
Stuffing – which you can buy in a packet to save time
Sausages and bacon to make pigs in blankets, or buy pre-made
Bread sauce and cranberry sauce, or if you've gone for alternative meat, horseradish sauce (for beef), mustard (ham or beef) or mint sauce (lamb)
Gravy
Christmas pudding
Yule log
Trifle
Mince pies
Chestnuts
Brandy cream
A cheese selection for your cheese-board
Drinks: Prosecco, Champagne, wine, beer, sherry – whatever you prefer. Don't forget your mixers, such as orange juice for a Christmas morning Bucks Fizz, and soft drinks too.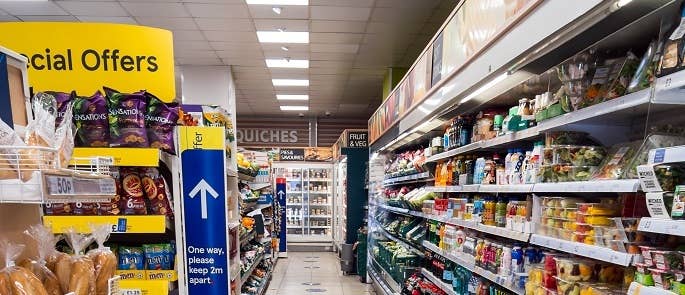 If you're looking for vegetarian, vegan, or gluten-free options, you might want to get:
Parsnip soup, or another festive soup (think chestnut, or celeriac and hazelnut)
Nut roast
Mushroom stuffing
Gluten-free or vegan gravy
Cranberry, maple and pecan pudding
Parsnip, cranberry and chestnut loaf
Vegan mince pies
And these are only the beginning – there are lots of great alternative options out there for every diet.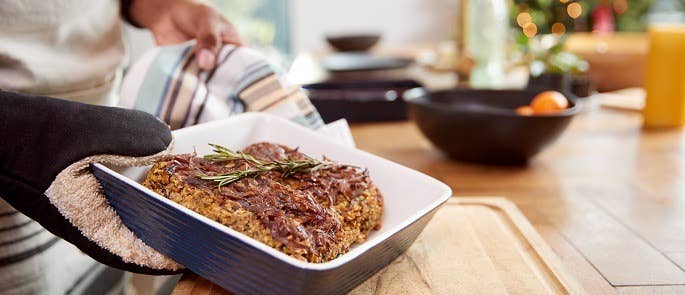 Other essentials that you'll probably have in your cupboards – but it's worth double-checking – are:
Lots of milk and butter
Vegetable oil, goose fat, or other cooking oil
Salt and pepper
Roasting dish
Vegetable steamer
Vegetable peeler
Sharp knives, including a carving knife
Gravy boat
Serving spoons
Christmas crackers
Enough cutlery, crockery and napkins for all your guests
If you really want to impress your guests, you might want to read our article on 'How to Lay a Table' and make sure you have all the components for beautiful table-settings.
In the weeks before Christmas, you can start doing some of your food shopping, especially for cupboard staples and drinks. There are some great early bargains to be found, and as you'll see in the next section, doing everything as early as possible is the trick to a successful Christmas dinner.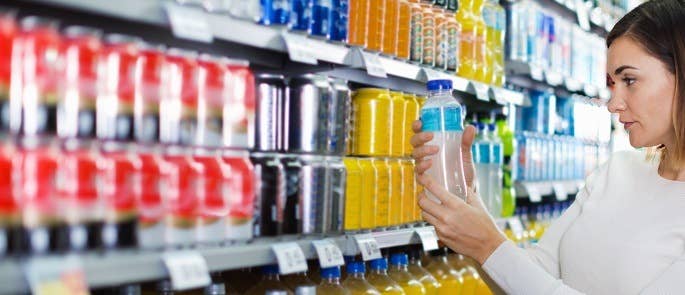 ---
How Should I Plan My Timings for Christmas Dinner?
Timing your Christmas dinner is notoriously difficult. It depends on when you want to eat, how many people you're cooking for, and what else you are going to be doing on the day. The whole process takes – on average – at least 4-5 hours, which can leave many people busy and stressed for the entirety of Christmas morning.
But don't worry: there is another way to do it! By using a time plan (like our checklist) and preparing everything that will stay fresh in the run-up, you can cut the time that you spend cooking on Christmas day down immensely.
Sauces and Vegetables
For example, if you're making your own sauces, you could prepare them days (or even weeks) before Christmas. Bread sauce, cranberry sauce, and gravy all freeze well: you can defrost them in the fridge overnight, and heat them up in a saucepan or the microwave when you need them.
Doing prep on Christmas Eve is another great way to make sure you're ready for the big day. Lots of the ingredients for a Christmas dinner will stay fresh overnight, so why not prepare them early?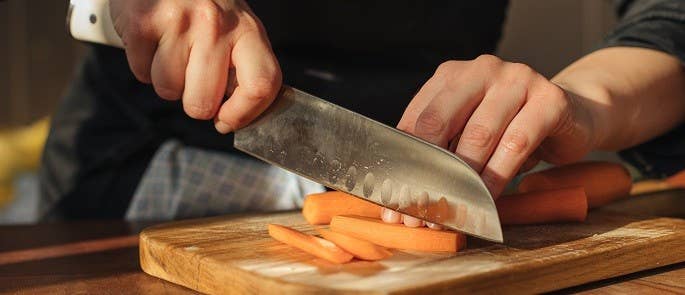 First, you can prepare your vegetables: make the red cabbage, leave it to cool, and store it in an airtight container in the fridge. Peel and chop your carrots and sprouts, and prep your broccoli and parsnips. You can store sprouts uncooked in a cool bag in the fridge – this is one item that won't benefit from advance cooking, because it ruins the flavour and texture. However, you could cook your carrots and parsnips in advance, if you're roasting them in honey glaze. If you do part-cook your vegetables on Christmas Eve, or the day before, store them in the fridge in an air-tight container, and heat them up on the day. If you decide not to cook them beforehand, store prepared vegetables in cold water in the fridge overnight to keep them fresh.
Potatoes, Sides, and Dessert
Other things you could do in advance include making your stuffing balls; store them in a plastic box in the fridge overnight. You could prepare your pigs in blankets, if you have enough fridge space; cover them with tin foil to store in there. Additionally, you could even cook your roast potatoes – chop them into your preferred even-sized pieces, parboil them, then roast them in goose fat as usual. When they're done, let them cool down, pour off any extra fat, cover them with tin foil, and store them in the fridge. You can reheat them for 10 minutes in a very hot oven after your turkey has cooked on Christmas day – and they won't taste any different.
If you're making your own puddings, this could also be done on Christmas Eve, or a couple of days earlier.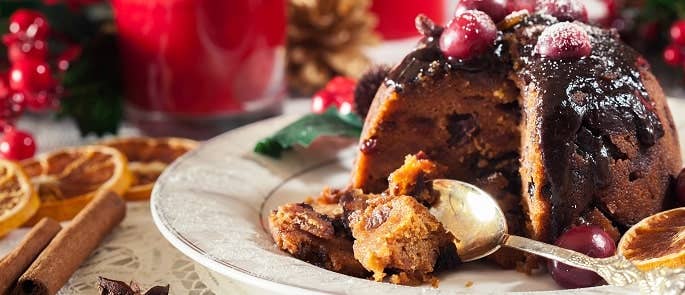 Timeline on the Day
All this preparation means that your time plan on the day will be much simpler. The main thing that you will need to do is cook your turkey.
Making sure it is fully defrosted and ready to cook on Christmas morning will save you valuable time. Frozen turkeys need at least 24 hours to defrost, and sometimes more than 48 hours, depending on their size. Defrost your turkey in the fridge well in advance, allowing 10-12 hours per kg. Alternatively, buy fresh turkey, which will keep in your fridge for a few days.
Then, you need to calculate how long your turkey will take to cook. The British Turkey information service recommends that, if the bird is over 4kg, it will need 20 minutes per kilogramme, plus 90 minutes, at around 180 °C. If it is under 4kg, it will need 20 minutes per kilogramme, plus 70 mins, at the same temperature. For an average-sized 5kg turkey, this works out to 3 hours and 10 minutes in the oven. If you're putting stuffing inside it, you will need to cook it for slightly longer, especially if it is pork stuffing – perhaps another 15 minutes, but check for yourself depending on the stuffing you use.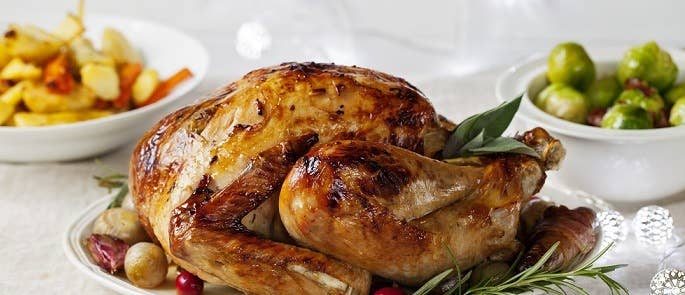 Your timeline for a dinner at 2pm might look like this:
9am: Take the turkey out of the fridge. Add the stuffing and any herbs.
9.50am: Put the turkey in the oven to roast.
11.45am: Prepare any vegetables that you haven't done already.
1.15pm: Take the turkey out, check it is fully cooked, and leave it to rest (covered with tin foil and towels).
1.25pm: Put the pigs in blankets and stuffing balls in the oven, along with any vegetables that you haven't already roasted.
1.45pm: Put your pre-cooked roast potatoes in the oven. Reheat any pre-roasted vegetables in the oven, microwave, or frying pan, depending on preference. Boil or steam your sprouts and broccoli.
1.50pm: Reheat your sauce and gravy.
1.55pm: Put your Christmas pudding on to steam, so it's ready a couple of hours after you've finished your main meal.
2pm: Carve the turkey and serve your dinner!
---
Food Hygiene Tips for Cooking at Christmas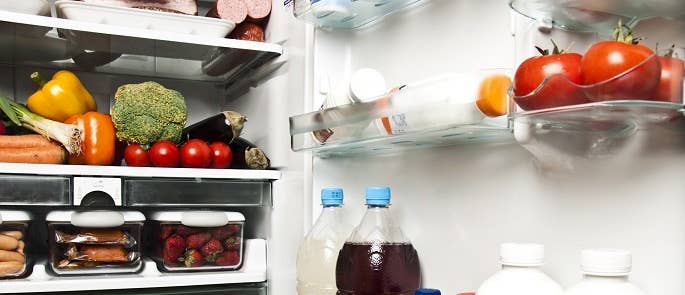 Because cooking at Christmas involves storing vast amounts of food, prepping ingredients in advance, and keeping various items warm, it's important to remember food hygiene. A few key tips to keep in mind are:
Don't overload your fridge – this can prevent the cool air from circulating. Its temperature should be between 0 and 5 °C. If it is too warm, your food might spoil.
Put fresh turkey in the fridge as soon as you get it home, removing giblets (the neck, gizzard, heart, and liver) if it has them and putting them in a covered bowl in the fridge to be used as stock for gravy.
The turkey should be on a tray or plate that is wide and deep enough to contain any blood or juice that might seep out. Keep it covered and don't let it touch any food in the fridge.
It's best to defrost frozen turkey in the fridge, because its core temperature rises when it defrosts. If this happens at room temperature, bacteria can grow.
If your turkey isn't fully defrosted before cooking, it might cook unevenly, leaving harmful bacteria which can give you food poisoning. It's important to let it thaw completely – use the instructions with the turkey, or work it out. In a fridge, it will take around 10-12 hours per kg.
Always wash your hands before preparing your Christmas dinner, and between handling raw meat, poultry, and raw vegetables. Wash chopping boards, utensils and knives thoroughly – if possible, use different chopping boards for raw meat, poultry, vegetables, and cooked food. This reduces the risk of cross-contamination.
Check that your turkey is cooked thoroughly when you take it out. The juices in the thickest part of the bird (usually between the breast and the thigh) should run clear if it is cooked. You could also check the temperature with a thermometer – internally, it should be 70 °C at least.
If you have leftovers, let them cool, cover them, and put them in the fridge or freezer within one to two hours. You can freeze cooked turkey and other cooked meat, as well as vegetables. Eat defrosted food within 24 hours – if you heat it in a microwave, it needs to be steaming hot. Leftovers in the fridge should be eaten within 48 hours.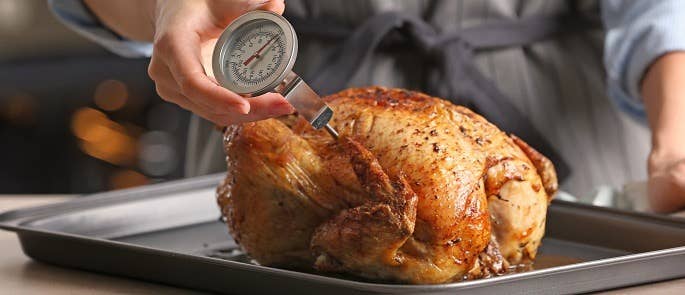 You might already know these guidelines, but it's easy to forget them in the heat of the moment – and nobody wants an uncooked Christmas dinner!
---
Free Christmas Dinner Checklist
Our Christmas dinner checklist will help you make sure that you're completely prepared for the big day. It includes a list of things to buy – with some suggestions of quantities per person – as well as what to prepare before Christmas day, and a timeline for cooking on the day itself. You can print it out and tick boxes as you go.
The checklist can be downloaded using the button below.
---
Further Resources: