Why is COSHH Important After COVID-19?
July 13, 2020
5 min read
In the aftermath of the COVID-19 pandemic, almost every type of workplace will need to adapt to new ways of working. One of the most important considerations is how to keep the workplace clean and safe for those who work there, as well as those who visit. Due to this, the risks associated with COSHH will likely be greater, as employees are handling hazardous substances to carry out more thorough and frequent cleaning activities.
This article explains what employers need to consider in the context of COVID-19 and COSHH management, including the measures put in place to ensure the safety of employees and anyone on the premises.
---
What Do I Need to Know About COSHH?
COSHH stands for the Control of Substances Hazardous to Health Regulations 2002, which requires employers to control and reduce the risks posed by hazardous substances in the workplace. This includes substances such as liquids, dusts, gases, fumes and vapours that can cause harm to human health when people come into contact with them. The type of illness they may cause varies depending on the hazardous substances and the route of exposure, but can include dermatitis, asthma, lung disease or cancer.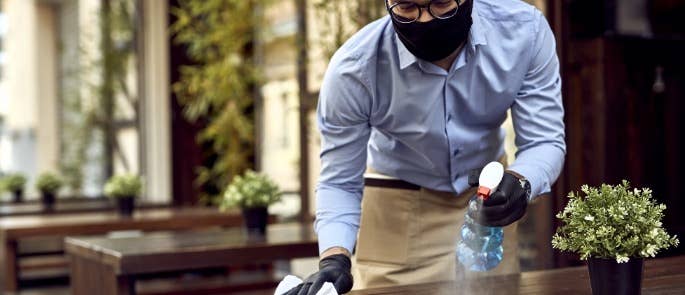 Certain activities in the workplace produce substances that are hazardous to health, while others are used directly in work activities or may already be present in the premises. This means that anyone who works in or enters the workplace could be put at risk. However, it is important to recognise that the main danger posed by hazardous substances is often prolonged exposure. If your employees are using or coming into contact with the same hazardous substances on a frequent basis, then they are more likely to experience occupational illnesses unless the risk is controlled.
Regardless of the source of hazardous substances, employers have a legal duty to carry out a comprehensive COSHH risk assessment and implement controls to reduce the risk that some hazardous substances pose.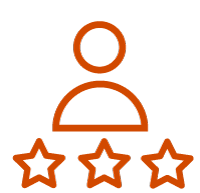 Need COSHH Training?
Our COVID-19 Essentials: Infection Prevention & COSHH Training for Cleaners is suitable for people and businesses who carry out or oversee any cleaning activities in workplaces. The course explains how COVID-19 is transmitted and what you can do to help prevent it from spreading. You will also learn about the health risks associated with hazardous substances at work and the legal duties employers have to comply with the COSHH Regulations 2002.
---
COVID-19 and COSHH: What are the Associated Risks?
Due to COVID-19, it is strongly recommended that there is an increase in cleaning at work premises. Government guidance has been released for each sector, which you can access here, and each emphasises the importance of more frequent cleaning of surfaces and objects, especially high-touch ones such as door handles. Following the correct cleaning procedure helps to prevent the spread and transmission of harmful microorganisms. This means that viruses such as COVID-19 can be stopped and killed, preventing people from catching it and falling ill.
However, with an increase in cleaning comes an increase in the likelihood of COSHH-related risks. The products workplaces use to clean will vary but many can cause ill-health complications if strict control measures aren't in place to remove this risk. For example, bleach may be used as a disinfectant. It is considered to be a hazardous chemical substance because it can cause irritation to the eyes, mouth, lungs and skin.
Therefore, if substances such as bleach are used, employers must put measures in place to reduce the risk. In this instance, whoever is handling and/or using the bleach may need to wear gloves to avoid the substance directly getting on their skin. They should also be informed of the dangers of coming into contact with the substance so they know to handle it carefully.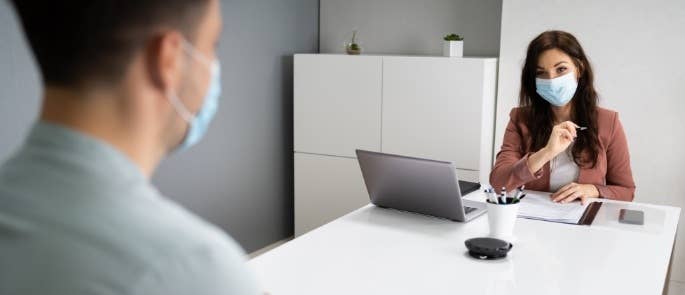 It's important to acknowledge that COVID-19 is a respiratory illness and that some of the main types of ill-health caused by hazardous substances are asthma and lung disease. While we don't yet know the long-term side effects of COVID-19, we do know that it affects and can greatly weaken the lungs. An employee who previously suffered from COVID-19 could then be at greater risk of developing health complications due to exposure to hazardous substances.
Employees who have suffered from this illness, and are comfortable in making their employer aware of this, should therefore be taken into greater consideration during the second stage of your COSHH risk assessment when deciding who might be harmed and how. Although they may be more susceptible to becoming ill from breathing in certain substances, this does not mean that you should only focus on them. All employees and people in the workplace must be protected from the risks associated with hazardous substances.
---
COVID-19 as a Hazardous Substance
By definition, COSHH includes 'biological agents' that are hazardous to health, including viruses. This means coronavirus falls under the regulations and requires employers to control and manage the virus, as they would for any other hazardous substance in the workplace.
Note that employers already have a legal duty to carry out a COVID-19 risk assessment before reopening after a period of closure. So, as coronavirus is considered a substance hazardous to human health, employers have legal duties under COSHH to put in place measures to protect people from the virus itself.
Although the precautionary measures put in place to reduce this risk will vary, most workplaces should adopt more frequent and thorough cleaning of surfaces and objects, increased handwashing and maintaining social distancing of 2 metres, where possible. These actions are strongly recommended to help prevent the spread of the virus in workplaces and elsewhere.
---
What are the Employer and Employee Responsibilities for COSHH?
Employers have legal duties under COSHH and, more generally in terms of occupational health and safety, under the Health and Safety at Work, etc. Act 1974. You must consider your COSHH responsibilities in the wake of COVID-19 as it is likely that the situation at your workplace will have changed drastically. Employees are responsible for following the precautionary measures and procedures that their employer has put in place and clearly communicated to them.
Employer Responsibilities
Under these regulations, every employer must prevent their employees from being exposed to substances hazardous to health. Where this is not reasonably practicable, the substances and exposure need to be adequately controlled. This means that employers must identify all hazardous substances that are present in the workplace, whether that be because they are produced, used or already present at the premises. Once identified, adequate precautions must be taken, including ensuring that all employees know how to use and handle them safely.
As a result of the COVID-19 pandemic, it's important that employers enforce effective infection prevention and control procedures, such as more frequent and thorough cleaning. However, it's also important to effectively manage exposure to hazardous substances, including those used for cleaning.
Under the COSHH Regulations, employers are required to:
Suitably assess the risks and implement appropriate control measures to protect workers from the risks.
Communicate the contents of the risk assessment to affected persons.
Provide workers with suitable and sufficient information, instruction, and training.
Ensure that control measures are maintained, kept in efficient working order, in good repair, and in a clean condition.
Ensure that workers exposed to hazardous substances are under suitable health surveillance.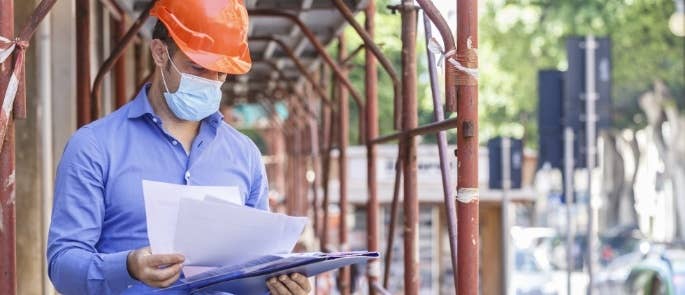 Ultimately, employers are legally responsible for ensuring COSHH risk assessments are carried out and for putting the necessary controls in place to protect employees. In the aftermath of COVID-19, employers will need to revisit their COSHH risk assessments and consider how they are going to manage any changes that have occurred.
---
Employee Responsibilities
All employees must comply with COSHH by following the instructions given to them by their employer. Employers are responsible for informing employees of the risks they may encounter when using hazardous substances, and employees have to then use the controls that are in place for their own safety.
If you are an employee who is using hazardous substances, you should be confident in your knowledge of how to do so safely. You should have been provided with instructions and/or training by your employer before you handle any substances that pose a hazard to health. If you don't feel confident in your ability to use hazardous substances, or are concerned for your own safety or that of others, you should immediately speak to your employer.
---
What COSHH Measures Should I Put in Place for My Workplace?
When considering COSHH in the context of COVID-19, you need to consider the virus itself as a hazardous substance and the substances that may be used to reduce the risk of the virus, such as cleaning products.
In terms of coronavirus as a hazardous substance itself, employers are responsible for carrying out a COVID-19 workplace risk assessment and reducing the risk of the virus to as low as is reasonably practicable. The government has announced their '5 steps to working safely' that you must follow if you are an employer:
Carry out a COVID-19 risk assessment.
Develop cleaning, handwashing and hygiene procedures.
Help people to work from home.
Maintain 2m social distancing, where possible.
Where people cannot be 2m apart, manage transmission risks.
You can find out more information on the measures to put in place at your workplace, including these five stages, in our article Returning to Work After COVID-19: Guidance for Employers.
To reduce the risk from hazardous substances that are used to manage COVID-19, employers must put in place the necessary control measures, such as rules on the storage of hazardous chemicals used for cleaning. They must also prevent or adequately control exposure to any hazardous substances, such as by having suitable ventilation, and ensure that the control measures they put in place are maintained and remain effective in protecting the health and safety of employees.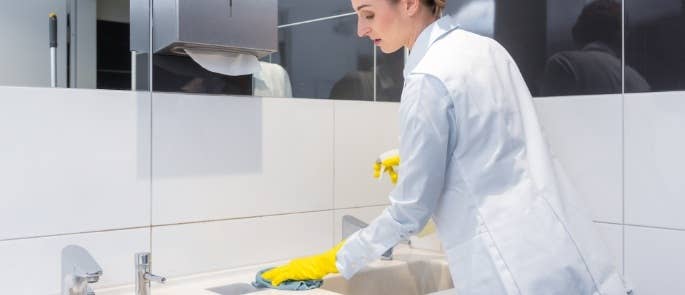 In addition, employees must be provided with training that informs them of the dangers and what they need to do to keep themselves and others safe. They may also be given personal protective equipment (PPE) if this is deemed essential, such as gloves when handling chemicals.
You or your employees may benefit from COSHH training. High Speed Training's COSHH course provides learners with an understanding of the health risks associated with hazardous substances and ensures they know how to work safely with them. You can access more information here.
---
As businesses start to reopen after a period of closure due to COVID-19, employers need to consider how the virus affects their COSHH duties. You will need to put in place precautionary measures that control the risks caused by the virus itself as a hazardous substance, as well as those that are used in response to it, such as cleaning chemicals. Employees must be informed of any changes that they will need to adapt to when they return, which may be done through instruction and training. Taking these steps ensures that everyone in the workplace is kept safe and well at all times.
---
Further Resources: