Chapter 1: Why Start a Cleaning Business?
June 20, 2016
4 min read
Is It Worth Starting a Cleaning Business?
It's suggested by the British Cleaning Council that the UK's cleaning industry is currently worth around £55bn, with almost 3 million households spending their well-earned money on well-deserved domestic help each year. It also states that they industry is responsible for employing around 1.47 million people.
It's evident that there's money to be made in starting up a cleaning company.
Despite many families within the UK falling on hard times in recent years, spending a bit of cash each week to have someone do your ironing or clean your kitchen is one of those little luxuries that brighten up the darkest of days. As such, there is and perhaps always will be a demand for cleaning services, so from that perspective there is a reduced risk in starting your own cleaning business.
---
The Pros of Starting a Cleaning Business
Whilst it may be quite overwhelming to think of all the tasks that need to be completed before you start looking for business, there are also many positives to starting a cleaning company that will have you reaching for the mop and bucket in seconds. Take a look at the following:
Low start-up costs – you can start a cleaning business with very little money. All you need to get started are a few basic cleaning products and the passion to succeed!
Very few overhead expenses – it's unlikely that you'll need to rent or buy premises, buy a company car or pay utility bills, especially in your early days, meaning you can start your business with minimal monetary concerns.
Work from home – with no office, shop floor or warehouse required you can run your business from the comfort of your own home.
Be your own boss – setting up your own business means that you'll be working for yourself. You can set your own hours, have total control of expenses and pick and choose the jobs you want to do.
Flexible working – being self-employed means you can work when's best for you, whether it's 7 days a week or mornings only.
No experience required – starting a cleaning business requires no specific qualifications or certificates. All you need is hard work, determination and the desire to do well.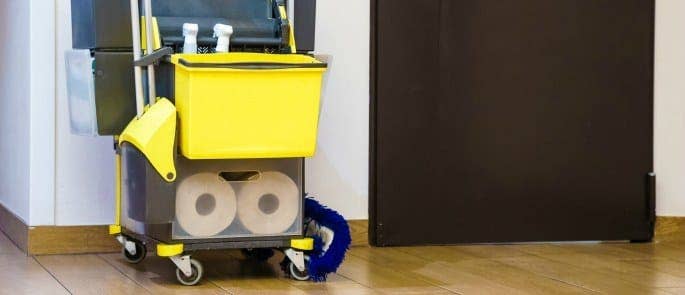 ---
The Negatives of Starting a Cleaning Business
Having your own cleaning company and being your own boss won't always involve calling clients from the comfort of your living room, however. Here are a few things you should be aware of before you begin:
It's tough, physical work – cleaning is a highly physical job that involves repetitive movements, carrying heavy supplies, reaching high shelves and crawling on your knees to reach the corners. It's not for the faint hearted!
Income might be slow – especially to begin with, you might not earn much money in the first months (or even years) of starting up your business.
It's a competitive business – cleaning is such a lucrative market that start-ups are popping up left, right and centre. You'll need to keep your head down, keep on top of your competition and keep your focus on succeeding.
Jobs might take longer than you think – it's so important that you get your timings right and leave enough time to get jobs finished. If people have a very messy house then what you expect to take you 1 hour might take you 3!
It's stressful – managing work schedules, employee wages, legal compliance and advertising (as well as doing the actual cleaning) can take their toll when you're doing it all yourself. Make sure you factor in some down time.
---
Cleaning Success Stories
Many people have made their fortune as a result of beginning their own cleaning business – perhaps because it's so simple and cost-effective to do compared with other business genres. Here is one of our favourite tales of soap-fuelled success:
Molly Maid – Molly Maid is one of the most iconic cleaning company brands, recognisable by their iconic pink and blue branding.
Their story began in Ontario, Canada, in 1979 with Chris and Adrienne Stringer. The Stringers believed that busy homeowners would much rather be spending their free time doing activities which are much more enjoyable than cleaning – and the Molly Maid brand was born.
Since 1979 the company has become an international franchise and performs more than 2 million cleans each year around the world.
---

---