How to Set a Table: Basic, Casual and Formal Dining
January 18, 2021
5 min read
Coming together at dinnertime can be a great family affair, and most people will be familiar with setting out knives and forks for their daily evening meal. But what about those times when we want to make dinner more of an event, celebrating being with our loved ones, especially during times like these?
Are you confident in table setting rules and etiquette? Do you know the difference between a salad fork and a dessert fork? Or which glass is used for which drink, and where they should be placed on the table?
Our guide for how to set a table will show you the best ways to lay your table for different situations. Below we will outline some general rules for cutlery placement and look at specifics for the different types of table setting – basic, casual and formal. Enjoy our videos that will show you just how to set your table just right.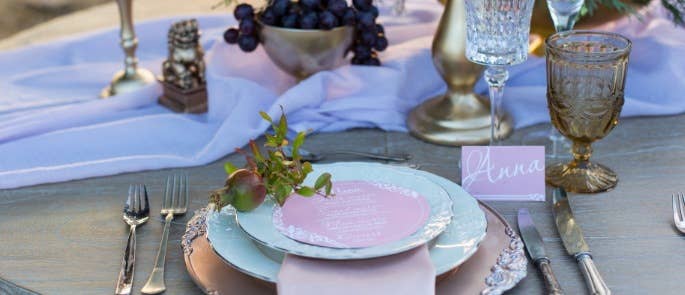 ---
What are the Different Types of Table Setting?
As we mentioned earlier, there are general table setting rules and etiquette which can be applied to all types of tables and place settings. In addition to these, there are further requirements for more casual or more formal tables.
It is important to set a table differently according to the type of event you're hosting – you don't want to confuse your guests by giving them too many options! Also, your table set up will be different depending on what kind of event you are hosting. Casual will be more relaxed compared to formal dining tables. Ultimately it is up to you to decide how you want it to look and feel. We will outline three different types of table settings below: basic, casual and formal.
How to Set a Basic Table
The basic table setting comprises the implements you would need for an everyday meal. You would use a basic table setting for a daily dinner, or perhaps a special brunch.
To set your basic table, you will need a charger plate, a knife and fork, a water glass and a napkin. You can set your basic table setting up following the general rules above – there are no hidden extras here!
Often with a basic table setting there is no dessert cutlery given as it is not expected that you would serve dessert. There also does not need to be a wine glass if you are not drinking wine – but a fancy brunch setting may well come with a champagne flute for bucks fizz!
How to Set a Casual Table
The casual table setting is becoming increasingly popular at big events – such as at weddings – and dinner parties at home. It gives a special touch without feeling too stuffy or constrained.
To set your casual table you will need a knife and fork for both the starter and the main course – or a soup spoon if this is the starter. You will also need a spoon and dessert fork, placed horizontally above the plate. Glassware will depend on what you are serving, but generally there would be a water glass and a wine glass placed above the knives in the top right. Napkins can be placed in the centre of the setting, or to the left.
Casual table settings are a great place to play around with different looks. You might need to have a water glass, a wine glass and a champagne flute for each person, but you could mix up the styles and colours to make it unique to you. Charger plates are also a great way to get creative, you don't have to use a plate, you could use a placemat, mirrored glass, or a piece of shaped wood if you are going for a rustic look.
How to Set a Formal Table
You often see the formal table setting used in traditional fine dining restaurants. Although a more modern trend is to remove plates and cutlery between courses and bring fresh utensils for each course served. At home, the formal style is most commonly used where there are more than three courses involved, or where the type of food served is more intricate.
The main difference with the formal table is the variety of different foods which then require different implements, different plates and different glassware to accompany them. Often formal dining also uses a tablecloth, but this is optional and again more frequently reserved for traditional establishments.
To set your formal table, start with your menu and identify what your guests will need. Are you serving soup? You will need a soup spoon, and likely a bread plate too. Once you have identified what you need to set out you can follow the general rules as above. Remember forks go on the left, knives on the right, and the soup spoon will go on the right with the knives. If you are setting a bread plate out, this goes in the top left corner of the setting. Remember to point your knife diagonally down, so that it is not seen as threatening to any of your guests! Your dessert spoon and dessert fork will go above the plate, fork handle to the left, spoon handle to the right.
When it comes to glassware for the formal setting you will have a water glass – usually the biggest glass on the table – a small wine glass for white wine and a larger, rounded wine glass for red wine. You may also decide to set out a cup and saucer for after dinner coffee, this would go underneath the glassware, to the right of the knives.
Even though formal settings are a little more traditional, you can still make them unique and work them into the overall look for your table. Consider using napkin rings, or decorate individual place cards to wow your guests.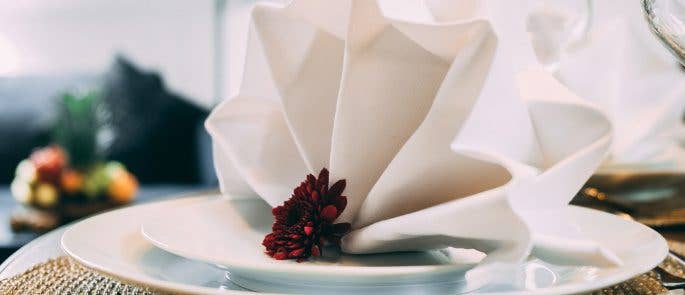 ---
How to Set a Table Video
Our 'How to Set a Table' video demonstrates how you can set a basic, casual or formal table. Whether you're looking for ways to brighten up family mealtimes, or brushing up on your professional knowledge, our video guide is easy to follow.
---
What are the Table Setting Rules?
No matter what table you are setting, whether it's for two courses or eight courses, there are certain rules to always follow. Each guest has a setting and this is in front of their seat at the table. Their table setting should have everything they need to enjoy their meal.
Some general guidance on how to set a table are as follows:
Cutlery is set in the order of use, working outside-in. Outer utensils are for the first courses with the innermost set reserved for the main course.
Forks always go on the left of the setting. The only exception is an oyster fork, which is sometimes used in a formal table setting and would be placed on the right, alongside the knives.
Knives always go to the right of the setting. The exception to this is if you have a bread plate.This is placed to the top left of the setting, with the butter knife on top of the plate.
Glassware is set above the knives. There are different glasses for different drinks but they are all grouped together in the top right corner of the setting.
If serving dessert, the dessert spoon and fork should be placed above the plate. The spoon handle should be on the right, while the fork handle should present to the left. This is so that the right hand can easily pick up the spoon, and the left hand uses the fork.
Napkins can be placed either to the left of the forks, or underneath the forks. If space is limited on your table, you can also place the napkin in the middle of the setting, or on top of the charger plate.
Use a charger plate. This is placed in the centre of the setting upon which other plates are set and it has multiple functions. It serves as decoration and adds to the aesthetics of the table. It ensures your guests' setting is never empty during the dinner, and crucially it is a tool useful for hot plates where guests can adjust the charger plate without risking burning their fingers on a hot plate. The charger plate doesn't have to always be a plate, it can be a traditional placemat, or something more contemporary, for example a piece of slate, or wood.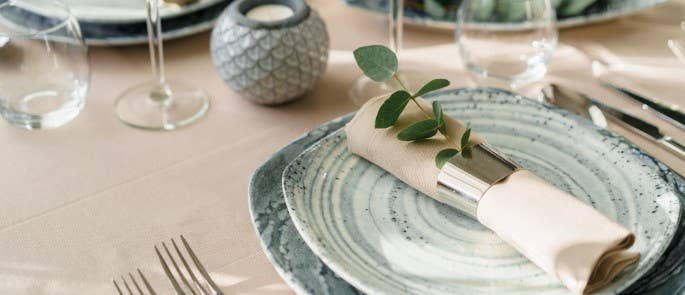 Each implement on the table has a function – whether that's glassware, cutlery or crockery. It is unlikely that you would set a table without knowing what you are serving to your guests, so take the time to plan your table as thoroughly as your menu. You may find it helpful to write out your menu and go through what cutlery and crockery you will need for each course.
For example, if you are serving soup, you need to set a soup spoon down. If you are serving a light meal with seafood, chances are you won't be drinking red wine, and so you won't require the large red wine glasses. Remember, you should only have on the table the things your guests will need.
---
We hope our article has given you plenty of table setting ideas, and the videos have helped you with how to set a basic, casual, and formal table in your home.
---
Further Resources: