How to Teach an Online Class: Tips & Ideas for a Virtual Classroom
September 9, 2020
5 min read
Whether it's to have a video call with family, complete a quiz with friends, or learn a new skill, we've all spent a lot more time online within the past few months than we usually would. The COVID-19 pandemic has transformed our standard face-to-face methods of communication, and teaching is no exception to this.
Many teachers, university lecturers, and tutors have had to adapt to new ways of teaching, with online learning becoming more centric in people's lives. As a result, virtual classrooms continue to rise in popularity as a method of learning and communicating between some teachers and students.
Teaching virtually can bring a heap of benefits, but it's also a relatively novel concept and it may take some time to adjust if you haven't really experienced it before. In this article we'll explain the benefits, and some of the challenges, of teaching virtually and provide some tips to help you with it.
---
What is a Virtual Classroom?
A virtual classroom is the name given to any online learning environment that allows a teacher and student(s) to interact and participate in learning activities together, just like they would in the classroom or physical learning environment. It's essentially a shared online space for a teacher and their students, usually taking place over video call, to interact, work together, and have discussions. While everyone can talk and has the opportunity to discuss and ask questions, the teacher usually leads the class and helps to moderate discussion and keep it on track.
A virtual classroom doesn't have to be the sole way of teaching. It can be combined with traditional classroom learning activities to deliver a blended learning experience.
There are many tools available to help facilitate virtual classrooms, including different video conferencing websites, online whiteboard tools, cloud-like storage areas where resources can be shared and work can be uploaded, instant messaging tools, and websites that provide free resources and educational seminars.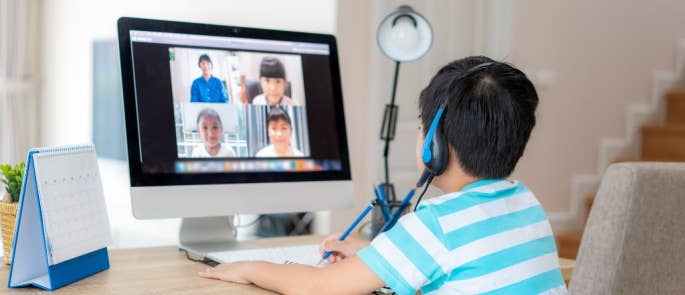 ---
What are the Advantages of Learning to Teach an Online Class?
Although teaching online is a contrast from teaching a class or a room full of people face-to-face, it does carry a range of advantages and benefits. Some of these are:
Increased flexibility and accessibility. Both you and your students are able to learn in a location that suits you. This is particularly useful for university students, where many have moved home during the pandemic but are still wanting to learn remotely. What's more, if your session is pre-recorded, you can record it at a time that suits you, and your students can listen at a time that suits them.
Diverse experiences. It's likely that some of your students, especially those who are younger, haven't experienced any kind of remote learning before. Teaching an online class helps to offer diverse learning experiences and gives pupils an opportunity to try different learning methods.
Greater resources. There are a wide range of teaching and learning resources online which you can access, download, and share with your students. There are also websites that include interactive resources, such as real-time quizzes that mark as they go along and sites like MyMaths, as well as interactive teaching resources like whiteboards and MURAL boards. There are hundreds of resources available online for every subject and every age group and they can help to bring some diversity to your lessons.
Opportunities for group and individual work. Depending on the age of the students you teach and the subject you're teaching, virtual classrooms can help to facilitate completing tasks individually, as part of a group, or as a whole group discussion. What's more, in some circumstances it can lead to more one-to-one interaction and support between teachers and students.
Increased knowledge retention. Research has shown that students retain 25-60% more material when they learn online as opposed to only 8-10% in the classroom. Additionally, e-learning requires 40-60% less time to learn than in a traditional classroom, possibly because students can go at their own pace.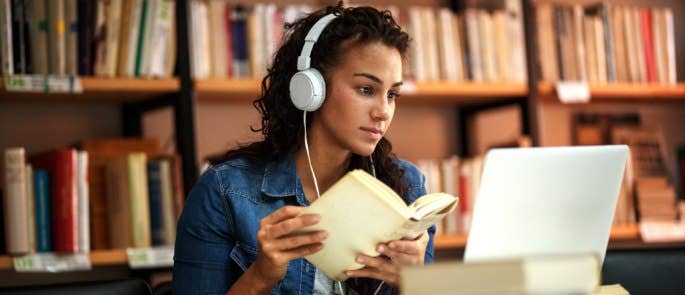 ---
What are the Challenges of Online Teaching?
Although there are a number of benefits to online teaching, there are also some challenges that teachers face and some disadvantages due to the nature of a virtual classroom. For example:
Internet access and connectivity issues. Some students from disadvantaged backgrounds may not have access to a device or have any access to the internet. This would mean that these students cannot access the learning material and would fall behind, leading to a further educational attainment gap between certain groups of students. What's more, for students who do have access to the internet, if there are connectivity issues they could potentially miss some, or all, of the virtual lesson.
Social isolation. Children need social interaction and to be with their peers. Virtual learning means that many students are at home without their friends and social interaction, which can lead to them feeling isolated.
Lack of support. It has been noted that only 5% of teachers believe that they receive support and training for teaching online. Amidst these feelings of being thrown in at the deep end, teachers are also likely to experience feelings of isolation as they're away from their traditional teaching environment.
A reduced ability for students to ask questions. This may be because students are catching up on a session later, they struggle to find the chance to ask a question, or they are embarrassed to ask questions in front of everyone.
Distractions and a home environment. Being at home can be very distracting, whether it's from people being around or finding ways to distract yourself. Similar to adults who are working remotely, students need a place to learn and study that is quiet, free from distractions, and is conducive to concentration. Additionally, it is sometimes difficult to keep students engaged in the classroom, so keeping them engaged in a virtual one can become a bit of a challenge, with no way for the teacher to really see if they are engaged with the task at hand.
Safeguarding responsibilities. It becomes more difficult to safeguard children remotely than it does to safeguard them in the classroom. However, schools and education providers should still safeguard students like they would if they were physically in the school environment, and teachers are still considered well-placed to notice concerns and report them. Virtual classrooms require a careful consideration for safeguarding and how safeguarding duties can still be fulfilled remotely, and this can be a challenge especially if you have no previous experience of safeguarding remotely.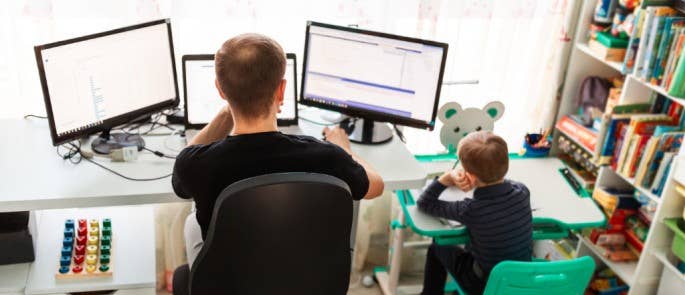 ---
Online Class Activity Ideas & Tips
Virtual classrooms can be really beneficial, and making use of the online learning environment and all that it has to offer can help to enrich the learning experience for both teaching staff and students. However, knowing how to make the most of the experience can feel a little overwhelming. We give some of our favourite tips below.
Break the Ice
Virtual classrooms can feel a little awkward to begin with, so trying out an icebreaker activity is a good way to ease into the class. You could ask each student to describe an object within their reach and let the others guess what it is, or even ask light-hearted questions like what people had for breakfast. It's a way to get the conversation flowing and ease some of that initial silence.
Include Interactivity
Make your sessions interactive for your students. Try to break up some of the work with opportunities for frequent interaction between yourself and the students but also between the students themselves. Discuss ideas together as a class, encourage students to ask for feedback or to complete some peer evaluation, split students into groups for collaborative tasks or small group discussions, or host a Q&A session.
As well as making your virtual experience more interactive, these will also help to ease some of the feelings of social isolation that some students may be feeling. Additionally, a study by OFSTED, as reported on their blog, revealed that students prefer live sessions because they allow for asking the teacher questions as well as interacting with one another.
Make it Engaging
We know that there are more distractions at home and that it can be harder to stay focussed and concentrate fully on tasks. While you might not be able to control the outside distractions for a student at home, you can try to keep them on track with the work by making it engaging.
Plan your sessions in advance and consider your students. Ask yourself if it's good for visual learners and whether you've included enough variety in your content, such as images, diagrams, interactive slides, different slide layouts, and questions throughout to check engagement and understanding.
Encourage Socialising
Feelings of isolation and loneliness due to the measures used to control the pandemic have been felt by everyone during lockdown. Try to ease some of this isolation for your students by setting up virtual sessions, such as a virtual room over lunch where students can join the call and chat to each other while eating lunch together.
Communicate with Parents
If you have students who are under 18 and therefore under the age of parental supervision, ensure that you communicate with their parents and collaborate. Parents may need help printing educational materials or ensuring their children have all the equipment they need, or they may just need some tips for how to keep their children on task. Make sure they know that you're available to help and that this is new to everyone.
Know Your Safeguarding Responsibilities
Finally, make sure you know your safeguarding responsibilities and what is required of you for your virtual classroom. Record your sessions, ask another member of staff to help you with the session and oversee it, don't use cameras for video-conferencing, and ensure that if you do have to use a camera you are dressed appropriately and with a clear background. Remember to remain vigilant to safeguarding concerns and report any concerns you have following your organisation's procedure.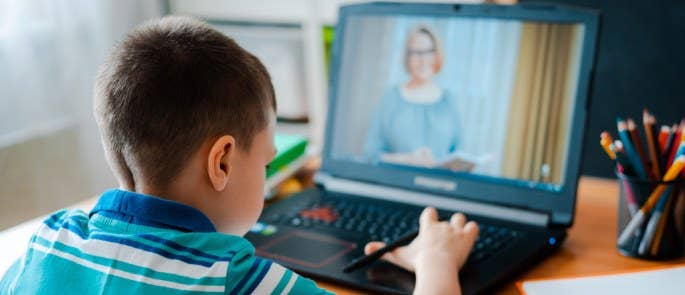 ---
Virtual classrooms are a relatively novel concept to the majority of people, with the COVID-19 pandemic meaning we've had to adapt quickly and effectively. While there are challenges associated with virtual classrooms, there are also a heap of benefits. Follow the tips outlined in this article and make use of the resources that are available for online learning.
---
Further Resources: