Workplace Stress Risk Assessment: Free Template and Guidance
July 6, 2020
5 min read
Experiencing serious levels of stress at work is unfortunately not uncommon. While manageable amounts can be a healthy boost to productivity, excessive pressure is actually damaging to work and, more importantly, to people's wellbeing. In 2019/2020, work-related stress, depression, or anxiety accounted for 51% of work-related ill health cases in the UK. This totalled 828,000 workers suffering from work-related stress, depression or anxiety (new or long-standing), with 347,000 of these being new cases within the year.
These statistics reveal just how prevalent work-related stress is in the UK. It's important to note though that they don't currently reflect the additional stresses that COVID-19 has brought to workplaces. If we take those into account, statistics are likely to be much higher.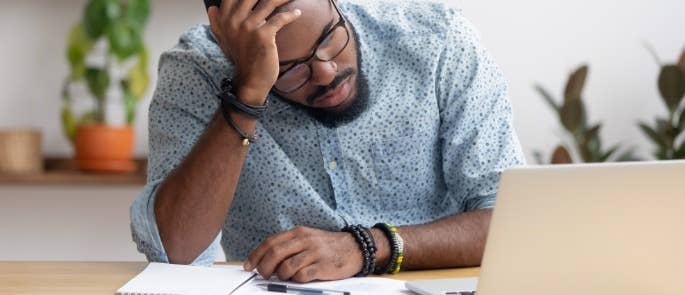 Clearly, stress in the workplace is a major issue year on year, and even more so during the current pandemic. It's therefore crucial, and in fact a legal duty for employers, to effectively manage their employees' health, safety, and welfare by carrying out a risk assessment, and this includes a stress risk assessment.
This article will talk you through the six key steps involved in a stress risk assessment, as recommended by the HSE. These help you to identify the risks that most commonly and broadly affect employees. It will also include some considerations for COVID-19. Stress stemming from the pandemic and how it affects work is still part of your duty as an employer.
---
What is a Workplace Stress Assessment?
Under the Health and Safety at Work Act 1974 and Management of Health and Safety at Work (MHSW) Regulations 1999, employers must ensure the health, safety, and welfare of their employees at work, and this includes preventing work-related stress. The MHSW Regulations require employers to carry out risk assessments of their workplace to identify if existing control measures need updating and if they need to implement any new ones. This includes considering where work-related stress may occur.
A risk assessment generally involves identifying hazards, determining who may be harmed and how, evaluating risks and deciding on controls, recording findings, and regularly reviewing and updating it. While these steps all apply to a stress risk assessment, stress risks are not always obvious from observation and so the assessment can be more challenging. It therefore requires careful consideration to make it specific to identifying and controlling stress.
Carrying out a well-planned stress risk assessment is crucial for preventing burnout, presenteeism, and even long-term mental health issues. These can have a real knock-on effect on the business, more than you may realise. For example, stress caused by overworking could lead to projects taking longer, more mistakes, or lower quality work. These all cost the business and, if you deal with customers and clients, can even affect your reputation.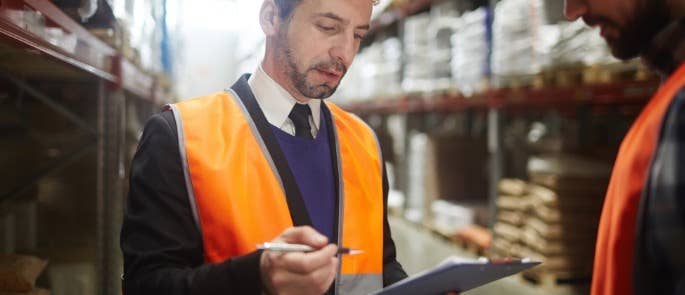 Furthermore, high numbers of absenteeism and staff turnover are additional, yet very much avoidable, costs to the business. In 2019/20, 17.9 million working days were lost due to work-related stress, depression or anxiety. This equates to millions of pounds a year.
It's always best to take a proactive approach to controlling stress, rather than reacting when people look or say they're stressed. Unidentified undercurrents of stress can often go unnoticed before things get bad, so a risk assessment will help you spot the risks before that happens. In doing so, you'll protect people's wellbeing and the health of your business.
---
6 Steps of a Workplace Stress Risk Assessment
You may be familiar with the 5-step process of risk assessment, and this still very much applies to stress risk assessments. However, there are 6 key factors that are specific to identifying stress hazards, which you should keep at the forefront of your mind during a stress risk assessment. These are known as the Management Standards.
The HSE recommends you pay close attention to these during stress assessments. They encompass the overarching aspects of work that commonly cause stress, so referring to them helps you focus your approach. When these standards are not managed properly in workplaces, they are commonly associated with poor health, lower productivity, and increased accident and sickness absence rates.
The 6 Management Standards are:
Demands. This includes issues such as workload, work patterns, and the work environment. It often refers to excessive pressure, but can also encompass problems such as too little work. A workplace stress study of 1,066 UK workers in 2019, published by Cartridge People, revealed that 53% of women and 43% of men attribute their work-related stress to their workload.
Control. This refers to how much say the person has in the way they do their work, as well as whether they have responsibilities that allow autonomy and independent decision making. Having elements of control over work can reduce stress in the workplace.
Support. This includes the encouragement, backing, training, and resources provided by the organisation, line management, and colleagues. A lack of support can leave people feeling overwhelmed and undervalued.
Relationships. This refers to how people interact on a personal and professional level in the workplace. Good relationships promote positive working to avoid conflicts and unacceptable behaviour, which can both lead to stress.
Role. This refers to whether people understand their role within the organisation and whether the business prevents conflicting roles, as this can leave people feeling frustrated and anxious.
Change. This is about how the business manages and communicates organisational changes (large or small) in the organisation. Changes can prompt feelings of uncertainty and stress for employees, particularly if changes aren't communicated clearly or if staff aren't involved in decision making, but could or should have been.
These Management Standards can help guide your thought process at the first 'identify hazards' stage of the risk assessment. For example, common factors you may consider include how people work, the workplace environment, absence and ill health records, turnover statistics, and productivity data. Analysing these through the lens of the 6 Management Standards can shed light on issues you may not have otherwise spotted.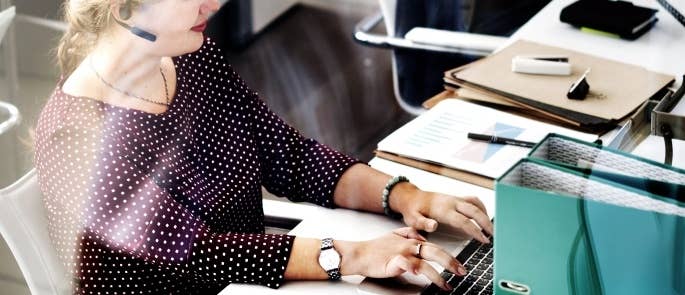 To help you achieve this, we have included the standards in our Stress Risk Assessment Template, which you can find below.
---
Assessing Stress During COVID-19
Businesses should pay close attention to the very real stress risks that COVID-19 has brought into the working environment. There is an increased pressure on healthcare staff, uncertainty around job roles for numerous industries, concerns from people working in education or adapting to homeschooling, and anxiety over health and safety when returning to work – just to name a few.
In fact, a study of 2,000 people commissioned by Bupa Health Clinics revealed that 65% of people are now anxious about returning to their office. Concerns centre around health and safety measures, including whether they'll be able to socially distance in the workplace, commute safely, and if the premises will be sufficiently cleaned.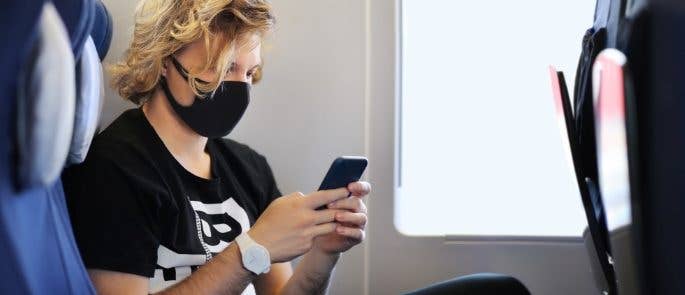 Additionally, many people will be working from home during the pandemic, sometimes as lone workers. Working from home uproots the normal work-life balance that many people rely on to minimise stress, and lone working presents its own slew of risks. Leaving work at the door is no longer an option and taking work home is no longer just figurative.
These are all clear triggers for stress, so employers must factor them into their risk assessments and ensure they're doing enough to look after their workers, including those who are working from home. Most of these can be loosely categorised in one of the 6 Management Standards, so you can use the standards to collectively consider stress hazards and COVID-19-specific risks. For example, new social distancing safety measures could be considered as part of the Change or Support factors.
Understandably, the current situation can't be completely controlled or mitigated by employers and residues of stress are always likely to remain. But as long as they are managed well, you can greatly improve people's presence at work and their overall wellbeing.
---
Free Workplace Stress Risk Assessment Template
To help guide you when carrying out a stress risk assessment, we've created a free downloadable blank template you can use. This template is based on the HSE's recommended version that incorporates the 6 Management Standards, which will ensure you keep them firmly at the forefront of your mind when assessing risks.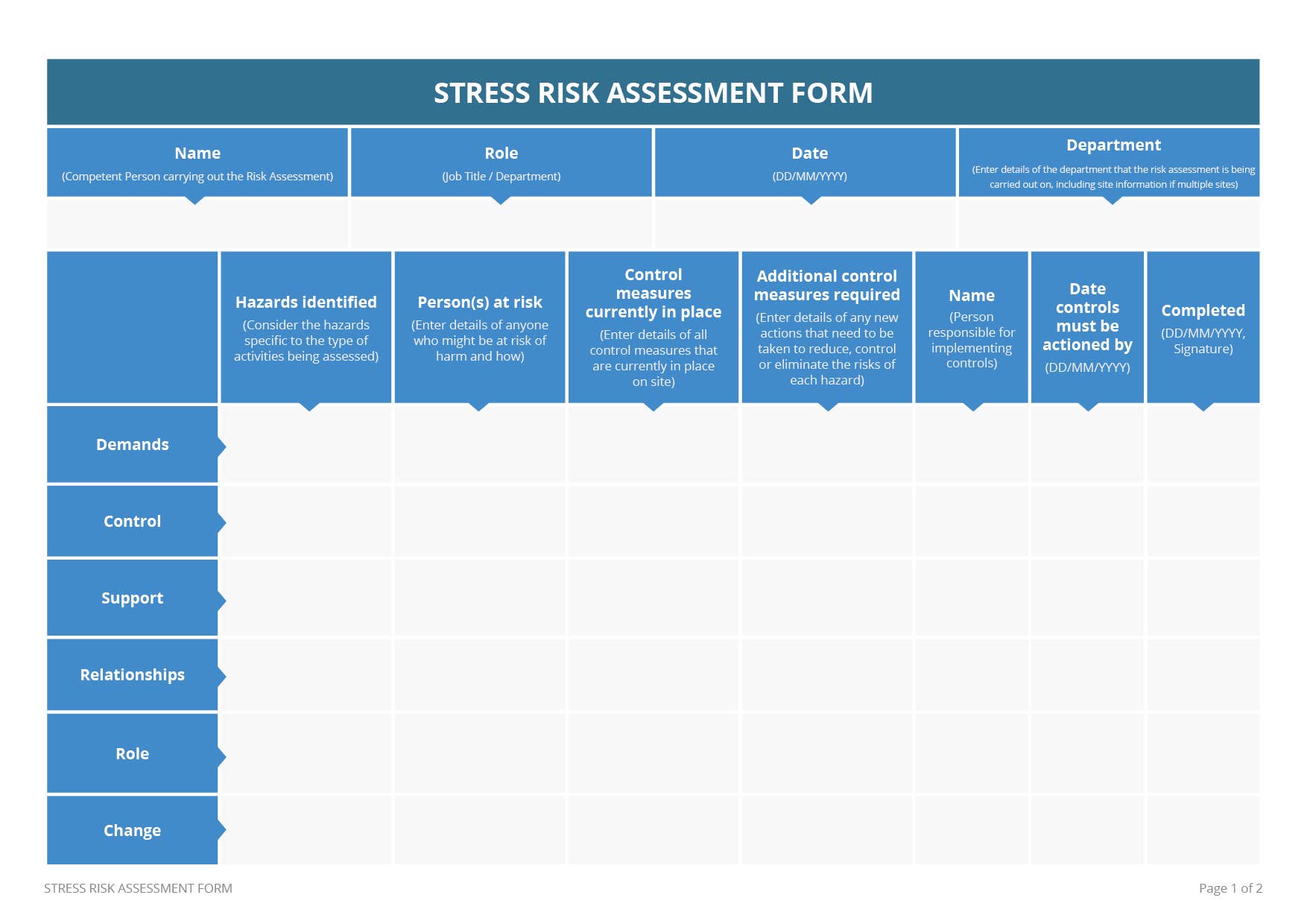 ---
Work-related stress is a prevalent problem, particularly amidst the COVID-19 pandemic. It's frequently linked to issues that can be identified through the 6 Management Standards: Demands, Control, Support, Relationships, Role, and Change. As these factors encompass common stress risks, you should use them as guidance during your assessments to identify areas of improvement.
Not only will this benefit your business by minimising costly issues, like absenteeism and staff turnover, but it'll also ensure your workforce is well-looked after and able to work in a healthy, stress-free environment.
---
What to Read Next: