How to Help the Elderly Struggling with Loneliness and Social Isolation
March 21, 2016
6 min read
In the UK, over 5 million older people are currently affected by loneliness (Friends of the Elderly's Future of Loneliness report, 2014), with 1 in 10 saying that they often feel lonely.
These are gloomy statistics, but they're made even worse when you learn that half of older people consider the television to be their main form of company (according to a survey done for Age UK in 2009).
Loneliness has the potential to affect anyone but it can be particularly troublesome for those in later life. If people have selected to be alone by choice then this is a different matter – not everyone who is alone is lonely – but if people are experiencing social isolation as a consequence of poor health, disability, bereavement, retirement or lack of personal transport (to name a few reasons), then it can become a serious health issue.
Loneliness and social isolation, if not detected, can lead to a myriad of health problems including depression, a loss of appetite, insomnia or the development of unhealthy habits. If you were home alone on an evening then it'd be easy to reach for a glass of wine to ease your melancholy feelings. Multiply this by 7 nights a week and your health will soon start to deteriorate as your dependency ameliorates.
So what's the solution? The good news is that loneliness is a curable condition – but it's up to us (the family, the friends, the neighbours, the passers-by) to provide the remedy that older people urgently need.
Simply having everyday interactions has been proven to combat loneliness, which is why Friends of the Elderly is connecting neighbours, individuals and communities across the country by encouraging everyone to 'Be a Friend'.
---
Our Top 10 Practical Tips for Being a Friend to Older People in Your Community
1. Say hello! Small gestures often mean the world.
Whether you suspect an elderly person to be struggling with loneliness or not, simply saying 'hello' to someone at the supermarket, when you pass them in the street or as you get into your car can make a huge difference to their daily lives. If the person is socially isolated then this contact – which may seem insignificant to you – could be the only interaction that they have with the outside world this week. You'll put a smile on their face with minimal effort.
2. Say 'I'm here' with something delicious.
Next time you make dinner and have a spare portion, why not pop it in a Tupperware box then nip round to gift it to an elderly neighbour or relative? Not only does this prevent food waste, but you'll also be prompting interaction with someone who may be lonely, as well as providing them with a home-cooked meal which could be a lifesaver if they're also struggling with poor nutrition.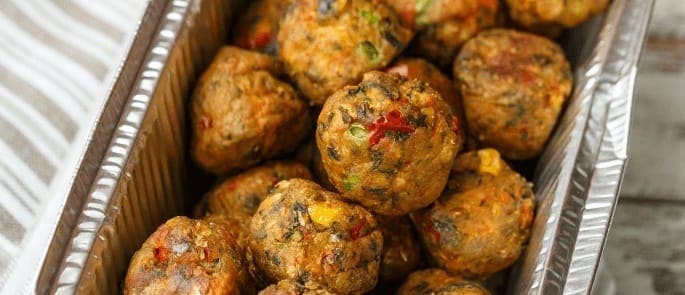 If you're regularly finding yourself making extra portions of unwanted food then why not see if there is anyone signed up to Casserole Club in your local area? This innovative idea matches up extra portions of food with people who are unable to cook for themselves. You can sign up to become a Cook and share meals with an older person once a week, month or whenever is convenient for you – you can even suggest a Diner who may benefit from receiving a meal.
Alternatively, why not just take round a box of cakes or biscuits (freshly baked or supermarket bought) to one of your neighbours or elderly relatives?
3. Ask if you can help with errands.
Before you head out to the supermarket, to the corner shop for a pint of milk or to the library etc., go and knock on the door of an elderly neighbour and ask if you can pick anything up for them whilst you're there. They'll be grateful for the conversation and appreciative of your gesture – plus you'll get that heart-warming feeling for doing a good deed! You could even consider taking the person along with you for maximum social interaction.
4. Taxi for two! Offer a lift.
Many older people have had to give up their personal transport due to ill-health or old-age and this can be a key contributing factor towards their social isolation. Numerous elderly people have free bus passes, and several local councils offer an affordable mode of transport to help connect people with the town centre, but for a large number of older people transport options are still limited. So why not offer to take an elderly neighbour or relative to their weekly club, appointment or religious group? Even better if it's en-route to your own destination!
5. Introduce the internet and get connected.
Technology – such as mobile phones – and the internet can be confusing to older people at first but, with the correct instruction and the right type of device, they can have a very positive impact on loneliness. If you teach an elderly relative to send text messages, emails or use Skype and FaceTime then they'll be immediately much more connected with the outside world. Many older people rely on a landline and may eagerly await your weekly calls if they're the only moments of interaction they experience. Opening up the lines of communication to video calls and instant messaging can significantly improve a lonely person's overall wellbeing.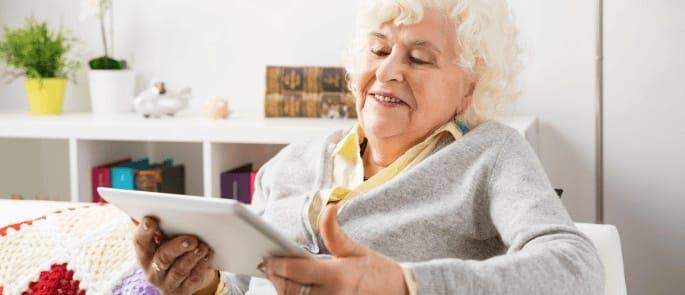 6. Hand over your phone number.
This is a very simple task to complete but one that can prove to be an important lifeline for a socially isolated person in later life. Whether it's an elderly neighbour or relative, make sure that they have access to all the emergency phone numbers they may need, including your own. If the person has any problems whilst home alone they can easily give you a call in confidence that you're nearby and are willing to help.
7. Volunteer at a regular event.
Whether it's a local community group or a national scheme, there are so many opportunities for people of all ages to volunteer their spare time in a meaningful way and actively help those in later life. Here are a few national initiatives that you may not have known about previously and may wish to consider:
Become a Befriender for Age UK – for this campaign, each older person is assigned a 'befriender' who provides friendly conversation and companionship for the older person on a regular basis. There's also the option to be a telephone befriender through their 'Call in Time' service.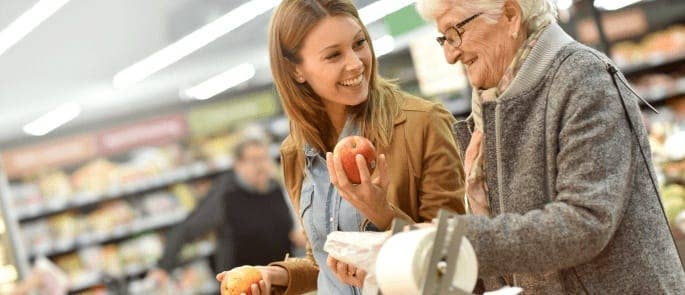 Silver Line Telephone Friends – this involves calling an older person once a week simply to have a chat and check that they're ok. The charity matches older people with like-minded volunteers and you can take part as often as you like.
8. Avoid cancelling plans.
A simple tip but one that carries more weight that you may think! If you've offered an elderly relative or neighbour a lift somewhere, told them you'll pop round tomorrow or promised you'll call on Thursday then always stick to your plans. The older person may be relying on this upcoming interaction like a life-raft – especially if it's their only contact of the week – so avoid cancelling at the last minute unless it's essential.
9. Take inspiration from the John Lewis 'Man on the Moon' ad.
We've all seen retail giant John Lewis' famous Christmas adverts, and the Man in the Moon advert from 2015 (made in partnership with Age UK) is one we can all learn from. People in later life are particularly at risk from being housebound or isolated in the winter months, either due to the weather or illness, so it's especially important that we take a moment to check-in with our elderly relatives and neighbours. Make a quick phone call or knock on your neighbour's door and let them know that you're there to help throughout the holiday period.
10. See if you can learn a lesson.
Sometimes, because a person is elderly, in poor health or housebound, we forget that they have a wealth of life experience under their belts which we could readily learn from. Next time you speak to an older neighbour or relative, why not ask about their skills and knowledge? For example, do they know lots about cooking, knitting or gardening? If they've got a skill that you'd love to learn more about then organise for a one-to-one lesson on a weekend or afternoon. The older person will relish the opportunity to bond with you and will enjoy passing on some of their hard-earned knowledge.
---
Further Resources: