How Do Employees Feel About Home Working? Challenges and Benefits of Working From Home
November 20, 2020
8 min read
Traditional ways of working have been fully uprooted in 2020. Busy offices have been replaced by Zoom calls and Slack group chats, spare rooms have been filled with desks, monitors, and keyboards, and people's attitudes towards home working have completely changed.
There have, of course, been many challenges posed by working from home that workers across the UK have had to adapt to. However, despite these hurdles, businesses have been discovering that they can run successfully while operating at home. In fact, they've been realising that there are many benefits to doing so.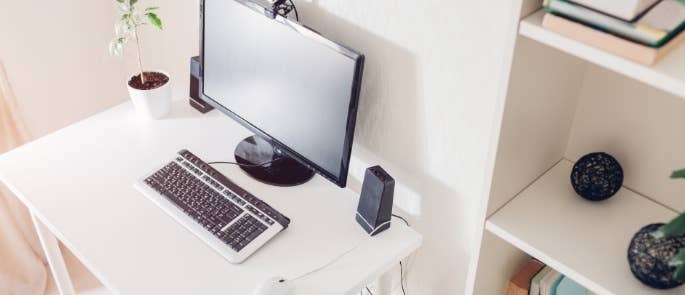 The pros and cons of working from home have been widely discussed and reported over the last few months, including those relating to productivity, mental health, and workplace DSE. We wanted to explore this a little further, so we commissioned some research to identify the challenges and benefits people have been facing.
In this article, we'll share and discuss the results of this research. We'll also assess some of them based on regions, to see how people have been affected differently and how opinions may vary across the country.
---
How Do Employees Feel About Working From Home?
The question of whether working from home is a viable option for businesses has been up in the air for a long time. Uncertainties around whether productivity, communication, and feeling connected as a team would be affected have often been the leading concerns, which have historically left many businesses feeling hesitant to fully adopt it.
However, in 2020, businesses have had no choice but to test the waters of home working. As a result, many have found that they actually function just as well. In fact, from our survey, we've identified that individual employees have overall had a positive experience with home working. It's no longer seen as an exceptional option, but rather a desirable one.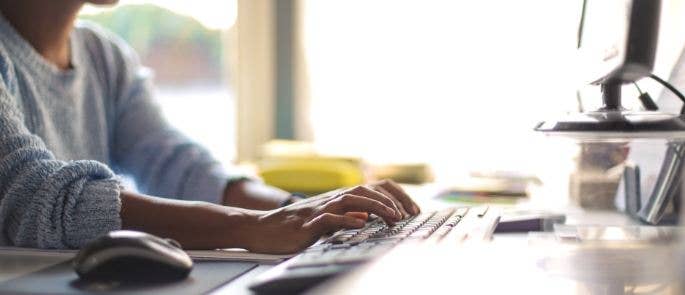 The results we received from our survey of 2000 participants reveal interesting insights into how people feel about home working and what challenges they've faced. It's food for thought for businesses looking at home working beyond 2020.
The first question examines how people have felt about carrying out their job from home.
"Are you more or less capable of doing your job at home compared with in the office?"
| | |
| --- | --- |
| More: | 26.65% |
| The same: | 59.70% |
| Less: | 13.65% |
These results show that most people feel just as capable of fulfilling their role from home as they did in the office. More than a quarter believe it's even improved their productivity.
Interestingly, London had one of the highest response rates for the 'More' option (38.26%, 145 respondents), as compared to other regions. Could this be a reflection of the busy nature of offices in our capital and how much workers have needed a break from it?
The responses we got for another question support the above results, revealing people's capability and openness to working from home:
"If you were given the option, how would you choose to work in the future?"
| | |
| --- | --- |
| Always work from home: | 23.25% |
| Work mostly from home: | 41.35% |
| Always work from the office: | 6.40% |
| Work mostly from the office: | 10.80% |
| Split evenly between home and the office: | 16.10% |
| No preference: | 2.10% |
The majority of respondents feel they'd like to work mostly from home, or even entirely from home. It's an interesting reflection of how the requirement to work from home during 2020 – and how successful it's proven for many – has led to many people leaning towards home working as their main option.
Looking at the regional breakdown for these statistics, London once again had a response rate that showed people feel positively about working from home. They had one of the highest contributions to the answer 'Always work from home' with 30.08%.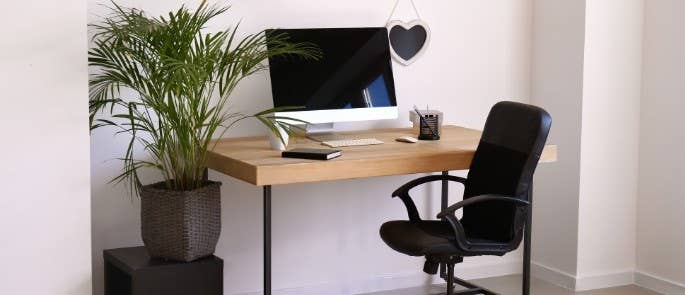 Equally notable is that the West Midlands had a higher percentage of respondents who chose 'Work mostly from home' than any other region (49.33%). Meanwhile, Scotland had the most even division between the top two choices of how to work, with 32.21% for 'Always work from home' and 32.28% for 'Work mostly from home'.
Overall, though, every region's response rate for 'Work mostly from home' was higher than any of their other choices.
This shows people are interested in a split, flexible style of home working, rather than working completely at home or in the office.
It's also interesting to assess these results alongside the answers we received to the question about mental health. It offers insight into one key reason for why people are leaning so greatly towards it, and how mental health can be affected by home working.
---
How Does Working From Home Impact on the Mental Health of Employees?
The wide-scale effect on mental health from home working has never been more closely examined than in 2020. It's been difficult to accurately measure, as current home working circumstances are exceptional and perhaps not fully reflective of how it would be without a global pandemic on people's minds.
But many studies, including the results of our survey, have consistently revealed that working from home has mostly had positive benefits to people's mental wellbeing. While some people understandably struggle with the isolation and disconnect when working from home, others greatly benefit from losing their commute or busy office environment, as they gain more time to spend at home recharging and focusing on their work.
The results for our question about mental health reveals how people feel about working from home from a wellbeing perspective:
"Do you think your mental health has improved or declined whilst working from home?"
| | |
| --- | --- |
| Improved a lot | 22.05% |
| Improved a little | 26.95% |
| Declined a little | 20.65% |
| Declined a lot | 6.15% |
| Stayed the same | 23.50% |
| Prefer not to say | 0.70% |
The general consensus appears to be that working from home has improved people's wellbeing, or at least stayed pretty much the same as before. Some did find that their mental health declined, but the responses overall gravitated to positive results.
The fact that improved mental health has an overall higher response rate than declined mental health is an interesting insight into the benefits of working from home, especially when considered in combination with the previous responses. People feel capable of working from home and want to keep doing so in the long term, and it's overall improving their mental health. It's good evidence that businesses should take working from home forward in the long term in some capacity.
It will, however, be important for businesses to consider those who do feel their mental health is negatively impacted. After all, at least a quarter of responses were for the two 'declined' choices.
All sorts of factors could be responsible for this decline. For example, feeling isolated and disconnected from their team. It could even be because they've had to work from home full time during the pandemic, rather than part time. This could easily accentuate how disconnected they feel, especially if there aren't well-planned wellbeing check-ins in place. As our earlier responses revealed, most people want to work 'mostly' from home rather than 'always'.
To achieve optimum mental health at work, it's therefore feasible that having a mix of home and office is the perfect balance that employees require.
Productivity and mental health aside, there are some physical challenges to working from home that can affect how people feel about it and how successful it will be. One in particular is people's setup and display screen equipment (DSE).
---
What Can Prevent Effective Home Working?
For most businesses, adapting to home working isn't an easy or overnight accomplishment, and 2020 has certainly put that to the test. Home working presents many logistical challenges, especially when it comes to providing people with the equipment they need.
Having the right setup is not only vital for enabling people to physically do their work, but also for maintaining people's wellbeing. Without proper planning and provision, this could be a significant barrier to home working.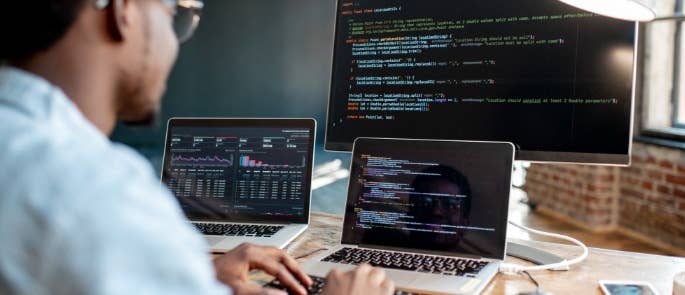 In our research, we asked if people had to purchase their own equipment when working from home. This helped us to identify whether they were receiving the necessary support and, if not, where common issues were arising.
"What equipment have you had to purchase yourself (not supplied by your company) in order to work from home?"
| | |
| --- | --- |
| Laptop riser | 19.25% |
| Desk | 27.20% |
| Chair | 28.65% |
| Monitor | 17.30% |
| Laptop | 17.80% |
| Printer | 18.55% |
| Ergonomic laptop accessories e.g. mouse / keyboard | 17.10% |
| Backrest | 13.90% |
| Footrest | 12.35% |
| Wrist support | 13.00% |
| None / nothing | 47.25% |
| Other | 1.90% |
The good news from these results is that nearly half of respondents stated they did not need to purchase anything for themselves, suggesting that their company has actively provided the support they need. In fact, in the follow up question we asked, most respondents reported that they felt happy with their setup (1.60% Very unhappy, 7.05% Unhappy, 23.9% Neutral, 41.25% Happy, and 26.20% Very happy).
However, many people were still having to acquire equipment on their own that should have been provided by their company if required for work. Some of the most fundamental items scored surprisingly highly, such as desks, chairs, and monitors, while important ergonomic items were also evidently not being provided to employees.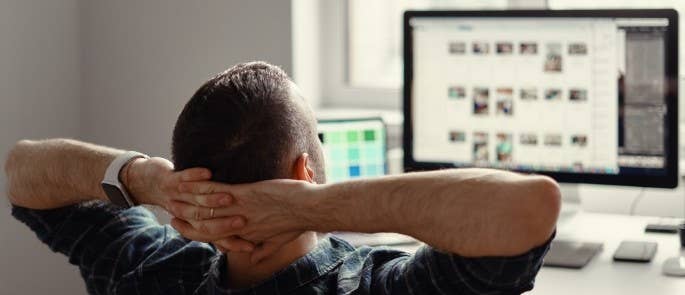 Not only is a proper office setup vital for ensuring people can work effectively, but it's also the law for businesses to provide equipment required for work and safety. This also encompasses DSE requirements for supporting their physical wellbeing, such as back and wrist support.
Without the right equipment, home working won't be nearly as effective as it could be. Most notably, employees could face wellbeing risks, and the company could be held responsible for this if they failed to provide the necessary supportive equipment. For example, musculoskeletal disorders and joint strain are common issues resulting from poor DSE setup.
Preventing these is crucial for ensuring employees can work from home effectively, comfortably, and safely.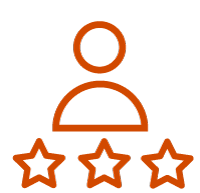 Health and Safety for Home Workers
Employers are responsible for health and safety risks that may arise from work when employees work from home. They must ensure employees receive the necessary equipment and that there are systems in place for monitoring their health, safety, and wellbeing on an ongoing basis.
Likewise, employees should know how to look after themselves when working from home, and their employer should provide them with training to enable this.
At High Speed Training, we provide a dedicated Health and Safety for Home Workers training course that covers all these key areas. Visit our site to find out more.
---
Infographic For Our Working From Home Survey Results
The results we examined throughout this guide give us an interesting look into how employees currently feel about home working and how they're being supported by their companies. The statistics are a reflection of how home working is affecting people's perceptions in 2020 and how attitudes to it are rapidly shifting. People are increasingly leaning towards a balance between office and home, and this can in part be attributed to the mental health benefits.
Anyone who is interested in adopting home working in the longer term may find these statistics interesting to assess beyond this article, so we've collated them all on an infographic that you can view and download below.

---
Home working can present many pros and cons, especially cons if not well planned. But with the unprecedented circumstances of 2020, home working has been required across the country, and businesses have been suddenly pushed to work around the cons. But they've also been able to experience the pros.
As a result, employees' attitudes towards home working are changing, and businesses are now presented with the opportunity to adopt home working and keep those benefits going. With how positively people are evidently feeling about remote working, it could be the new norm for businesses beyond 2020.
---
What to Read Next: