Case Study: Health, Safety & Food Hygiene at Whitakers Chocolates
November 1, 2019
4 min read
The Challenge at Whitakers Chocolates: Food production is a rigorously controlled industry with set standards to achieve. As a minimum, food businesses must be able to demonstrate sufficient knowledge in their area in order to meet due diligence requirements. During this case study, we learnt about the standards that Whitakers must achieve, in addition to basic safe food production. These include meeting standards set by the British Retail Consortium (BRC), obligatory Environmental Health Officer (EHO) inspections and trading standards, in addition to the varying standards set by individual supermarkets.
The Objectives:
Ensure staff are expertly trained in their field in order to demonstrate compliance
Instill a culture of confidence among the workforce when carrying out their daily tasks
Plan for multiple eventualities and manage risks accordingly
The Solution: Dedicated training plans for each employee, including online course offerings that are accessible, flexible and convenient, with minimal impact on resources.
Visiting Whitakers Chocolate Factory
We were invited to Whitakers Chocolate Factory to see chocolate production in action. We saw first hand the intricate quality and control procedures that are rigorously followed by the team.
On setting foot inside the building, the decadent smell of chocolate weaved with mint hits us immediately and I feel, well, just like a kid in a chocolate factory!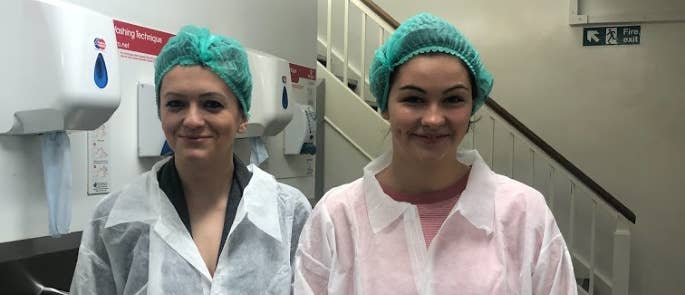 Jordana & Anna from our Digital Marketing Team looking factory-ready
Once appropriately suited and booted, we were greeted by Estelle Willis, Assistant Quality Assurance Manager. Estelle gave us a tour around the factory, giving us a true appreciation for the hard work, organisation and planning that goes into the making of award-winning chocolate.

A Background on Whitakers Chocolates
Whitaker's Chocolates
dates back to the late 1800s, established as a family-run chocolatier by John and Rebecca Whitaker. 5 generations later, the company has grown to 150 employees who take pride in manufacturing delicious chocolates in a state of the art facility near Skipton, North Yorkshire.
Quality and customer service remain the core values of the company which clearly play a big role in their success.
Let's find out more about the role of training and the types of problems it solves at Whitakers…

What Risks Are Whitakers Trying to Reduce and Eliminate?
To be compliant, Estelle emphasises the need to ensure all hygiene practices are fully adhered to, that the risks of contamination are completely eradicated and each product is matched with the correct label.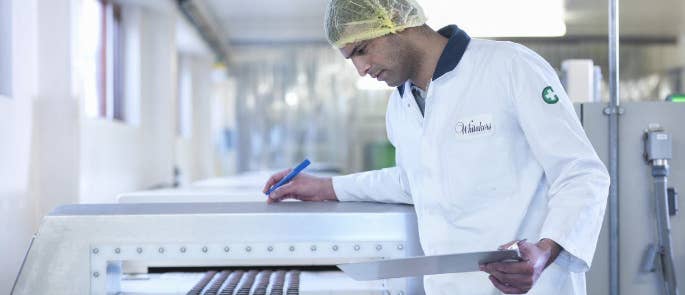 "As we are producing food, we need to make sure this is done in the safest way possible and there is a lot that goes into it. It's a really serious business."
To ensure Whitakers achieves this, thorough Hazard Analysis and Critical Control Point (HACCP) procedures must be observed, Control of Substances Hazardous to Health (COSHH) training must be carried out by engineers, in addition to varying levels of Food Hygiene Training, both for Catering and Manufacturing in order to cover a wide range of industry standards.
What Are the Main Challenges Faced By Whitakers?
Being in the food industry, Estelle says the main challenges for the Whitakers Quality Assurance Team are the industry standards that vary between supermarkets and auditing bodies.
In addition to being legally compliant, many supermarkets have their own set of requirements to be fulfilled. These exist on top of the BRC, EHO and Trading Standards obligations.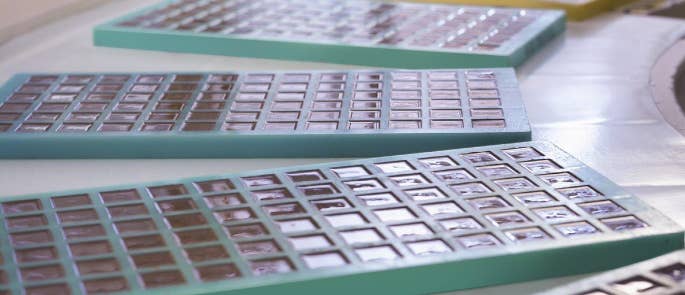 "When we're looking at our processes, we are always assessing and evaluating. We always question if there is a better way of doing something, even if it's working for now. We have to cover every single eventuality."
Estelle suggests that continual questioning and communicating are essential when reviewing ways of working.
How Important is Training to Whitakers?
Estelle doesn't hesitate to assert the role of training at Whitakers, particularly in terms of helping to ensure staff are comfortable in what they do. Importantly, at Whitakers, the staff are committed to ensuring the new team members have a thorough grounding, which they do by going through procedures together on a regular basis.
 "People need to feel confident in what they are doing. If they have all the information they need and are given time to feel confident with it, then they will feel able and happy to do the job at hand."
---
I'm actually distracted away from the tonnes (literally!) of velvety chocolate in front of me as I observe the meticulous handling and production of chocolate. I'm completely fascinated by the procedures, the efficiency and the dedication which just seems second nature to the teams I meet as we look round.
---
Training staff is a priority from the beginning as Estelle explains, all new starters are told it is a requirement. Course information is printed to ensure learners have a clear idea of what's expected of them and to be used as a reference as they progress through the modules.
 "The good thing about online training is you can sign the new staff up to whatever course is required, they complete it either on site or at home with reimbursement for their time and then you can look to see how many hours it's taken and how far through each course they are. It's completely flexible."
With that in mind, let's have a closer look at how online training solves some problems at Whitakers…

What Role Does Online Training Play at Whitakers?
Estelle explains they use High Speed Training both for learning new information and for consolidating existing knowledge.
 "Online training is really good if you need something quickly. What is excellent about the site is that all the prices and information we need are available to us straight away. This means we are fully equipped to approach the general manager when we require training approved."
Whitakers consistently tries to stay up to date and, as we know, with a range of standards to achieve and the nuances of working in a food business, this is notoriously difficult. Speaking of Allergens Awareness Training in particular, Estelle credits the question elements of High Speed Training's courses with helping to really cement the knowledge.
Planning for Audits
Estelle emphasised that preparation is a key principle the staff at Whitakers abide by. It's clear to see from their many accolades that they leave no stone unturned in this regard.
Most notably, Whitakers recently gained an AA+ grade accreditation in the prestigious 2019 BRC audit for the 3rd year running. This is the highest achievable standard and can only be gained from an unannounced visit.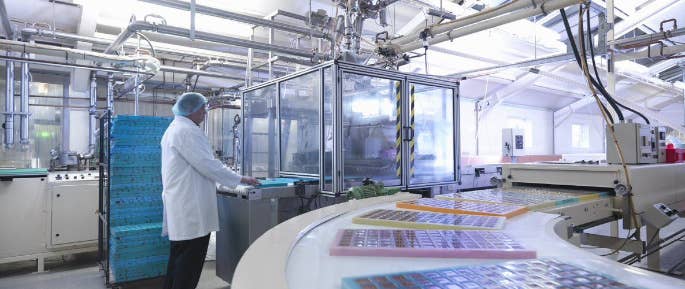 Estelle informs that she is responsible for carrying out internal audits four to five times per month. On top of this, they have strictly scheduled routine checks to ensure systems and paperwork is up to date, they check for repairs and also assess if training updates are required.
Estelle's top tip for always being ready for an audit is to make sure you regularly question staff while they are carrying out their day to day tasks. This ensures that the staff are always aware of what they are doing and why it is so important. Continually asking staff also means they are prepared to confidently answer questions during an external audit.

What Can You Learn From Whitakers?
Preparation is Key. Estelle has shown how planning and commitment to routine checks are an essential part of Whitakers' successful performance in audits.
Check and Check Again. Estelle showed how important it is to continually check and reassess. Even if the procedure you've relied on previously is working, always question if it can be done better.
Thoroughly Train Staff. Estelle reiterated that trained staff with knowledge are happy and confident to carry out their roles. This is key to ensuring compliance, maintaining a variety of industry standards and it also shines through during external audits.
We had a great morning learning about chocolate production. It was incredibly useful to see how procedures are followed, from inception to implementation, and to understand a little more about how our training contributes to such a fantastic system. Many thanks to Estelle and everyone at Whitakers (my application for Chocolate Taster is on its way!).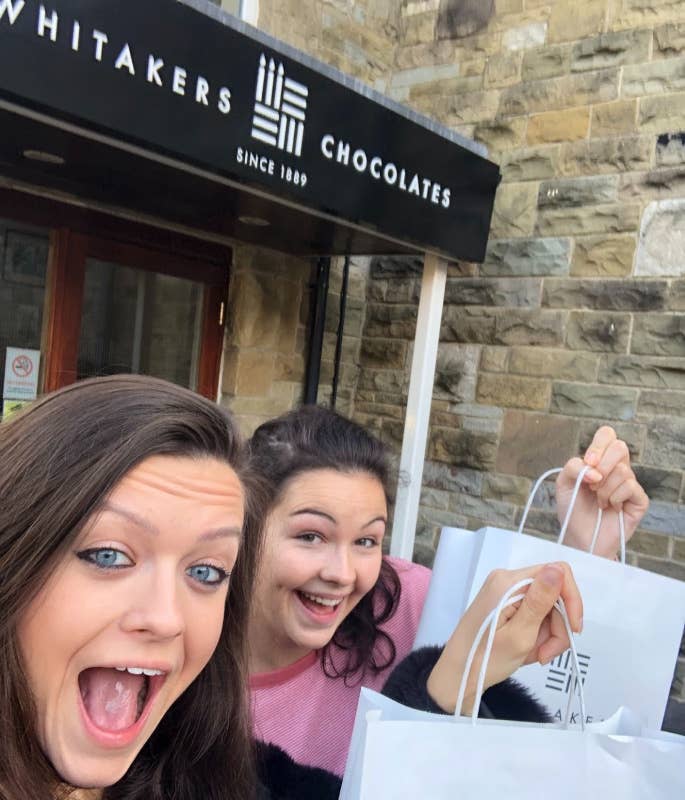 ---
Investing in training, continually going through procedures with staff and asking them about their daily tasks helps to keep knowledge right at the forefront of their minds. This, in conjunction with thorough planning and attention to detail, is undoubtedly a winning recipe for Whitakers Chocolates.
---
What to Read Next: