Case Study: Health, Safety, and Food Hygiene at Taylors of Harrogate
March 2, 2022
5 min read
The Challenge
Keeping staff up to date on their training was difficult to achieve with traditional face to face training
The Objectives
Ensure that existing staff members could take their refresher training in a convenient and effective matter
The Solution
A range of online, accredited courses, allowing staff members to keep up to date with their training requirements
---
A Background on Taylors of Harrogate
Taylors of Harrogate is a family-owned business, founded in 1886 when Charles Taylor and his two sons set up a tea and coffee company. The business is now part of the Bettys & Taylors Group, producing iconic brands such as Yorkshire Tea.
We spoke to Lydie Jeannerod, a Trainer and Assessor for Taylors of Harrogate, to find out how High Speed Training's courses have helped them achieve their business goals.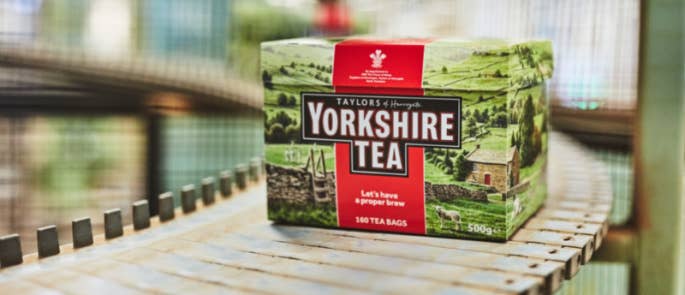 ---
What were the challenge(s) or problems that Taylors of Harrogate faced that made you look to online training?
Lydie explained that, whilst new starters at Taylors of Harrogate receive face-to-face training, they now use online courses for existing staff.
Getting all staff compliant and refreshed on their training every 3 years was proving difficult to achieve face to face. We have adopted face to face training for new starters and online courses for refresher training.
---
How do you identify the need for online training in these areas?
Taylors of Harrogate have taken over 20 different courses with High Speed Training, including from Level 2 Food Hygiene for Catering, Workplace Health and Safety, Conflict Resolution and Management and even Excel training. With over 1,500 employees in the Bettys & Taylors Group, knowing where to start with training such a large team can be tricky.
We identify the need for training through discussion with our users. We look at the skill set of each individual role, and the necessary compliance plays a large part. Alongside that, our Health and Safety Advisors may identify areas that are in need of training.
---
How has the training helped Taylors of Harrogate?
Upon completing any course with High Speed Training, learners can immediately download a PDF certificate confirming their completion of the course, and also receive a hard copy through the post. Companies can also track the progress of their staff's training and provide evidence of completion through the High Speed Training Learner Manager System.
The training has helped ensure that our staff can stay compliant, and the flexibility of online training works really well to fit in around user time and extended shifts. We've found that some users prefer E-Learning over face to face as it allows them to learn at their own pace. The immediate availability of training evidence is also very useful for us as a company.
---
How important is training, personal development and employee growth at Taylors?
Continuing Professional Development (CPD), which concerns developing professional skills and knowledge through continued teaching and education, is a key part of the strategy of many organisations, including Taylors of Harrogate.
Personal development and employee growth are of paramount importance to us, and it's a key part of our success. We're incredibly passionate about developing individual's skills and valuing our people.
---
What were the advantages of online training to Taylors of Harrogate?
What's great about online training is the flexibility. Our staff can start and stop their training if required and pick up again where they left off. They also have the opportunity to log back into the course for reference or if they want to brush up on anything. It's really accessible, and the information is up to date and engaging.
---
Do you plan to go back to face to face training when the situation allows, or will you retain an element of online training?
The COVID-19 Pandemic has led to a fundamental shift in how many organisations operate. The rise of remote working has meant that workforces are often spread across multiple sites and across the country. So how are Taylors of Harrogate going to adapt their training programme moving forward?
During certain phases of the Pandemic we have relied more on E-learning for Health & Safety and Food Safety specifically. Moving back to some form of normality, we would expect to complete the initial training face to face, then continue our refresher training online.
---
Why did you choose High Speed Training?
It's a company that does what the name says! High Speed Training offers a very responsive service, with good, consistent content and style of courses. The management suite is very impressive, with access to live information and data, and the visibility of users progression is fantastic. We would absolutely recommend High Speed Training's courses.
---
Take a look at our extensive library of courses or call a member of our friendly support team on 0333 006 7000 to see how we can help your organisation grow.
---
Further Resources: