Kitchen Safety Posters for Commercial Use
October 4, 2019
3 min read
There are a lot of health and safety rules to remember when working in a commercial kitchen. Not only do you have to keep yourself and your colleagues safe, but there are steps you must take to also protect your customers.
To help you remember some of the most important health and safety messages, we've created several kitchen safety posters that you can download for free and display in your kitchen for quick and easy reference.
---
Food Health & Safety in the Kitchen Poster
Our food health and safety in the kitchen poster will make it easier for you to practice working safely. Covering key topics, such as cooking temperatures, fridge and freezer temperatures, and personal hygiene, our free downloadable poster will serve to remind you and your staff of best practice every day.
---
Colour Coded Chopping Board Poster
Every kitchen must use different coloured chopping boards for different groups of food items.
By law, there is no specific colour to use for specific food items. However, there is a widely known and accepted colour allocation of chopping boards. If you choose to follow this colour allocation, it is essential all your staff stick to it day in, day out. This will help to avoid contamination of food, and will keep your customers safe.
To learn more about chopping boards, take a look at our article Different Colour Chopping Boards and Their Uses.
---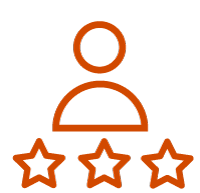 Need a Course?
Our Food Hygiene Training is designed to ensure a comprehensive knowledge of all food safety and hygiene procedures. You can also take a look at our course library to find everything from Infection Prevention & Control to Food Allergen Awareness.
---
Food Allergen Poster
Understanding food allergens and dietary requirements is an important part of working in a commercial kitchen.
Legally, you have to know what allergenic ingredients are in your dishes and pass this information onto your customers.
There are 14 named allergens, as shown on our poster. Download this free poster and put it up on your wall – it will serve as an easy point of reference for all your staff.
---
Hand Washing Poster
Everyone in the kitchen will wash their hands frequently, and so it's especially important that those who handle food know how to, and practice, washing their hands efficiently. There are seven steps to washing your hands, which are shown clearly on our hand washing poster.
By washing your hands properly, you will ensure you keep contamination to a minimum. This will help keep your food and your customers safe.
---
Remembering everything you need to know in order to operate hygienically and safely in a kitchen is crucial. Our free downloadable posters will help cement this knowledge in everyone's mind – this can be especially useful for new starters.
Make sure you display them in areas where staff will regularly see them, so that the information sticks in their mind.
---
What To Read Next: