Fire Risk Assessment for the Hospitality Industry
October 7, 2019
7 min read
Fires can occur in any premises, but hospitality businesses are particularly vulnerable due to the nature of work activities in kitchens.
If a fire starts in a commercial kitchen, it poses a serious risk to everyone working and to the future of your business. It also puts your guests in danger, as their unfamiliarity with your premises can delay their escape.
If you're responsible for carrying out risk assessments and organising fire safety procedures in your hospitality setting, you must know what aspects to assess on an ongoing basis. Controlling risks and maintaining effective emergency procedures is critical – the only fire your staff should ever face is fire used for cooking food.
This article offers advice on carrying out a fire risk assessment in hospitality settings. It also provides a free downloadable template you can use to carry out this assessment, which you can find at the end of the article.
---
Fire Safety in Restaurants, Pubs, and Takeaways
Whether you run a restaurant, pub, or takeaway, a commercial kitchen is a hotspot for fire safety risks. Poorly maintained cooking equipment could give rise to sparks or flames, while insufficient cleaning of grease is just a fire waiting to happen.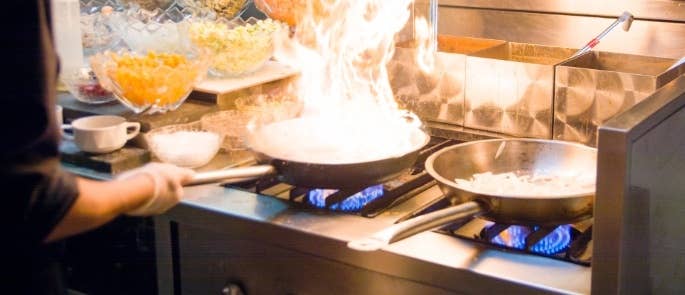 In 2018/19, there were 1,510 fires in food and drink premises – the third highest amount in business settings after industrial and retail premises. In 2017/18, faulty appliances and leads were the main cause of fires in non-dwelling buildings, followed by misuse of equipment or appliances.
The Regulatory Reform (Fire Safety) Order 2005 requires all businesses to regularly carry out fire risk assessments. This involves checking whether existing measures are sufficient and what improvements to make if not.
To carry out a fire risk assessment, you should follow these five steps:
Identify fire safety hazards.
Determine who may be harmed and how.
Evaluate the risks and decide on precautions.
Implement procedures and record findings.
Review and update your assessment.
Let's look at what these involve in more detail.
---
Step 1: Identify Fire Safety Hazards
To Identify the fire safety risks in your hospitality setting, you should use the following techniques:
Observation.
Walk around the premises and look for any risks. Pay attention to the activities that staff are carrying out, the state of equipment, and the upkeep around the premises. More specifically, keep an eye out for unsafe preparation and cooking techniques, poorly-cleaned areas with a grease build up, the condition of extractors and their ducting, and waste storage. You should also check that escape routes are clear, both in terms of space and signage.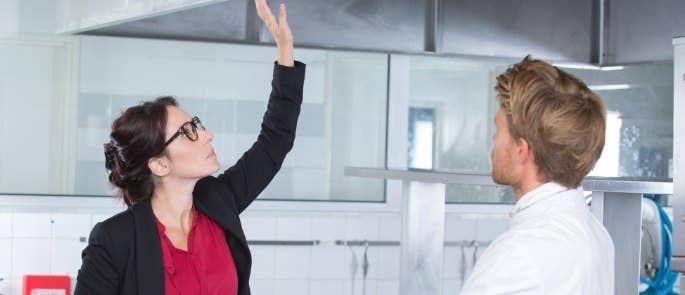 Employee feedback.
Staff will know the premises and typical work activities as well as they know the menu. They can therefore offer you useful insight into any issues they've noticed. You could even take this opportunity to gauge their understanding of fire safety hazards, as some may need refresher training.
Manufacturer's instructions.
Electrical equipment poses the most significant risk of fire in all types of premises. In a commercial kitchen this is especially true, where staff use various types of equipment and appliances day in and day out. Make sure you follow the manufacturer's instructions that come with equipment. These will explain how to properly install, use, and maintain them safely.
Safety data sheets.
Your hospitality setting may need to use certain hazardous substances, such as chemicals for cleaning and highly flammable cooking oils. All hazardous substances come with safety information either on the packaging or with accompanying safety data sheets. This will provide advice on handling and storage, so staff can prevent accidental spillages or misuse.
Accident records.
Any records of past incidents involving fires or potential fires will forewarn you of what could go wrong in your premises. Check that any risks from these past cases have since been addressed and are being monitored. For example, if a certain piece of equipment overheated, has that equipment been replaced or thoroughly inspected and repaired?
---
Step 2: Determine Who May Be Harmed and How
Who in your hospitality setting would be at risk of harm if a fire occurred? Consider everyone, from employees to members of the public and those at increased risk. People who are particularly vulnerable include young workers, people with disabilities, expectant and nursing mothers, part time workers, and contractors.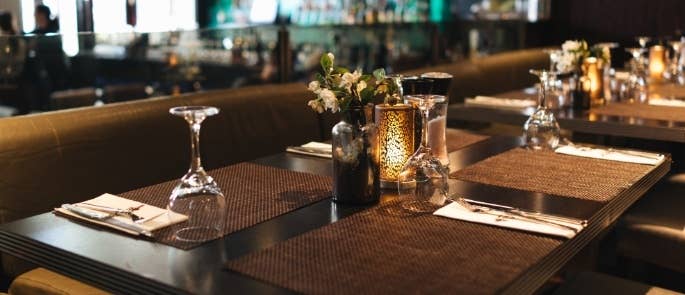 Your emergency plan must detail how you'll protect these people and communicate safety information to them.
---
Step 3: Evaluate the Risks and Decide on Precautions
After identifying the hazards in your hospitality setting, you need to consider the likelihood of a fire starting due to these risks. You can then decide what procedures are appropriate and reasonable.
For example, let's say you identify that there is a dangerous grease build up on the extractors. You talk to staff and learn that they are struggling to find time to properly clean them. As a result, you determine that reorganising shifts or hiring extra staff to deal with the workload is a suitable approach.
---
Step 4: Implement Procedures and Record Findings
Once you've implemented safety measures, you must record your risk assessment findings. This is the law if your business has five or more employees, but it's highly advised even if you have fewer. Records enable you to demonstrate compliance with the law and can act as due diligence if any legal issues arise.
---
Step 5: Review and Update Your Assessment
Workplaces are everchanging environments and hospitality businesses are no exception. Whether it's new members of staff, a new cooking appliance, or alterations to the building, any time there is a significant change in your premises you should carry out a new risk assessment. This is particularly crucial if fire evacuation routes change. Remember to update your records whenever you reassess the premises.
---
What Should I Include in a Restaurant Emergency and Evacuation Plan?
Fire safety control measures will ideally prevent a fire from ever starting, but businesses need to prepare for the worst. This is why the law requires you to have suitable emergency and evacuation procedures in place. These must be clearly detailed in a written plan.
Your restaurant's emergency and evacuation plan should explain:
How people can exit the building in an emergency.
The type of evacuation strategy you'll use.
What personal emergency evacuation plans you have in place for those with vulnerabilities.
Everyone's responsibilities during an emergency (i.e. fire wardens).
What emergency equipment you have to suppress fire.
For example, you may have a sprinkler or Ansul system in your kitchen, as well as suitable fire extinguishers (such as wet chemical for chip and fat pan fires).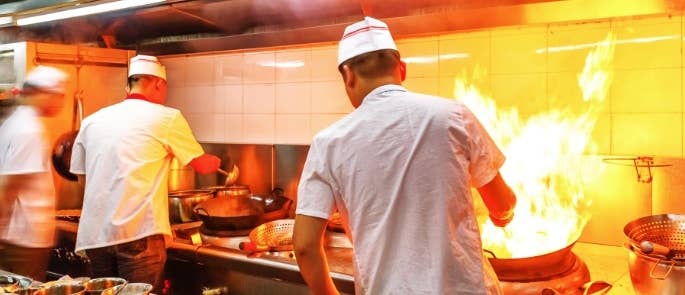 Does My Restaurant Need an Ansul System By Law?
Fire suppression systems, such as an Ansul system, are not legally required. Rather, you need to use your risk assessment to determine if the risk of fire is high. For instance, if the kitchen is connected to the dining room, fire walls and doors are not in place to protect diners. In this situation, a suppression system may be appropriate to mitigate the risk.
For further guidance on what to include in your restaurant evacuation plan, have a look at our dedicated article: Creating a Fire Safety Evacuation Plan for Your Business
---
Who Should Carry Out Fire Risk Assessments in Hospitality Premises?
The owner or responsible person in your restaurant, pub, or takeaway has a duty to ensure risk assessments are carried out. Either themselves or another designated person can do this, such as a senior, experienced manager.
In the meantime, everyone should always pay attention to possible risks, whether they're the head chef cooking food, kitchen porter washing dishes, or front of house staff taking trays to diners. If they spot anything hazardous during these daily checks, they should report it to senior staff.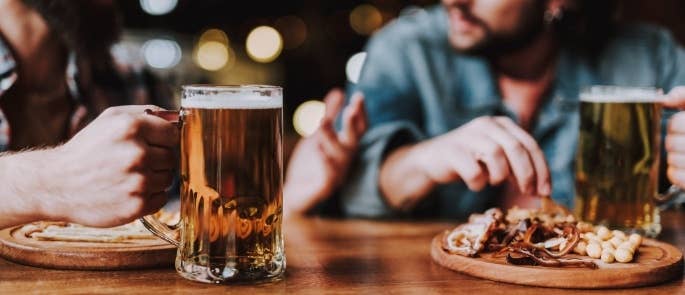 Everyone in a hospitality setting should therefore receive some level of fire safety training.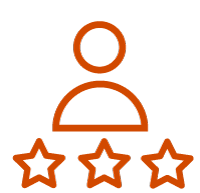 Need a Course?
Our Fire Safety Training teaches you about the fire risks in work premises and what safety measures should be in place to control them. It is suitable for anyone at any level, from employees to managers and full-time to part-time staff.
---
Fire Risk Assessment Template
The specific hazards in your hospitality setting will depend on the type of activities that staff carry out and the equipment you use. However, fire risk assessments in any hospitality premises should cover a number of key aspects. This is why we've prepared a fire risk assessment template you can use to assist you.
Although it does not specifically refer to them, it is relevant to restaurants, pubs, takeaways, and other hospitality environments.
You can see two example pages of this template and use the download button to access a free PDF version below.
---
It's vital to control fire safety risks in hospitality settings. Not only do commercial kitchens pose a major risk, but the people who work in and occupy the premises – specifically guests – may not know how to escape safely if a fire does start. Make sure you have a thorough plan in place and you carry out risk assessments on a regular basis.
---
What to Read Next: