5 Key HACCP Considerations for the Bakery Industry
August 8, 2016
4 min read
Hazard Analysis and Critical Control Points – or HACCP – is the internationally-recognised food safety management system that helps foods businesses to identify, evaluate and control the hazards in their premises that pose a significant risk to food safety. Having a HACCP system in place is essential for all bakery businesses as it ensures that you're complying with food safety law and producing bakery items that are safe for people to consume.
---
HACCP Considerations for Bakeries
1. HACCP is made up of 7 key principles which require bakery owners to look at what could potentially go wrong and how these problems can be prevented. The 7 principles are:
Conduct a hazard analysis.
Determine the Critical Control Points (CCPs).
Establish critical limit(s).
Establish a system to monitor control of the CCP.
Establish the corrective action to be taken when monitoring indicates that a particular CCP is not under control.
Establish procedures for verification to confirm that the HACCP system is working effectively.
Establish documentation concerning all procedures and records appropriate to these principles and their application.
In summary: bakery businesses must identify the potential hazards, determine how these can be controlled and monitor the system to ensure it remains effective.
---
2. All hazards within the premises must be considered during the hazard analysis, right from the initial stages with your suppliers and raw ingredients through to your baking processes and the sale of the final products.
You'll need to consider hazards from each category of contamination – physical, chemical, microbial and allergenic – including their possible sources and how they may affect your food products.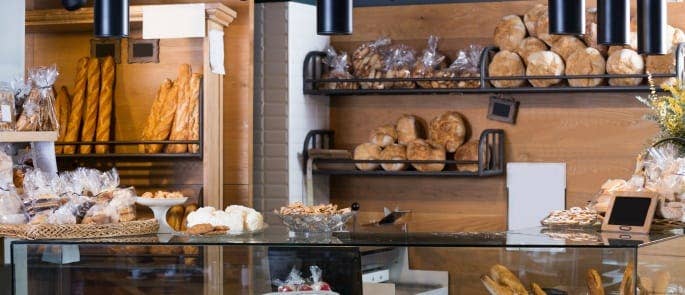 Don't forget to include hazards from areas such as cross-contamination, cleaning products, poor personal hygiene, damaged machinery and storage rooms. All bakeries are different so there's no comprehensive list of what should be included: the key message to remember is that anything and anyone can potentially pose a hazard to the food you produce.
---
3. Your business must have certain 'prerequisites' in place before implementing HACCP. By law, everyone that works in a food business (including bakeries) must be trained in food hygiene. This training should teach you about the essentials of food safety, including good personal hygiene practices, safe cooking and storage temperatures, how to avoid cross-contamination, waste disposal, pest prevention and effective cleaning.
In terms of HACCP, these essential food safety measures are known as 'prerequisites' and your business must apply them in order for the HACCP system to be effective.
If your bakery does not follow the basics of food hygiene and safety then the HACCP system is likely to fail and the hazards to food will not be adequately controlled.
---
4. Some hazards are more significant than others and these are the ones that you're aiming to control with your HACCP system. These significant hazards are the ones which would cause serious contamination to a food product if they're not controlled and, in terms of HACCP, are known as 'critical control points'.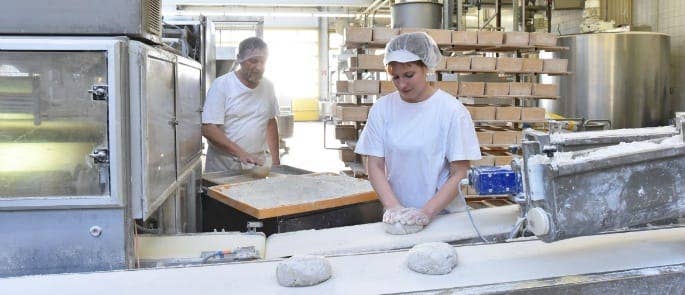 For example, a stage in the food production process where allergens may contaminate another bakery product, or a point where bakery machinery may leak oil into the food.
You should first consider whether the identified hazards can be controlled using the basics of food hygiene (the prerequisites). If they can't then they become critical control points and part of the HACCP system.
---
5. You must have a plan in place to deal with contaminated bakery products. Even if you have control measures in place and have carefully considered the critical control points, accidents happen and sometimes you may end up with food that has been contaminated. In these situations you must have corrective action procedures in place to prevent contaminated food from reaching your customers.
The aim of corrective action is to deal with the problem immediately, make the product safe and prevent potentially harmful products from being used or sold.
For example, diverting the affected ingredient for use in another product (such as if the gluten-free flour becomes contaminated with gluten-containing flour, it could still be used in other bakery items), destroying the product (if it contains harmful cleaning substances) or recalling a product from sale (if the item is found to contain a foreign object and may harm the consumer if eaten).
---
HACCP can be a complicated system to implement so if you're the owner or operator of a bakery business it's essential that you understand the key principles and how these apply to your premises. The Food Standards Agency's 'Safer Food, Better Business' pack is free to download and can help you get to grips with the basics of HACCP.
Alternatively, we offer specific online courses in Level 2 and Level 3 HACCP which provide you with guidance on each stage of the HACCP planning and implementation processes.
---
Further Resources: