10 Ridiculous Instances of Health & Safety Being Taken Too Far
June 4, 2015
6 min read
10 Ridiculous Health and Safety Rules
"In the interests of health and safety, all customers entering the restaurant must dispose of drinking bottles in their possession – full or empty – to prevent potential cross-contamination."
Sounds ridiculous, right? And that's because it is; no health and safety legislation enforces this rule and never will. Yet, many businesses reinforce policies like this by invoking the mysterious 'interests of health and safety'.
For a bit of fun, here are my top 10 ridiculous instances of overzealous health and safety rules and enforcement.
---
Shop Refuses to Inflate Balloon Bought Online
In 2014, a customer purchased a helium balloon from a card shop. They asked the shopkeeper to inflate it, asked if they could also pay to have another balloon that they bought online inflated. The trader claimed that for health and safety reasons, they couldn't fill balloons other than those purchased in their store.
This story is a prime example of masking commercial reasons with health and safety law!
There's no risk to anyone's safety by inflating a balloon bought from elsewhere. Thankfully, the organisation's manager agreed to instruct staff to explain the real reason behind this rule in future.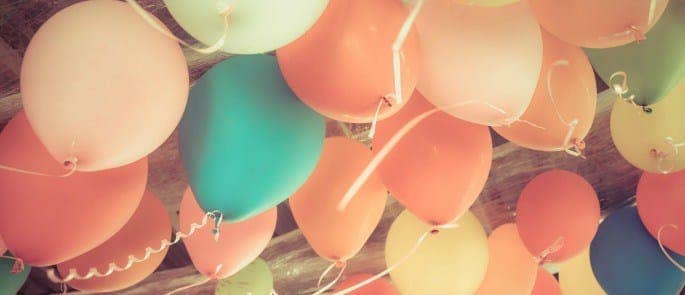 ---
Bridlington Beach Bans Kite Flying
In 2011, Bridlington's local council banned kite flying on the beach for 'health and safety reasons'. Apparently, the Council were greatly concerned in case a falling kite hit someone. A spokesman for the Council stated that the cause of the ban was that large kites were "often propelled at high speeds … and are considered a risk in a beach setting."
Are you worried about this beach-based menace?
No? Neither are the Health and Safety Executive who cited this story as one of the top 10 most bizarre health bans/restrictions.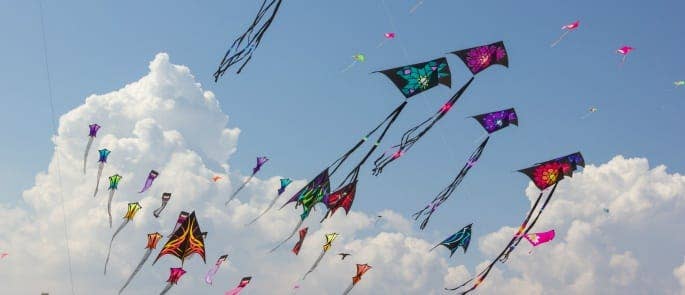 ---
No Office Flip-Flops
It's a common myth that flip-flops are a health and safety risk in the workplace.
This anti-flip-flop rule is another example of the overzealous and misunderstood application of health and safety regulations. Wearing suitable footwear to work is important, particularly if your job involves working around unstable or wet surfaces, or in an environment where debris are scattered.
However, construction workers don't avoid wearing them because they are banned. They don't wear them because it would be weird to do so. Health and safety law is less about banning things and more about encouraging good practices to prevent accidents and ill health.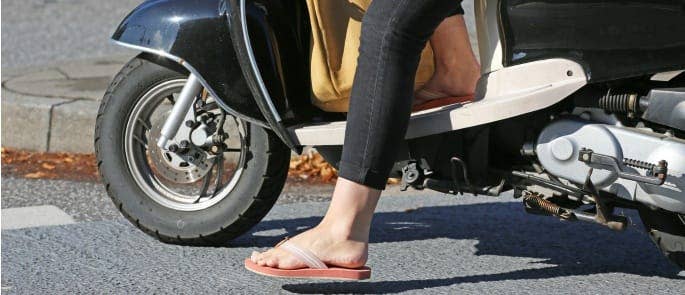 ---
34-Year-Old ID'd for Christmas Crackers
You read it right. In 2013, Ben Meghreblian went to Marks and Spencer's to buy crackers for a Christmas party. Ben was ID'd by a member of staff who pointed at a sign which read: "it is a criminal offence to sell a product containing explosives to anyone under 16."
A bemused Ben queried this, and the cashier left to 'verify something', returning later with another member of staff who approved the sale, apologised, and said: "sorry, but we have to check."
This rule exists for good reason. But this is undoubtedly an example of invoking preventative measures without taking a moment to invoke common sense first.
---
No Balloons for Children
Children were not allowed air-filled balloons after a library book event due to 'unspecified health and safety reasons', and the balloons were burst and thrown away instead.
If these 'unspecified health and safety reasons' were real, then balloon-sellers and manufacturers would be packing their bags and heading home.
As the Health and Safety Executive states, there are no health and safety regulations which impose restrictions of this sort. If children are given balloons to play with, adults should supervise them. This is because if a balloon bursts, then it becomes a health and safety risk by becoming a choking hazard.
---
Enjoying this article? Take a look at these instances of overzealous health and safety at Christmas time!
---
The Great Plaster Hazard
When an employee cut her finger in the workplace, and her colleague went to find a plaster for her, they quickly discovered that there were none available in the first aid kid. The manager asserted that due to health and safety reasons – allergies, to be precise – no plasters were available in the first aid box.
Which is odd considering that there are no health and safety regulations which ban the provision of plasters! In fact, banning plasters impedes decent health and safety practices.

The HSE recommend that first aid boxes stock plasters as the basic kit. If managers are concerned about allergic reactions, they can include the hypoallergenic variety or ask the injured person if they are allergic to standard ones.
To learn about what you should include in a first aid kit, visit our article that provides Guidance for First Aid Kids in the Workplace.
---
No Trolleys Permitted in Card Shop
In March 2015, a card shop displayed a sign reading: 'No Trolleys. Due to health and safety and the size of the store we are unable to allow for trolleys. Sorry for the inconvenience.' It would be much better to state that their lack of space prevents the comfortable use of trolleys, rather than needlessly using health and safety as a front to reinforce the fact that their store is too small for trolleys.
---
Ban the Yo-Yo, Monkey Bar, and Sack Race!
It's a common trend in primary schools to stop children from engaging in potentially harmful activities to keep them from ever harming themselves. A primary school in Thame, Oxfordshire prohibited children from using monkey bars without supervision. Another banned the sack and three-legged races from sports days. And another the use of yo-yos – all on the grounds of health and safety.
Under this logic, it would be wise to stop letting children go outside, run around and play, and engage in any activity – because anything can be dangerous and kids will always find a way to hurt themselves!
That's not to say that we should abandon supervision and let children run wild. But rather than falling back on the easiest option – banning all activities that could lead to tears – we should take it upon ourselves to watch children, to observe, and assess each situation, so that overzealous attitudes towards health and safety aren't ruining playground fun.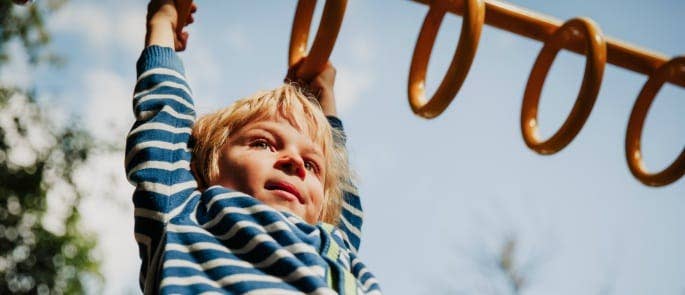 ---
Nightclub Bans Selfie Sticks
A nightclub in Britain was the first to ban selfie sticks over 'health and safety fears' after encountering a sudden surge of people bringing them on nights out.
I mean, I might argue that selfie sticks are annoying. But there are no regulations that list selfie sticks as a health and safety risk. So you can't ban them under that guise.
Once again, it was easier to loosely invoke health and safety rather than say the obvious: elongated metal sticks with phones hanging on the end are impractical in crowded clubs.
---
Primary School Bans the Use of Ladders
This is possibly the most bizarre case here. In 2014, a primary school barred the use of ladders due to 'health and safety reasons', so staff had no choice but to balance precariously on chairs when accessing high places.
The inventor of the ladder would be turning in his grave. This ban is absurd as it poses a greater risk to staff and even students by setting a poor example that chairs are safer than ladders.
Whatever their reasoning, it was unfounded. If you use ladders correctly, they are perfectly safe and appropriate.
---
Health and safety rules, real ones, are vital. They exist to prevent real, sometimes fatal harm. Often, people are overzealous, or have good intentions but refer to misinformation, and enforce rules without good reason. Having good intentions is a positive start, so it's important that everyone properly informs themselves about what health and safety actually does and doesn't require, so we can protect people's safety while also remaining inclusive and sensible.
---
Further Resources: