Guidance for First Aid Kits in the Workplace
November 15, 2016
5 min read
Accidents and incidents can happen in all types of workplace. In addition, certain work activities can pose a risk of causing injury or illness to people. Although this should be prevented by implementing control measures, sometimes accidents do still happen.
First aid kits should be fully stocked and readily available on site at all times to treat minor injuries that don't require emergency attention, such as small cuts.

First aid arrangements are legally required in all businesses. The Health and Safety (First-Aid) Regulations 1981 (as amended) require all employers to provide adequate and appropriate first aid equipment. This means that if someone is injured or falls ill at work, they can be given immediate help. The Regulations are applicable to all workplaces, including those with fewer than five employees and to the self-employed.
---
How Many First Aid Kits Do I Need?
The number of first aid kits that are required will vary from business to business and will be dependent on your first aid needs assessment findings. Employers are required to carry out an assessment of first aid needs that are appropriate to the hazards and risks of each workplace. When considering the hazards and where they are in the workplace, you should use the findings of the general risk assessment. This can then be used to determine where first aid kits should be stored and how many are needed at the premises.
Employers have an overall responsibility for ensuring there is a suitable number of first aid kits at a premises. However, they may delegate the arrangement of this and the first aid needs assessment to a competent person, such as a representative from an occupational health service.
Factors that will help you determine the number of kits needed include:
The number of employees on the premises – the higher the number of employees, the more first aid kits required.
The amount, size, and complexity of floors – you should have at least one on every floor where employees work. Where floors are large in size, you should have one at each end. If they are particularly complex in layout, you should have several throughout, located at various visible locations.
The level of hazard the work activities in your business pose – an office has lower hazards than a manufacturing premises, for example. You'll usually only need one for each floor in an office but in a manufacturing premises you'll require more than one throughout the floor, even if it's small.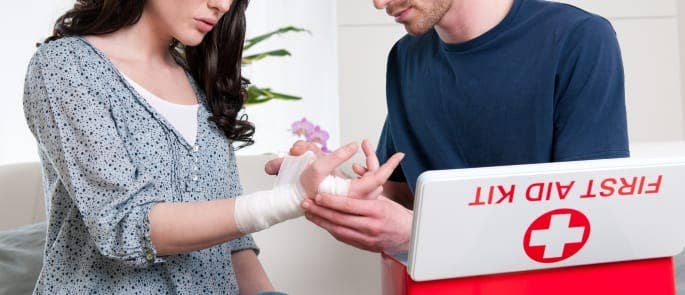 Take all these factors into account to help determine how many you need, as well as the information in the next section, which will ensure everyone in your business receives immediate first aid treatment if required.
---
What Size First Aid Kit Do I Need?
There are many different sizes of first aid kits. The one(s) you need depends on the number of employees in your business and the level of hazard work activities pose. The HSE suggests that employers may want to consult British Standard BS 8599 which provides information on the size of first aid kits and the contents. However, whether a kit that complies with BS 8599 or an alternative one is used, the number, size and contents should reflect the outcome of the first aid needs assessment.
BS 8599 complaint first aid kits would contain the following:
Low level hazard businesses e.g. offices, libraries, schools, and low-hazard retail shops, e.g. newsagents and clothing outlets.
Small size kit: less than 25 employees.
Medium size kit: 25-100 employees.
1 large kit per 100 employees: more than 100 employees.
High level hazard businesses e.g. engineering, warehousing, chemical manufacture, or any business that requires employees to work with dangerous machinery or sharp instruments.
Small size kit: less than 5 employees.
Medium size kit: 5-25 employees.
1 large kit per 25 employees: more than 25 employees.
Each kit must have the necessary amount of each item to accommodate the number of employees for which it's designed.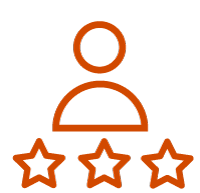 Need Workplace First Aid Training?
Our Workplace First Aid Online Training will provide you with all the information needed to be able to recognise emergency situations, treat conditions and reactions and ensure that you can take appropriate action at the time of an incident.
---
Where Should First Aid Kits Be Located?
First aid kits don't need to be located in a specific place. Their placement should depend on the layout of the premises and the findings of your first aid needs assessment. You may notice, for example, that certain areas of the same floor have higher level hazards and therefore require having more kits or keeping them closer.
You should ensure that the location of any first aid kits are:
Easily accessible.
Clearly visible.
Signposted by a 'first aid kit' sign nearby.
Kits could be kept on a countertop, mounted to the wall, or in a cabinet. Keep in mind that if a kit is mounted to the wall it will be more difficult to take the necessary items to an injured individual if they can't go themselves. You may need to provide some workers with their own personal travelling first aid kit, such as if they travel frequently, work remotely or work alone.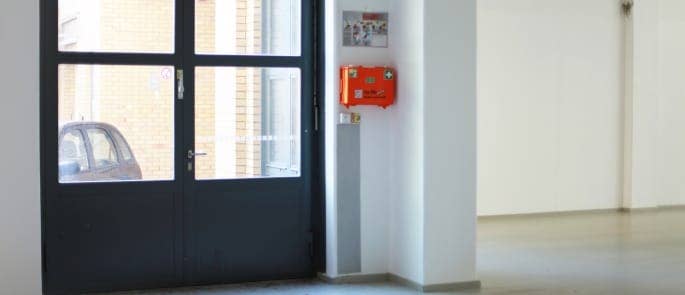 Also keep in mind nearby work activities or equipment: keep the kit away from any areas that might affect the integrity of the box or the materials and substances inside the kit, e.g. work activities that create debris or high-temperature environments.
---
What Should I Put Inside My First Aid Kit?
There is no mandatory list of items to put in a first aid box. Instead, the contents will be determined by the findings of the first aid needs assessment.
Where work activities involve low level hazards, the HSE suggests that the following minimum stock of first aid items within a kit may include:
A leaflet providing general guidance on first aid.
20 individually wrapped sterile plasters of assorted sizes. These should be suitable for the type of work and may need to include hypoallergenic ones.
2 individually wrapped sterile triangular bandages.
6 medium individually wrapped sterile unmedicated wound dressings.
2 large individually wrapped sterile unmedicated wound dressings.
2 sterile eye pads.
3 pairs of disposable gloves.
6 safety pins.
In addition to what's listed above, workplaces with higher level hazards will likely require further equipment within the first aid kit. This will be determined by the findings of the first aid needs assessment but may include a face shield and tough-cut scissors to cut through clothing.
This list is not exhaustive; you can find a more comprehensive list of items that could be kept in your first aid kit in our Workplace First Aid Box Checklist.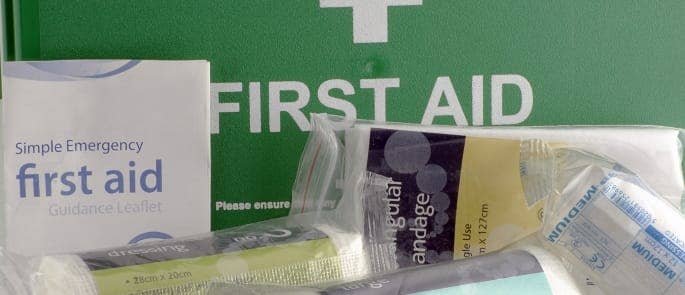 ---
Remember: the items in a first aid kit have expiration dates. Either the appointed person or the first aider are responsible for ensuring that the first aid kit is replenished and all products remain in date.
If you follow all the guidance given throughout this article, your workplace will be fully prepared to provide first aid to those that incur an injury while at work. You will ensure that people can properly protect wounds and properly treat pain and discomfort so they can continue their work activities comfortably and safely.
---
Further Resources: