Chapter 6: Advice on Advertising & Marketing Your Cleaning Business
June 20, 2016
6 min read
You've written a business plan, identified your target market and bought the required cleaning equipment. You've even done your budget for the months ahead and got yourself a uniform – but where are your customers? Whilst the planning stages are essential for your business to be a success it's your book of loyal clients that's the difference between make and break.
So how can you advertise your business and attract your target market?
Think back to the market research stage of your business start-up. Hopefully you identified what other cleaning companies are (and aren't) currently doing and you came up with a unique selling point (USP) for your business.
---
Ideas for USPs include:
Use only eco-friendly, 'green' cleaning products.
Use luxurious, high-quality products.
Take a personal, tailored approach for each client.
Pride yourself on customer satisfaction.
Offer a bonus service, like dry cleaning.
Your USP is what makes you stand out from the competition and is what will make your customers come to you rather than someone else. Try not to just focus on being competitively priced but also offer a competitive service – concentrate on the things that money can't buy.
---
5 Easy Marketing Strategies
Getting the word out to potential customers is easier than you think. You don't need an enormous marketing budget to get your voice heard and never underestimate the power of word-of-mouth. Your aim is to get the name of your cleaning business into the everyday lives of your target clients through memorable (but not intrusive) advertising. These five marketing strategies will help you to get started:
The humble flyer. Don't undervalue the importance of traditional, glossy flyers! These small pieces of paper can be reproduced in large quantities for a very low price and allow you to display all of the information you need in one place. Use an eye-catching image and ensure your business name and contact details are prominent and then deliver and pin them around the neighbourhood.
Knock on doors. Another somewhat old-fashioned idea but one that can really work for local businesses. Take some time on an early evening to visit houses around your area and inform people of your company. Be friendly and chatty – not pushy – and you'll be surprised at how many people are willing to have a conversation.
Get social online. Online marketing doesn't need to cost you a penny and is great for getting your message out there. Use Facebook and Twitter to gather a following and regularly update them with images, cleaning tips, useful links and special offers. Don't forget to interact with your customers too – a friendly and helpful attitude will make you memorable as a fantastic company.
Advertise in the right places. Stick your flyers in places where your target market will see them. Use the school playground, coffee shop windows or on community message boards online –wherever is most appropriate for you.
Be creative and quirky. Fun and unusual adverts are the most memorable. Why not try printing your details on a yellow duster rather than a flyer? Or attach a free tea bag with the message 'put your feet up and we'll do the rest'? You could use a postcard, a Christmas card or a mini jigsaw puzzle. The more unique you are the more likely people will remember your name!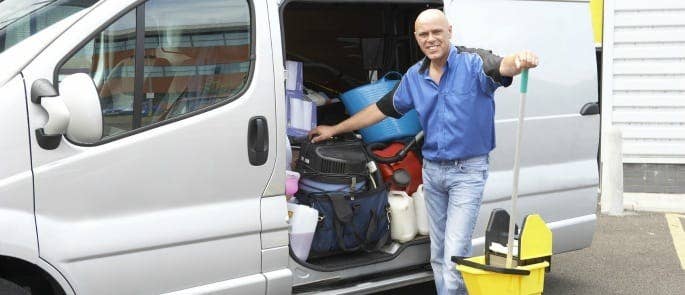 ---
How to Develop Your Cleaning Brand
Your brand identity covers everything from your company name through to the logo, fonts and colours that you choose for your flyers and uniforms. But have you given it much consideration?
Your brand needs to represent who you are as a business. It needs to communicate the image you wish to portray and entice customers to interact with you. For example, if you only use eco-friendly cleaning products then you may wish your brand to feature shades of green and images of trees to represent your environmentally-friendly approach.
Your company logo needs to be unique, simple and different from everyone else's. Make sure that it's clear and easy to reproduce on flyers, uniforms and transport etc. Ideally it'll feature an image or graphic alongside your company name.
Your company colours should reflect the image you want to portray. Are you an all-women company? Then maybe you'll choose pink. Do you offer a high-end service? Try golds and silvers. Want to look sleek and modern? Opt for a monochrome theme. Take a look at this article from smallbiztrends.com which shows the power of colour and how it can affect a person's reaction.
Your company name also needs to be unique as well as short, catchy and easy to remember. If it's too cheesy (like 'The Dust Busters') people may associate your brand with low quality, and if it's too long (like 'The Eco-Friendly Domestic Cleaning Company') then people will forget it and may be more likely to call a different business whose name they can remember. Make sure you pick a name that sounds professional – using your surname might help as it makes you look like a family-run business which could resonate well with local customers.
Once you've developed your brand the key then is simply to be consistent across all communications!
---
Have You Got a Company Website?
Think about the last time you needed to locate a hairdresser, a gardener or a charity collection – how did you go about it? Chances are you went online and entered the words into a search engine to find what you needed.
In this day and age it'd be foolish to pass up on the internet. If you don't feel tech-savvy yourself then ask a friend, relative or specialist to help you create your own space on the web. You don't need to pay loads for a website either – there are many places, like WordPress or Blogger, which will host your site for free until you decide to create one completely on your own. But it's important that you make a start.
Think back again to your own online searches – if a local company didn't appear in your search for 'hairdressers in (your town/city)', would you know it was there? It's likely that you'll focus entirely on the search results that you get, which is why it's so important that you have an online presence.
You can also use your website as a great marketing tool so that when customers do find you in their search results they are wowed by what they see and are desperate to get in touch!
---
Retaining Loyal Customers
Getting people to try out your company once is the (sort of) easy part. Getting them to return and use your services again requires slightly more work! Your aim is to build up a list of regular clients who ensure that your income stays consistent and your calendar stays busy.
Keep in touch with people who've used your service before but don't pester them. Perhaps send them subtle, creative email marketing, direct mail or a newsletter to remind them of who you are, but limit this to once a month at the most. People don't want to feel annoyed or pressured into buying from you!
You could also consider some sort of reward scheme to encourage customer loyalty. For example, offer your customers a 25% discount on their next cleaning service, give them a discounted service for getting a friend to sign up or say that if they book 3 cleaning services then they'll get the 4th free.
Another approach is to feature testimonials from happy customers on your website or flyers – if people can see that others have had a positive experience with you then they're much more likely to sign up themselves. Use an interactive online review system and consider this the online equivalent of word-of-mouth recommendations.
---

---