How to Repurpose Your Cafe, Restaurant or Pub as Coworking Space
November 23, 2020
10 min read
It's a widely reported fact that the hospitality sector suffered badly due to the effects of the pandemic. At the beginning of 2020, it was the UK's fourth largest industry. Yet it was the first hit, and the hardest hit, when the country went into the first lockdown in March. However, when restrictions were lifted in July, the hospitality sector proved how adaptable and creative it could be. Step forward unique promotion ideas such as repurposing restaurants, cafes and bars into attractive coworking spaces for remote workers.
Operators in the hospitality sector recognised the huge number of 'work from home' employees becoming weary of the same four walls, and increasingly desperate for a change of scenery after months of lockdown restrictions.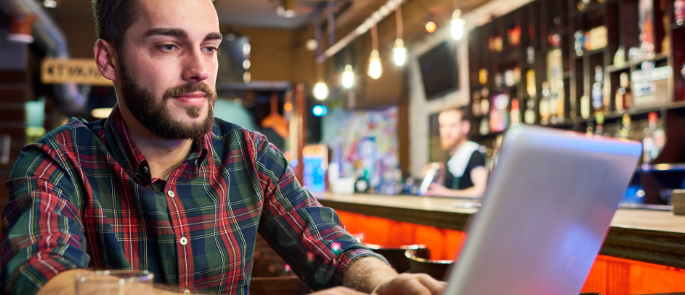 With over two thirds of the UK's workforce destined to continue working from home for the foreseeable future, there are potential opportunities for cafes, bars and restaurants to diversify their business when the latest round of restrictions are lifted. Our guide will outline the practical steps you can take to repurpose your premises into a coworking space, some tips from successful operators, and why it's a viable opportunity.
---
What is a Coworking Space?
The concept of coworking spaces (or shared workplaces) has been around for many years. For freelancers, entrepreneurs and startups who don't want to commit to the costly overheads of a physical office, a coworking space enables individuals to work in a shared space, with the facilities and amenities of a traditional workplace. For a fee, users get access to a workstation, free Wi-Fi, food and beverages. Many bars, restaurants and cafes already have the work environment and amenities that make them ideal as coworking spaces.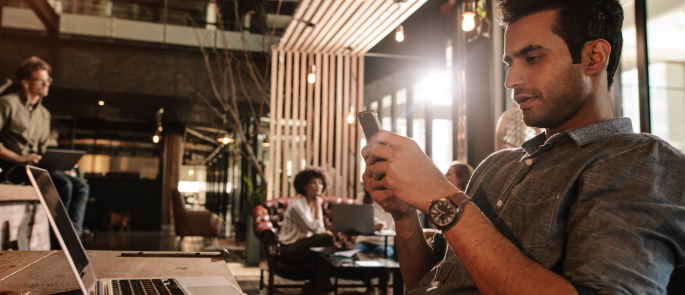 The short term benefits of converting hospitality outlets into coworking spaces at this current moment in time is twofold. On the one hand, businesses still have to meet fixed costs such as rent, business rates and utility bills, so they need revenue to come in through the door. On the other hand, homeworkers are not only growing tired of working in the same environment, productivity levels and mental well-being are being compromised by 'lockdown fatigue'. A coworking space in a hospitality venue offers solutions and opportunities for both sides.
There are also long term benefits by diversifying the use of bars, cafes and restaurants. The business remains solvent, becomes relevant in the face of a rapidly changing hospitality sector and a few simple changes can bring customers in for the long haul.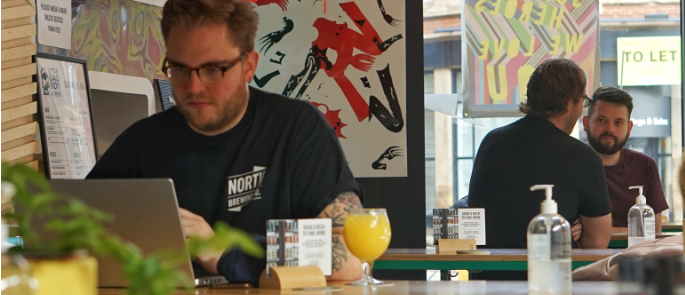 ---
How Do I Repurpose My Hospitality Business for Homeworkers?
The first thing to realise is that your premises can still function as a bar or restaurant at peak trading periods – such as in the evening and at weekends. Your usual business model can operate in tandem with offering coworking space during the quieter weekday time period.
But, there are some aspects of coworking spaces which may impact on your current policies and procedures, and the following items will need reviewing and updating.
Risk Assessments
Every hospitality business has a risk assessment plan in place detailing specific hazards and the controls needed to manage them. However, this plan is related to your current use of the business. You will need to review this to identify any additional risks associated with change of usage. Things to think about are:
Fire risks – could plug sockets become overloaded?
Electrical risks – do you need Portable Appliance Testing training?
Trip hazards – do you need cable tidies and cover strips for trailing electrical cables?
Display Screen Equipment (DSE) risks – is there adequate lighting, and are tables and chairs at a suitable height?
We have created several resources you can use in your business to help with this; take a look at our Risk Assessment Template, our Fire Risk Assessment Form and our DSE Risk Assessment Checklist.
Furthermore, you could even provide the DSE checklist to your customers to use, to help them be safe and comfortable when using your space.
Public Liability Insurance
Public Liability Insurance is an insurance product taken out by business owners. It's not a legal requirement but it protects your business if a case is brought to court by a member of the public. If your business is sued, Public Liability Insurance will cover the cost of your legal defence, plus any compensation or settlement money ordered to be paid.
Your Public Liability Insurance policy is based on the details you submitted at the point you took out the insurance. If there is a change to your premises or practices, your insurance provider should be notified so the level of cover is adequate. On completion of your reviewed risk assessment, you should notify your insurance provider of any additional risks you have identified associated with operating your business as a coworking space. One example for you to consider is if a customer had their laptop stolen whilst they were on your premises.
COVID-19 Guidance
Guidelines on working safely during coronavirus and restrictions for members of the public to keep them safe and healthy are constantly changing at the moment. However, there are three key messages issued by the UK and Scottish Parliament, the National Assembly for Wales and the Northern Ireland Assembly:
Hands: Washing your hands with soap and water for at least 20 seconds, or using hand sanitiser, regularly throughout the day will reduce the risk of catching or passing on the virus. Ensure there is plenty of signage reminding customers to wash their hands regularly, and make sure every workstation (table and chair) is thoroughly sanitised between users.
Face: Wearing a face covering is mandatory when moving around in shared public spaces. It's natural for people to forget this when they are in a coworking space, especially if they visit the toilet or go outside for a cigarette. Staff should give polite, friendly verbal reminders to anyone not wearing a face covering. You can also use signage as reminders whilst they're moving around or entering the premises. When customers are at their desk or workspace they are classified as drinkers/diners, so they are permitted to remove their face covering.
Space: Transmission of the virus is most likely to happen within 2 metres, with the risk increasing at shorter distances. While keeping this exact distance isn't always possible, remaining mindful of surroundings, employing mitigating steps – such as putting hand sanitiser on tables and placing screens between tables – and continuing to make space has a powerful impact when it comes to containing the spread.

Further resources on this topic can be found here and keep up to date with the latest advice on the government website.
Booking Systems
How you arrange your booking system is critical to the success of a coworking space plan. You could offer customers a work space for a whole day for a set price, or you could divide the day into 'sittings', similar to a restaurant reservations system. There are pros and cons associated with both concepts.
Full day bookings are easier to administrate, because a workstation is allocated to a customer for an unlimited period. These can be managed with minimal staff, and you can accurately forecast demand for food and drinks, resulting in less wastage. However, this does not maximise the revenue potential of the space, and if all the workstations are booked in advance, there is no allowance for walk-ins.
Subdividing the day into sittings generates more revenue, gets more customers through the door and offers greater flexibility for walk-ins. But staffing costs will likely be higher due to increased cleaning protocols in between sittings. Demand for food will be more unpredictable, and exceptional managerial skills will be required to 'turn' the tables. How would you like to ask a customer to leave their allocated workspace if they're halfway through an important video call to a client?
Whichever option you choose, it's vital that you have a coordinated system to log bookings, either in a reservations diary or a dedicated online booking system. This will enable you to:
Control the amount of people in your premises at any one time.
Identify areas where marketing and promotions are required to generate additional custom.
Forecast staffing levels and place accurate food and drink orders.
You should offer people a range of ways in which they can book a workspace. Some customers prefer to ring and book directly, others favour using an online booking platform such as open table. Your social media channels are an integral part of your booking enquiries so these should be monitored at regular intervals.
---
Tips for Marketing Your Establishment as a Coworking Space
Remote workers have experienced the convenience of working from home for nearly a year, so you need to offer them an exceptional experience when they visit your outlet. Bundle deals such as bottomless hot drinks, lunch, free (good!) Wi-Fi, a dedicated workspace and a drink at the end of the day are all attractive options and can be offered for a fixed price.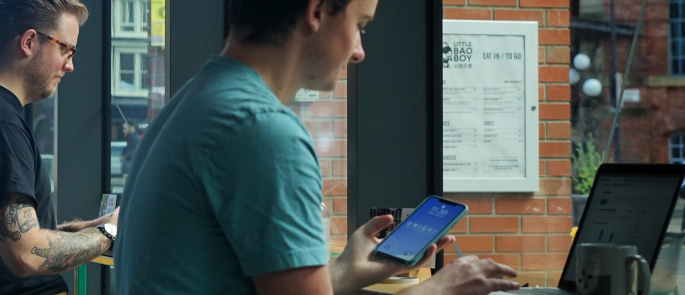 However good your offering is, if no one knows about it won't be successful. Utilise multiple social media platforms such as Instagram, Twitter, Facebook and LinkedIn to shout about the repurposing of your venue, in addition to traditional print media and good old word-of-mouth advertising. The case study below demonstrates how an innovative repurposing of an iconic bar in Leeds gained widespread coverage.
Case Study: North Bar, Leeds
North Bar decided to offer customers a bundle deal called Work From North. It included unlimited coffee, a socially distanced desk from eleven until five, free Wi-Fi, charging points, a Dim Sum lunch, and a pint of North beer at the end of the day for £15 per person. This was made available from Monday to Friday.
Bookings were taken through social media DMs, over the telephone and via email. No deposits were taken and people were asked to let the bar know in advance if they couldn't attend their slot.
At the launch, their Instagram post received over a thousand likes, and gained coverage in The Yorkshire Evening Post. The scheme saw their daytime trade increase. Sarah Hardy, Marketing Manager at North said;
"The bar looked vibrant to people walking past, and many workers stayed for a drink or two after closing their laptops. The scheme also enabled people to come back to North Bar for the first time since we re-opened with confidence. They knew that they would have a safe, socially distanced desk to work from, be served by staff wearing masks and see our Covid safety measures. We received some great feedback on how safe we made people feel.
Work from North allowed people to change their environment, feel connected to the local community, see some friendly faces, and leave their houses. The scheme was built to be informal and affordable, with no long term commitments for the customers. We wanted to be as flexible as possible to respond to guest's needs".
The scheme was informal and as there were no long term bookings, the guests were able to cancel easily. This was important to the customers as some people were subsequently asked to self isolate and therefore had to cancel their booking.
Hardy concluded:
"We had around 50 bookings a week. It was great for keeping in touch with customers, and for boosting staff morale at North".
---
How To Create A Successful Coworking Space
Before you start promoting your offer, it is important that what you can offer will be a success with your customers. The following amenities are therefore essential:
Fast Wi-Fi
Make sure your internet speed and connection match the needs of a remote worker, and not just a customer. Remote workers need enough bandwidth to host video calls, and download and upload data. Your speed required will depend on the number of people consistently working in your outlet. Make sure access to your internet connection is password protected and make sure the password is easily visible upon arrival.
Power Outlets
Another important amenity is electrical points. Remote workers need to keep their phones and laptops charged. Check how many plug points your outlet has, and where they are located. If they are only accessible to tables near a wall, consider adding tabletop chargers and USB ports to centrally located tables.
Dedicated and Safe Workspaces
Not only is privacy a key factor for remote workers, social distancing guidelines currently dictate people from different households should maintain a distance of two metres apart, or one metre with other precautions in place. Position chairs so they are all facing the same direction to avoid face-to-face contact. Alternatively, tables arranged around the room, rather than through it, allow people to work against the wall, facing outwards.
Coffee
Coffee is the fuel that keeps remote workers going – but not any old coffee. Coffee drinkers demand a good quality roast, well trained staff, perfect serve, and a wide range of styles. This is why so many remote workers used coffee shop coworking as their workspace even before the pandemic hit. Review your offer, engage with coffee suppliers, upgrade your equipment, and request some Barista training. Bottomless coffee offers are commonplace in many cafe coworking spaces.
Food and Drink
Sustenance throughout the day is vital for remote workers. Offer a well balanced nutritional menu with plant based and vegetarian options.
Table Service/Order Apps
It's totally understandable that if your customers are in the middle of a business meeting, they don't want to be disturbed every five minutes by a server asking if they require anything. This is where order apps come in. Customers can order food and drink directly from their table, and get on with their work. There are multiple service providers offering order apps which can accommodate your food and drink offer, connect to your EPOS system, and facilitate remote payment. However, sometimes extra revenue can be generated by a human touch. Roaming staff can use a soft sell approach to encourage additional purchases, such as sides and snacks.
Printers
It would be great to claim we're in a paperless environment. But even in the digital age, printers are still a part of doing business. Consider installing a pay-by-the-page printer in your premises. Find one that doesn't take up a lot of space and has bluetooth connectivity.
Case Study: Young's Pub Company
Work From Pub: The New Work From Home
In October 2020, Youngs launched their Work from Pub scheme. Each participating pub was fully equipped with free Wi-Fi, charging points, quiet spaces and unlimited tea and coffee. They flexed the price and offer for each pub, depending on the location. Some of the pubs offered all day availability, some offered time slots. Customers booked directly with the outlet, either by phone or online.
The London based group gained sizable media coverage both nationwide and in the Evening Standard.
---
As more people are able to work remotely, the desire for community, comfort, and services while coworking will only intensify. Remote workers are searching for flexible options away from the four walls of their homes.
If your business operates in the hospitality sector, you're in an excellent position to offer these services to a growing remote workforce. Meeting this demand will offer your business an extra revenue stream. Additionally, it allows you to continue to connect and engage with your customers. Keeping your presence in their mind should serve you well in the future when regular trade resumes.
---
Further Resources: