Alternative Careers for Healthcare Professionals
April 4, 2022
5 min read
There may come a time when a healthcare professional chooses to either leave the health and social care sector or transfer their skills to a different role. There may be many reasons for this and choosing to change careers can be a difficult decision to make. It is important to carefully consider the different routes available to help determine if an alternative role is the right choice for you.
This article will outline which transferable skills are gained through working as a health and social care worker, and offer examples of some alternative career paths both within and outside of the health and social care sector.
---
Changing Career After Working in Healthcare
There can be many reasons why people choose to change their career path after working in healthcare, and it is important to consider all the options before making that change. Working within the sector can be immensely rewarding, but it also comes with many challenges. This is particularly so in recent times as the health service navigates its way through the COVID-19 pandemic and its aftermath.
It is often the case that health workers find themselves working in busy, understaffed, and under-resourced environments that involve dealing with emotionally charged and stressful situations. The work can also come with unsociable hours and long shifts, which over time can take its toll on staff's wellbeing.
Burnout is a topic that comes up a lot within the health and social care sector, with the House of Commons Health and Social Care Committee producing several reports on the issue. It is caused by long term exposure to mental, emotional and physical stressors and it is characterised by feelings of frequent tiredness, deflation, being trapped, and lacking a sense of personal achievement.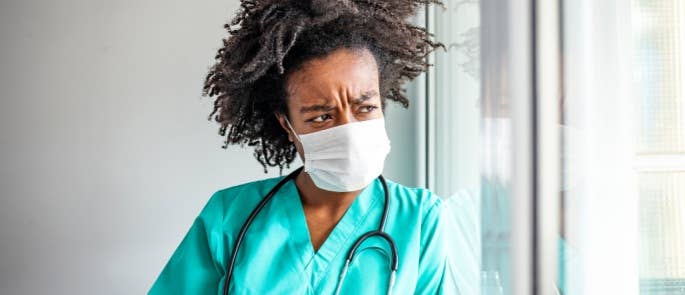 Whilst burnout or working conditions are not necessarily the cause of every healthcare worker's decision to change career path, it is worth considering it as a contributing factor before making the decision to change jobs. There may be support available that can help staff to recover and renew their sense of satisfaction within their role, without the need to change careers.
A lack of opportunity for career progression may also be an influencing factor when it comes to making a change. When faced with difficult and busy working conditions, it can be hard to find the time to dedicate to personal and professional development. This contributes to feelings of being stuck and can increase the worker's desire to leave their current role.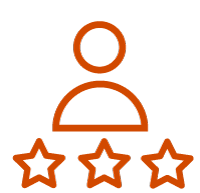 Interested in Personal Development?
Why not learn more with our Personal Development Training Courses, such as Coaching and Mentoring or Communications Skills in Health and Social Care. Or why not read our article on How to Support Professional Development in Health and Social Care.
It is important to look at the reasons behind wanting to change your career path before making the decision to leave. Once the reasons are identified, it may be the case that by having an honest and open conversation with your manager, resolutions can be found that alter the need or desire to leave your role.
If that is not the case, then it is also worth noting that a change in role doesn't mean leaving the health and social care sector altogether. There can be many new and different opportunities under the same employer and there can be many transferable skills between roles and departments.
---
Transferable Skills in Healthcare
As a health worker, you will undoubtedly have many transferable skills. These can be skills you have acquired through academic study, workplace training, or through daily tasks and interactions with colleagues, patients and members of the public. Some skills are relevant in a variety of circumstances and can therefore not only be transferred to different job roles, but to different sectors also.
Some of the key transferable skills for health care workers include:
Communication skills.
Time management.
Collaborative working.
Organisation.
Empathy and compassion.
Problem solving.
Conflict resolution.
Effective listening.
Emotional resilience.
These types of skills are often referred to as 'soft skills', and employers appreciate these qualities in their employees as they can be indicative of their character and attitude. Employers believe such skills can be beneficial for building and supporting working relationships, helping to stay organised, demonstrating growth and potential for future development and aiding successful team working.
These skills should not be underestimated as they can often be used to demonstrate suitability for a role even if it is an entirely new venture. Whether a worker possesses a degree and specialised training (hard skills) or not, there are both clinical and non-clinical alternative roles out there, and it is important to utilise and showcase all types of skills.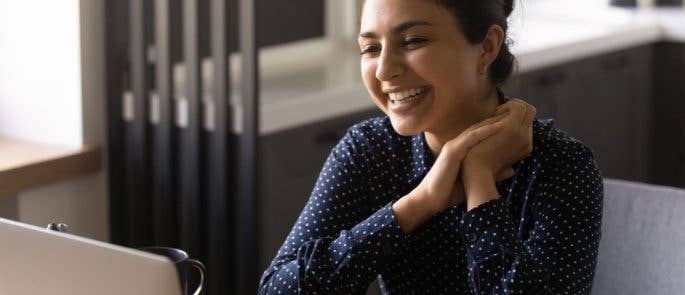 An individual's skill set will depend on their working role, for example those working on the front-line with direct patient contact will possess very different experience than someone who is mainly office-based. Even those on the front-line will vary from one another, with a Consultant Surgeon having a very different skill set to a Healthcare Assistant.
When looking at potential alternative careers, it is important to look into what skills are required for the role and whether that matches the worker's current skill set, and if not, what would need to be done to bridge the gap, such as further study or training. Having a goal in mind and identifying any relevant transferable skills can help to ensure any new career is both attainable and a good match.
---
Alternative Jobs for Healthcare Workers
When assessing potential options for a career change from, healthcare, it can be useful to gain further insights into what the role looks like day to day. It may be worth looking into any relevant volunteer opportunities, or requesting to shadow a member of staff currently in that role within the same organisation. 
We have mentioned some of the challenges and pressures healthcare staff face at work, with this sometimes contributing to frayed workplace relationships. It is incredibly important to develop communication skills and maintain positive professional relationships. Fostering these relationships can be beneficial when obtaining references or recommendations, and helps to keep an open channel of communication should there be a need to work together again in the future.
The NHS uses a banded pay scale, with each worker needing to meet certain experience or qualification requirements to work at certain band levels. It may be the case that a worker wants to change roles due to an opportunity arising elsewhere at a higher band. Alternatively, a worker may face difficulties and a lack of opportunity to further develop their skills and training or find a higher band position, and therefore choose to leave the sector entirely.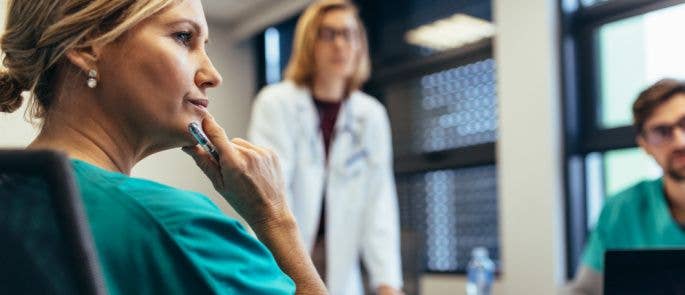 Below are some typical roles within the healthcare sector and examples of potential alternative careers:
Healthcare Assistant
If still wishing to work within the healthcare environment, there may be an opportunity to undertake more training and responsibilities, e.g. within the NHS this would mean progressing from a band 2 to a band 3.
If looking for career progression beyond the healthcare assistant role, a combination of workplace learning and university study would be required for nursing associate roles or to become a registered nurse.
Alternatively, a role as a therapy technician, working with physiotherapists, occupational therapists, or speech and language therapists, is an alternative to being a healthcare assistant. Radiography assistant or imaging support worker roles are also interesting options.
For a less hands-on role that is more admin-based but still within the sector, options may include being a ward clerk or a discharge facilitator.
Outside the sector there are many roles that require the transferable 'soft' skills we have mentioned, such as customer facing and customer service focussed roles.
Registered Nurse
There are several options for a change in role for registered nurses if they wish to remain within the sector. These may include working in clinical research, changing from hospital-based nursing to community nursing, or from ward work to outpatients or vice versa.
A registered nurse has many transferable skills and would be well-suited going into teaching, for example as a nursing educator or a nursing instructor. If a Master's degree has not already been obtained then it is often advisable for these roles.
A nursing degree can also be an advantage to move into counselling, management, social or legal roles. An experienced nurse may also find their knowledge a valuable asset to a variety of industries, such as within the insurance sector.
Doctor
There are several routes a doctor could take as an alternative job role and some may depend on experience and speciality. For those who wish to remain in the profession but would like a change, there may be opportunities in defence medical services or expedition medicine.
Qualified doctors may wish to utilise their experience in an advisory capacity within the civil service, or venture into writing medical communications or journalism.
As with nurses, there are opportunities available to doctors to move into education, management, or research roles.
---
Whether the aim is progression, a change of speciality, or to utilise transferable skills away from the sector entirely, there are always options available and alternative paths to take if you are considering a career change from healthcare. The knowledge and experience gained working in healthcare, regardless of role, can become assets to any future employer. 
---
Further Resources: