Research Findings: How Do Parents Think Lockdown Has Affected Their Children?
November 25, 2020
5 min read
Due to the COVID-19 pandemic, we have witnessed unprecedented changes to our society in the past months. Local and national restrictions have affected what we can and cannot do in our lives – disrupting our routine activities, jobs, holidays and education. Additionally, lockdowns have restricted our ability to socialise with our family and friends who we do not live with. These measures are all necessary to keep us safe and slow the spread of COVID-19, allowing our health services to cope.
However, these changes have undoubtedly affected us all both mentally and physically – not least the children who are growing up in these strange times. So, how is lockdown affecting the mental health and wellbeing of children? Here at High Speed Training, we surveyed 1,000 parents of children aged 4-16 years old in October 2020 and came to the following conclusions.
---
1. Children are well aware of mental health.
One thing is clear – this generation of children appear to have a good awareness of mental health as a potential issue in the lives of themselves and others.
Our findings showed that an average of around half (51%) of children across all ages (4-16 years) brought up the topic of mental health with their parents during lockdown, with older children bringing it up slightly more than younger children (47% of 4-7 year olds brought it up compared to 58% of 15-16 year olds). While it is great to see that children do feel able to talk about mental health and show such an early awareness, it is concerning if they are experiencing negative mental health at this young age.
Children talked about mental health at a similar percentage with either their father (51%) or mother (52%). Our findings did also show that children with older parents bring up the topic of mental health less than those with younger parents, suggesting a generational difference may be a potential barrier.
Interestingly, during 27% of these conversations, children raised concerns about the wellbeing of their peers, either separately or in addition to themselves. This just goes to show how intuitive kids can be with regards to their friend's feelings, as well as their own.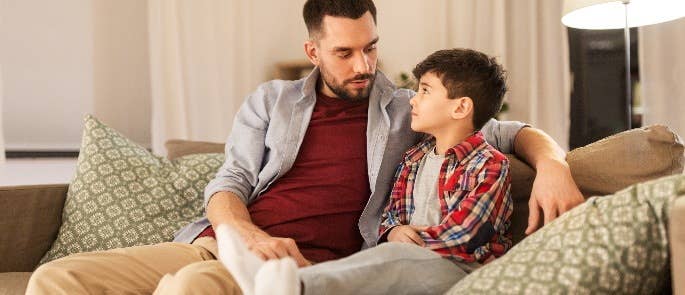 ---
2. Lockdown has had a varied impact on children's mental health.
Sadly, we found that a quarter of parents thought that the mental health of their child has got worse in lockdown – this was similar for children across the whole range of 4-16 year olds. This is understandable considering the challenges and disruptions faced, especially when it comes to schools. Fortunately, there is lots of help and advice available for young people who are struggling. For example, a children's guide to coronavirus from the Children's Commissioner and a children's book from the Inter-Agency Standing Committee explain the global changes due to COVID-19 and how they might feel and worry. Older children can be encouraged to access dedicated help websites such as Young Minds.
It isn't all bad news though: just over half of parents thought their child's mental health stayed the same and, interestingly, 14% of respondents thought their child's mental health had improved. The age range with the highest percentage of improvement were those children aged 8-11, and overall seems that London is the top place for kids to feel happy in lockdown – 34% of London parents reported an improvement. This just goes to show that sometimes we may find hidden silver linings, even in times of crisis.
---
3. Parents have confidence in schools.
Schools have had a tough time during the pandemic. In March 2020, the first lockdown led to the closing of schools to the majority of pupils and there was a sudden transition to remote learning for teachers and pupils alike. Even with schools open now in subsequent lockdowns, this remote learning still has to continue if bubbles are sent home to self-isolate. These changes have posed new challenges for teachers and safeguarding, as you can see in our survey of teachers.
Reassuringly, it seems that parents are confident in school support for the safeguarding and mental health of their children: two thirds of parents were either very satisfied or somewhat satisfied about their child's school's approach, with only 6.5% of parents unsatisfied in some way.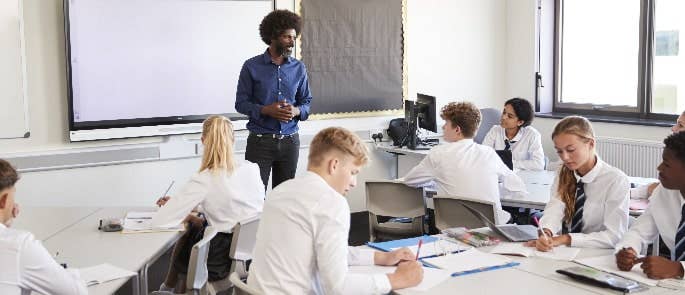 We have seen huge changes to the way schools have had to be run, so this really is a testament to all the hard work by teachers and leadership teams in schools.
---
4. Top safeguarding concerns for parents.
Parents always have worries about their children, and lockdown is no different. But what exactly are the biggest safeguarding concerns parents have at the moment?
We found parents were concerned about:
The mental health of their children (43%).
Online safety (43%).
Their child falling behind (41%).
Cyber bullying (35%).
Their child's physical health (30%).
Misuse of drugs or alcohol (16%).
Access to school meals (13%).
However, 13% of parents reported having no concerns in particular.
It seems that mental health and concerns surrounding the digital world top the board. Mental health appears to be more of a worry than physical health for parents in these times – and our data shows that this is true for parents in all parts of the United Kingdom and across all child ages of 4-16 years old. It is also apparent that fears of drug or alcohol misuse are most prevalent in London, being a concern for 26% of parents – much higher than the overall average of 16% across the whole of the UK.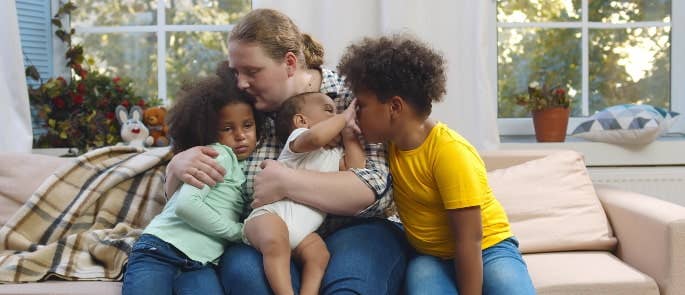 It is interesting to compare this to what teachers think. For example, more teachers reported concerns for children's mental health than parents (teachers – 62%, parents – 43%), but parents were more concerned about cyberbullying than teachers (teachers – 18%, parents – 35%). Additionally, although a lot of parents – 41% – are worried about their child falling behind, it seems that teachers feel this even more with 62.5% reporting it as a concern.
---
The COVID-19 pandemic has resulted in unexpected changes in all our lives. Children growing up in these times have undoubtedly been affected on many levels – from their education at school to relationships with friends and family. However, here we present some encouraging results from our parent survey, that tell us children are not afraid to have conversations with their parents about mental health, and that most parents have confidence in their school's safeguarding and mental health support.
---
Further Resources: