What Should Be In A First Aid Kit?
July 31, 2014
3 min read
This article provides guidance on what to include in a basic first aid kit, as well as what to include in a first aid kit for construction, childcare, and restaurant environments.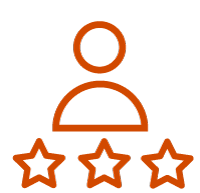 Need a Course?
For a deeper understanding of first aid, take our Workplace First Aid Training Course. It is suitable for people and businesses who wish to learn new first aid skills or refresh their existing first aid skills.
---
First Aid Kit Checklist
Most small accidents can be dealt with in the workplace – provided that you have a well-stocked first aid box on hand. In fact, the Health and Safety (First-Aid) Regulations require all employers to provide adequate and appropriate first aid equipment, facilities, and qualified people so that employees can receive immediate help if they are injured or ill at work.
There is no mandatory list of items to put in a first aid box – it largely depends on what you assess your company's needs to be. For example, a high-risk construction business needs more specialised equipment than an office environment. As a minimum, low-risk workplaces, such as a small office, should have a first aid box and a person appointed to take charge of first aid arrangements.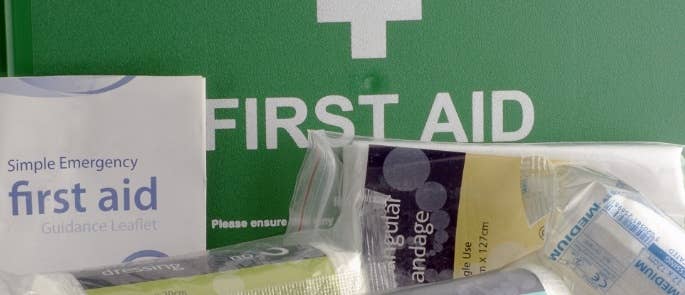 While you should use your risk assessment to find out what you need, as a starting point, here are a few basic first aid items to include in your workplace first aid box:
A leaflet giving general guidance on first aid.
Contents list.
Individually wrapped small, medium and large sterile gauze dressings.
Individually wrapped, sterile, triangular bandages.
Safety pins.
Sterile eye pads.
Eye wash and eye bath.
Plasters.
Wipes.
Adhesive tape.
Disposable nitrile gloves (pairs).
Crêpe rolled bandages.
Finger dressings.
Resus face shield.
Alcohol-free cleansing wipes.
Burn dressings.
Distilled water, for cleaning wounds.
Tweezers.
Scissors.
Check items regularly to ensure they are within their use-by dates – dispose of them at your local chemist if they are out of date.
---
Construction First Aid Kit
Construction is a high-risk workplace, and a construction first aid kit needs to be stocked to meet high-risk needs. The kit should be in a heavy duty toughened case.
Construction site first aid kits need to have enough contents for the number of workers on site.
Due to the nature of a construction site, their first aid kit should include:
Moist wipes.
Disposable gloves.
Medium and large sterile dressings.
Sterile eye pads.
Saline solution.
Eye baths.
Triangular bandages.
Safety pins.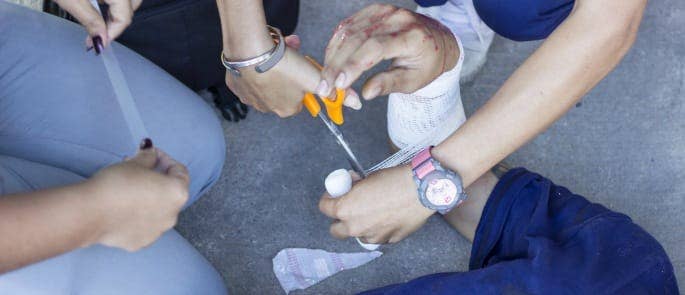 ---
Childcare First Aid Kit
A first aid kit for infants and children should be adapted to meet their needs and contain additional information and diagrams, such as infant CPR. You might want to also include child-friendly plasters and bandages, as these are less intimidating.
Never give a child aspirin as it has been linked to Reye's Syndrome. Reye's Syndrome is very rare but also very serious. It causes significant damage to the liver and brain and, if not treated, can lead to brain injury or death. Symptoms of Reye's begin after viral infections, such as chickenpox or a cold. Early symptoms include vomiting, tiredness, rapid breathing, and fits.
Alongside some of the essentials listed above, in a first aid kit for children and infants you should consider including:
Adhesive tape (you can dress smaller cuts on infants this way).
Ice packs or gel packs.
Paper vomit bag.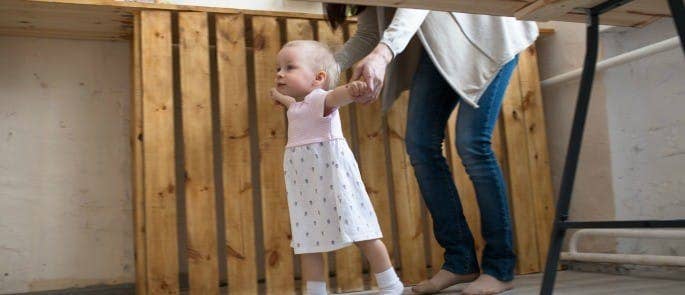 ---
Restaurant First Aid Kit
In a catering environment, first aid kits should have equipment for food allergen-related scenarios and burns. 
While you can't be handing out prescription medications to your customers, you could think about keeping provisions in case of anaphylactic shock. The Human Medicines Regulations 2012 allow members of the public to administer emergency medication to save a life. So, restaurants should make sure staff know how to recognise the signs of anaphylactic shock (an allergic reaction) and know how to administer adrenaline to save a life.
In a restaurant first aid kit, you should consider stocking:
Hydrogel dressings.
Burn treatment sachets.
Burn gel dressing.
Clothing scissors.
Conforming bandage rolls.
Information on immediate treatment for burns.
Foil blanket.
---
Further Resources: