How to Become a Bricklayer
November 22, 2021
5 min read
Careers in the construction industry are increasing in popularity, especially in light of the UK government's recent 'Build Back Better' plan for growth. In particular, the UK is currently experiencing a shortage of bricklayers to carry out this essential building work. For many starting out in the construction sector, this rewarding career can be pursued as an entry level job role, providing opportunities to develop skills and retrain. There are, however, a number of steps that you need to take to become a bricklayer.
Throughout this article, we will explain what a bricklayer does on a daily basis, the qualifications and training that may be required and/or that will increase your chances of employment. We will also explain the different routes available, and the skills that you may need to have developed in order to pursue this career.
---
What Does a Bricklayer Do?
A bricklayer's role is primarily based around the construction of housing and other structures. This type of work may involve building new structures, or repairing or extending existing buildings. The job can vary, with opportunities to work on domestic buildings and commercial projects, as well as chimneys and decorative masonry work. Someone who carries out this work may also be referred to as a mason, or a brick mason.
On a daily basis, a bricklayer may be responsible for:
Laying bricks, stone, and concrete blocks in mortar.
Repairing building blocks.
Measuring out build areas.
Mixing mortar, either by hand or with a mechanical mixer.
Applying or removing mortar.
Shaping bricks with hand tools or powered equipment.
Using a spirit level, laser level, or plumb line to ensure rows are straight.
As a bricklayer, you are likely to be working outdoors in all weather conditions. The tasks will probably require work at height and may involve various types of machinery. You may be working on a construction site for a construction company with other bricklayers and workers, as an employee or as an independent contractor. Alternatively, you may be self-employed and working alone or in a smaller team on commercial projects such as building fireplaces. The working hours can vary, but are typically between 42 and 44 hours a week.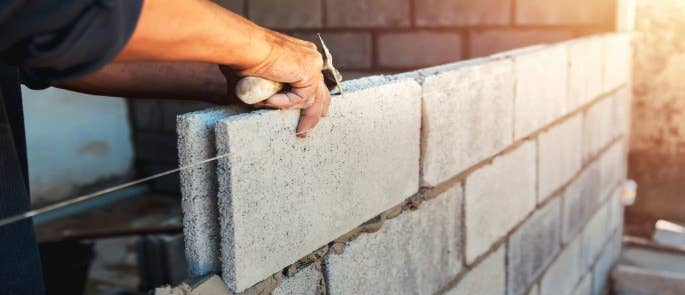 ---
What Qualifications Does a Bricklayer Require?
To become a bricklayer, there are several routes you can take depending on what suits you. You can take a college course and gain a qualification, or you may wish to pursue an apprenticeship which combines learning at a college or training provider with on-the-job training. There is also the option to start work straight away as a construction site labourer and learn on-the-job, but this route may be more difficult without prior experience or qualifications.
College and T Levels
One of the main routes into starting a career as a bricklayer is through a training course offered by a college or other training provider. These courses are at an introductory level and will teach you the skills needed to become a bricklayer. Holding one of these qualifications will increase your chances of finding a job with a building company as a trainee.
Courses available at a college or other training provider may include the following, which are listed on the National Careers Service website:
Level 1 Certificate in Construction Skills
Level 2 Diploma in Bricklaying
Level 2 Diploma in Trowel Occupations
T Level in On Site Construction
You should check the entry requirements for the specific course you are interested in taking. Usually, you will need to have the following:
For a Level 1 course, 2 or fewer GCSEs at grades 3 to 1 (D to G), or equivalent.
For a Level 2 course, 2 or more GCSEs at grades 9 to 3 (A* to D), or equivalent.
For a T Level course, 4 or 5 GCSEs at grades 9 to 4 (A* to C), or equivalent, including English and Maths.
T Levels are a new type of qualification that were introduced in September 2020. They are taken after GCSEs and are equivalent to 3 A Levels. To gain a T Level, you would enrol on a 2-year course that includes a combination of classroom learning and practical training through an industry placement. In total, a T Level is estimated to be around 1,800 hours of contact time, including the classroom teaching and on-the-job experience. Further T Levels are to be introduced in the future, with onsite construction having started in September 2021.
T Levels typically involve less on-the-job training than apprenticeships. They are more suited to those who aren't yet certain what occupation they want to pursue, don't need to earn a wage while training, or want to stay in education before entering the workforce. Holding a T Level will improve your career prospects, whether that be entering skilled employment, an apprenticeship, or higher education (with UCAS points).
If you are uncertain as to whether a career as a bricklayer is for you, it may be worth taking a shorter, introductory, course first. These are offered by some colleges on a part-time basis. You may also wish to gain some work experience to carry out some hands-on training. This may be useful to learn more about what bricklaying involves, or to build on your CV. Alternatively, you may know that this is a job you want to pursue and want to start work as soon as possible. If you can get a job as a construction site labourer, your employer may provide training so you can become qualified as a bricklayer.
You can find out more about college courses and T Levels through the links below:

---
Apprenticeships
Another route you can take to become a bricklayer is an apprenticeship, often a bricklaying intermediate (Level 2) apprenticeship. As with college courses, you usually need to have some GCSEs, often including English and Maths, or equivalent, to take an apprenticeship. An apprenticeship includes a mixture of on-the-job training and learning at a college or training provider. Unlike T Levels, which are more equally split, an apprenticeship tends to be around 80% practical and 20% classroom based. Apprenticeships are available to anyone over the age of 16 and typically take 2 years to complete.
The practical training element of an apprenticeship may be with a company, such as a construction firm, which will provide you with a real-life insight into the industry and job role. You will be fully employed by this company and will need to work at least 30 hours a week, split between the onsite training and classroom learning.
To find out more about apprenticeships that are available near you, follow the links below: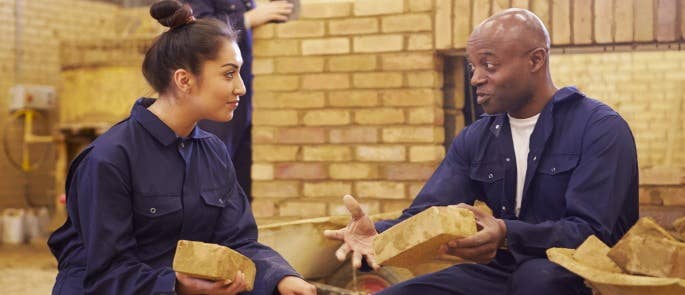 ---
CSCS Card
Most principal contractors or clients request that workers hold a Construction Skills Certification Scheme (CSCS) card before they are allowed to train or work on a construction site. While a CSCS card isn't a legislative requirement, having one greatly increases your chances of employment because it is required by the majority of principal contractors. CSCS cards are held by an individual who works on site and are evidence that they have had the appropriate training and qualifications for the job they are going to be carrying out. The cards are considered as very important for helping to ensure high standards of health and safety on UK construction sites.
The type of CSCS card that you will hold as a bricklayer will also depend on whether you hold any qualifications and if you are a member of a professional body (or if you have registered or applied for either). If you don't hold any qualifications and haven't registered, you may be given a Provisional CSCS Card. If you have registered for an approved bricklaying apprenticeship, you may be eligible for an Apprentice CSCS Card. Depending on your qualifications and training as a bricklayer, you may be eligible to hold a Trainee (5 Years), Experienced Worker, Skilled – Blue, or Skilled – Gold CSCS Card.
Note that before you apply for a CSCS card you will need to have passed the CITB Operatives Level Health, Safety and Environment test within the last 2 years. You can book this test on the CSCS's website.
Awareness Training
Alongside your practical training to help you become a bricklayer, you may wish to improve your knowledge by taking an awareness level course. This may not be specifically in bricklaying, but may give you more of an understanding of the general or more specific health and safety risks on a construction site.
Here at High Speed Training, we have developed a range of online courses that are suitable for a variety of workers, including bricklayers. Some of our awareness level courses include:
You can access our full catalogue of online health and safety training courses, here.
---
What Skills Do I Need to Be a Bricklayer?
There are some key skills that you need to possess in order to be a bricklayer and to be a good fit for the job. You should also consider the responsibilities of the job role and the sometimes demanding nature of work you'll be doing.
The following skills are recommended for a bricklayer:
Attention to detail and ability to be thorough.
Knowledge of building and the construction industry.
Ability to work well in a team.
Flexibility and adaptability.
Physical fitness, including strength, coordination, and balance.
Ability to work well with your hands.
Organisation and time management.
Patience and resilience.
Basic computer skills.
If you believe you have these skills, then you may have what it takes to be a bricklayer. There are also many routes for progression, if this is a career that you wish to pursue. After completing your training and gaining some experience of working as a bricklayer, there are options to become self-employed and set up your own bricklaying business. You may want to work your way up to site supervisor, or train for specialist work like stonemasonry. A career in bricklaying will open up many opportunities in the construction industry, giving you the chance to continuously develop your skills and experience.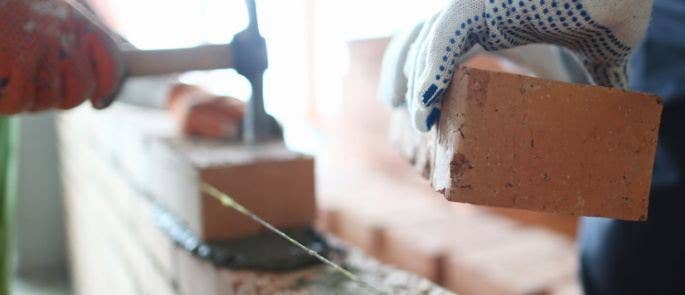 ---
You should now have a better understanding of how to become a bricklayer and what the career involves on a daily basis. If this sounds like a job that would suit you, there are numerous ways you can train and pursue your career. Being a bricklayer can be challenging, with the expectation that you will work in almost all weather conditions and for long hours, but it can be incredibly rewarding to see the final product of what you have created.
---
Further Resources: