How to Become a Construction Worker
March 15, 2021
6 min read
In the UK, the construction industry accounts for approximately 3 million jobs and 10% of total employment. A career in construction means being involved in the building, repairing and maintaining of structures, often working on a building site. A construction worker is a skilled occupation that is currently in demand due to an aging workforce and post-Brexit immigration rules, making it a better time than ever to pursue this career.
If you're interested in becoming a construction worker, you need to be aware of what requirements you may need to meet. This includes the ability to fulfil the demands of physical labour on a daily basis. In this article, we outline what qualifications, skills and experience you may need to pursue this career and how you can meet these requirements to become a construction worker.
---
What Qualifications Does a Construction Worker Require?
If you are considering a career in construction, there are several routes that you can take to develop your skills and achieve qualifications that improve your chances of employment.
College Courses
One option that you may decide on is a college course, such as a Level 1 Certificate in Construction Skills or Level 2 Certificate in Construction Operations. Note that some courses may be named with some variation to this, like the City & Guilds Level 1 Extended Certificate in Construction Skills – Multi-Skill that is offered at York College, for example, but the learning outcomes will be similar.
Level 1 courses are at an introductory level. You can take this if you have no prior knowledge or understanding of the construction industry but recognise that it is an area in which you want to pursue a career. These courses are designed to develop an understanding of the basic practical skills that are essential in construction craft trades.
Some modules may be optional and could include general construction principles, health and safety, plumbing, electrical installation, building maintenance, bricklaying, carpentry, joinery, and construction painting and decorating. There is often a large practical element to college courses, giving you the opportunity to apply the theoretical knowledge you have learned and demonstrate your skills as part of the qualification.
Typically, you will need to meet certain entry requirements of having:
2 or fewer GCSEs at grades 3 to 1 (D to G), or equivalent, for a level 1 course.
2 or more GCSEs at grades 9 to 3 (A* to D), or equivalent, for a level 2 course.
However, this isn't always the case, so don't let this deter you if you are interested in becoming a construction worker through a college course. It's always best to do your own research to understand the specific requirements of the courses that you are interested in pursuing.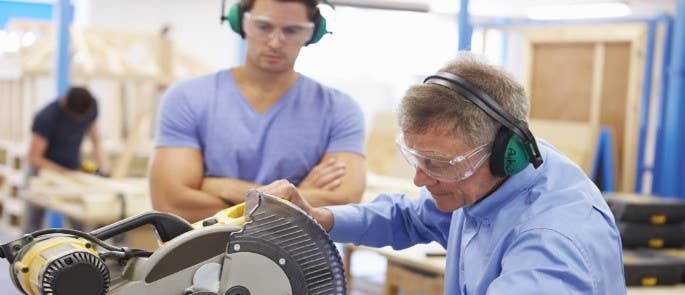 ---
Apprenticeships
If you don't think a college course is a suitable fit for you, you may want to consider an apprenticeship instead. Apprenticeships are available to anyone over the age of 16 (with no upper age limit) residing in England. For a construction labourer job, you may take a groundworker intermediate apprenticeship. This means that you will develop the skills necessary to prepare the ground before construction works can happen. A groundworker may be involved with removing vegetation, installing drainage and other pipework, as well as laying concrete.
An apprenticeship will train you on the job, meaning it is hands-on and you will learn the skills required as you go. It is a job; you will be employed from the first day you start, be paid a wage and get holiday pay. You will work alongside experienced construction workers and gain the skills that are required through undertaking them on a daily basis. You will also be given allocated time for study related to the role. This will be equivalent to one day a week but may be split differently, such as fortnightly study.
To be eligible for an apprenticeship, you usually need to meet certain criteria and have some GCSEs, often English and Maths. As with a college course, you should check the requirements for the specific type of apprenticeship that you are interested in yourself as they do vary.
Now might be a good time to apply for an apprenticeship as there are likely to be many available. In the 2021 Budget, the government announced that they are extending and increasing payments made to employers in England who hire new apprentices. This is likely to entice employers to hire more apprentices, meaning there will be more opportunities available to you.
---
Applying Directly for Jobs
Neither a college qualification or an apprenticeship are essential requirements for a career as a construction worker. Even so, they are very useful in proving that you have the required knowledge and skills to be competent in the role. Because there are no set requirements, you can apply directly for jobs as an on-site labourer or trainee. However, if this is the path you wish to take, it will be helpful if you have some on-site experience or have worked in a builder's merchants.
Going straight into work will allow you to develop your knowledge and skills from experienced colleagues. Your employer may also support you with further training to help you specialise in an area of construction.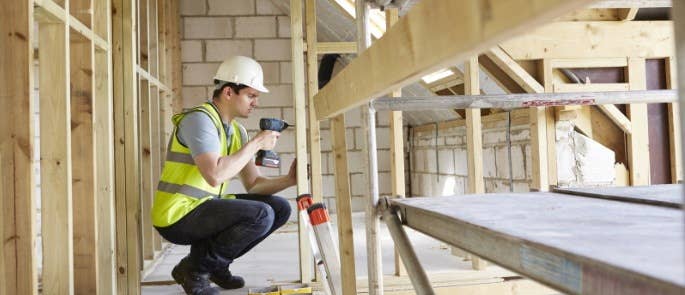 ---
Other Qualifications
Although there aren't any essential requirements to becoming a construction worker, there may be some requirements set by either your employer, or the principal contractor or client at the site you are working at.
Construction Skills Certification Scheme (CSCS)
While it is not a legal requirement, many employers require the construction workers at their site to hold a valid Construction Skills Certification Scheme (CSCS) card. The card is proof that you have had the appropriate training and possess the relevant qualifications to carry out your job on the construction site. It is seen as instrumental in improving health and safety standards on UK construction sites.
CSCS issue a number of cards, depending on the different occupations and qualifications in construction. For example, if you are undergoing an apprenticeship, there is a specific card for this. The requirements for the apprentice card can be found on the CSCS website, here.
Likewise, there is a labourer card that is valid for 5 years. There are more requirements that you must meet to gain this certification. You need to have passed the CITB Health, Safety and Environment test for operatives and hold one of the following:
An RQF Level 1/SCQF Level 4 Award in Health and Safety in a Construction Environment.
An SCQF Level 5 REHIS Elementary Health and Safety Certificate.
A CSCS approved alternative qualification.
You can find out more information about the CSCS and what types of cards are available on their website.
There are other certification schemes that you may need to be a part of. This will depend on your specific job role and what your employer requires. For example, if you operate machinery then you may need to hold the skills card issued by the Construction Plant Competence Scheme (CPCS).
Online Awareness Training
As well as holding a valid Construction Skills Certification Scheme (CSCS) card, you will benefit from having undertaken training courses. This both improves your knowledge and keeps you safe while at work. At High Speed Training, we offer a variety of health and safety courses that help construction workers to be safe and engaged in their workplace.
Training courses that may be relevant include:
While it is not essential to have taken any of this training to become a construction worker, developing these skills and having certification of this will be beneficial.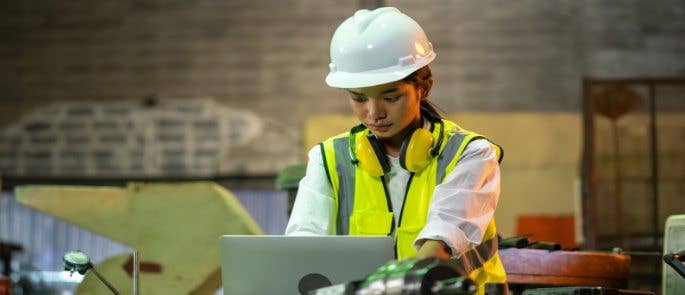 ---
What Skills Do I Need to Work in Construction?
To work in construction you need to have a variety of skills. It is important that you recognise what a career in construction involves and whether you are capable of developing the skills required. Although rewarding, the job can also be very demanding, with long hours (typically 42 to 44 a week) and sometimes evening and weekend shifts and work away from home.
You will need to have the following skills:
A good level of fitness required to carry out physical work daily.
Knowledge of building and the construction industry.
The ability to pay attention to detail and be thorough.
The ability to work well with your hands.
Good communication skills and the ability to work well with others in a team.
The ability to use, maintain and repair tools and machines.
Accepting of criticism and able to work well under pressure to meet deadlines.
An understanding of the importance of health and safety.
Basic maths knowledge.
The ability to carry out simple tasks on a computer or hand-held device.
Depending on your place of work and specific duties, you may be required to have additional skills that are specific to the daily responsibilities. For example, if you need to work with certain plant machinery, you will need to be 18 years old and hold a driving licence.
If you possess these skills and qualities, you could be a good fit for a job role in the construction industry. While some skills need to be developed through practical work, the theoretical aspect of many skills can be learnt through online training courses, such as those previously mentioned.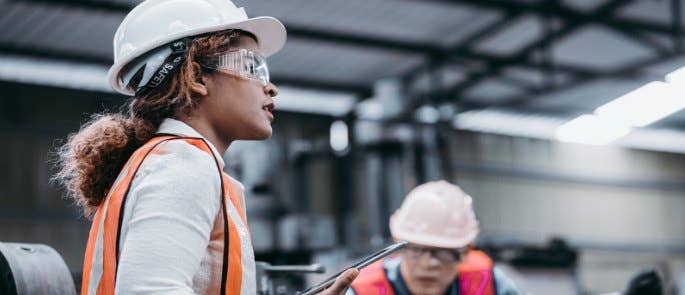 ---
Roles and Responsibilities of Construction Workers
A construction worker may also be referred to as a construction labourer, groundworker, or general construction operator. Tasks that they carry out during a typical working day may include clearing vegetation and preparing the ground before building commences, and manual work while the project is in progress.
Construction workers are often responsible for a wide range of tasks which may include:
Marking out and digging trenches for building foundations and drains (groundwork).
Putting up panels to hold concrete in place as it sets (formwork).
Building temporary structures, such as scaffolding and bracing.
Operating concrete mixers to lay concrete for foundations, floors and beams.
Laying drainage pipes.
Laying kerbs and paving, and resurfacing roads.
Operating hand machinery such as saws and drills.
Operating machinery such as dumper trucks and excavators.
Assisting colleagues on-site by replenishing the required materials.
The majority of these responsibilities require a lot of physical work, including lifting and transporting various materials. As a result, it is crucial that you have the physical strength and stamina to be able to carry out the role of construction worker. You will likely be working on a construction site and you may be required to work at height and be outdoors in all weather conditions.
There are many job roles within the construction industry but a construction worker is considered to be one of the best jobs for someone looking to start their career in the sector. In terms of career progression, you may undertake further training and/or qualifications to specialise as a qualified tradesperson, such as a plant operator or bricklayer. You may want to progress to a more senior role, such as a site supervisor or team leader. Or, you may establish yourself as a self-employed contractor. Becoming a construction worker opens up various opportunities for you to specialise in the industry.
---
If you think you have some of the skills needed to become a construction worker and the responsibilities of the job appeal to you, then this may be a suitable career choice for you to pursue. Having an understanding of what the job role involves is important before you start any specific training. Next, you could consider the different ways to get into the construction industry and carry out some of your own research to find out what is available to suit your individual needs.
---
Further Resources: