How to Start a Presentation for an Interview
October 27, 2015
6 min read
Interviews can be really tense situations. Throwing a presentation into the mix only adds to that pressure. What can you do to ease those nerves and start your presentation in a calm and confident manner? How can you captivate your audience and help assure them that you're the right candidate for the job? This article outlines a number of useful tips to guide your interview preparation and address these important questions.
Preparing a Presentation – Where to Begin?
If you plan your presentation in advance you'll increase your likelihood of success. Make sure you know what type of message you want to convey and think about the most effective way to deliver this message.
Ready? Take a look at our six preparation tips below.
---
1. Tell a personal story
Presentations can often be over-professional, impersonal affairs. But they don't have to be.
Adding a storytelling element to your presentation can ensure that your delivery is both down-to-earth and professional at the same time, which will make your presentation a whole lot more engaging overall.
Think of any personal experiences of your own that are applicable to the content of your presentation. Do you have anything of value that could aid the delivery and help with engagement?
Example: Say you have an interview for a HR role at an international corporation HQ in the city. You've been told that you need to deliver a presentation on how you manage conflict in the workplace (we'll use this example throughout).
By opening with a relevant story of your own about a time when you successfully and diplomatically resolved a conflict outside of the workplace – at home, or wherever it may be – you'll:
Demonstrate your competency in this area
Ease any tension that is characteristic to the situation
Capture your audience's attention with an account that can only be delivered by you – making it unique and remarkable
Openly display your personality and values, enabling the employer to make a better informed selection decision – beneficial for everyone involved

---
2. Use media
Starting your presentation can be the most difficult bit.
You're tongue-tied, stumbling over words and your heart is beating so fast.
Give yourself the opportunity to collect yourself by using some form of media early on in the presentation.
Begin your presentation with a quick introduction to who you are and what the presentation is about (use a title slide and a 'What I'll cover' slide, for example) and then incorporate a media break.
Use video, music, an infographic – whatever, as long it's suitable and on-topic, use any form of media that allows you to have a breather and recover from that all too familiar fear of public speaking.
Example: so here we are again – biting your lips and fumbling with your hands as you wait to open your presentation for the HR role.
Your presentation is on conflict management, a fairly sensitive topic, which you'll want to get right. But don't sweat it; simply introduce yourself and your specific presentation details/content, then bring in an attention-consuming piece of useful media.
In our case, it could be a funny clip of workplace conflict from a TV Program such as The Office* – this will lighten the mood and create a talking point. You'll be back in the driver's seat, and you'll be surprised by how quickly those nerves calmed down.
*Disclaimer: implement with appropriateness! Only you can decide on what sort of media will be acceptable to use in your situation, so think about this one carefully.

---
3. All eyes on you
Feeling a little more confident?
Create a memorable moment by temporarily presenting without the aid of a prompt.
Open your presentation with conviction by using a blank slide as your second slide.
Why?
Once you've introduced yourself and the topic of your presentation, most people will expect a thoroughly professional delivery from there on in.
Surprise them; switch the attention to you, shatter expectations, disrupt conventional presentation practice and display clear confidence in your ability to speak independently.
Using such a brave tactic will help in stimulating and retaining interest in your presentation throughout, and perhaps keep you top of mind when the employer is making a selection decision.
It will also show your potential employer just how much you know about the topic at hand.
Example: Conflict solving requires someone with a calm temperament and an almost instinctive ability to thoroughly – and empathetically – understand the issues faced by people other than yourself.
Show that you're able to remain calm under scrutiny with all eyes in the room on you and truly understand a topic without any form of prompt using this tactic.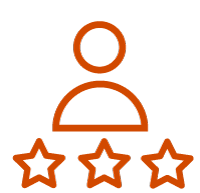 Need a Course?
Head over to our Business Skills Course Library and browse available courses from Presentation Skills Training to Leadership and Management Training. All courses are fully online so you can complete them at your own pace, on your commute or in the comfort of your own home.
---
4. Incorporate props
Presentations can sometimes be a little boring to watch and listen to.
That's no fault of your own; one person talking for a prolonged period of time is not a normal situation – how often does that actually happen in everyday life?
Engaging your audience during a presentation is a common problem that is widely discussed. I won't go into it here as that's not the core purpose of this post.
(This post from American Express details nine simple tips for preparing an engaging presentation if you're interested).
So what props should I use? Think what you can use/bring that will be both relevant and add value to your presentation.
If you can't think of anything, then don't bother – this tip will only work in set situations.
Example: For your conflict resolution presentation, you could bring in something that will create a talking point and engage your audience.
In this situation, we'll go with a newspaper – you could start a debate about a widely discussed controversial topic, and use this quick exercise as an illustration of how you're able to apply your conflict solving ability in any circumstance.

---
5. Start with something you know
It's natural to be concerned about freezing and making mistakes in the presentation that you're preparing for.
If that were to occur, it'd be likely to happen at or near the beginning of your presentation when your emotions are at their highest.
To ease those nerves and open in a calm and confident manner, it might be advisable to use content that you know inside-out – that way, you'll feel more secure in the first few minutes of your delivery.
Once you've sailed effortlessly through that first part of the presentation, you'll find the remainder of your content will flow just as easily now that you've settled those self-doubts.
Example: Your presentation on workplace conflict is expected to last 20 minutes – that's a lot of content to get through!
Before you find yourself scrambling for the right words, simply introduce yourself and the topic of your presentation, then start with something such as:
Simple conflict stats that are easy to memorise
An article or study that you really like and have read a few times
Cornerstone conflict management knowledge that's embedded deep in your brain

---
6. Engage your audience with an activity
A presentation is all about you.
It doesn't necessarily have to be though.
By introducing an activity for your audience to get involved in, you can take the spotlight off you temporarily, and seize a rare opportunity to connect with your audience in a candid manner.
It's pleasing just how much this strategy can reduce tension when starting your interview presentation. Once you're able to start a dialogue with your audience, the unnatural situation becomes significantly more manageable.
Example: Well, you could make this one real interesting. Why not initiate a role play of a common workplace conflict, and then show the potential employers how you would deal with said conflict?
This is a fun exercise that shows your ability to apply the knowledge that you possess and will hopefully put your potential employers in a better mood for the rest of your delivery!

---
All of the techniques I've outlined above could be applied to almost any interview situation in which a presentation is required – now it's over to you to get creative with how you're going to actually implement these ideas!
In writing this post I made a conscious effort to consider different personality types in the interview presentation opening tips that I have suggested.
But these actionable methods represent only a very small proportion of ideas that you can utilise for making a lasting impression in your interview presentation.
---
Further Resources: