Best of British Food: Food Assurance and Product Labelling
May 30, 2022
5 min read
British food is the combination of cooking traditions and cuisines from across the United Kingdom. The best of British food can be everything from traditional UK dishes – such as fish and chips or eton mess – to the recognition of local produce.
While British food is something to celebrate and be proud of, it's also important that locally sourced, farmed and manufactured food is correctly labelled so that consumers have a clear understanding as to where it has come from.
In this article, we're going to look at what it means to buy British and the benefits of doing so. We'll also look at British food standards, food labelling & packaging requirements, and guidance on animal welfare labelling for manufacturers – such as the Red Tractor and Lion Mark certifications.
---
---
What Does it Mean to Buy British?
In recent years, there's been a huge increase in the number of consumers wanting to buy British food. In 2021, OnePoll revealed statistics that showed 73% of the public are often or always looking specifically for British food when shopping. This is the highest recorded percentage since the Farmer Favourability Survey was started in 2012.
Buying British food is a way of rejoicing in the food that is grown on our doorsteps, tasting a part of Britain's heritage and supporting farmers who maintain our countryside. It also means enjoying the diverse and delicious food that our varied countryside and seasonal climate produces.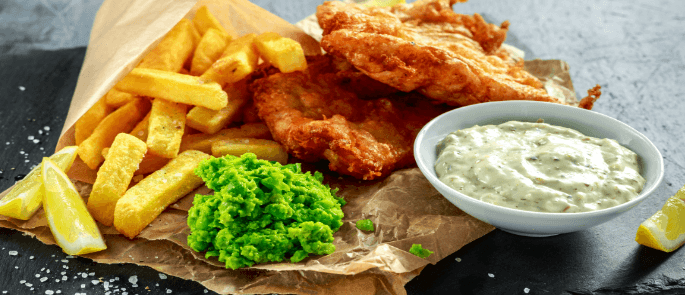 Some of the most traditional – and popular – British dishes include:
Fish and chips.
Roast dinner (with Yorkshire pudding).
Pie and mash.
Toad in the hole.
Shepherd's Pie.
Ploughman's lunch.
Welsh cawl.
Haggis.
Benefits of Buying British
There are many benefits to buying the best of British food rather than imported goods. These include, but are not limited to:
As it only travels from farm to shop, British food has a much lower carbon footprint than imported food, which is better for the environment.
Britain's pig farmers operate by the standards of welfare set out in the UK law, which are some of the highest in the entire world.
Britain has a cattle passport system, which means that the origin of each animal – including its mother and place of birth – can be traced.
Under the welfare standards that British meat is produced to, no growth-producing hormones are allowed and antibiotics are only administered under veterinary approval.
Buying local food supports the economy and this includes everyone from the farmers and the food processing workers to the retail and hospitality businesses that sell the food.
Consumers of British food help to protect the countryside and environment as the foods are produced in a sustainable way that benefits the countryside.
Why are Consumers Wary of Buying British?
Despite the many benefits of buying British, there are still concerns that make consumers wary of doing so. A report gathered from research conducted by England Marketing on behalf of Love British Food clarified some of the reasons why.
The report found that most participants were willing to spend 5-10p more per item for British produced food. In addition, it found that over half of respondents stated they would prioritise purchasing British produced food in order to support the farming industry.
The report also uncovered concerns as most of the respondents reported that while they felt confident in the high standards of British produced food, most were not aware of the different standards required.
Some had also lost faith in the Union Jack symbol on packaging and were concerned that items could have been produced elsewhere and merely packaged in the UK. Overall, it was reported that respondents would like to see less packaging used, too.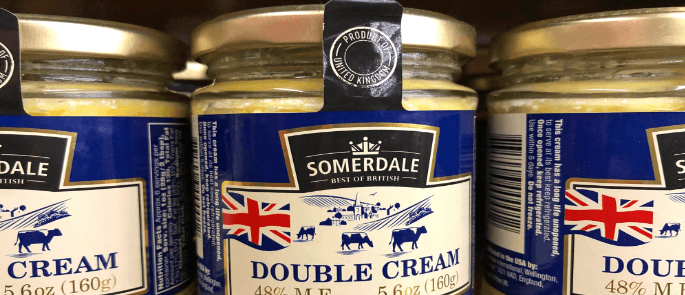 Back to Top
---
British Food Standards
Product standards are in place to ensure that products sold to consumers are safe to eat. For food in the UK, this is overseen by the Food Standards Agency (FSA). They are responsible for food safety and hygiene in England, Wales and Northern Ireland and work with local authorities to ensure all products meet criteria such as labelling ingredients and allergens, and don't exceed specific levels of additives or preservatives.
For example, there are legal pesticide limits in place to reduce the residue in foods. This is to protect not only the consumer but also the environment and wildlife such as birds, mammals, fish and pollinating insects.
There are also laws that prevent consumers from being misled, such as, the Sale and Supply of Goods Act 1994, Protection from Unfair Trading Regulations 2008 and Trade Description Act 1968. For example, while vegan foods do not have a legal UK or EU definition regarding what they can or cannot contain, the regulations are in place to protect consumers from being misinformed about the contents of a product. As customers would reasonably expect a vegan product to be free from animal products, these laws mean that a vegan product containing an animal product in the ingredients would be considered misleading, and therefore illegal. For more information on vegan products and the labelling requirements, check out our article here.
Production standards, on the other hand, cover how a product is made, such as animal welfare and environmental protections. In the UK, veal crates are banned, for example, because of concerns over animal cruelty and not because it produces unsafe food.
Quality Assurance certifications exist to ensure that animal welfare is protected, such as RSPCA Assured, Red Tractor and the British Lion Mark. You can find more information on these certifications further down in the article: Guidance on Animal Welfare Labelling in Manufacturing.
Protected British Foods
Certain best of British foods are protected under UK and European Union law. This is to protect the reputation of regional products, encourage traditional and agricultural activity. It also prevents businesses from creating non-genuine products, which may mislead consumers or be of an inferior quality. For example, Scotch whisky must be produced within Scotland, following specific methods.
There are two types of quality schemes which protect these foods. The first is a "protected designation of origin" (PDO) and the second is a "protected geographical indication" (PGI).
British foods that are protected under law include, but are not limited to:
Scotch beef (PGI) – limited to products that are cattle reared, slaughtered and dressed in Scotland.
Welsh lamb (PGI) – limited to products that are produced from lambs born and reared in Wales.
Traditional Cumberland sausage – limited to products produced in Cumbria, which must have a minimum meat content of 80% and be sold coiled instead of linked.
Yorkshire Wensleydale cheese – limited to cheese that is produced in Wensleydale, North Yorkshire. It must be produced from whole milk deriving from cows grazed in the designated area.
Cornish clotted cream – limited to products that are produced, processed and prepared from milk that is made in Cornwall with a minimum butterfat content of 55%.
There is also a Traditional Speciality Guaranteed (TSG) scheme, for example, traditional Bramley apple pie filling and traditional farm-fresh turkey.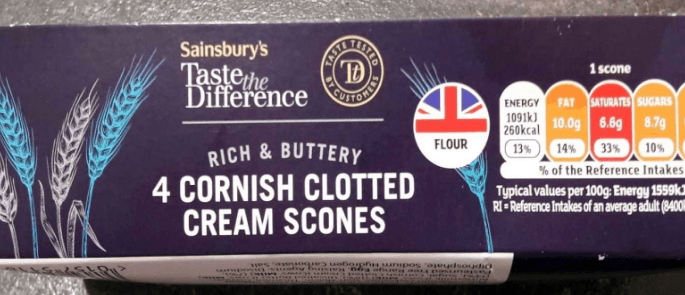 Back to Top
---
What are Food Labelling Requirements in the UK?
Food labels provide information for consumers about what exactly a product is, what it consists of and where it was made. There are a number of regulations that are in place to guarantee the consumer's right to information and to achieve health protection. The more informed consumers are, the more likely they are to buy products as they know what the product stands for and where it comes from.
Despite Brexit, the UK still follows most EU food standard laws as they have been retained in EU law after Brexit, and for trade purposes with the EU. These EU laws are not likely to be removed in the near future.
The law states that all food labels must be:
Clear and easy to read.
Permanent.
Easy to understand.
Visible.
Not misleading.
Consider taking a look at our article for more information – 'A Guide to Food Labelling Regulations'.
Food Labelling Laws
The Food Labelling Regulations 1996 contain the main set of rules governing the general labelling of foods, and are supplemented by additional labelling requirements. These regulations also help consumers to make informed choices and prevent the use of any false claims that could mislead them.
By law, all packaged foods must display the following information:
A legal or customary name.
A descriptive name (if a customary name is used).
Durability dates (for example, use by or best before dates)
Nutritional information.
The allergen information.
A list of ingredients in descending order of weight.
The quantities of certain ingredients.
Any necessary warnings.
The net quantity of the product.
The name and address of the manufacturer, packer or seller.
Instructions for cooking, if necessary.
A lot number or batch code.
Any special storage conditions.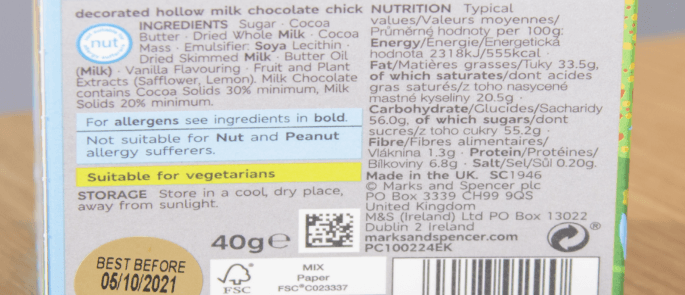 As mentioned above, it's a legal requirement for manufacturers to include accurate allergen information on their packaging. As of October 2021, Natasha's Law was introduced, which requires all food businesses to include full ingredients labelling with emphasised allergenic ingredients on all prepacked for direct sale (PPDS) foods. For more information on Natasha's Law, and what it means for your food business, check out our article here.
When it comes to declaring the origin of a product on a label, it should be made about the place where the product last underwent a treatment of process resulting in a substantial change. Processes such as slicing, cutting, mincing or packaging wouldn't be classed as this.
For example, olive oil pressed in Italy from olives grown in Greece could be described as 'produced in Italy' or 'made in Italy' but care would need to be taken to ensure that the label did not imply that the olives themselves were Italian in any way.
If the place of origin of the food (according to the principle of last substantial change) is not the same as the place of origin of its primary ingredients, it may be necessary to provide information on the origin of those ingredients. For example, pork sausages made in Britain using pork from countries outside the UK are not described as 'British pork sausages' but are described as 'made in Britain from (imported country of origin) pork'.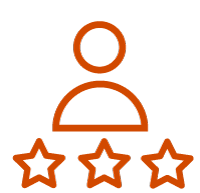 Need a Course?
For more information, consider taking our Food Labelling Regulations course, which provides a detailed overview of the laws surrounding food labels.
Legal Requirements for Packaging in the UK
In order to keep food safe, there are also a number of restrictions in place on the type of food packaging that can be used for food contact.
The Materials and Articles in Contact with Food Regulations 2012 implements a number of regulations, requiring that food contact materials 'must not release their constituents into food at levels harmful to human health or change food composition, taste and smell in any way.' For example, materials such as plastic wrap, printing inks and adhesive labels. This does not include covering or coating substances that are part of the food and edible, though – for example, sausage skin.
The regulations also require food contact materials to be either marked with the words 'for food contact' or have the food safe logo visible (which you can see in the image below) – unless it is clear that the contact material is for food contact.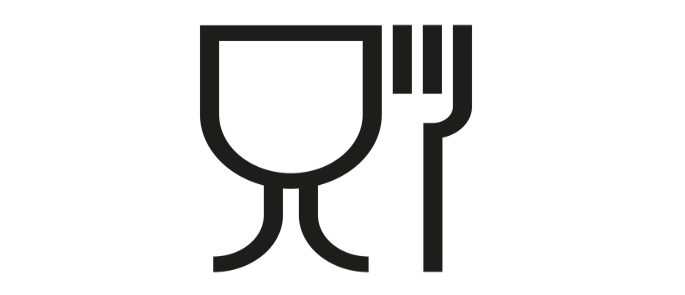 You can find out more information about food packaging – and specifically how to make informed choices about sustainable packaging – in our article: What are the Different Types of Sustainable Food Packaging?
Back to Top
---
Guidance on Animal Welfare Labelling for Manufacturers
As we've previously mentioned, the UK has some of the highest animal welfare standards in the world. The Welfare of Farmed Animals Regulations 2007 are currently in place and set out minimum welfare standards and requirements for farm animals while they are kept and reared on a farm. More specific provisions within the regulations address laying hens, calves confined for rearing and fattening, cattle, pigs, boars, sows, piglets and rabbits.
For example, packaging for hens' eggs must legally include a number that indicates whether they have been produced in an organic, free-range barn or cage system. The packaging must clearly state: 'eggs from caged eggs', 'barn eggs' or 'free range'.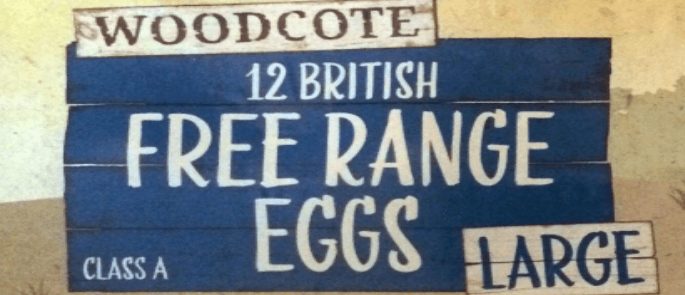 A number of Quality Assurance schemes exist in the UK in order to assure the consumer that the food they are purchasing has come from a reputable source. For example, RSPCA Assured is a labelling scheme that covers both indoor and outdoor rearing systems. In order to obtain an RSPCA Assured label, on-farm health and welfare monitoring is required along with providing greater space and enrichment materials for the animals whilst they are being kept and reared.
We will look at a couple of other common Quality Assurance schemes below.
Red Tractor
Red Tractor is the largest Quality Assurance scheme in the UK, and covers all aspects of food production from animal welfare and food safety to traceability and environmental protection. Created by farmers and industry leaders in 2000, their primary aim was to restore trust between British food and farming with consumers. The scheme has since developed a stellar reputation amongst consumers who, when purchasing a product with the Red Tractor logo on, are assured that it has been produced to the highest standards.
The scheme also only allows its logo to be used on products that are 100% British – meaning that food is born, grown and reared in the UK.
You can find the Red Tractor website here.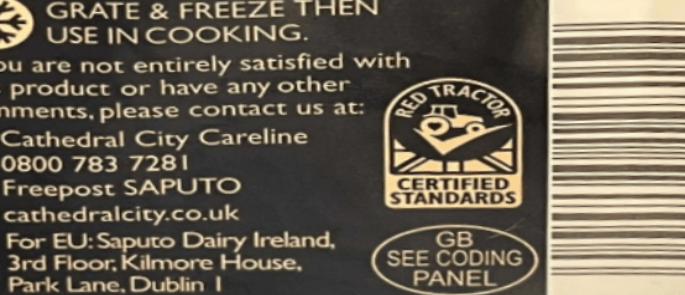 British Lion Mark
The British Lion is a food safety scheme that specifically focuses on eggs. Over 90% of UK eggs are now produced under the British Lion scheme, which represents the stringent requirements of the British Lion Code of Practice to ensure food safety. The code contains more than 700 auditable criteria, and has requirements for every stage of food production.
The British Lion scheme is responsible for a drastic reduction in salmonella in UK eggs, and their code ensures that all hens are vaccinated against salmonella. They also have a passport system that ensures all hens, eggs and their feed are fully traceable.
You can find the British Lion Code of Practice here.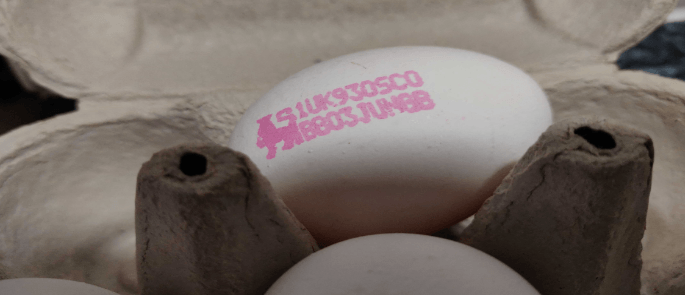 Back to Top
---
We hope you've found this article helpful and informative. British food is only growing in popularity – and it's not hard to see why! – so it's important that manufacturers understand how to correctly label their products in order for consumers to have clarity on the products they're buying.
If you have any questions or want to learn more, please don't hesitate to get in touch. High Speed Training offers a wide variety of courses and online resources to suit your needs.
---
Further Resources