Food Safety for Food Banks: Rules & Regulations
February 24, 2021
5 min read
There has been a huge increase in people using food banks over recent years. Primarily, food banks exist to provide food to those who would otherwise struggle to afford it. The activity of a food bank will vary between each one, depending on the needs of the people they are helping. However, with all food banks, businesses and individuals in the local area will donate the food, which can be anything from prepared meals to packaged goods.
If you work or volunteer in a food bank, or perhaps you are thinking of setting up your own initiative to help those in need, there are food safety considerations you must bear in mind. If you are involved with an organisation that handles food, it is essential that you understand how to ensure good food safety practices. In this article we will outline the food bank rules and regulations to be aware of, including paying specific attention to food allergy information, so that you can help make food banks safe for all.
---
Why is Food Safety Important for Food Banks?
Anyone can use a food bank. Usually, a person will swap a food voucher for their household, and most food banks will provide three days worth of food at one time. They take care to ensure each food package is nutritionally balanced, offer a solid support network, and provide a place to get friendly advice.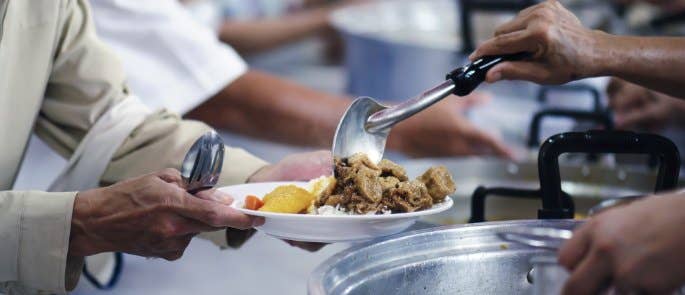 Food banks can be a lifeline to people in need, who struggle for a variety of reasons. Some people who go to food banks for help and support are classed as vulnerable, or live with vulnerable people. It is therefore essential that food banks continue to be a place of safety, and that extends to all they offer, including the food they provide.
Any food supplied by a food bank must be safe to eat. Legally, as it states in the Food Safety Act 1990, all types of food businesses must ensure:
They do not include anything in food, remove anything from food or treat food in any way which means it would be damaging to the health of people eating it;
The food you serve or sell is of the nature, substance or quality which consumers would expect;
The food is labelled, advertised and presented in a way that is not false or misleading.
If you work or volunteer in a food bank, or in any organisation that provides food to those in your community, you must take all aspects of food safety extremely seriously. Food that is provided for community groups must comply with food law and be safe to eat.
In the first six months of the pandemic, food banks in the Trussell Trust network gave out a staggering 1.2 million emergency food parcels. That's one food parcel every 13 seconds, and 2,600 of these went to children every day on average.
Hunger Free Future: the campaign so far
If you prepare or distribute food within your community, it is your duty to ensure that those receiving food parcels are aware of what is in the parcel, and how to store and consume it safely. You also need to make sure that any food containing allergens are labelled clearly. Furthermore, it is important that those who handle food do not pose a risk of contaminating food or passing on illness to the recipients.
---
What Should Food Banks Consider Regarding Food Safety Regulations?
Food banks should consider all aspects of food hygiene and safety and ensure they adhere to rules and regulations at all times.The main areas of food hygiene and safety to consider are avoiding cross-contamination, food allergies, food storage conditions and temperatures, following food dates closely and using food safe packaging appropriately. We will take a look at these in more detail below.
Cross-Contamination
Avoiding cross-contamination of food is a key aim for any food handler. Whether you are volunteering at a food bank, working in a kitchen, or even preparing food at home. Avoiding cross-contamination is one of the cornerstones of good food hygiene.
Food handlers have a legal responsibility to ensure that the food they prepare is free from contaminants and safe for the consumer – this includes food provided by food banks. There are four main types of contamination – chemical, microbial, physical, and allergenic – and you should take care to avoid all of these. You may find our article on What are the Four Types of Food Contamination? useful for learning more about this topic.
You can avoid cross-contamination by ensuring food items are packaged securely, with no way of pests accessing the food. You should also make sure food is stored correctly to avoid microbial contamination. When preparing food parcels be careful to avoid contamination of raw and ready to eat products – always keep these separate. If you are involved in cooking food for distribution, you should have thorough knowledge of food safety in kitchens and may find our Level 2 Food Safety & Hygiene online course useful.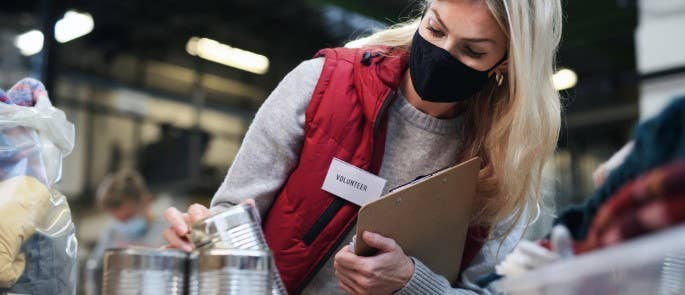 Food Allergies
Controlling the risks posed by allergens is a legal requirement under food safety and labelling laws. Natasha's Law is to come into force in October 2021. This requires any food that is pre-packed directly for sale and made on the premises has a label with a full list of ingredients, including any allergens in the food. For food banks receiving prepackaged items, having food products labelled in such a way should enable better communication of ingredients and allergens with those receiving the food.
Another way of controlling the risk of allergenic contamination in a food bank is to make sure all staff are trained on what an allergen is. People can be allergic to anything, however there are 14 named allergens that everyone who handles food should be aware of. These are:
Celery and celeriac.
Cereals containing gluten.
Crustaceans.
Eggs.
Fish.
Lupin.
Molluscs.
Milk.
Mustard.
Nuts.
Peanuts.
Sesame seeds.
Soy.
Sulphur dioxide and sulphites at levels above 10mg per kg or 10ml per litre.
The best way to avoid allergenic contamination is to keep any food items that contain any of these ingredients separate to other foods. This will likely mean having separate storage areas, and separate utensils when preparing foods with these ingredients. Taking steps to protect people from allergens and being transparent will allow people with food allergies to make safer choices.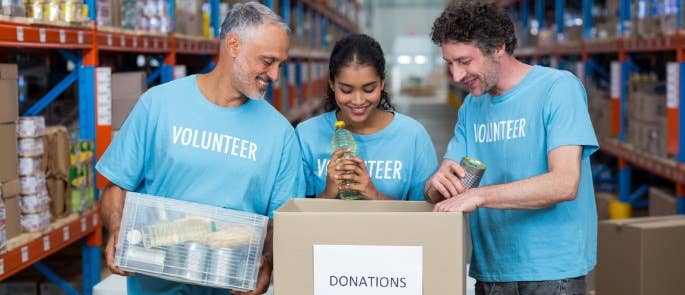 Food Temperature
It is essential that food should be stored at the correct temperature. The Food Standards Agency sets the temperature danger zone for food between 8 °C and 60 °C, and this is the range you want to keep the food out of. This means that food is safest when it is either frozen, chilled at a temperature of less than 8 °C, or heated beyond 60 °C. As best practice, we recommend that food is cooked or heated to a temperature of 70 °C, and it should remain that temperature for at least 2 minutes when tested with a probe thermometer.
Chilled food should be stored at a temperature of between 1 °C and 5 °C as best practice, and frozen food should be stored at a maximum temperature of -18 °C. By storing food at the correct temperature you will prevent the growth of harmful bacteria and help keep the food safe.
Food Dates
You should never use food past its use by date. This means you cannot eat, cook, freeze, sell or redistribute food that has gone past its use by date because it may be unsafe. If you are accepting donated food, you should reject any that has passed its use by date. The only exception to this is if the food has gone through a safe freezing or cooking process before the use-by date has passed. In this instance the food should be appropriately re-labelled.
However, food that has passed its best before date can be legally sold, redistributed, and consumed after this date, if judged to be of sufficient quality to be donated and made available to be eaten. Food banks and redistributors should check all food that is past the best before date to ensure it is of sufficient quality – usually a visual inspection of the food will do this. You can use food items that are past their best before date as a meal ingredient, but again a quality inspection should occur.
It is an offence for a person to sell or supply food which does not meet food safety requirements, or which is not of the 'nature, substance or quality' expected by the consumer. WRAP
Food Safe Packaging
Any food that is stored and distributed in packaging must be in containers that are food safe and fit for purpose. This will help ensure food safety, help food be transported safely and maintain the quality. Without correct packaging, chemical contaminants or germs could transfer onto food.
Food banks can reuse glass or plastic packaging so long as there are no chips or cracks in it. Any food storage containers or packaging must be cleaned thoroughly between uses to prevent cross contamination of germs, allergens, and physical contaminants. Washing should be thorough and use hot soapy water, sanitiser and/or disinfectant.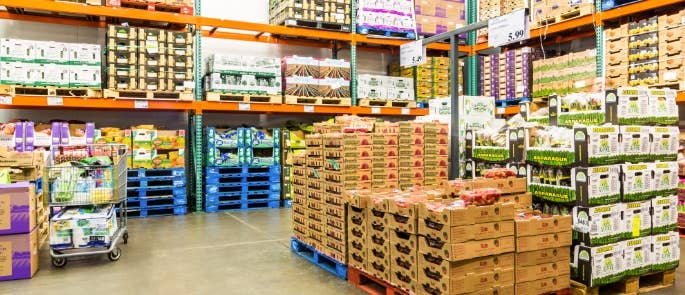 ---
Food Hygiene Tips for Food Banks
As well as adhering to food safety laws and regulations, there are additional tips you can implement in food banks to ensure good food hygiene.
Pre packed donated food should already be labelled correctly – including any use by dates, allergen information, how best to store the item, and any cooking guidance if necessary – this will help ensure people who receive the food know best how to consume it. Where possible, you should keep food with the original packaging.
One of the easiest ways of maintaining food safety in food banks is by having all staff and volunteers practice good personal hygiene. We are all well aware of the importance of washing our hands thoroughly and effectively. To aid this, you can download and display our poster, reminding everyone how to wash their hands properly. Anyone who prepares food must have clean hands, be appropriately dressed in clean clothing and not have jewellery or hair on show that could fall into food.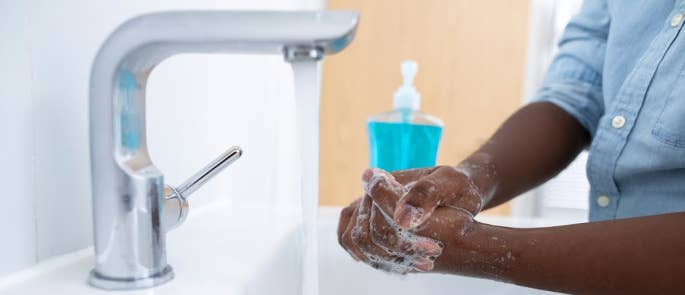 Food items should also be kept in sealed containers as this avoids potential cross contamination from physical objects, such as bits of packaging falling into food containers. Keeping food sealed also avoids allergenic contamination, such as if a dish containing peanuts leaked onto other food items, it could present a serious health risk to those with a peanut allergy.
Washing raw fruits and vegetables is something many people do before cooking or eating them, especially if they have been bought loose from the shop, or have remnants of soil on them. If you are receiving food packaged items into a food bank, you may want to wipe down any outer packing materials before opening and allocating individual units to parcels. This will minimise the risk of transmission of any bacteria and virus to food, or to people.
Training for Food Banks
Those who work and volunteer in food banks no doubt do tremendous work, but by their own admission, food banks operate in the hope that one day they won't be needed. Until this happens, anyone who handles food in a food bank must be appropriately trained in doing so safely. You may not need to hold a food hygiene certificate to provide food for charity or community groups, but you may wish to have someone in the organisation who has received training and has a good understanding of food safety risks and management.
Fountain Food Bank
Fountain Food Bank is a group of volunteers from all backgrounds that helps the local community of Downpatrick and Lecale areas by providing emergency food parcels.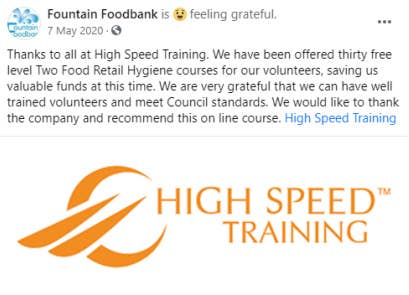 ---
We hope the tips and the links to other articles here help you in understanding food bank rules and regulations, the legal requirements and the best practice guidance to follow. If you have any comments or questions, please do get in touch with our dedicated support team 0333 006 7000 or support@highspeedtraining.co.uk.
---
Further Resources: