Food Hygiene Rating Scheme Explained: Your Questions Answered
October 31, 2016
5 min read
As a Food Hygiene Training Provider, we've been asked a lot of questions about the Food Hygiene Rating Scheme over the years. So, we've collated your questions into a long list to help you find the answers you need. For those serious about Food Hygiene, we offer an online 'How To Improve Your Food Hygiene Rating' course specifically for businesses who want to get a Level 5 in the Food Hygiene Rating Scheme.
---
What is the Food Hygiene Rating Scheme?
The Food Hygiene Rating Scheme is run by the Food Standards Agency. It's government led and operates in England, Wales, and Northern Ireland. It's dedicated to assessing the hygiene levels of restaurants, takeaways, food shops, and cafes. And it's all about making sure food in the UK is safe to consume. Scotland has a similar system called the Food Hygiene Information Scheme.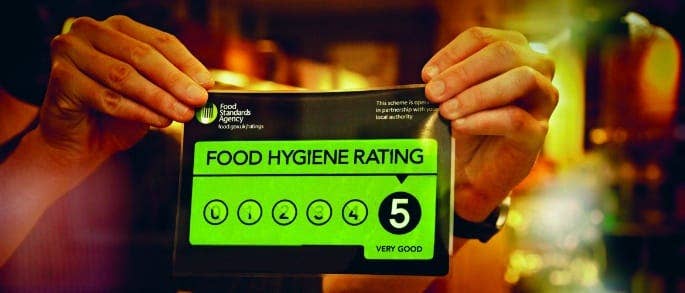 ---
What Do Food Hygiene Ratings Mean?
Food hygiene ratings are grades given to food handling businesses after an inspection has assessed how well they comply with food safety law. When businesses are awarded a rating, it comes with a number and a description of what that number means, for example, a 3 rating means that the business is generally satisfactory.
If you check the Food Standards Agency website, you'll see that some businesses show you a more comprehensive breakdown of what each category was assessed as. For example, Byron Hamburgers in Leeds has a rating of 5, and the FSA have explained why the rating was given.
A Food Hygiene Rating of 0
This means that urgent improvement is necessary. Receiving a 0 means that your business scored more than 50 points (these points are based on issues the inspector finds in the premises). For example, if the business fails to keep records of any safety systems and have significant food hygiene breaches that could put people's health at immediate risk.
A Food Hygiene Rating of 1
This rating means that major improvements are necessary. A business will receive a 1 rating if they score between 45 and 50 points. For example, if there are a number of breaches to food hygiene and a lack of training among staff.
A Food Hygiene Rating of 2
This score means that improvements are necessary. A 2 is given to businesses that score between 35 and 40. For example, if there are some causes for concern in their handling practices and facilities that warrant a prompt change.
A Food Hygiene Rating of 3
This means that the business was found to be generally satisfactory. Businesses will receive a 3 if they score between 25 and 30 and their practices are overall good for maintaining safety standards. There will be room for improvement however, though these issues likely do not pose an immediate threat to health.
A Food Hygiene Rating of 4
A rating of 4 means that the business was rated as good on assessment. Receiving a 4 means your business scored a total of 20 points. In this situation your business will have good food hygiene practices and safety systems, with only a few minor areas for improvement.
A Food Hygiene Rating of 5
This rating means that the business was seen as very good. Businesses who score between 0 and 15 will receive a 5, which reflects the excellent standards they maintain in their premises. All businesses should aim to attain and retain a 5 food hygiene rating.
Within 14 days of receiving a rating, businesses receive a formal written assessment of why they received their rating. This is intended to help businesses improve or maintain standards.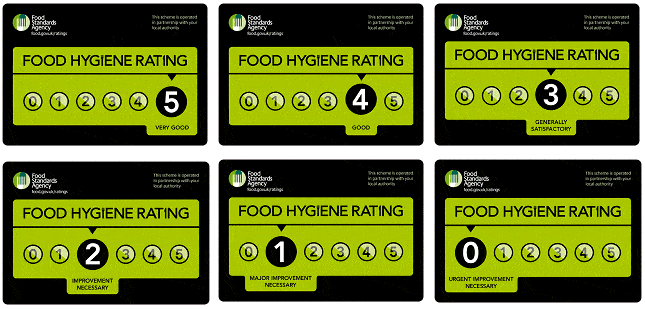 ---
We recently took an in-depth look at the Food Hygiene Rating Scheme, aggregating FSA data for a quarter of a million food businesses across the UK, to provide an overall picture of regional food hygiene standards. Harrogate scooped first place, with an overall average food hygiene rating of 4.85. You can view the full report and find out how your hometown compared here: Food Hygiene: Know the Score.  
---
How Are Food Hygiene Ratings Calculated?
An Environmental Health Food Safety Officer calculates the score of your premises from 25 (very poor) to 0 (perfect) using the Food Law Code of Practice. Scores are finalised by adding together the points scored in each of the three categories (hygiene, structural, and management compliance) and making sure there is no significant failing in any category.
---
What Do Environmental Health Officers Look For?
EHOs give food premises a rating based on the following criteria:

---
How to Get a Food Hygiene Rating
To get a food hygiene rating, a Food Hygiene Officer will visit your business and assess levels of hygiene based on how strictly you adhere to the requirements of food hygiene laws.
When you've been assessed, your food hygiene rating is provided in a formal document within 14 days of the visit. This explains why your establishment was rated as it was and, in cases where the top rating has not been achieved, what actions are needed to improve your level of legal compliance.
---
How Do I Check my Food Hygiene Rating?
There are two ways to check your food hygiene rating: Scores on the Doors and the Food Standards Agency (FSA). These sites let you look up businesses using part of their name or address.
On the FSA website, you can see the last date of inspection, their current rating, and the details of the business. Scores on the Doors isn't as up to date, so I'd recommend using the FSA to find out ratings.
---
Do Food Hygiene Ratings Have to be Displayed?
In England, it's not a legal requirement to display your food hygiene rating or certificate, but the Food Standards Agency encourage all businesses to display it. In Wales and Northern Ireland, it is a legal requirement that businesses display their certificates in a prominent place like the front door or in a window.
---
How to Get a 5 Star Food Hygiene Rating
If you're not making the cut, you need to focus on three assessment areas: (1) the conditions of your building, (2) how you handle, store, and prepare food, and (3) how records are kept, cleaning is organised, and staff are trained.
If you want to improve your score take a look at the government's checklist for improving your score or our guide to understanding the Food Hygiene Scheme.
---
What is the Food Hygiene Rating Scheme Brand Standard?
The 'Brand Standard' is an advice and guidance document for local authorities in England and Northern Ireland. It tells authorities how they should implement the Food Hygiene Rating Scheme to create consistency and fairness in nation-wide implementation. You can read the document here.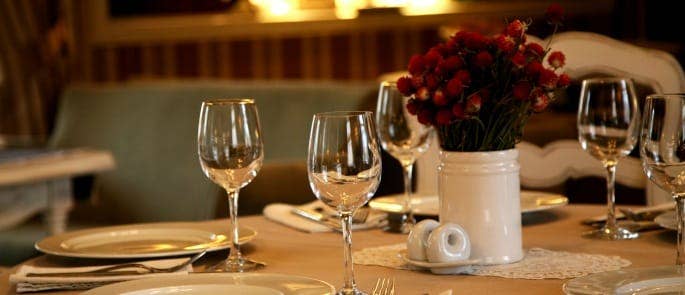 ---
Where Can I Find Food Hygiene Rating Scheme Guidance?
Food Hygiene Rating Scheme guidance is available for the public to make sure assessments are consistent and fair. The guidance sets out the 'brand standard' for the Food Hyginee Rating Scheme so that consumers and businesses can trust the rating scheme brand. You can read the guidance here.
---
How Do I Order a Food Hygiene Rating Sticker?
After you have registered your food business with your local authority, you will be subjected to a food hygiene inspection. Once this inspection is complete, you will receive an inspection report letter, details of any changes you must make, and your food hygiene rating sticker.
You can also access downloadable stickers for England, Wales and Northern Ireland on the food.gov website that you can use to promote your food hygiene rating. For more information on where and how you can display your rating, see the governments: 'Making the most of your business' rating'.
Businesses and local authorities cannot alter or amend Food Hygiene Rating Scheme stickers without prior permission from the FSA.
---
What is Scores on the Doors?
Scores on the Doors is a website that allows consumers to quickly check the food hygiene rating of pubs, restaurants, and food shops in their area. The phrasing originates from the BBC's television show The Generation Game with host Larry Grayson who asked "What are the scores on the doors, Isla?" when checking contestants points.
Contemporary usage refers to the points food handlers receive for their hygiene scores, and more frequently to the Food Hygiene Rating stickers that you can see on the doors and windows of food establishments.
---
Food Hygiene Rating Scheme Resources:
---
Any More Questions?
Is there anything we missed? If we didn't cover it here, leave your question in the comments!
Subscribe for the latest Hub updates! Tell us what you're interested in hearing about:
We will always treat your personal details with the utmost care and we will never sell your details to other companies for marketing purposes.