Understanding The Food Hygiene Rating Scheme
January 2, 2014
3 min read
In England, Northern Ireland and Wales, the Food Hygiene Rating Scheme (FHRS) is run by the Food Standards Agency. It's in place to help the public to make informed choices about where to eat.
The rating scheme tells you about the hygiene standards in any restaurant, cafe, takeaway, pub, hotel, supermarket or anywhere else where you can buy food for consumption.
---
How Do Businesses Get a Food Hygiene Rating?
To obtain a food hygiene rating, a food safety officer will come and visit the premises and award a hygiene rating based on how closely the business is meeting the requirements of food hygiene law.
The Food Standards Agency encourages all businesses to display their food hygiene rating certificate so that customers can easily see them.
And if it isn't prominent, that might be a reason to show concern!
From November 2013, businesses in Wales must display their certificates in a prominent place, such as at the front door or in a window, and must provide verbal information on their rating if asked.
The hygiene rating scheme provides certificates that look like the following: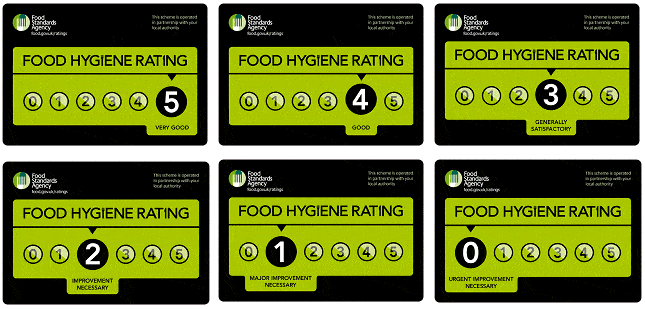 ---
Expect 5 Stars
It's not unreasonable as a consumer to expect a 5-star food hygiene rating. This is because any business can achieve a rating of '5'.
To get the top rating in the food hygiene rating scheme, businesses must pay attention to four key areas. These are:
How hygienically food is prepared, cooked, re-heated, cooled, and stored.
The premises' layout, cleanliness, ventilation, lighting, and other facilities.
The condition and structure of the building.
How the business manages and records its food safety procedures.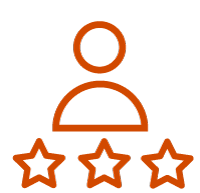 Need a Course?
Our How to Improve Your Food Hygiene Rating Course will help businesses to develop a thorough understanding of how the Food Hygiene Rating Scheme works so that they can apply the knowledge in their own workplace and aim towards achieving, and maintaining, a level 5 food hygiene rating.
---
It's Always Possible to Get a 5 Rating
Any business can achieve the top rating of a '5' if food safety is managed effectively and food hygiene is of a high standard.
Things that can help businesses achieve a high food hygiene rating include:
Making sure all food is purchased and delivered by a reputable supplier (they need to prove they are committed to high standards of food safety too).
Ensuring food is delivered at the correct temperature and with raw and ready-to-eat foods separated to reduce the risks from contamination.
Not selling food that has passed its use-by date.
Storing food in the correct manner, whether this is in a fridge, freezer or dry food store.
Storing dry food in cool, clean, well-lit and well-ventilated stores.
Keeping fridges operating at 8°C or below and always refrigerate raw foods separately from ready-to-eat foods.
Keeping freezers operating between -18°C and -22°C to stop bacterial growth.
Rotating stock.
Thawing frozen food safely.
Preparing raw and ready-to-eat foods separately and with different equipment to prevent cross-contamination.
Cleaning and disinfecting all equipment, surfaces, and clothing correctly.
Washing hands thoroughly and following personal hygiene procedures.
Making sure food is safe to eat by maintaining a core cooking and reheating temperature of 70°C for 2 minutes or 75°C for 30 seconds to destroy bacteria.
Keeping food for hot-holding at a temperature of 63°C or above.
Wearing the right protective clothing when handling food.
Disposing of waste safely and hygienically.
Keeping food equipment clean, free from damage, waterproof, and movable for easy cleaning.
Following safe cleaning procedures.
Of course, this list isn't exhaustive, and if the business doesn't meet satisfactory standards, the inspector will explain where the business can improve. After, a local authority will check that these improvements are made.
---
The Scottish Food Hygiene Scheme
Scotland's scheme is just a little bit different.
In Scotland, they use the Food Hygiene Information Scheme. This is the Scottish scheme that helps customers to identify the food hygiene ratings of food establishments.
This scheme is similar to the FHRS but the stickers or certificates displayed look different, as you can see here.
If you want to find the Food Hygiene Rating of any British food establishment (including Scotland), you can search for the rating of any business by using the search box on the Food Standards Agency's website here.
---
Don't Miss!
Our interactive map and guide to the Food Hygiene Rating Scheme: Food Hygiene – Know The Score 2019
---
Further Resources: