How to Become a Security Guard: Requirements and Responsibilities
June 24, 2022
5 min read
Security services are an integral part of society. From monitoring and preventing crimes to simply providing peace of mind to civilians, security guards have a range of duties and responsibilities that can produce a rewarding career path. Anyone can apply to become a security guard, from school leavers to individuals who have experience working in the police or armed forces, so long as they fulfil the requirements.
In this article, we'll examine in detail the different types of security guard, their typical responsibilities and the many advantages that come with this career path. We'll also outline the requirements, qualifications and desirable skills needed to become a security guard.
---
What Does a Security Guard Do?
A security guard is someone employed to protect a building, workplace or person against intruders or damages. As such, there is a lot more to the role than simply sitting at a desk and checking people in and out of a building.
In fact, there are many different types of security guards. The most common include:
Residential Guards – Hired by either an individual, a group or a community, these guards work to protect houses. Duties can include patrolling the area or communal areas for suspicious activity. Residential guards are typically the first point of response if there is an issue. If the area is a gated community, residential guards may be positioned at the gate and larger residential areas may employ more than one guard at a time.
Business Guards – These guards protect a business, whether that is in the form of a bar or a corporate office. This can include vetting the people who enter the building, and dealing with the security and safety of the workers within the business.
Personal Guards – Also referred to as a bodyguard, these highly specialised guards work for an individual – usually a celebrity or someone in the public eye – who they personally protect. This can involve accompanying the individual to events, or simply being close while they run errands.
Patrol Guards – These guards spend their shift moving throughout a specific area – ranging from a single street to a large perimeter.
Stationary Guards – Unlike patrol guards, stationary guards are given a specific post and stay there for the duration of their shift.
Government Security Guards – These guards are similar to business guards, except that they are employed to specifically guard government buildings. As their job involves tight security, these positions are usually well-vetted.
Proprietary Guards – These are guards who are hired as independent workers rather than through a security company. They are, therefore, included on a business' payroll and can have a number of differing responsibilities.
Event Security Guard – Large events that have a lot of people in attendance need an equal amount of security in place, and this usually comes in the form of security guards. These guards help with crowd control, vetting people and ensuring no restricted areas are breached.
All of the types of security guards we have listed above may be armed – where they carry a weapon – or unarmed, where they carry items such as pepper spray or batons, depending on the nature of the position and what is appropriate. Security guards can also be uniformed or wear plain clothes, depending on the situation. At a wedding, for example, a uniformed guard may appear out of place even though there is a need for security and so plain clothes may be preferable.
Security Guard Duty and Responsibilities
As we've discovered, there are many different types of security guards. With each of these roles, the responsibilities will differ depending on the specific setting. However, there are common duties that all security guards will need to perform, such as:
Conducting security checks on people that are entering or exiting a building. This may involve using equipment such as scanners as well as visual checks.
Keeping a record of visitors. This may include their time of arrival and departure along with personal information.
Securing premises and personnel.
Monitoring security equipment or surveillance cameras (CCTV).
Responding to incidents or alarms.
Patrolling the premises for suspicious activity.
Performing regular or scheduled checks of a specific area for any breaches of security.
Assisting maintenance staff and keeping on top of operational equipment.
Liaising with law enforcement if an issue has arisen or a crime has been committed.
---
Advantages of Pursuing a Career as a Security Guard
If you're passionate about protecting others, enjoy keeping active and are looking for a job that provides security along with flexibility, becoming a security guard may be the career path for you.
It's also not surprising that with the large number of responsibilities that come with being a security guard, there are also many benefits, too. We're going to look at some of these in more detail below.
Protecting Others is Rewarding
There are few other jobs that involve the level of safeguarding that being a security guard does. Whether this is as a personal guard to an individual, working for a business or guarding property, there's a great satisfaction to be had in knowing that you've played a vital role in keeping your clients (or their possessions) safe.
Flexible Working Hours
With the vast number of options for the type of security guard you could be, there is also a choice in what type of hours you want to work. For example, a business guard may be required to work weekdays from 9-5, or throughout the night. It can also provide a great opportunity for part-time work, if you are studying or simply want a second income.
Increase Useful Skills
As a security guard, you need to be able to thrive under pressure and have excellent observational skills. You also need to have great communication skills and be able to deal with different types of people and circumstances.
Even if you don't think of these as strong attributes before you start the role, they will develop as you grow and gain more experience. Skills such as these, and many others, will be useful to you in the future and transferable in other aspects of life.
Employability
As there is a constant need for security services across the country, being a security guard is a stable and secure career choice. Businesses and events will always need to employ security, for example.
There is also a vast opportunity for career advancement in security services. Many of the skills needed to be a security guard are transferable to other roles, and with experience, you could look at taking a position as a police officer, correctional officer or cyber security specialist.
---
Requirements to Become a Security Guard
Another benefit to becoming a security guard is that it can be an entry-level position, with the opportunity for career advancement. That being said, there are still certain requirements to become a security guard, for example:
You must be aged 18 or over.
You must be able to pass identity and criminal record checks.
Qualifications
Typically, you don't need to have any degrees or diplomas in order to become a security guard. Many receive on-the-job training, and so prior experience or higher education isn't a requirement to become a security guard, although a good standard of general education is preferred.
That being said, you will need to gain your Security Industry Authority (SIA) licence, which is compulsory for security guards and must be obtained before you start work. We'll look into the requirements for gaining your SIA licence further down the article.
Desired Skills
While there are formal requirements to become a security guard, such as gaining an SIA licence, there are also desirable qualities and skills that employers and managers will look out for.
For example:
Knowledge of public safety and security.
Patience, and the ability to remain calm under pressure and in stressful situations.
The ability to communicate effectively.
Being able to work well with others as well as autonomously.
Having high levels of concentration, and being able to stay alert and aware of your surroundings.
Customer service skills, and being able to challenge people politely but firmly.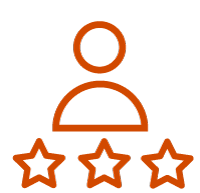 Looking to learn more?
At High Speed Training, we offer Resilience Training that equips you with the skills and knowledge needed for achieving your goals, which you may find beneficial.
It would also be a benefit to have prior experience in a similar position – for example, someone who has worked in the police or armed forces – although this is not compulsory, as thorough training will be provided to successful candidates.
---
Gaining your Security Guard Licence
As we've previously mentioned, one of the requirements to become a security guard is obtaining a Security Industry Authority (SIA) licence.
Before the SIA was introduced by the government as a non-departmental public body, local councils licensed individuals to work as security guards without any formal background checks taking place. This has now changed, and any individual intending on becoming a security guard needs to complete their SIA licence.
The licence covers security guarding, door supervision, the guarding of valuables in transit, public space surveillance (using CCTV), vehicle immobilising, close protection and key holding.
This means that security companies can simply check their employee's licences through the SIA and feel confident in the competency of their applicants without conducting their own background checks.
It's important to note that while SIA licences can be renewed online, they do not automatically renew and you will need to manually do this 3 years after first receiving it.
In order to obtain your SIA licence, you need to train for a 'licence linked' qualification. This is so that you can prove you have the skills needed to do your job safely. You can find more information on this qualification and the training needed to get an SIA licence on the government link, here.
You can also search for an approved training provider that offers licenced link training in your area on the SIA website.
Changes to the SIA Licence Requirements
In 2021, the government issued some changes in regard to the training needed for an SIA licence.
The changes revolved around the training needed before a front line SIA licence would be issued. This includes:
New updated qualifications for all sectors except close protection and vehicle immobilisation.
One of the new qualifications or top-up training being required before you can apply for a door supervisor and security guard licence, and this includes renewals.
There is now also the requirement of holding a first aid qualification before you can take the training required for a door supervisor or security guard licence. This first aid training must be completed face to face in order to qualify for the SIA licence. The qualification must be an Emergency First Aid at Work (EFAW) qualification or an equivalent.
Note that the Health and Safety Executive (HSE) advises that first aiders keep their awareness up to date by taking yearly refresher courses. If you are already a qualified first aider and are simply looking for a refresher course that provides sufficient awareness of first aid without a practical element, our Emergency First Aid At Work (EFAW) Refresher Course may be suitable for your needs.
Our EFAW Refresher course is designed to refresh the knowledge of existing emergency first aiders so that they continue to feel confident in responding to accidents and incidents. However, it's important to note that a practical first aid requalification is required every three years in order to remain a first aider and so our courses aren't suitable for this purpose.
For further information, you can view the entirety of the changes to the SIA licence requirements at the government website, here.
---
We hope you've found this article on the requirements to become a security guard and the responsibilities of the role helpful and informative. If you have any further questions, please don't hesitate to get in touch with us – High Speed Training offers a vast range of courses and resources to help!
---
Further Resources