6 of the Best Catering Tips and Tricks
November 17, 2017
5 min read
Whether you work in a professional kitchen or plan to host a party, catering requires a sharp skillset.
A good caterer is highly organised and knowledgeable about preparing large quantities of food. They can send dishes out to diners or keep party food flowing without missing a beat.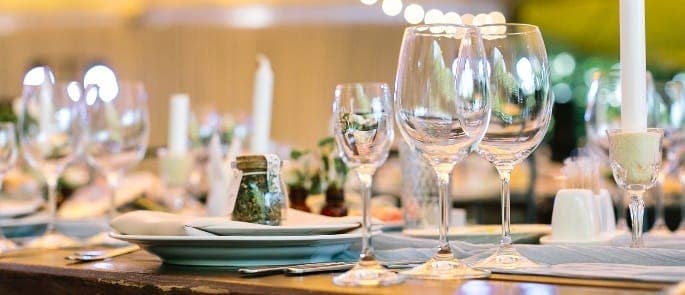 Use our catering tips and tricks below to boost your abilities, save money and time, and transform stress into satisfaction when preparing food.
---
6 Catering Tips
From better food hygiene, through listening to your customers, to clever sale strategies, you can use numerous catering tricks to improve the food you make and streamline your preparation processes.
1. Prepare in advance
Complete as much prep as you can the night before or earlier in the day. A head start prevents you from rushing and disrupting your workflow later when orders start to pile up.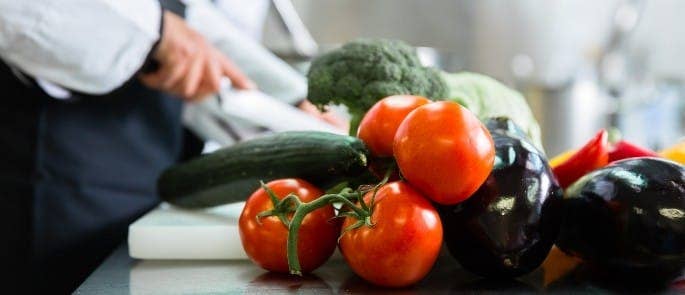 To prepare in advance, you could:
Make cold dishes first – prepare salads beforehand and keep them covered on the countertop or in the fridge. Prepare high risk components later, such as Caesar dressing, which contains raw eggs and can't be left out for too long.
Do minor prep for fruits and vegetables – peel potatoes, chop peppers and onions, etc.
Polish and clean your cutlery and dishes during downtime and make sure you have plenty of extras. Set tables beforehand and provide a few spares on tables reserved for large parties. Put water glasses and jugs out.
Ensure there's plenty of space in the fridge – toss out anything you no longer need or that has deteriorated in quality. If you receive orders in advance, organise the fridge so you can quickly access what you need first.
Early preparation is especially beneficial when catering for large parties or when working busy nights (such as Saturdays). You can continuously send out quality food without worrying about small prep tasks and without keeping people waiting.
2. Organise your menu and environment
If you organise dishes on the menu and arrange the environment smartly, you can prompt diners to choose certain food and drinks in a way that boosts profits.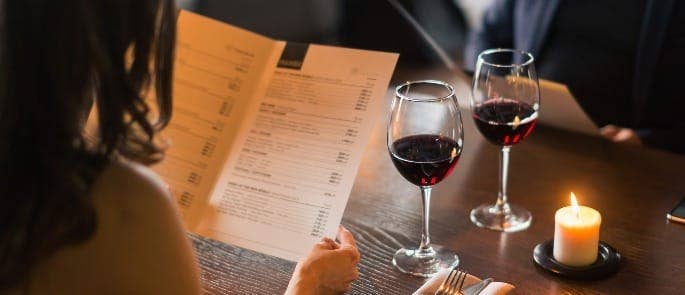 Studies show that diners look at the upper right-hand corner of menus first, and if you place the most expensive dishes there, everything else seems reasonably-priced by comparison. As a result, guests will spend their money more comfortably.
Research also reveals that classical music encourages spending, and certain décor affects the mood of diners. Warm colours, such as red and orange, relax guests and increases their appetite. However, be careful not to go overboard. Use artwork, furnishings, and ornaments to build up the colour scheme, rather than paint a wall solid red.
3. Prioritise food hygiene
If you host a private party, legal requirements are less stringent. When you prepare and sell food commercially, however, you must source, store, handle, and display food to consumers in accordance with food hygiene law.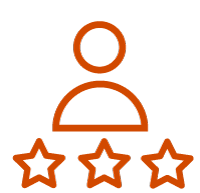 Need a Course?
Our Food Hygiene Training Courses are designed to ensure a comprehensive knowledge of all food safety and hygiene procedures. If you are unsure which Food Hygiene course you need, visit the Choose a Food Hygiene Course page to help you decide.
Food hygiene tips for catering:
Use colour-coded chopping boards to prevent cross-contamination – red for raw meat, blue for raw fish, green for vegetables and fruit, brown for root vegetables, yellow for cooked meat, and white for bakery and dairy products. Also use a separate board to prepare allergen-free food.
Fridge hygiene: keep raw meat on the bottom shelf, check that the temperature is between 1 and 4°C, and clean it regularly. Label everything with best-before and use-by dates and use a FIFO system to organise food.
Clean as you go. Working in a mess is not only stressful, but also a huge hygiene risk. It's also a time waster: you eventually have to stop and clear away a pile-up, which interrupts service and the timing of food. While you work, throw away empty packaging, unused bits of food, and other waste to free up space. Quick, frequent wipe-downs prevent bacteria and allergens from building up.
Tie your hair back and clip your nails (don't wear fake ones while prepping food). Also remove jewellery and dress wounds with a blue plaster (so you can easily see it should it accidentally fall into food).
Provide allergen information and a consumer advisory if you prepare a lot of high risk food (such as rare meat or raw dairy products). Include it on the menu and somewhere on the premises. Answer questions to the best of your abilities.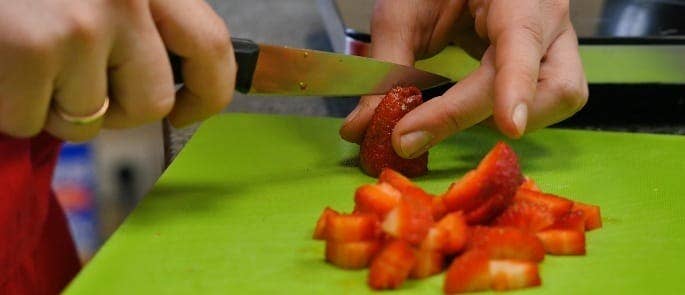 For further food hygiene tips, check out our Food Hygiene Rules and Guidance article.
4. Listen to your guests
Comments and complaints are an opportunity to improve your recipes and service. Instead of reacting defensively, utilise them constructively. You'll earn the approval of return customers and receive great reviews about the quality of your catering business.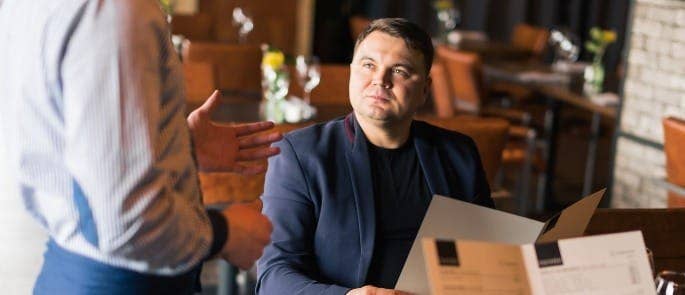 Display customer comment cards at the front desk and include a comments and complaints section on your website. Also create a social media page for people who want to talk to you directly.
Above all, respond to feedback as much as possible and thank people who comment. Guests who feel like you listen and value their custom will eagerly come back for seconds.
5. Create a practical menu
Many catering businesses offer too much. A cluttered, unfocused menu not only overwhelms your guests; it overwhelms you. You'll struggle to organise ingredients and food preparation for 50+ dishes, which leads to wasted money and time.
Fewer options mean people spend less time choosing and you save time cooking, as you'll likely end up preparing several of the same dishes. Streamlined preparation is especially important during peak times. If you're bogged down trying to juggle a dozen different orders, diners turn over slower and you lose sales.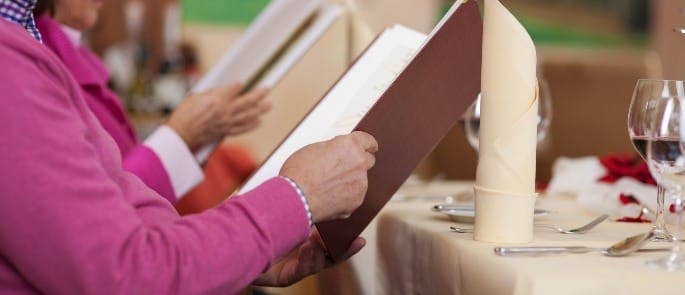 You should also prepare multiple dishes that share ingredients, not only to give people choice but to make the most of your inventory.
Keep descriptions simple so the menu is easy to scan. Most people want to know exactly what's in the dish, not which country the taste metaphorically sends them to.
6. Be as nice as your food
Although presentation and ambience are essential, many diners will forgive faded wallpaper and plain tables if your menu and service is one of the best they've seen.
The quality of your food and interaction with guests will excel if your team is talented and properly trained. Use job ads that appeal to skilled, passionate chefs and to friendly, enthusiastic people for front-of-house staff. Make sure the whole team receives suitable training that enhances their food prep and customer service skills.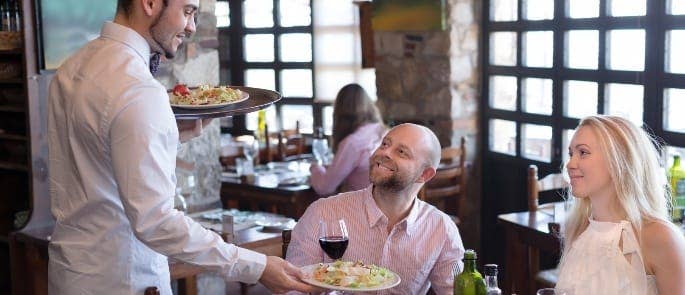 A good chef needs good ingredients, so make sure you source the highest quality food. Look for a reputable supplier that sells locally-sourced produce and provides proof that the food has been safely handled at every stage. Shop for fresh produce yourself if time allows; touching and smelling tells you a lot about ingredients.
If you work in a managerial position, show your face throughout the night. People appreciate acknowledgement from the person behind the process. They'll realise your catering business values its patrons so much that it sets aside time to personally ensure everyone's enjoying their meal.
---
What to Read Next: