Customer Complaints in Hospitality – From Our Very Own Experts
March 20, 2019
6 min read
Most people can remember a time when they've had brilliant customer service, and similarly most people can remember when they've had a negative customer experience too! Unfortunately, complaints are an inevitable part of customer-facing hospitality roles.
We cannot always account for the unexpected and things do go wrong sometimes, but in the fast-paced world of hospitality, how we deal with complaints can have a significant impact on our business, our customers and our staff.
In this article, we are going to share our top tips of how to deal with customer complaints in hospitality using our very own experts here at High Speed Training.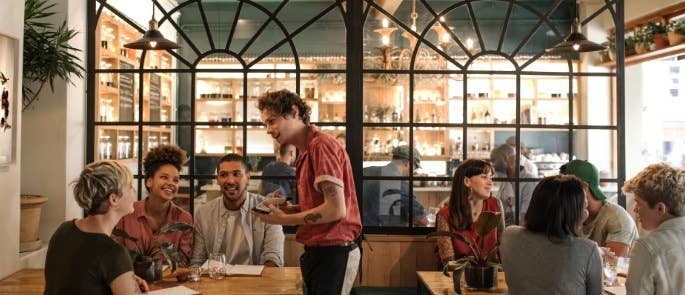 ---
What Are the Most Common Complaints in Hospitality?
The well-known phrase 'The customer is always right', may not always be 100% accurate, but going the extra mile in hospitality is perhaps even more important in today's online world.
According to research from Feed It Back – the leading customer feedback and online reputation specialists- the most common complaint from customers in restaurants was the 'Speed of Service'. As much as 20% of negative feedback was due to slow service or long wait times, particularly the wait between clearing away the starters and receiving the main courses. Customers also found it frustrating if people who arrived later received their food first.
Other complaints from restaurant goers were related to the efficiency, engagement and attitude of waiting staff, accounting for six out of the top ten complaints.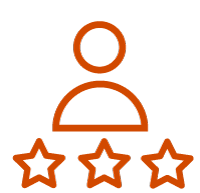 Want to Learn More?
Our Managing Customer Conflict In Hospitality Course will teach you how to limit conflict, or even avoid it altogether, and help you stay safe at work. You can also take a look at our course library here.
---
Examples of Customer Complaints in Hospitality: What Do Our Experts Say?
The Long Wait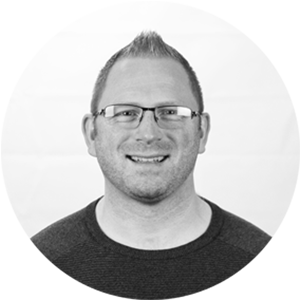 Our Sales and Development Manager, Jamie Hogg, has an extensive background in hospitality. With more than 15 years of experience as a General Manager of several bars, restaurants, hotels and pubs, Jamie has seen it all.
Jamie says:
"One busy Friday night, around 8.30pm, I was busy running the floor, taking the orders and controlling the flow of customers through the business. I approached Table 10, a couple were drinking wine and placed their order with me, 2 starters and 2 steaks.
At 9.30pm, they caught my attention and said that they had not yet received their starters. I went into the kitchen to see where they were, and the chefs had no ticket. I was confused. It was then that I reached into my back pocket, and to my horror the order pad was there with their order on. I was mortified! I went to the table, crouched down and explained the situation. They received the news very well, but declined my offer to get their food cooked ASAP. They said that they had shared 2 bottles of wine that evening and were having a lovely conversation without the kids being present. They said that they would stay a little while longer as they had paid for a babysitter. I let them have both bottles of wine for free and gave them some vouchers for their next visit. They returned a month later to use their vouchers, and had a lovely time. After that, we saw them every other month 'without the kids' and on occasional Sundays 'with the kids'."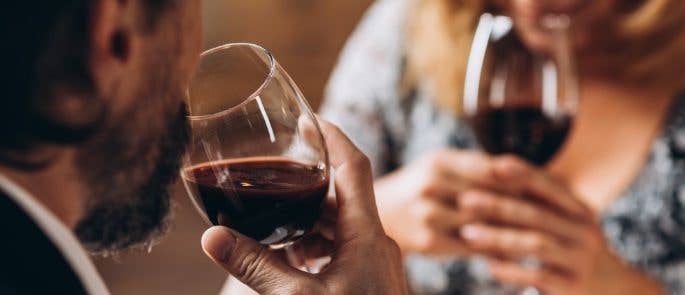 Jamie's Top Customer Service Tip:
My tip here would be to own up and try to explain in a friendly and humble fashion when you have made an honest mistake. Most people will respect your honesty. By crouching down to their table, I was able to use my body language to further show how apologetic I was.
---
Don't Miss! Have you seen our latest research analysing UK regional standards of food hygiene? Find out where your hometown ranks in our report, Food Hygiene: Know the Score. 
---
Foreign Body Contamination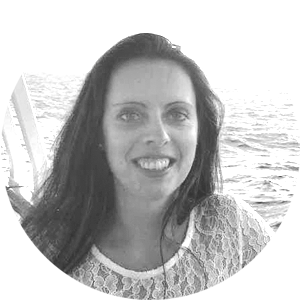 Our Sales Advisor Amie recently left the hospitality industry and now uses her expertise in helping others with their training requirements. Amie has over 7 years' experience in the industry, including 4 years working in a farm shop café, serving plot to plate dishes. Plot to plate meals add an extra step to the process of serving food, as the majority of food is made on site in the kitchen, with very little pre-made or 'bought in'. She has some excellent tips to help you stay calm under this added pressure.
Amie says:
"Once I had a complaint from a lady who found plastic on her plate. Understandably she was upset about this. Personally, I was horrified and was keen to find out where exactly this plastic had come from. I apologised to the lady and removed her plate. I offered to get her something else instead, on the house. She was happy with this but opted for pudding instead, as the rest of the table were eating their mains and didn't want a sweet, and she didn't want to hold up the table. I personally brought her pudding to her, made sure she was happy with it and added free tea and coffee for the rest of the table.
After I was satisfied that she was happy, I went and spoke with the chef to locate the source of the plastic. It had come from one of the tubs they stored the gravy in and was an error on the chefs' part. I made sure to go back to the lady and explain what had happened. Genuine mistakes do happen, but because I explained the situation, she and the whole table were reassured it was not a common mistake, and that we had learned to check the tubs more thoroughly in future."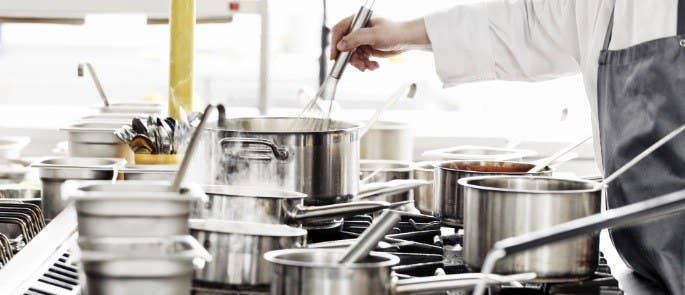 Amie's Top Customer Service Tip:
I think it is really important to show that you as a business can learn from mistakes and use the feedback to improve a situation. Imagine if she hadn't said anything- it could have happened again, and someone could had been injured because of it. Also, other diners at the time would have seen how the complaint was dealt with and, by being upfront and genuine about the whole thing, they too were reassured by my commitment to getting things right.
---
Unwelcoming Reception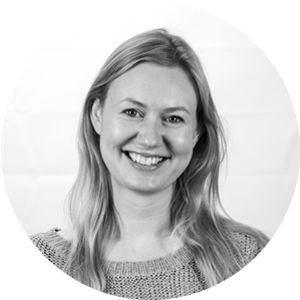 I worked in restaurants and bars for over 9 years before I set up a tea room with a business partner. I also started my own 'cakes from home' business and sold to shops and at local markets.
Sarah says:
"One of the most off-putting things for customers is when they walk through the door and are made to feel unwelcome. This can be the result of many things. It could be that they weren't greeted by staff initially, they could be sat alongside a dirty table, or the waiting staff could be too rushed or inattentive to serve them properly. All of this can add up to a disgruntled customer, mistakes being made and a potential problem to deal with.
One time in the restaurant we were short staffed, so as Duty Manager I was running shift, hosting and sharing a section with another waiter. Unsurprisingly, something went amiss and I ended up leaving a table too long. When I managed to take their order, I could tell they weren't impressed. Their starters arrived and I made sure I checked back, everything was fine. Afterwards, their main courses came, but this time I didn't get a chance to check on them. The gentleman had to come and find me to complain about his overcooked steak. I admitted that I had made an error, I should have made it my priority to check on their meals and apologised that I hadn't done this. They could see we were short staffed and appreciated the gesture to have the meal recooked for him. I then made sure everything, from that point on, was perfect. I also took his meal off the bill and offered complimentary desserts to the table.
At the end of the day, I hadn't been able to give the level of service I wanted to, and so the error was on me. By owning up to this, I was able to indicate that it was not up to our usual business standards. The table could see we were busy and did empathise. After this issue was resolved and they received the attention they should have had, they were more than happy."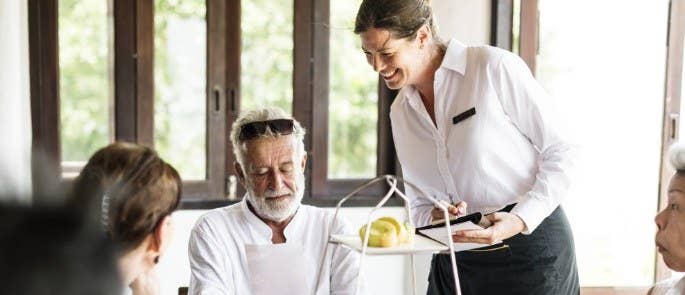 Sarah's Top Customer Service Tip:
Most people just want to be heard when it comes to complaining. They could feel they have been overlooked, or they are unhappy paying for a level of service they have not received. Listen to the complaint openly, ask questions, and take notes too. Make sure you fully understand the problem and try to empathise with the customer. This will appease them and make solving the problem much easier. If you find the customer is still very upset, ask them what they would like you to do to help rectify the problem. This will give you a starting point on which you can try reach a middle ground, that satisfies everyone involved.
---
Our 10 Top Tips for Dealing With Customer Complaints in Hospitality
Customer complaint handling is a tricky skill to develop. As we've seen from the above examples, it is reactive and you are often on the back foot, trying to resolve a bad situation and an unhappy customer as best you can. However, it is important not to be afraid of complaints as you can learn a lot from feedback.
Consider the advice above along with our top tips below, to help you develop your own proactive complaint handling technique.
1. Listen
In any confrontational situation, if you show you are actively listening to the customer it will calm them down. Feeling that their viewpoint is important to you will help soothe ruffled feathers
2. Stay calm and be polite
If you feel yourself getting irritated, take some deep breaths. When a customer is unhappy, its likely emotions are already high, but you need to stay calm so things do not escalate. Understandably, it can be very hard to stay cool and collected when someone is complaining, but staying polite will keep you calm. It is also important to remember other diners are likely listening to the interaction. By being polite, you can be confident you haven't shown yourself, or your business in a bad light.
3. Use your body language
Body language is a useful tool to employ. Is your guest sat down? Crouch next to them. Stood up? Stand up tall and confident. Arms folded? Make sure you are seen to be open and approachable.
4. Don't play the blame game
When faced with a complaint it can be easy to look to blame someone. Most customer complaints come from a place of wanting things to be right. Making the customer happy should be your first priority. You can investigate what went wrong, and how to fix it, afterwards.
5. Take ownership
When things do go wrong, and complaints occur, don't be afraid to admit your errors. Showing humility and a willingness to learn and improve can have a very positive influence on complaining customers.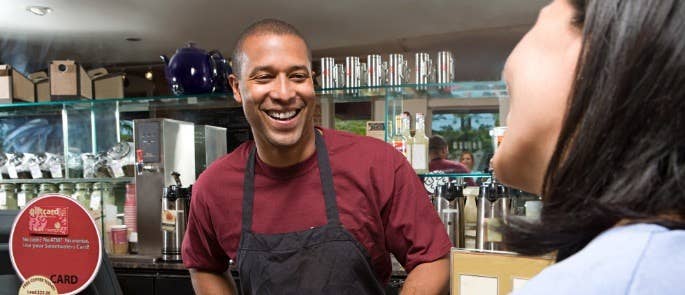 6. Do everything you can to fulfil their expectations
Whether the complaint is about the food, the ambience, the table, a staff member or something else, always do your best to fulfil, or even exceed their expectation. They may have come especially for a certain dish; can you request it from the kitchen for them? Do they want to sit somewhere in particular? Try and be as accommodating as possible- your efforts will be noted!
7. Ask them what they would like you to do
When complaints are tough and it's hard to appease the customer, you can try a different tactic. Ask the customer what they would like you to do to resolve the situation. Be careful with this one as it can backfire, but asking their opinion puts the onus on them to get the problem resolved. When you know what they want, you can work towards making it happen.
8. Train your staff
Not all staff are comfortable handling complaints, but you can help with this by training them. Discuss your guidelines for dealing with complaints and make sure all staff know they can go to a superior if they need to. Often food runners will spot a 'look' or a comment from a customer before a complaint is even made. By communicating this to the section waiter or duty manager, it provides an opportunity to head over and check everything is good before the customer even thinks about complaining.
9. Learn from mistakes
One of the most positive responses to a complaint is using this feedback to better the experience for all customers. Is the sauce too salty, are the salt and pepper pots hard to use, is the window seat draughty? For every one person who complains, there could be a hundred who didn't say anything. Always strive to make your business the best it can be.
10. Always respond
Nowadays, people may not be comfortable complaining at the time but will go write in or leave a negative review. By making sure you respond to each negative comment, it demonstrates your commitment to your customers, and to the betterment of your business.
---
With today's online world and the prevalence of social media, customers have more power than ever. Yet research has found that a well-handled complaint can actually turn a disgruntled customer into a regular. When they are satisfied with the way their complaint was received, they tell their friends about the experience and return time and time again.
---
What To Read Next