Internet Safety Posters for Schools
September 2, 2019
3 min read
Children are getting online more than ever before which is incredibly positive for their learning and development. However, they are also exposed to certain dangers if the internet is used inappropriately.
To reduce the number of risks, it's essential that children know how to keep themselves safe online and what to do when something isn't quite right. If you are a teacher, displaying internet safety posters in your classroom can be a good way to inform students and keep them regularly reminded.
We've made a bunch of internet safety posters for schools that you can download, print, and display as you wish.
---
Social Media Safety Poster for Schools
Social media is a hugely popular part of the internet, especially with children and young people. It includes websites and applications, such as Facebook, Instagram, and Snapchat, where users can share content and network with people online. However, this comes with a range of risks. Predators are known to use social media to target children, build up trust and a relationship with them, and then exploit the child for their own gain.
Therefore, teaching children the importance of social media safety is essential. We've made a social media safety poster that demonstrates the often 'dark' world of the internet. It shows a child taking a picture of themselves, sending it to someone else, and this person screenshotting it and then sharing it around before it eventually ends up with a suspicious looking character. The aim of this poster is to make children think twice before they send pictures of themselves to people they don't know. You can download this poster below.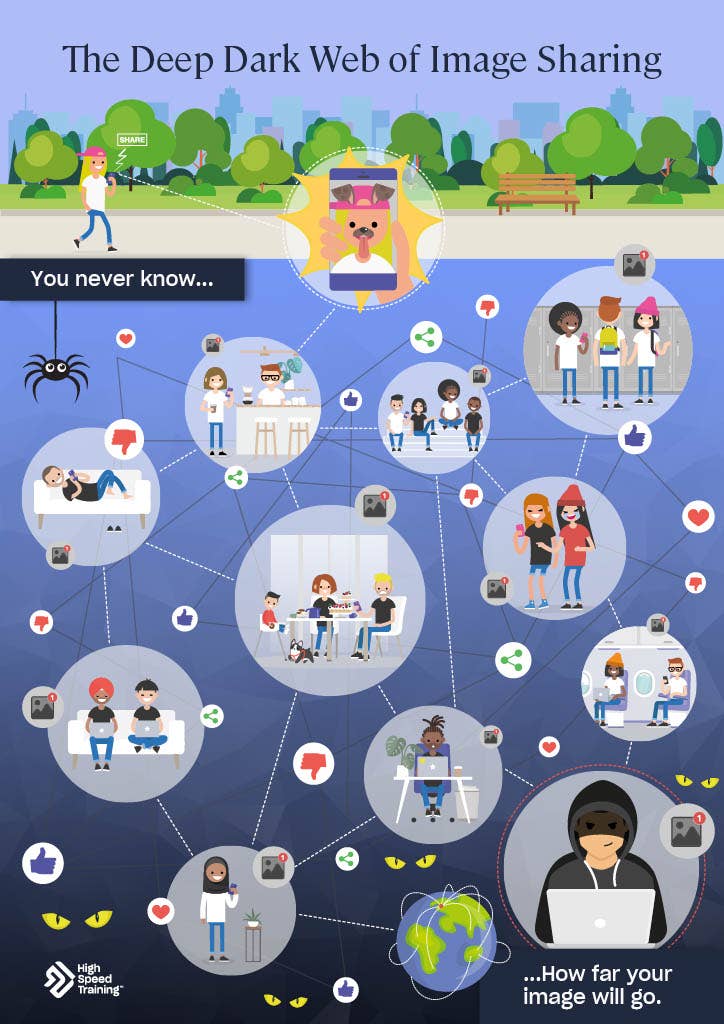 ---
Top 10 Tips to Stay Safe Online Poster
We've created a poster showing our top 10 tips for staying safe online. You could put this on the wall of your classroom or in a corridor where everyone can see it – it's a good reminder for children to be cautious in their online behaviour, reinforcing your teaching around online safety within the curriculum. You can download the poster below.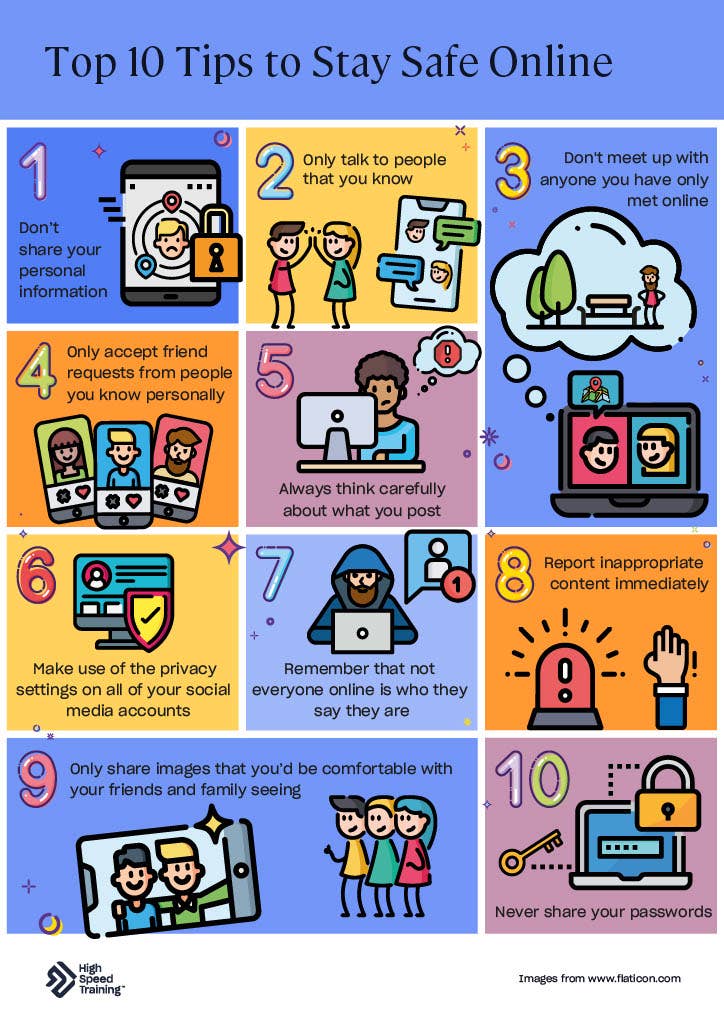 ---
Keeping Safe Online: Log Out Poster
It's crucial that children know the importance of logging out of computers and their accounts on shared computers, such as their Facebook or email. If they don't log out, then somebody can easily gain access to the data contained on their computer, including their photos and any personal documents they have.
We've made an internet safety poster for children that shows the importance of logging out of computers. It shows a robber stood in front of a house carrying a loot bag, which demonstrates how you wouldn't leave your home open to strangers, so you shouldn't do the same with your computer either. You can download this poster below.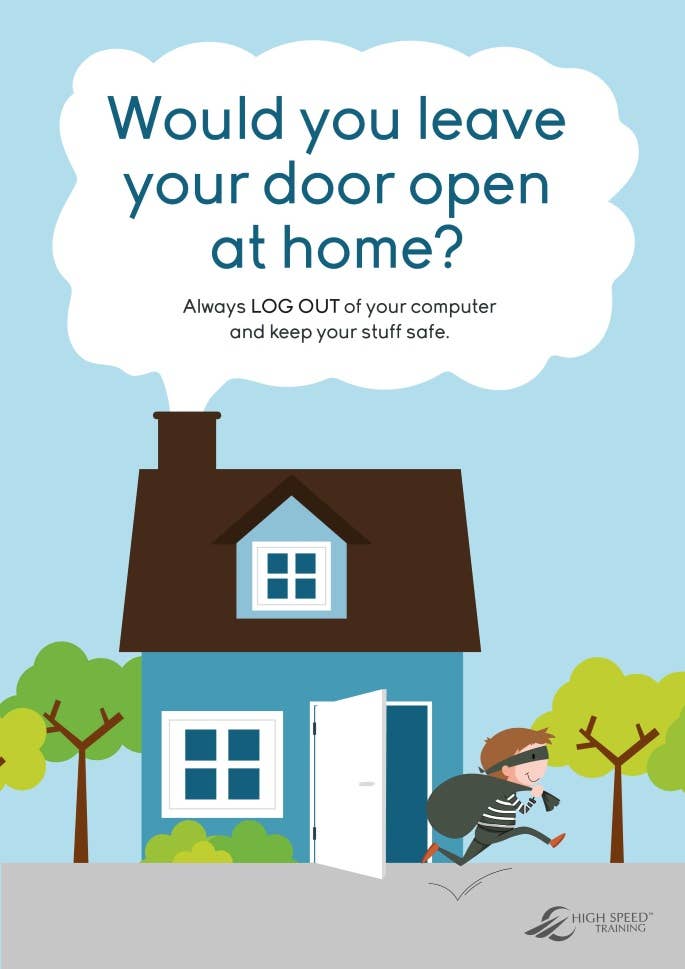 ---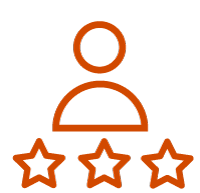 Need a Course?
Our Online Safety and Harms Course will help you to identify when a child is at risk, explain the different safeguarding and cyber security risks, know how to respond to online safeguarding concerns, and teach online safety to your students.
---
Internet Safety: Personal Information Poster
Children must know that the internet, and social media in particular, can make it very easy to share our information with people we don't know. For example, on a social media profile they may disclose their full name, the area in which they live, where they go to school, and pictures of themselves. Additionally, they may post a picture when they're on holiday or post a status that they're meeting their friends in town. If they haven't set their social media profile to private, then this information is available to both their friends and members of the public. This gives predators the information they need to target a child.
We've created an internet safety poster that demonstrates the importance of not sharing personal information online. It shows children in a forest dropping sheets of paper that contain their personal information. This aims to show that if you wouldn't leave your details in the street for somebody to find, then you shouldn't do it online either. You can download this poster below.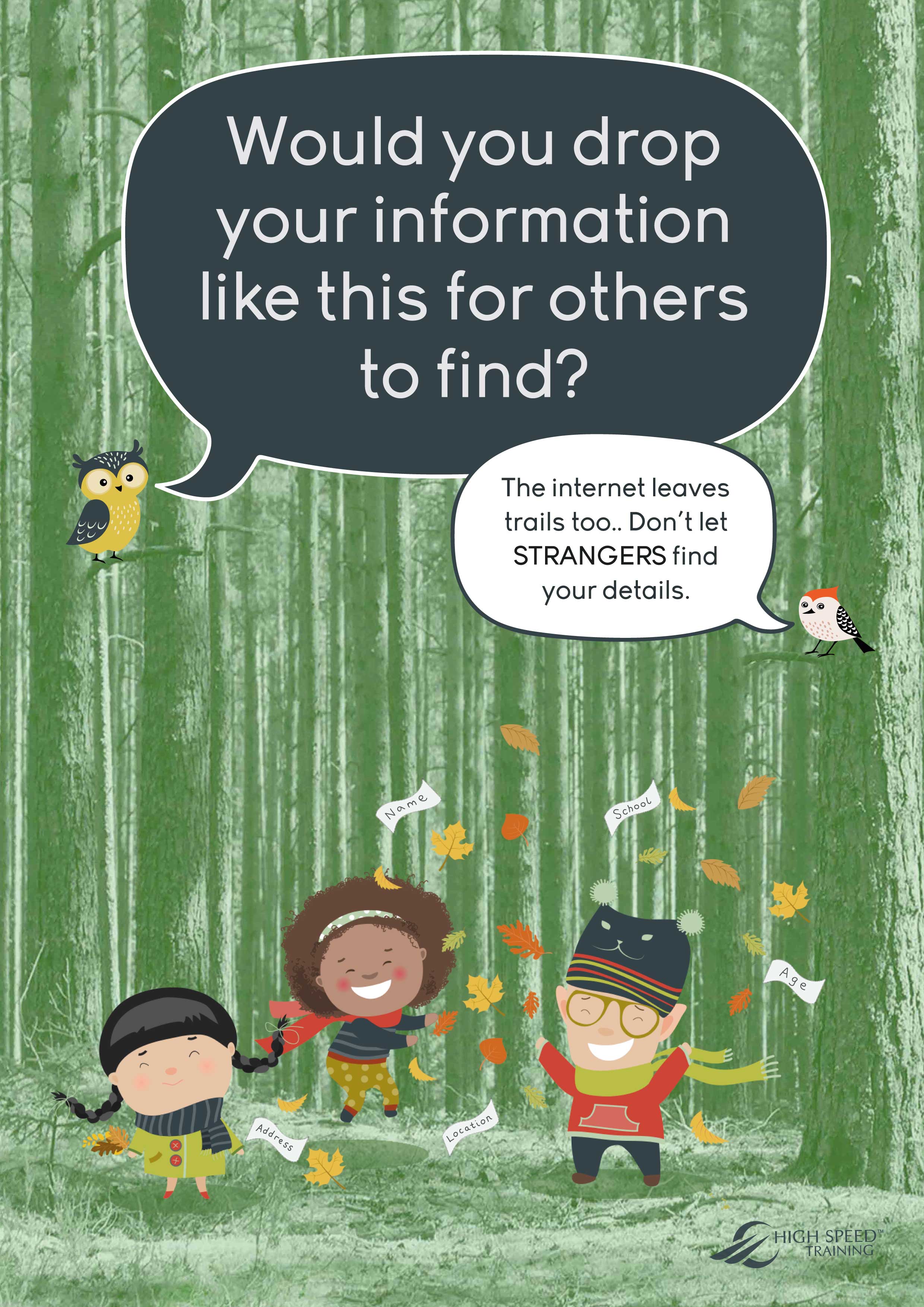 ---
Password Safety Poster for Children
Computer security is important for everyone and for a variety of reasons, such as to avoid your accounts being hacked or having strangers gain access to your personal information and documents. Children should be taught the importance of computer security at a young age, so that they can protect themselves online and carry this knowledge through into their adult lives.
We've created an internet safety poster for schools that introduces children to the importance of having strong passwords. It shows a child with a 'weak' password written on their forehead, which another child can see. This shows that you should never write your password down and that it shouldn't be an obvious one. You can download this poster below.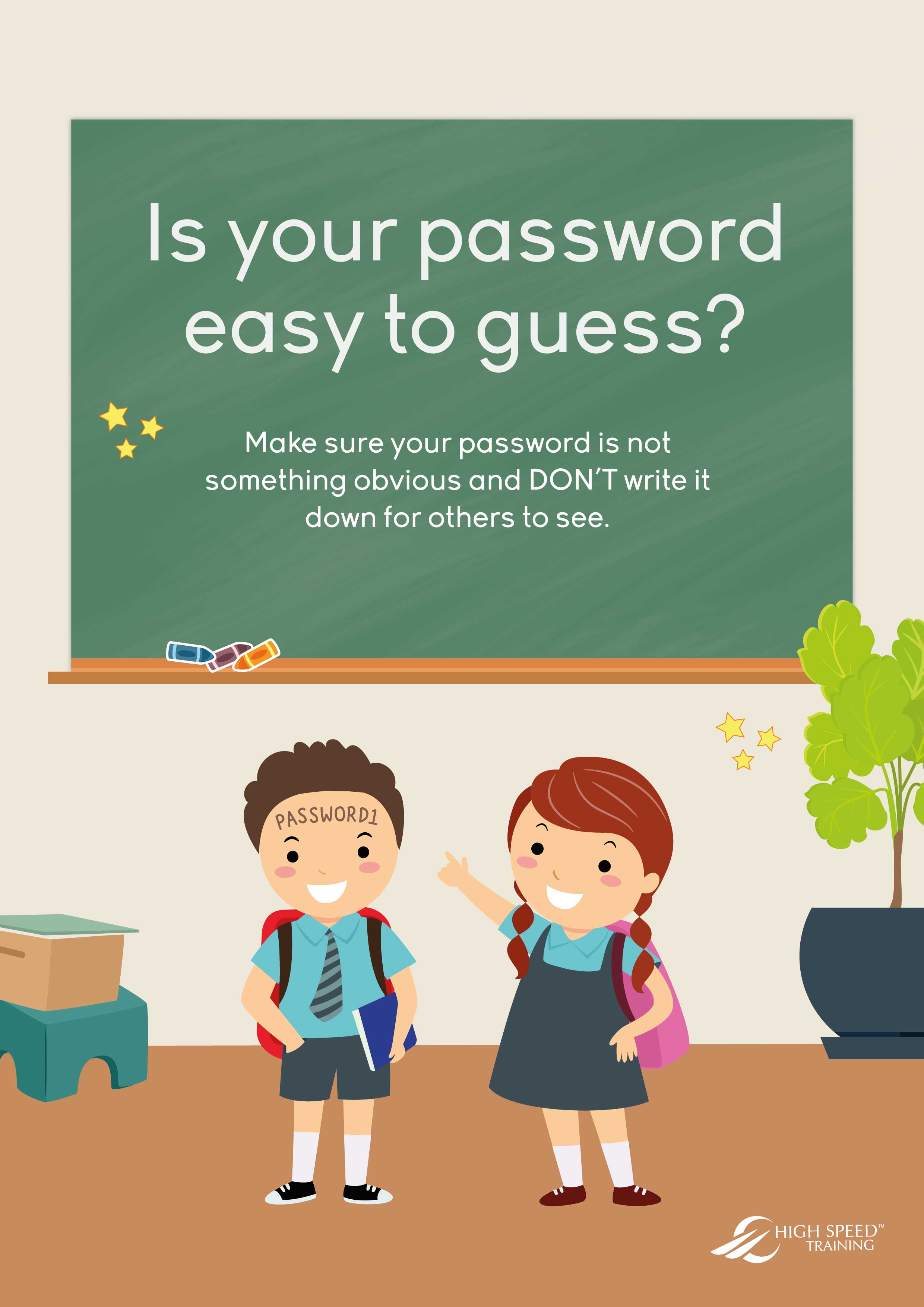 ---
E-Safety Poster: Masked Man
When we are online, we never really know who is at the other side of the screen. We can usually be sure that our friends are who they say they are, but this isn't the case for everyone. The lack of face-to-face contact that comes with the internet gives predators the anonymity they need to target children. They can lie about their name, age, and occupation and they can pretend that they know the child's friends or family to try and build a relationship with them. It's crucial that children know the importance of not talking to strangers and that they understand that not everyone online is who they say they are.
We've created an online safety poster that demonstrates this. The poster shows a man sat behind a computer screen with a mask on. It illustrates that people are not always who they say they are and so you shouldn't talk to somebody unless you are certain who they are. You can download this poster below.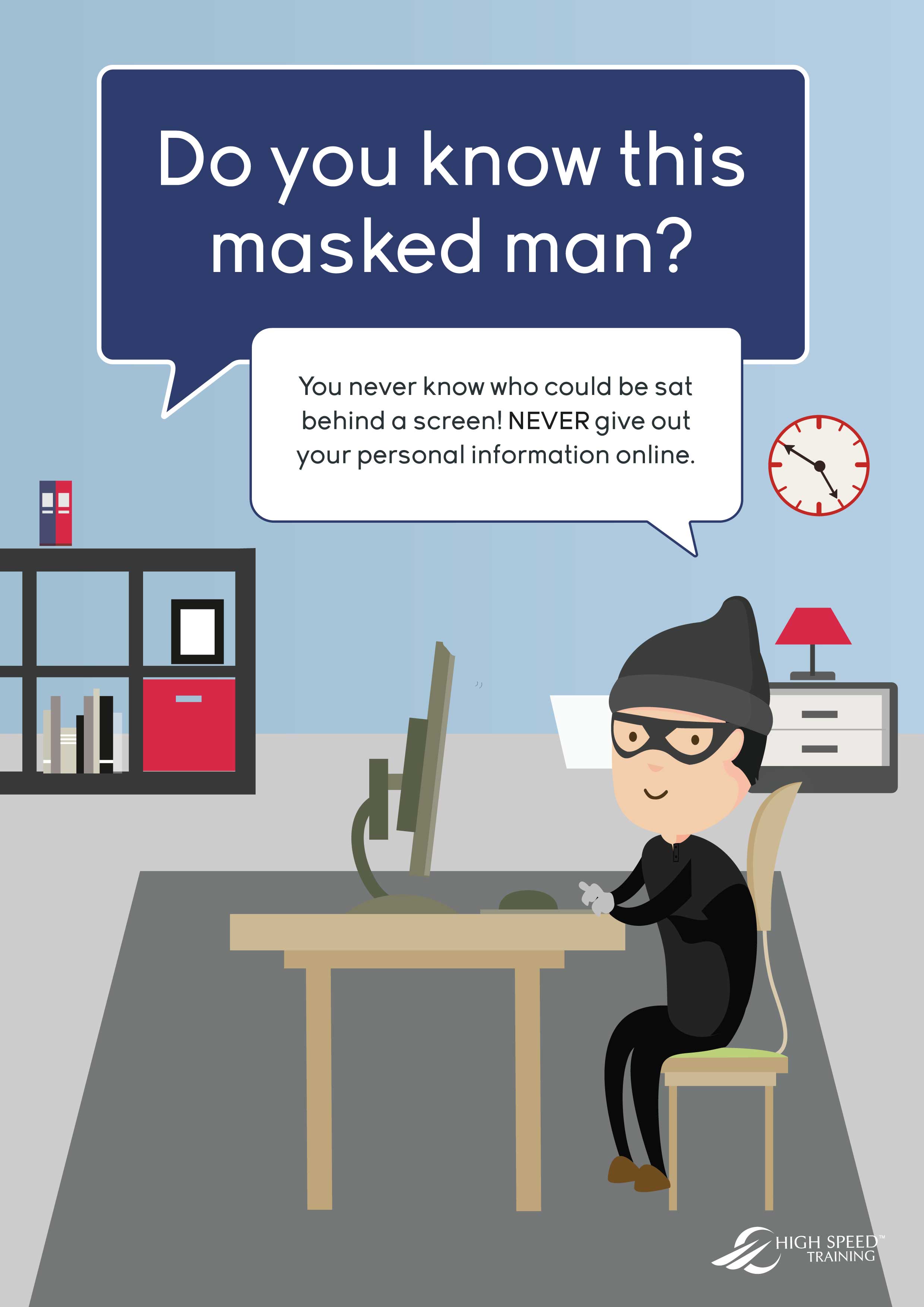 ---
Children can be at risk of many dangers online, so it's important that they're aware of them. Displaying internet safety posters in your classroom, like those we have shared with you in this article, acts as a constant reminder of online dangers and how children can protect themselves from harm.
---
What to Read Next: