Our Top 12 Resources of 2021
January 3, 2022
4 min read
We're just getting used to writing '2022' in the office, as well as planning exciting things for the year ahead. However, this cold and wintery January day has got us feeling all nostalgic.
We thought we'd take a look at the last year on the Hub and round up 12 of our favourite articles. There are some of our golden oldies as well as some brand new entries…
---
Favourite Resources of 2021
Food Hygiene
With the recent introduction of Natasha's law following the tragic deaths of Natasha Ednan-Laperouse and Owen Carey, it's never been more important to stay up to date with food hygiene and allergen regulations. If your business produces or serves food, you have a duty of care to ensure your consumer's safety is a main priority.
Here are our top two industry leading articles to keep you informed, including free resources to help your business remain compliant.
From October 2021, food businesses have been required to provide greater transparency around allergens under Natasha's Law. This follows the tragic death of Natasha Ednan-Laperouse after she suffered a fatal allergic reaction.
We provide all the information you need to know what Natasha's law means for your business, as well as how you can meet the new labelling requirements and keep your consumer's safe.
You can read the article here.
It's estimated that two million people in the UK are living with a diagnosed food allergy. Therefore, it's essential that food businesses do everything they can to protect their customers. A key way to ensure you are complying with regulations is to conduct an allergen risk assessment.
In this article, we outline the legal requirements for food businesses regarding allergens and how to successfully conduct an allergen risk assessment. We also provide free downloadable templates of an allergen checklist and allergen risk assessment, for your use.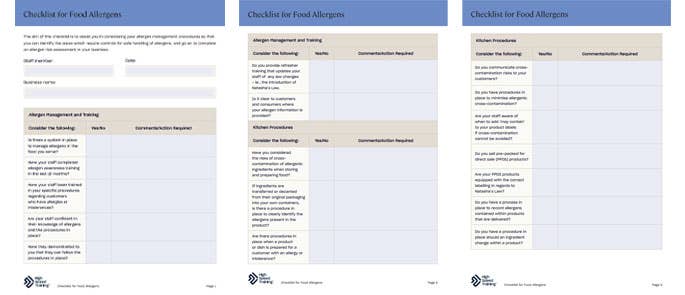 You can read the article here.
---
Health & Safety
Whether at work or in the comfort of our own home, health and safety risks can be found everywhere. For many of us, our health and wellbeing is at the forefront of our mind as we think of everything we want to accomplish in the new year, so don't let safety risks get in the way of you achieving your goals in 2022. By staying educated on health and safety measures, you can reduce the chance of accidents happening, and even potentially save someone's life.
We've written many health and safety articles over time, but here's our top two from last year to help ensure you can stay happy and healthy in 2022.
It's important for everyone to have an awareness of how to administer CPR as this may give you the ability to save someone's life. In this article, you will learn what steps you should take depending on whether you are administering CPR to an infant, child or adult. It also includes our free infographics for you to download.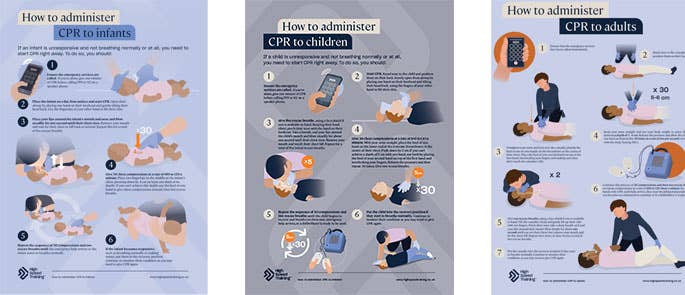 You can read the article here.
As there are a variety of high-level risks in the construction industry, it's vital to develop an understanding about health and safety. Toolbox talks aim to provide clear, actionable guidance to workers, based on subjects that are relevant to their work activities and the risks they face.
We provide examples of topics that construction site toolbox talks could cover to promote a solid safety culture, as well as providing some further resources.
You can read the article here.
---
Safeguarding
Everyone has the right to feel safe, so for those of us responsible for another's care, whether you're a parent, teacher, care worker, or childcarer, safeguarding must be a top priority. Luckily, we have resources on a variety of safeguarding topics so you can find all the information you need to protect someone's health and wellbeing.
Ranging from effective communication in health and social care, to child development in early years, here are a few of our top safeguarding articles released last year.
Early child development has a direct impact on children's behaviour, social skills, emotional boundaries, ability to form close relationships, school readiness and level of achievement, even into adulthood.
As a result, it's important for parents and those who work with children to support development in all domains. You'll find guidance on the stages of child development and tips for encouraging development in early years.
You can read the article here.
As a health and social care worker, your duty of care should be ingrained in all of your work and must be factored into everything you do.
Take a look at how your duty of care relates to safeguarding and how to demonstrate this responsibility, even when you are faced with potential dilemmas.
You can read the article here.
Being able to communicate well is central to finding out service users' needs and wishes, delivering high-quality care, and building good relationships with service users, any visitors and your colleagues. This article provides you with the knowledge you need to overcome any barriers and communicate effectively.
You can read the article here.
Through recognising, supporting and developing the skills of health and social care staff, a more stable and well-equipped workforce can emerge to deal with the demands within the industry.
Here, we look at potential opportunities for continuing professional development in the health and social care sector, and explain how to support it.
You can read the article here.
---
Nutrition
It's the time for making new year's resolutions, and we're willing to bet some of you are trying to be more healthy this year. Let's face it, it can be difficult to keep this up, so we've collected a few of our top nutrition resources to inspire you.
Whether you're looking to try a meat-free lifestyle this year, or want to start eating a more balanced and less processed diet, our articles are packed with helpful information and downloadable resources to help you start, and maintain, healthy eating habits this year.
If you're trying to be more healthy, the first step is to take a closer look at what you're putting into your body. It can be difficult to identify how the food we buy has been processed. According to statistics, more than half the calories we consume come from ultra-processed foods. But what does this mean?
In this article, with the help of a registered dietician, we take a close look at the popularity of ultra-processed foods and provide examples of them. We also outline key ways in which you can recognise ultra-processed foods, look into what they can do to your body, and whether it's possible to include ultra-processed foods into a balanced and healthy diet.
You can read the article here.
The number of people who follow a vegan diet and lifestyle is exponentially growing in the UK and worldwide. And, as it's currently veganuary, now is the perfect time to learn more about what being vegan actually entails, and to bust some myths you may have heard about this lifestyle.
Here, we look at eight of the most common misconceptions about veganism, from how healthily you can live and whether or not vegans can get enough protein, to whether they can or can't eat certain foods. We aim to expand your understanding of veganism by explaining the facts.
You can read the article here.
A nutritionally balanced diet is something many strive for – but how can we achieve this? There are many different factors that contribute to a nutritionally balanced diet, and this term is also something that might, at face value, look different from person to person and their dietary requirements.
In this article we provide a comprehensive guide to understanding the components of a balanced diet and help you to understand its importance and how you can achieve it. We also provide you with a range of balanced recipe ideas, free for your use.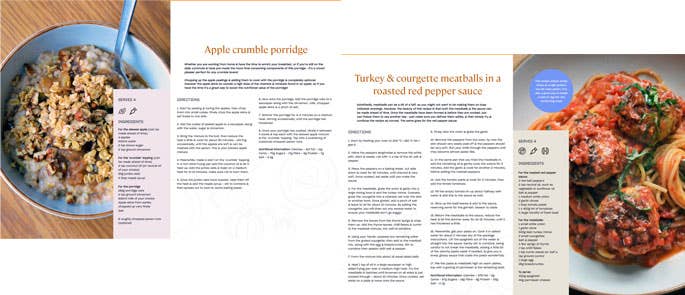 You can read the article here.
There are many great reasons to choose a vegetarian diet. For example, health, environmental concerns, reducing costs, or supporting animal welfare. Making the transition to a vegetarian lifestyle can at first seem like a daunting leap to make, but it doesn't have to be.
Whether you're vegetarian already or wanting to know more about the diet, our guide will explain the numerous benefits of a meat-free diet and what you can eat, including some recipe inspiration.
You can read the article here.
---
Choosing a top 12 from our library of over 800 resources was a tricky task. From templates, posters, guides and news, our readers engaged with a range of material spanning a variety of different topics. You can take a look at our areas of expertise in safeguarding, health & safety, business and food hygiene and decide your favourites for yourself.
---
Further Resources: