Food Allergen Risk Assessment & Checklist: Free Templates
November 15, 2021
5 min read
It's estimated that two million people in the UK are living with a diagnosed food allergy. For these people, eating out in hospitality businesses can be challenging and for some, controlling their allergy is a matter of life and death. All food businesses have a duty to protect their customers. Conducting an allergen risk assessment is a key way to ensure you are complying with regulations.
It's essential that food businesses have an astute awareness of allergens. This includes understanding how they can affect customers. It's also important that hospitality staff feel prepared to deal with any queries from customers.
In this article, we will outline the legal requirements for food businesses regarding allergens and how to successfully conduct an allergen risk assessment. We'll then look into the benefits of using a checklist to ensure you have everything you need in place. We have also provided free templates of an allergen risk assessment and an allergen checklist, for your use, which you can download at the end of this article.
---
What are the Requirements for Food Businesses Regarding Allergens?
By law, all food businesses must follow the allergen information guidance found in the EU Food for Consumers Regulation (EU FIC), written into The Food Information Regulations 2014. This means being able to provide accurate allergen information to customers. It also involves understanding how to handle allergenic foods safely. More information about these regulations can be found here.
A food allergy is an adverse reaction by the body's immune system to a specific food ingredient.
An allergic reaction can be triggered by eating even just a trace of the ingredient. The most common symptoms are an itchy mouth and throat, a red rash and swelling of the face. These are likely to occur rapidly after eating the allergenic food. More often than not, these symptoms are mild. However, in some cases, an allergic reaction can be severe and life-threatening. This is called anaphylaxis.
The 14 Named Allergens
Any food has the ability to cause an allergic reaction, however, certain foods are more likely to cause a reaction than others.
There are 14 named allergens that legally must be declared if they are used as an ingredient in a food product.
These are:
Celery.
Cereals containing gluten.
Crustaceans.
Eggs.
Fish.
Lupin.
Molluscs.
Milk.
Mustard.
Nuts.
Peanuts.
Sesame.
Soya.
Sulphur dioxide and sulphites.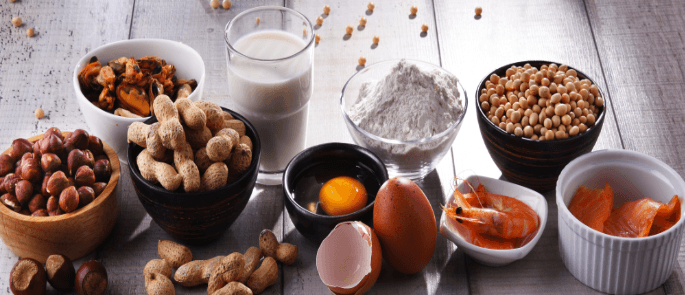 Food businesses have a duty to know what these are. This way, you can inform the customers who need to know when food products contain any one of these ingredients.
This also applies to allergenic additives, processing aids or substances that are present in the final food product. For example, if sulphites are added to a fruit pie to help preserve it, or if an emulsifier made from soya is used to improve the texture of ice cream.
It is important to understand that every person who works in the business has the same responsibility to give the customer accurate information. Whether you are wait staff or the kitchen manager, you must know about allergens and where you can locate specific guidance for the products you serve.
Allergenic ingredients can be life or death for some people, and servers have been known to be imprisoned for causing death. For a conviction under the Food Safety Act 1990 in the magistrates' court, the level of fine can be an unlimited amount. Relevant offences include: selling food not complying with safety requirements; selling food not of the nature, substance or quality demanded; and falsely describing or presenting food – all of which could potentially be relevant where undeclared allergens have been used.
To help you remember the 14 named allergens, we have a free downloadable poster to display in your workplace. You can find it here.
Food Labelling Regulations
By law, food businesses must be able to give accurate allergen information to their customers. However, the way this information is relayed depends on the product and requirements differ depending on the way the food is sold.
For example:
Prepacked foods are foods that are bought from a supplier and come in their own packaging. For example, a jar of sauce to be used in a restaurant kitchen. In this case, allergens must be highlighted in some way on the packaging – whether this is in bold lettering, italicised or in a different colour.
Prepacked foods for direct sale (PPDS) are foods that are prepared onsite and then put into packaging for sale. For example, a panini that is made in a coffee shop kitchen and then wrapped in plastic and put on display in a cabinet. As of October 2021, all PPDS food products are required to have a full ingredients list on their packaging, the same as prepacked foods.
Loose foods are foods that are sold without any packaging. For example, brownies that are available to buy at a cafe counter. For loose foods, allergen information can be provided on a menu, chalkboard or via a written notice.
Distance selling refers to food that is sold either online or over the phone. For example, a fish and chips shop or a home delivery service. The law requires distance sellers to provide information on the 14 named allergens before the food is purchased and when the food is delivered or collected.
You can find more information about the specific requirements for your business at the Food Standards Agency website, where they provide allergen guidance.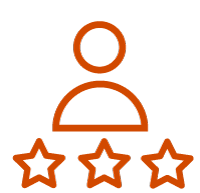 Need a Course?
Our Food Labelling Regulations Training is designed as an introduction to food labelling regulations so that businesses understand how to label their food products legally and correctly.
Natasha's Law
As of October 2021, Natasha's Law has come into effect, which requires food businesses to include full ingredients labelling on all prepacked for direct sale (PPDS) foods.
This law has been introduced after Natasha Ednan-Laperouse died in 2016 from consuming a baguette that contained sesame seeds – a substance that she was highly allergic to. The baguette, purchased from Pret a Manger, contained no reference to the presence of the allergenic ingredient on its packaging.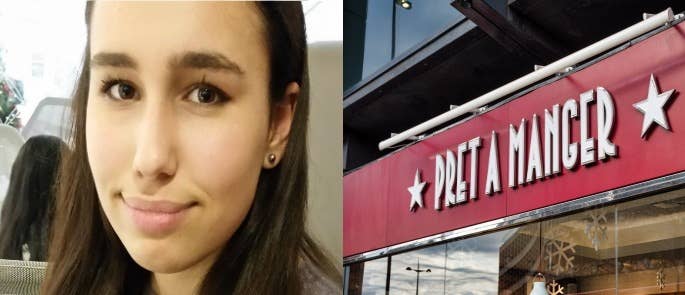 Natasha's law means that foods prepared, packed and sold on the same premises – for example, a packed on site sandwich or salad – must carry an allergen label. Businesses must also include 'may contain' allergens in the ingredients list – for example, if they cannot be certain of avoiding any cross contamination from any of the named allergens.
For more information on Natasha's Law, take a look at our article:
What Does Natasha's Law Mean for My Business?
---
Why Should My Business Use an Allergen Risk Assessment?
As a food business, understanding your responsibilities regarding allergens is crucial. However, continually monitoring your procedures is just as important. For example, all food stock that comes into the business should have its labelling checked and its own allergen profile.
This will enable you to then trace where any allergens from ingredients appear in your dishes. This allergen profile also needs checking regularly to ensure no changes have been made to the product prior to you receiving it, which may alter the allergens in a particular dish on the menu. Conducting an allergen risk assessment is a simple and easy way to do this.
An allergen risk assessment is a way of determining the potential allergenic risks in your business. It can assess whether the controls you currently have in place are efficient. It also gives you the opportunity to identify any areas that need improving in order to keep your customers safe.
What Are the Benefits of Using a Risk Assessment?
Aside from assessing the controls you currently have in place, conducting an allergen risk assessment is also a great tool for staff to use. As they are the ones preparing, handling and selling the food to customers, it's essential that they have a sound understanding of not only the risks posed by allergens, but how to prevent cross-contamination.
An allergen risk assessment can help staff to feel confident in understanding the business' procedures and answering any queries they receive from customers.
Who Should Use a Risk Assessment?
All businesses need to conduct a risk assessment to the general health and safety of the site. Furthermore, food safety is not your only potential hazard when doing a risk assessment for your kitchen or restaurant. Allergens pose a risk to customers, and as you are legally required to provide allergenic information on your products and dishes, an allergen risk assessment may be the easiest way for you to identify where allergens occur in dishes, where the risks of cross contamination are and how you can best mitigate the risk .
Every area of the food business that handles or deals with allergens can benefit from an allergen risk assessment.
In a restaurant, for example, the kitchen and storage areas will be the primary places for allergenic ingredients. However, the front of house procedures would also need assessing, along with the training and management. If the restaurant provided a delivery service, the distance selling procedures would need to be assessed, too.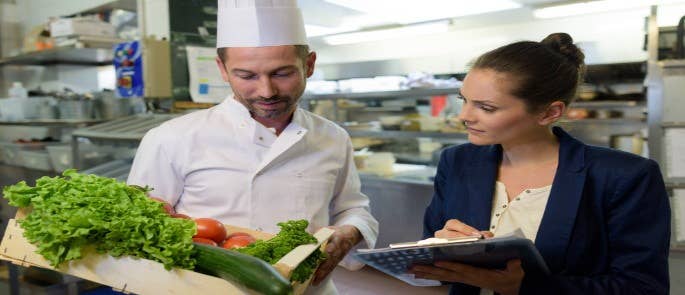 ---
What is an Allergen Checklist?
Before you conduct an allergen risk assessment, you may find it beneficial to first complete a checklist. This allows you to answer simple yes or no questions on the current procedures you have in place, and determine whether there are risks that need analysis or systems that need improvement. Once you have identified the areas which need controls for safe handling of allergens, you can go on to complete an allergen risk assessment.
This checklist would be most effective if it were split into relevant sections so that nothing is missed, and the different areas of the business aren't overlapped. Below are the sections you would need to include.
Allergen management and training
This section would broadly look at your staff as a whole and question, for example, whether they have completed up-to-date allergen training in the past 12 months.
It would also question whether your staff feel able to answer queries they may get from customers, whether they're confident in their knowledge of the business' current procedures and whether they have demonstrated that they can follow these procedures.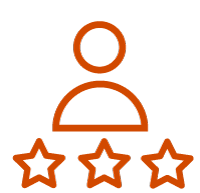 Need a Course?
Our Food Allergen Awareness Training is designed to help food handlers identify and label allergens correctly in order to keep customers safe.
Kitchen procedures
Here, you need to assess whether the controls in place are sufficient in order to stop cross-contamination from happening.
Questions would include whether the risks of cross-contamination have been considered when storing and preparing food, if there are procedures in place for preparing a dish or product for a customer with an allergy and whether cross-contamination risks are communicated to the customer.
It would also assess whether the staff are aware of when to add 'may contain' to product labels, if PPDS food products are equipped with the correct labelling in regards to Natasha's Law, and whether there are processes in place to record allergens contained within products that are delivered.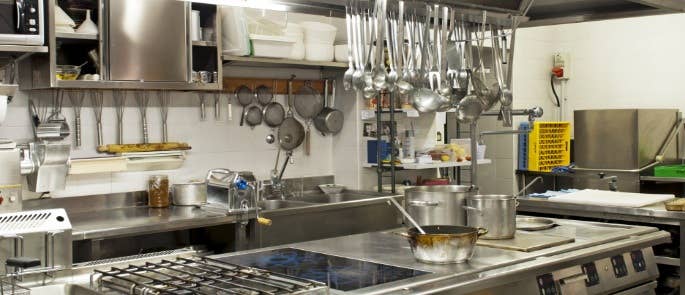 Front of house procedures
In this section, the questions would revolve around whether or not the front of house staff are equipped to answer customer queries, that they know where to find the information required and can successfully and confidently navigate serving customers with allergies.
Questions would include whether there is a procedure to advise customers on where they can find allergen information on the food served, if there is a procedure to follow when taking orders from customers with an allergy, and if the staff are knowledgeable on whether dishes can be safely altered to remove an allergen.
Phone or internet order procedures
If your food business deals with distance selling – whether that means accepting phone orders or deliveries – you would also need to include this as a section to assess.
Questions would include whether there is a website that advertises or takes orders and if so, whether the allergens are provided with each product or dish in order to comply with distance selling regulations. They would also include whether staff are trained to provide allergen information before the order is placed and at the point of delivery.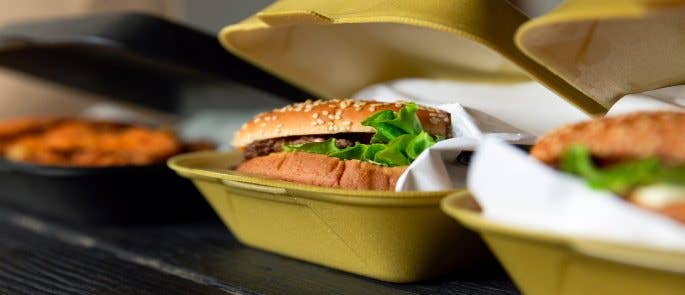 ---
How to Do an Allergen Risk Assessment
A risk assessment is a tool to manage the health and safety risks posed in your workplace. To do this, you need to think about what, in your business, might cause harm to people. You also need to evaluate whether what you are currently doing is enough to prevent the harm.
Therefore, an allergen risk assessment is something useful in order to deliver a safe, inclusive and best practice environment for your staff and customers alike.
To conduct an allergen risk assessment, the business owner or manager would need to do a full walkthrough of the business and note anything that could pose an allergenic risk. It's beneficial to divide the risk assessment into relevant sections, and we'll look at what needs to be included below, before providing you with a filled in example for your reference.
1. What are the hazards?
This section of the allergen risk assessment is for you to determine the risks. For example, this could be inadequate storage in the kitchen, where allergenic ingredients aren't properly separated from the allergen-free ones.
In our template, we have used the following example: "A spice blend used in a dish has changed and now contains peanuts." If there are any changes to a dish, these must be recorded and actioned so as to prevent any cross-contamination.
In this section, be sure to use specific language and go into as much detail about the hazard as possible to avoid confusion and the risk of not being actioned correctly.
2. Who might be harmed and how?
This section makes it clear who exactly may be at risk of the hazard you have identified. For example, using our spice example above, in this section we have written: "Customers with peanut allergies or intolerances may be harmed if they do not know the dish now contains peanuts."
This section of the allergen risk assessment is crucial to understanding the potential consequences of not actioning the hazard correctly. Again, it's important to be as detailed and thorough as you can here.
3. What are you already doing?
In this section, you have the opportunity to document what your current procedures are. You can then successfully avoid the risk that the identified hazard poses.
Continuing our example, in the template we have written: "Recording which products contain allergens and separating them from allergen-free products."
This section determines whether the current procedures are effective in eliminating the risks posed by allergens. If they are not, you have the opportunity to improve them in the following section.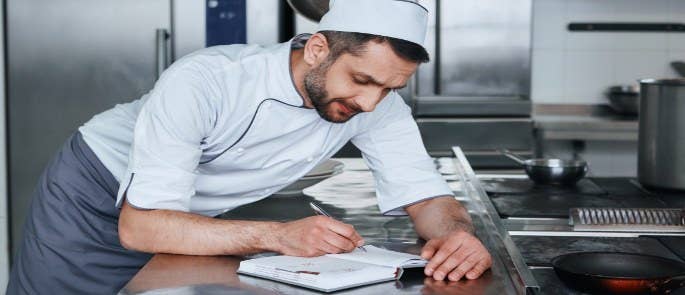 4. What further action is needed?
The last section in the allergen risk assessment allows you to put in place any further actions that might be needed to avoid the risks posed.
In our example, we have identified: "Ensure staff are aware of the product's ingredient changing."
It's important to include a section wherein the person who has filled in the allergen risk assessment. For example, the head chef or restaurant manager – can initial or sign their name. This, again, is to avoid confusion as to who has actioned any changes and to assign responsibility to whoever is putting these actions into place.
There should also be a space for the date by which any actions to be put in place are completed, and a section for the person filling out the risk assessment to declare these changes have been completed.
Below you can see the allergen risk assessment we've filled in as an example for your reference:
---
Free Food Allergen Risk Assessment & Checklist Template
As we have learnt, conducting an allergen checklist is beneficial. It gives you the opportunity to answer a range of questions that allow you to determine whether the current controls you have in place need to be improved.
We have also provided a free blank allergen checklist that you can print, fill in and take the required actions based on your findings. You can find that here:
Equally, an allergen risk assessment is a useful tool that allows you to deliver a safe, inclusive and best practice environment for both your staff and customers. It is divided into relevant sections that allow you to identify anything that could pose an allergenic risk, determine who could be harmed by this, document your current procedures and complete any required actions.
You can conduct an allergen risk assessment by doing a complete walkthrough of your business and noting down anything that could pose a risk to either your staff or customers.
We have provided a free blank risk assessment template for you to download, print and use in your business. You can find this here:
---
We hope you've found this article on allergen risk assessments and checklists informative and helpful. If you have any questions, or need further information, please don't hesitate to get in touch!
---
Further Resources