What Skills Do You Need To Be a Chef?
October 16, 2019
5 min read
Choosing to start a career as a chef is something anyone can do at any time in their life. With the hospitality industry continuing to grow year on year, there remains a high demand for skilled chefs and the requirements for you to get started may not be as tough as you anticipated.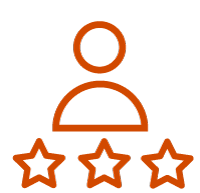 Need Food Hygiene Training?
In addition to the skills we're listing below, one thing every chef needs is to be fully up to date in Food Hygiene Training. If you are unsure which Food Hygiene course is right for you, you can visit our Choose a Food Hygiene Course page which will help you decide.
Nowadays there are so many different dining experiences available, from fine dining experiences, high street restaurants, to grab and go eateries, covering all sorts of traditional and fusion cuisines. Becoming a chef opens up many diverse paths, you aren't limited to one cuisine type or establishment. This means you can be master of your own career direction, something which appeals to many budding chefs!
---
What Are the Requirements to Become a Chef?
Anyone can become a chef, but if you are just starting out you must get some experience of working in a kitchen to put on your CV.
It could also be beneficial for you to obtain a qualification. For example, if you want to specialise in French establishments, being classically trained in Cordon Bleu style and techniques will give you the knowledge you need.
The good news is, there are lots of ways you can do this:
Work – Many establishments are willing to take on school leavers. You would start your training path as kitchen assistant or trainee and work your way up the kitchen hierarchy.
Apprenticeships – You can also work and learn at the same time. An apprenticeship will usually begin at an intermediate or advanced level. You will need to have some GCSEs to gain an apprenticeship, usually at least English and Maths as well as 3 others at grade 9 to 4 (A* to C).
College – If you have your GCSEs and would like to study professional cooking – also called Culinary Arts – there are college courses you can enrol on. You will usually need at least 5 GCSEs for a Level 3 course. For a Level 4 course you will need to have previously passed a Level 3 course, have relevant experience, or at least 1 A Level.
University – The next level of study would be a university degree. Most universities offer a foundation degree, which is 2 years, where you would then complete a 'top-up' course to convert this into a BA degree.
Culinary School – There are numerous schools you can attend to gain a qualification. Culinary school will teach cooking techniques from masters, often whilst using the latest, high-tech equipment and methods. They can also be invaluable in providing contacts and a network of support.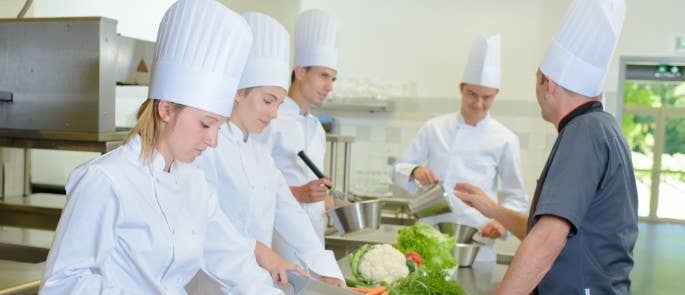 If you apply for a more senior role, all establishments will want to see that you have experience of working in kitchens. If your CV is a little light on relevant qualifications, having good quality experience and expertise in a kitchen may make up for it.
Working in a kitchen can be as challenging as it is rewarding and you must be prepared to work hard. Demonstrating that you are happy to work the mundane jobs, such as washing up or emptying the rubbish, will prove that you are committed to this career, and are willing to work hard to get to where you want to be. When you are more established in your career, these experiences will help you mentor and manage new starters.
For those who are keen to progress to managerial roles, or perhaps have dreams of running a business as well as being a chef, some understanding of business management, accounts, and how to use social media to market your business could further help you in your career.
Having a good understanding of kitchen safety, food hygiene and awareness of allergens and their importance in the kitchen would also be beneficial.
---
Top 10 Skills Needed to Become a Chef
No doubt, you need to be able to cook, but being a chef is more than putting food on a plate. You also need to develop and master some key skills. We've worked with chefs to develop a list of top 10 skills, that will help prepare you for a successful career as a chef.
1. Willingness to Learn
Becoming a chef can be a hands-on learning experience, and like they say, practice does make perfect. You must master flavours and techniques of different dishes which can take time and a lot of energy. In order to become a great chef, you will need to be open to constant learning.
2. Genuine Passion
The life of a chef is demanding as the busiest working days are often those when other people are out celebrating – Christmas, Valentine's Day or Mothering Sunday to name a few. Therefore you must have a real desire to be the person who makes other people's dining experiences special. Protecting and encouraging your passion for all things culinary will keep your artistic flair alive, and help you enjoy your work.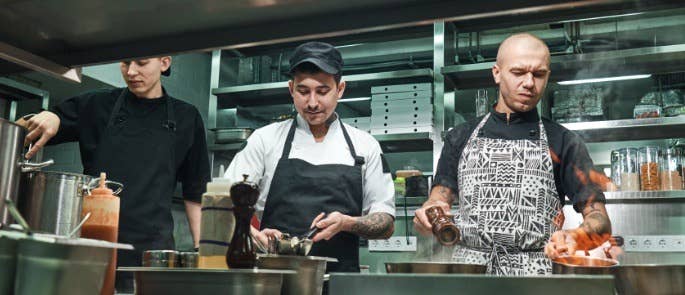 3. Organisation
We know that kitchens can be a very busy environment to work it, and so it is essential that you have the ability to always work clean and tidy. This skill is key to Chef Seán Hughes:
 Work clean and tidy. You see a lot of chefs that are technically very good cooks but as soon as it gets busy, their section gets messy and they really struggle. If your section is a mess then your brain will be too.
Seán Hughes, Sous Chef at Shears Yard, Leeds.
Take the time to tidy up as you go so that you don't get overwhelmed in your section, wipe your surfaces down and put everything back where it belongs. Stay organised to stay in control. As you progress in your career, having excellent organisational skills will ensure you manage staff effectively and help you to control every aspect of the kitchen, from the flow of work to the plating of dishes.
4. Ability to Skilfully Multitask
There can be many elements of food on one plate to make up a complete dish. Now think, that plate belongs on a table with three other mains, plus sides. If that table had starters as well, that's possibly four other previous dishes that need factoring in to how and when this one dish comes together. Being able to think about everything at once, and to understand and know what each section of the kitchen is working on, is a skill that is very hard to master. A Head Chef will be able to do this very well, they will also understand and know what the customers are experiencing, and what the front of house team are doing at any point during service.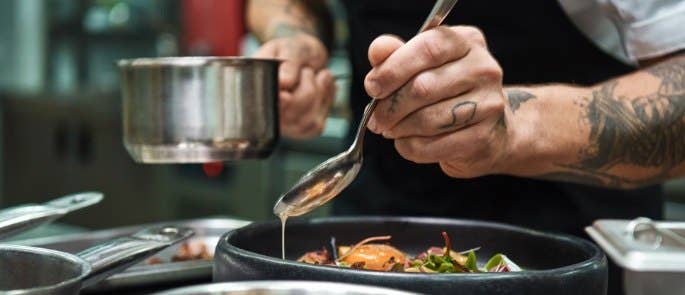 5. Creativity
Becoming a chef involves more than just following a recipe. A chef will be creative in terms of putting a menu together, how the dish looks on the plate, and how it tastes to the customers. They will also be creative in planning how the kitchen works. Some chefs will even take charge of décor, tableware and seating arrangements in the restaurant. The creative reputation of a chef is often what brings customers through the door, so don't be afraid to experiment with your creativity!
6. Time Management
Our sixth skill comes from Victor, who has over fifteen years' experience as a classically trained chef before setting up his own business in commercial kitchen design. Victor highlights the importance of time management; he says this skill has been additionally beneficial to him outside the kitchen.
 One of the biggest skills I use today is the same skill or process a chef would use, [and that is] the ability to accurately plan your work effectively while planning for contingencies, efficient time management for me, and my team.
Victor Cardamone, owner of Mise Designs, Pennysylvania.
7. Teamwork
The professional kitchen can be a melting pot of people, with many people from different backgrounds coming together through a shared love of cooking. Being able to both work and get on well with your team is an essential skill for a smooth cheffing career. Being a chef in a kitchen is like being a cog in a machine, every person has a role to play for the success of the service. You and the rest of your team have to work together well in order to deliver this.
8. Leadership Skills
As well as being a team player, experienced chefs should know how to lead the team, and get the best out of them. The Head Chef has the responsibility for the kitchen, and so they have to be able to give direction and have it followed immediately. At the same time, they need to maintain an upbeat atmosphere in the kitchen. They may also need to mentor and coach junior staff members during service, whilst ensuring everything runs smoothly.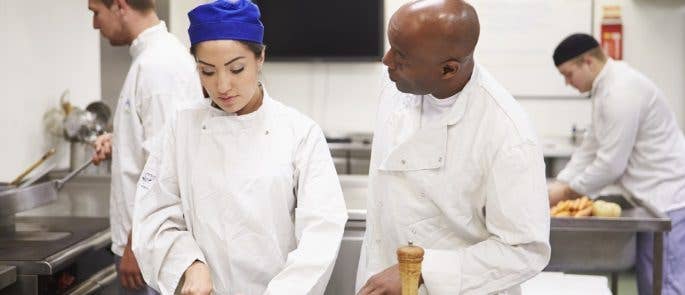 9. Resilience
Chefs will frequently receive feedback from other chefs, colleagues and customers on the food they produce, and not all of the feedback will be positive. You need to be able to handle criticism, look at it honestly and decide whether or not it is valid. Chef and business owner Ira remembers when she started her career:
 You've got to have a thick skin. When I started out it was tough as there weren't many female chefs. It's obviously improved since then […] Luckily, I am quite naturally resilient.
Ira Silverman, owner of Ira B's Snack Bar & Catering Service, Leeds.
10. Stamina
This skill might surprise you but chefs need to have an excellent level of physical and mental fitness. Working in a kitchen can be very physically demanding – working long shifts on your feet in hot temperatures and without many breaks – is tough. On top of that, the mental energy required to cope with the pressure and be on top of your game, your section and your kitchen, can be huge. An experienced chef will have excellent stamina to remain focused and consistently produce dishes for customers.
---
Remember, skills like these can take a lifetime to perfect so don't worry if this list doesn't sound like you… yet! Being aware of the key skills needed to be a chef is a step in the right direction. Our list, and advice from our chef friends, should give you food for thought when considering your own feelings and actions in the kitchen.
---
What To Read Next: