What is a Method Statement & How Do I Fill it in?
May 1, 2019
6 min read
There is a lot of confusion around method statements and what you should actually include in them. Firstly, you should be aware that they may be referred to by a different name, including safety or work method statements or a plan of work. All of these documents refer to the same thing, but method statement is the most popular choice of phrasing.
You may also come across risk assessment method statements (RAMS), which simply refers to the two interlinking documents of a risk assessment and a method statement.
Aside from understanding what it might be referred to, it's crucial to know what a method statement is, when you might use it, and how to complete it. This article will clarify this information for you, so you can implement a method statement in your workplace. We also include a free method statement template so you can apply the steps given throughout the article to your own work.
---
What is a Method Statement?
A method statement is a type of health and safety document that people usually use for high-risk work. It describes the steps (method) that workers must take to carry out a particular job safely. Primarily, they are for the benefit of those who will physically be carrying out the work, usually those working in the construction sector.
The document should identify the potential hazards that may arise during a particular task and outline the necessary precautions that must be put in place and taken by workers. The statement must be as simple as possible to avoid any misinterpretations that could result in injury. Everyone involved in the work should read it, understand what is expected of them and follow the measures that are in place to keep them safe.
Method statements aren't necessarily just useful for those physically working on the job. Often, clients require the documents during the tender process, particularly in the construction sector. This allows a company to understand more about an organisation and determine whether they want to enter into a business partnership for a project. A comprehensive method statement will present your company as committed to safety and able to offer a high-quality service.
---
Who is Responsible for Writing it?
Whoever is overseeing the team or job is typically responsible for creating the method statement, as well as ensuring that all workers have access to a copy. This person must be competent and familiar with the working procedures that will be taking place.
You may find it beneficial to carry out a method statement if you are:
Self-employed. Being responsible for your own business means you may need to take extra precautions. It is important that you understand the risks and exactly how the work is going to be carried out.
Carrying out work that is high-risk. For example, operations that include working at height or the use of plant.
Carrying out work that is complex or unusual. This depends on the particular task but could include certain types of lifting operations or demolition.
Responsible for conducting risk assessments as part of your job role. The method statement is another way of ensuring precautions are taken to reduce avoidable job-related incidents.
Working with electrics. If your work involves connecting, cutting, fitting or running a new supply, a method statement can help you think carefully about the risks involved. Electricity can be fatal so it is always better to take precautions, regardless of the size of the project.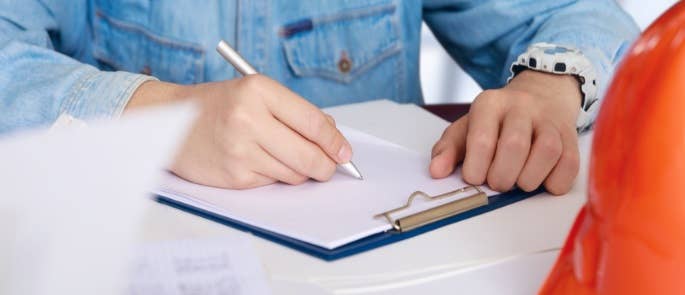 ---
How Does this Differ from a Risk Assessment?
A method statement may sound the same as a risk assessment but they do differ. Most importantly, a risk assessment is a legal requirement, while a method statement is not. This means that you can't just do a method statement instead. The abbreviation 'RAMS' to refer to both of these documents shows how they complement each other well. A method statement is typically completed after a risk assessment because it uses the findings, such as all the risks identified during the assessment, and outlines the control measures that are needed.
How Does this Document Relate to a Permit to Work?
As with the risk assessment, a permit to work is a document you are likely to complete if you are responsible for creating the method statement. Both method statements and permits are recommended for work that is considered to be high risk. This includes, but is not limited to, working at height, working in confined spaces, lone work, asbestos, hot work and the use of dangerous plant.
Essentially, the permit is a risk management plan that authorises particular people to do certain types of work within a specified time frame. It outlines what assessments have been carried out, the potential hazards that remain, and what procedures have been put in place to ensure worker safety. The Health and Safety Executive (HSE) website states that the permit to work should describe the work that will be done and how it will be done, but that the 'how' aspect should be expanded on in your method statement.
---
To see an example of how to create a permit to work, take a look at our article on What is Hot Work & Do I Need a Permit?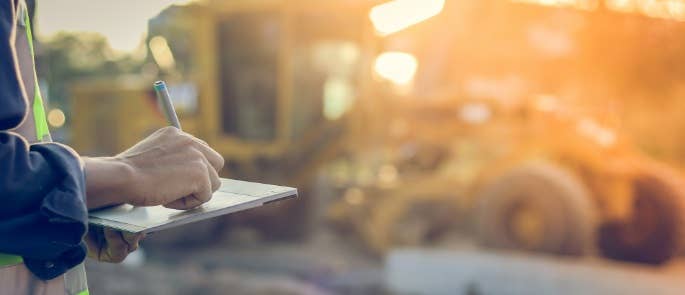 ---
What Do I Need to Include in My Method Statement?
It is important that you keep your method statement as short and simple as possible. In certain cases, you may wish to also include diagrams if they would be useful for workers to follow. As your method statement is likely to be viewed by clients as well as workers, you should start your document with important general information as an introduction to the project.
Part 1: Basic Information
This is likely to include:
The name of the project and its reference.
A brief summary of what the work is.
Where the work is taking place (address).
Start and expected completion dates for the work.
The issue date and the unique document number.
Details about the company carrying out the activity. This should include their name, address and contact details.
Named health and safety contacts.
Part 2: Further Information
Having outlined the basics, you can then include (where applicable):
First aid procedures, including the qualified first aider on site.
Work permits such as the Permit to Work and any other legal requirements.
Staff training that may be required.
All equipment that will be needed, such as scaffolding, plant, etc.
Personal protective equipment (PPE) needed.
The arrangements that are in place for the disposal of waste.
Part 3: Identifying & Managing Risks
This section of the method statement should be the most thorough and detailed. It must clearly outline what hazards will be present during the work. Considering these risks, you must give step-by-step instructions as to how the task should be carried out. These control measures make sure all workplace practices are carried out safely by everyone.
For example, to minimise the risk posed by asbestos, workers should use asbestos task sheets.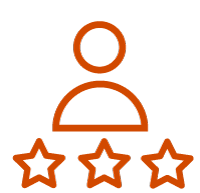 Need a Course?
Take a look at our range of Health & Safety Courses where you'll find everything from Working at Height to Asbestos Awareness.
---
Free Method Statement Template
We have created a method statement template that you can download and use by clicking the button below. It clearly specifies what information is required and will help you to establish the necessary steps to complete the job.
---
What to Read Next: