Careers in Hospitality and Catering
July 17, 2023
5 min read
The hospitality sector employs around 1.8 million people in the UK and generates around £40 billion annually. Working in the hospitality sector can be highly rewarding and can help you develop incredible skills. There are different ways you can secure a position in the industry and a multitude of roles to choose from.
In this article, we will outline the careers available in the hospitality and catering industry and explain some of the skills that may be required. We will also provide you with some guidance and advice on how to secure a job.
---
What Jobs are in the Hospitality and Catering Industry?
The hospitality and catering industry is vast and includes businesses such as bars, restaurants, hotels and clubs. There are plenty of job roles to choose from, for example, you could work as front of house staff, in a management role or behind the scenes as a chef or technician.

Careers in hospitality and catering include:
Servers – duties include taking food and drink orders, serving customer orders and taking payments.
Chefs – responsible for creating and updating menus, preparing food and ordering stock.
Hosts – this entails taking reservations, greeting customers and seating them.
Cellar technicians – installing and maintaining drink systems in bars, pubs and restaurants.
Food suppliers – duties include taking stock orders and delivering to organisations.
Cleaners – this involves cleaning businesses, including bars, restaurants and hotels, to a high standard to ensure cleanliness and hygiene.
Kitchen assistants – sometimes referred to as a 'dishwasher', a kitchen assistant is responsible for helping prepare food and cleaning the kitchen.
Hospitality critics – this entails assessing hospitality businesses and publishing reviews about them.
Inspectors – responsible for ensuring businesses are safe and healthy, and that they meet the necessary requirements.
Food factory workers – required to prepare food that will be delivered to hospitality businesses.
Porters – this is a common role in hotels, duties include carrying customers baggage to their rooms, valet parking and room service.
Event planners – responsible for arranging events to customers wants and needs, this often involves liaising with others in the business such as managers, chefs and servers.
This list is not exhaustive and the career opportunities within the catering and hospitality sector are endless. Finding the right role for you involves one that suits your needs, skills and abilities, as well as challenging you.
Management Roles
There is also the opportunity to further your career in hospitality and catering by entering a management position. This can involve supervising staff, making shift rotas, schedules and being responsible for day-to-day running of the business. There are clear routes of progression too; for example, if you start as a server, you could step up to be a bar or restaurant manager. If you start as a kitchen assistant, you could become a chef then a sous chef, or a head chef.

---
Benefits of Working in Hospitality
As with any role, in any sector, there are positives and negatives associated with working in the hospitality industry. It is helpful to be aware of them so that you can make an informed decision about whether it will fit with your wants and needs, and if it is the right sector for you.
Some of the benefits of working in the hospitality and catering sector include:
Building on your skills
Depending on the role you undertake, you will develop extensive skills. This includes, and is not limited to, teamwork skills, excellent communication skills, cash handling skills, time management skills and organisational skills.
Flexibility of hours
Most hospitality and catering jobs will come with a range of hours, in comparison with a 9-5 job. You could work the morning shift, day shift or evening shift depending on the business you work in.

Variety of roles
There are many different roles available in the hospitality industry, meaning you can change your job to suit your needs. Also, the skills you develop in one role will often provide you with transferable skills that will help you secure a different role within the industry.
Opportunity for advancing
Career progression in the hospitality industry means you can gain more responsibility as you go. Starting at an entry level position, such as waiter or dishwasher, you can build on your knowledge and skills to become a chef, supervisor, manager or even to start your own hospitality business.
As with any job, there are some challenges and potential negatives. Despite having flexible hours compared to a normal 9-5 job, many hospitality businesses will be open late and open on weekends, meaning you could be working unsociable hours. It is also a high-pressure environment that is very fast paced, so a level of resilience and being able to cope under pressure is required.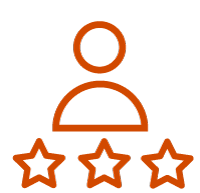 Looking to Learn More?
Our Food Hygiene courses and Food Allergen training course will help you to build your knowledge and skills on important topics in the hospitality industry.
---
How to Get into the Hospitality Industry
Careers in hospitality can be highly rewarding and even if you don't have experience in the sector, you can still pursue a role. There are a few ways you can get into the industry and steps you can take to increase your chances of getting a job.
Before applying for a job, it is helpful to figure out what sort of role you are best suited to. Would you like to work in a hotel? Or would you prefer shifts in a restaurant? Knowing which business you would prefer to work in will help you identify a role you would like. Do you enjoy preparing food? Or are you more of a people person that would like to interact with customers? Identifying the role you would like to be in can help you know what steps you can take to stand out from others when applying for a job.
Upskilling yourself through online courses, classes and volunteering can help you develop desirable skills that employers will be looking for, too. For example, building on your knowledge of food hygiene, customer service skills or leadership and management can make you stand out from others that may be applying for the same role.
Tailoring your CV and cover letter to the role you want will also help you secure a position. Highlighting the skills and experience that you have which are relevant to the role you are applying for will increase your chances of being selected. Customer service, time management and communication skills are all important for jobs in the hospitality industry. Read the job specification and identify the desirable skills they are looking for, this will help you know what to include in your CV. This may mean altering your CV and cover letter for each job that you apply for.

It is also important to thoroughly prepare for your interview. Take a look at our articles on the questions you may be asked when interviewing to be waiting staff, a bartender or a chef for more guidance.
If you don't get offered your dream job straight away, accepting a position in the industry will still help you gain experience while you continue to search for your perfect role. To get started, take a look at the current job advertisements in your local area.
---
We hope you have enjoyed reading this article and have learnt about the variety of rewarding jobs available in the hospitality and catering industry. If you have any further questions or wish to find out more information on the topics covered in this article, please don't hesitate to get in touch with us at High Speed Training!
---
Further Resources: