Interview Questions for Bartenders
September 19, 2019
6 min read
Being a bartender isn't everyone's drink of choice, as the unsociable hours and hectic atmosphere is often hard work. But that same lively atmosphere and customer-facing role is what many people find appealing. Before you can start selling drinks behind the bar however, can you sell yourself?
Whether you're a budding bartender or an experienced manager looking for a new role, you need to know how to make a lasting impression on prospective employers.
This guide will give you an idea of the types of interview questions they may ask you and what answers they're looking for.
The contents of this article are: 
Use the links above to jump to each section of the guide. 
---
Interview Questions for Bar Staff
Great bar staff know that their role is about providing an excellent experience to customers as much as it is providing drinks. Your potential employers are looking for evidence in your responses that you fit this bill. So, knowing how to prove you do will give you the edge you need to stand out from the crowd.
Here are 8 possible interview questions for bartenders and what your answers should cover
Question: How do you feel about working flexibly and generally unsociable hours?
Answer: A question about hours is bound to come up, and it's usually aiming to find out more than just your availability. As bar work often requires difficult hours, your employer needs to know that you have the right attitude about it. If you were to frequently work late nights or over holiday periods with visible frustration, this can rub off onto customers and other staff.
Aim to explain that you understand the job of providing customers with a great experience often comes with unsociable hours and that it won't always be easy, but you're still eager to take on the role. Elevate your answer by talking about any past experiences you have working flexibly.
Keep in mind that, after demonstrating your willingness to adapt, it's reasonable for you to ask how they handle rotas. Establishing mutual respect for your and their needs will ensure you get things off on the right foot.
---
Question: Can you tell me why it's important to practice measured pouring?
Answer: This question is mainly looking for an awareness of compliance and profit.
Firstly, they want to know whether or not you understand correct alcohol terminology. This includes weights, measures, and units. Use this opportunity to demonstrate your knowledge of licensing law as well as how units relate to driving limits. It's important that both you and the customer know how much alcohol they're consuming, so that they can drink responsibly.
They're also testing your knowledge about profitability. Your answer should demonstrate an awareness of sales versus stock. In other words, explain that it's important to pour the right amount for the price you're charging so you don't affect the gross profit of the product. Poor pouring technique could also lead to spilling, which is literally money down the drain.
---
Question: What would you do if you suspect an underage person is using a borrowed or fake ID?
Answer: This question is testing your knowledge of compliance and how you'd react to the situation. Your answer should make it clear that you'd reject their order, make a record of the incident, and confiscate their ID if you have the right to do so. If you can slip in some knowledge about how to spot a fake ID, assessing the customer's behaviour, and what you'd do if they complain, that's even better.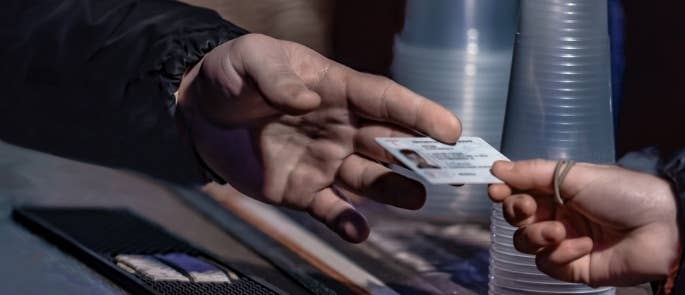 Explain that you'd look out for missing or incorrect images and layouts, as well as suspicious behaviour that suggests they may be using a fake ID. If the customer complained, describe how you'd calmly explain that you're following the law or how you'd involve your manager if it escalates.
---
Question: It's 10.30pm on a Monday evening and you're open until midnight. You've not sold a drink for over an hour, you're in charge, and you've got somewhere to be straight after work – what would you do?
Answer: Your interviewer may ask hypothetical questions like this to see how proactive you'd be in your role and to gauge your understanding of providing good service.
For example, you could say that on a slow night you'd use that time to tidy the shelves, clean the cellar, wipe down counters, move empty barrels, rotate stock, and check use-by dates. Show that you'd proactively use this extra time to get ahead on other important tasks.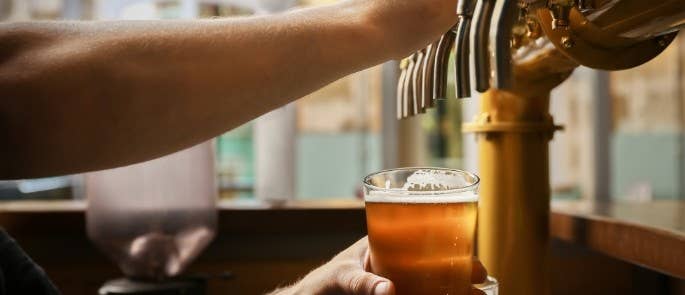 You'd also want to give an answer that shows you are not just following the rules because you have to, but because you recognise the importance of it for your business's success.
Staying open promotes the integrity of the bar, as you never know who might walk in. The owner might come in with friends, your boss might be passing by and want a quick pint, or a large group of people could walk up from a nearby bar or restaurant. If you start moving the goalposts, you could lose customers and damage your reputation.
---
Question: Tell me what you'd enjoy about this job.
Answer: This question is aiming to test your attitude about the work. Be honest in your answer – people can tell when you're not genuine. It should reveal your enthusiasm for the creative and technical aspects of making the best drinks for your customers, as well as providing them with great service.
Use this opportunity to show that you have a flair for bar work and a real interest in the job. That's not to say you have to pretend to like everything about it – no one really loves cleaning. You want to explain that doing everything you can to give customers the best service possible, and contributing to the success of the bar, makes the work fulfilling to you.
---
Question: What would you do if you needed to stop serving a drunk customer?
Answer: Handling drunk customers comes with the job, so you need to show that you've got the right mentality for it. Not only that, but it is against the law to knowingly sell alcohol to someone who is drunk, so this question is also checking for knowledge of licensing laws.
Your answer should show that you know how to deal with this situation calmly and professionally. Suggest ways that you could try to sober them up, such as by offering food and water. Asking their friends to help is also an option here.
If you decide to stop serving them, let them know that you're doing your job to look after everyone and can't serve them any more alcohol. You could even offer to call them a taxi to make sure they get home safely. Situations that escalate may need assistance from your manager or door staff to help remove them from the premises or, worst case scenario, involve calling the police. Remember to never put yourself in danger – you should always have a second staff member nearby
---
Question: What do you think is the most challenging aspect of bar work?
Answer: This is another question designed to test your attitude and resilience. Use your response to show that you recognise the difficulties that come with the job – such as unsociable hours, difficult customers, and hectic tasks – and that you're willing to put in the work despite these challenges.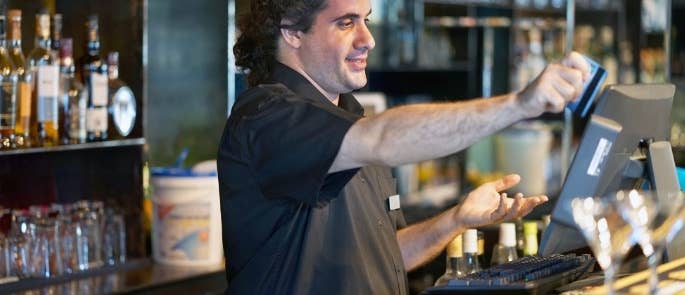 To make yourself stand out from other applicants, give real examples of how you'll overcome these difficulties. For example, if you struggle with learning all the ingredients for different types of drinks, explain what you'd do to practise and improve your skills. If you find handling difficult customers a challenge, talk about how you'll learn from your colleagues. The more actionable your answers, the better.
---
Bar Manager Interview Questions
Whether you're working your way up to a manager position or transferring your skills to a new company, you need to know how to sell your expertise. With more responsibility on your plate, being a bar manager isn't a role assigned lightly.
Let's look at 5 common questions you may get asked and how to answer them well.
Question: How do you effectively organise bar staff shifts?
Answer: Organising people's shifts is an important responsibility, so you need to show an awareness of how you'll do it efficiently. Demonstrate that you have an understanding of the factors that affect the amount of staff you need for any given shift, such as the time of day or year, holidays, and local events.
Your answer should also explain how you'll get to know your team and identify your 'aces', as well as use this understanding to base shifts on staff members' strengths and weaknesses. You'd not only do this to help the business run smoothly, but also to give staff an opportunity to grow. This shows a balanced recognition of what is best for the bar: business as usual and managing a skilled team.
---
Question: What do you do to effectively organise stock?
Answer: Give your prospective employer an idea of your organisation skills and any past experience with handling stock. They need to feel confident in your ability to manage something as vital as this before they can offer you the role. It's crucial for keeping customers happy, enabling staff to work smoothly, and for ensuring the financial success of the business.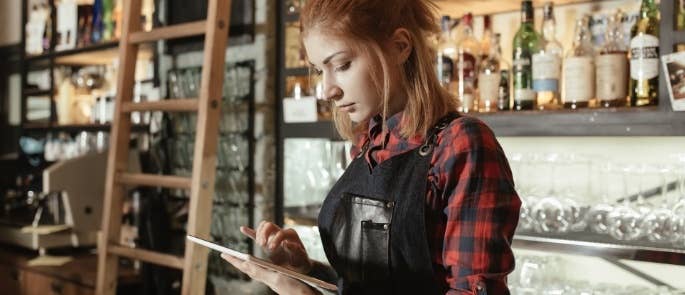 In your answer, you should discuss the methods you'd use for keeping an accurate inventory and keeping stock rooms organised. Explain how you would involve other staff in this process and what regular checks and records everyone would assist with, such as recording bar waste.
---
Need to brush up on your knowledge? Familiarise yourself with Stocktaking Methods and why they're so important.
---
Question: What would you do to help your bar keep up with trends?
Answer: One of your duties as bar manager may be to investigate ways of keeping your bar ahead of the curve. It's a fast-paced industry, after all. Depending on where your bar is located, you could be competing with others for the attention of your customers.
Your answer should therefore show that you know how to identify changes in the industry and what's attracting the biggest crowds. Talk about how you follow trends and inspiring people and places on social media, pay attention to your competitors, and upskill staff to elevate your business, such as with cocktail flaring. Having an awareness of wine vintages and bar awards also shows how much you keep an ear to the ground.
---
Question: You're doing a stock check and realise you've got surplus product (such as an extra 3 cases of wine). What do you do?
Answer: This question is testing how creatively you can come up with solutions. If you can demonstrate that you're able to think outside the box to problem solve then the bar will be keen to have you on board.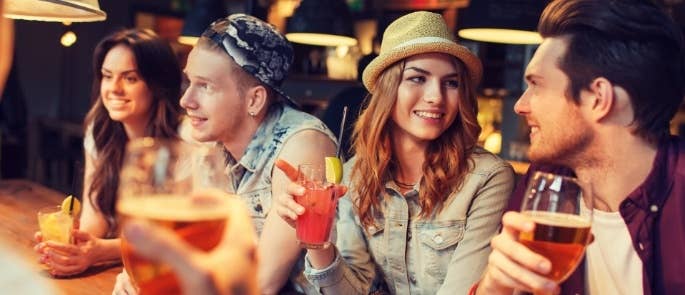 For example, a strong answer to this scenario would be using the opportunity to create a promotion that attracts new customers to the bar and actually increases sales. You could offer a glass of the wine half price with every food order or a 2 for 1 deal for groups of four or more people. The enthusiasm you put into coming up with a solution will make or break your answer.
---
Question: What questions would you ask bar staff when you're involved in hiring?
Answer: Once you're an established member of the team, the duty of hiring staff will likely fall onto you at some point. Being able to assess an applicant's competency and attitude is a skill that not everyone possesses. If you can demonstrate that you do have this ability, it'll show that you're capable of helping the business invest in its future.
Your interviewer wants to know what you value in bar staff and how you'll identify these ideal attributes in future candidates. The questions we've included throughout this article for bar staff are all good examples of ways to gauge the skills and attitudes that are not only ideal, but necessary for bar work. Have a look through the previous section to see the kind of answers that reveal if a candidate is full of potential.
---
What Should I Wear for the Interview?
As with most interviews, it's important to look smart. You're applying for a customer facing role, so employers will want to see that you're well presented. Attention to food and personal hygiene are paramount in the industry and you can demonstrate your adherence to this by:
Tying long hair back
Grooming facial hair appropriately
Removing jewellery – except a plain wedding band
Keeping nails clean and tidy, free from nail polish
Avoid wearing overpowering aftershave or perfume
Back to Interview Questions for Hospitality Staff
---
Interviews for bar work can feel daunting, as selling yourself is a lot harder than selling a drink. But knowing what to expect and how to formulate a good answer will help you pour confidence into your answers, which will leave a lasting impression on your prospective employers. Be genuine in your responses, do your best, and good luck!
---
What to Read Next: