How to Prepare for an Environmental Health Home Kitchen Inspection
August 21, 2019
5 min read
If you're running a catering business from home, you are subject to environmental health inspections just like all other food businesses. EHOs can visit your kitchen at any reasonable time to check that you're complying with food safety law, and can issue notices that legally require you to take action if you're not.
So, how prepared are you for their arrival?
We've created this guide and a free downloadable checklist to help you determine whether you have a suitable food safety management system in place. It'll help you to ensure your home-based food business is always putting safety first and ready for an EHO inspection.
---
What is an EHO Home Kitchen Inspection?
Whether you're running a takeaway, selling cakes, or selling pre-packaged food from home, environmental health officers (EHOs) need to inspect your home kitchen to determine whether you're carrying out food operations safely and legally. Food operations include storing, handling, preparing, cooking, selling, and distributing food.
EHO home kitchen inspections are therefore based on three key areas: how hygienically you handle food, your food safety management procedures, and the physical condition of the premises.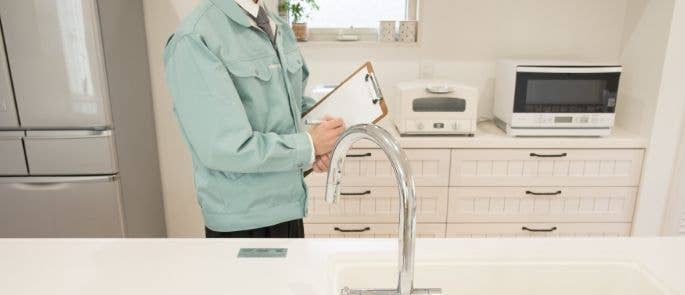 Every business that prepares and distributes food commercially is required to follow food safety law – from restaurant chains to budding businesses at home. You need to ensure that the food you sell to customers is safe to eat, or you will be held responsible.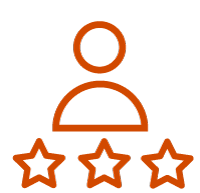 Need a Course?
Our range of Food Hygiene Training Courses aim to provide you with the required knowledge to carry out your work whilst meeting food hygiene requirements. You can also find our Food Allergen Awareness Training and Food Labelling Regulations Training.
---
How Do I Prepare for an EHO Home Kitchen Inspection?
Whether it's a kitchen inspection for home baking or for the preparation of ready-made meals, EHOs will examine your food preparation activities and your work environment during their visit. They are aiming to identify whether you have all the appropriate procedures and equipment in place to cook and sell food from home safely.
However, EHOs will also want to see evidence that you follow best practices at all times. How you work on the day of the inspection is not enough to prove how you work every other day. This is why food safety records, such as your HACCP documents, are so important for demonstrating due diligence.
The exact details you require will depend on the type and quantity of food you make. However, they will always check certain key areas of your kitchen.
According to the FSA, during a home kitchen inspection EHOs will assess the following:
Food Handling Practices
This includes how you prepare ready-to-eat and cooked foods, use of colour-coded equipment (like cutting boards), how you heat, cool, and defrost food, allergen awareness and labelling, cross-contamination prevention, and how you use probe thermometers.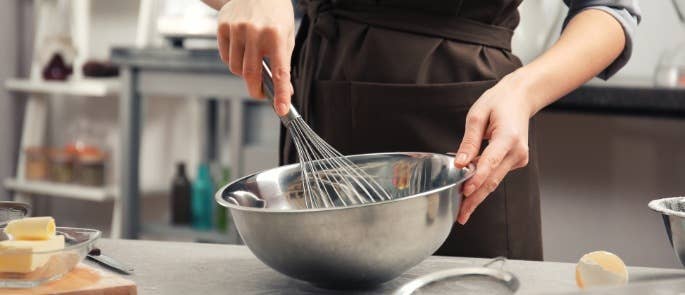 Personal Hygiene
Personal hygiene includes wearing appropriate protective clothing, washing your hands correctly, having appropriate basins for hand washing, and suitable toilets and changing facilities. Your bathroom must not connect directly to your kitchen.
Food Storage
The EHO will check how deliveries are handled, how you store food, use-by and best-before dates, stock rotation, and the condition of your fridges and freezers.
Food Rooms and Equipment
For example, the condition and cleanliness of food and hand contact surfaces and equipment. You also need to demonstrate evidence of cleaning as you go, appropriate use and storage of cleaning chemicals, and safe use of cleaning cloths.
Pest Control
EHOs will look for any evidence of pests in your home. They'll assess what measures you have in place to prevent pests from entering and accessing food. This also includes how you manage food safety risks posed by any pets you have at home. You must keep them out of the kitchen when preparing food that you're going to sell.
Waste and Laundry
This includes where you store waste and how you wash laundry. If your washing machine is in the kitchen where you prepare food, you must not run it while doing so.
Checks and Record Keeping
You need to show evidence of food safety checks in your records, such as ensuring the fridge temperature is at 5ºC or lower each day. Your records should also show information about how food is supplied to you and how you ensure it's safe. For example, by checking that the delivery van's temperature for chilled food is at or around 5ºC.
Other Areas
EHOs may also assess other aspects of your home kitchen, such as fire safety and first aid. Make sure you have working smoke detectors, a suitable fire escape route, and well-stocked first aid kits to keep you and anyone who works for you safe.
---
Selling food from home comes with risks, so you must ensure you're following best practices. Otherwise, an environmental health inspector may deem your home kitchen unsafe for commercial use and issue a notice – or worse. Our checklist will help you to ensure you cover all your bases and protect your customers from harm.
---
Frequently Asked Questions About Home Food Hygiene Inspections
As a leading provider of food hygiene training, we receive a lot of questions about selling food from home and home kitchen inspections. Here are some of the ones we are most frequently asked and our answers about what is required of you.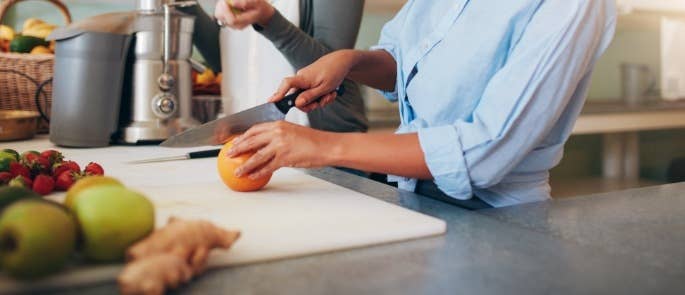 If you have any other questions that aren't covered here, leave us a comment below and we'll reply! You can also call us on 0333 006 7000 or email us at info@highspeedtraining.co.uk
How Often Are Home Kitchen Hygiene Inspections?
The frequency of home kitchen inspections depends on how long your business has been running and on previous inspection records. If you recently registered your home catering business, you should receive a visit from an EHO within 28 days of submitting your application. However, this depends on your business's level of risk and the EHO's availability.
You can even request an informal, initial visit before you start selling food from home. During this initial visit, EHOs can advise you on food hygiene at home, which will help you to ensure your kitchen is up to scratch. Call your local authority after registering to ask for an initial inspection.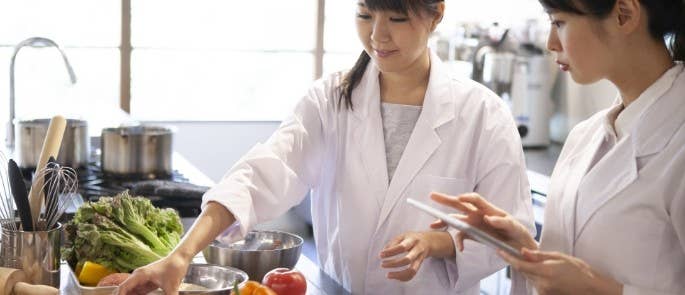 Once your business is up and running, inspections range from six months to five years. You can expect EHOs to visit more regularly, such as every six months, if your business is high risk and has a low food hygiene rating. If you're low risk and have a high food hygiene rating, you may not receive your next inspection for a year or longer.
Will I Know in Advance if an EHO is Coming to Inspect My Home Kitchen?
EHOs will not tell you when they're due to inspect your kitchen. The reason for this is because they need to see your business operating as normal. If you know that they're coming, you have an opportunity to prepare, which would not represent business as usual.
Can I Request Another Home Kitchen Inspection?
If you are unhappy with your food hygiene rating following an inspection, you can request a re-visit. To do this, you must first contact your local authority for information about why you received the rating. Then, you can appeal it in writing. Use the documents provided by the FSA here.
Do I Need Food Hygiene Training to Run a Home Catering Business?
While you don't need a specific 'home kitchen hygiene certificate', if you're cooking at home to sell food to customers, you do need to demonstrate an understanding of what food safety legislation requires of you. An effective way to receive this understanding is by undergoing some form of food hygiene training.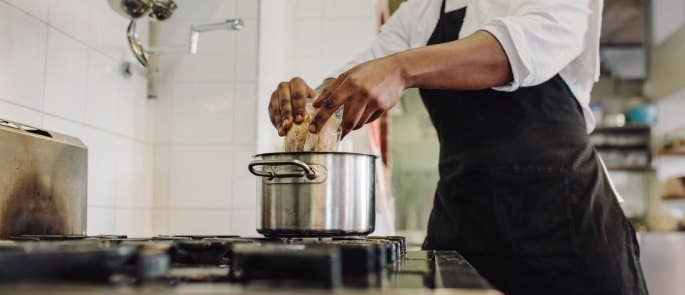 Aside from giving you the knowledge needed to carry out food operations safely, food hygiene training provides you with certification. Certificates are useful evidence to show EHOs during inspections, as they prove you've received an awareness of how to run your home catering business hygienically.
---
Downloadable Self Checklist for EHO Home Kitchen Inspections
To help you uphold high standards in your home catering business, you can download our kitchen inspections checklist below. It'll help you to check you've got everything covered, be prepared no matter when an EHO inspector comes by, and sell food from your home safely and legally.
---
What to Read Next: