What are the Skills for the Future of Work?
June 13, 2022
5 min read
The future of work is rapidly evolving. What were once considered core skills for the workplace are fast becoming obsolete. Due to the impact of technology and advances in automation, figuring out how to prepare for a future job role may sometimes feel a near impossible task.
But this isn't a time to sit back and wait for events to unfold. You can harness these ever-changing opportunities. No matter what career path you choose, upskilling and reskilling will help set you on the right track. In this article, we will outline what the future of work could look like, which key skills are likely to be useful to any workplace, and provide guidance on how you can be better prepared.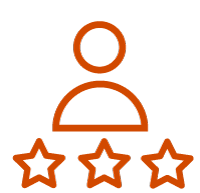 Want to prepare for your future?
Harness the future of work changes today with the help of our Business Skills courses. Or discover more about the benefits of transferable skills and how to upskill yourself through continuous learning here.
---
What Does the Future of Work Look Like?
The future of work consists of a new generation of jobs, brought about by vast technological enhancements. Automation is accelerating as machines evolve and robots take over roles traditionally performed by humans. 20 years ago offices were filled with filing systems, fax machines, and desktop computers. Nowadays, new technology allows us to work flexibly, store data securely and create more agile workplaces.
Disruptive technologies promise new solutions, further innovation, and new ways to connect with customers and markets. The growth of artificial intelligence (AI), robotics, and other forms of smart automation has the potential to create great economic benefits. However, some of these dramatic changes in today's working environment have resulted in organisational and human resource challenges that mirror wider social and political upheaval.
The future of work centres around two recurrent themes: investing in your education and focusing on skills training. More detail on the modern need to upskill can be found here.
Automation and other key technological changes will transform the workplace as people increasingly begin to interact with ever-smarter machines. This brings with it both benefits and risks for the future workplace.
Some of the benefits include:
Higher productivity.
Enhanced communication and collaboration.
Improved efficiency.
Potential increase in GDP.
Improved corporate performance.
Better decision-making.
More opportunities for personal development.
On the other hand, automation poses risks relating to:
Compliance and risk mitigation.
Data breaches.
User privacy.
Reputational risk.
Ethical and legal concerns.
It's important to consider both the risks and benefits as you look to prepare for the future of work. By familiarising yourself with these modern attributes you can get the most out of your career.
---
What are the Future of Work Skills?
Future of work trends continue to shine a spotlight on health and wellbeing, equality, and workplace safety. The notion of becoming T-shaped is another quickly emerging trend in the world of employment. Those who possess T-shaped characteristics can be highly valuable to any company.
As the demand for physical and manual skills falls, the need to learn new technological, social and emotional skills is likely to be greater in the future. No matter which career path you choose, there are a number of skills you should look to develop.
Desirable future of work skills include:
Cognitive flexibility – the ability to switch between thinking about different concepts or to think about multiple concepts at the same time.
Digital literacy.
Computational and analytical thinking – taking a complex problem and breaking it down into a series of smaller problems that are easier to understand and solve.
Communication.
Complex problem-solving – a series of observations and informed decisions used to find and implement a solution to a problem.
Judgment and decision-making.
Emotional and social intelligence – the awareness of your own and others' feelings in the present moment.
Creative and innovative mindset – forward-thinking that allows you to be open to testing new methods, making mistakes and working collaboratively.
Self-management.
Resilience.
Active learning – actively participating in the learning process rather than passively taking in information.
Stress tolerance.
Flexibility.
Leadership and social influence.
Developing your skills in these four key areas – cognitive, interpersonal, self-leadership, and digital – will help kickstart your future in any given career.
If you're interested in developing your skills, why not take a look at our Personal Development Courses. Find everything from Communication Skills to Leadership and Management.
---
How to Prepare for the Future of Work
As the nature of work continues to change, the education we obtain in early adulthood may not equip us all of the knowledge and skills we need for our careers. According to the World Economic Forum's report on the future of work, improving the access and delivery of reskilling and upskilling opportunities is critical.
With these findings in mind, it's crucial to begin adapting your skill set to ensure you are prepared for the future of work. You may need to refocus your goals and vision to align with future innovation and create a personal development plan.
Upskilling brings many benefits for both you and your employer. It demonstrates a commitment to your professional development and career progression and opens up new doors to potential work opportunities. From increasing staff morale to avoiding high employee turnover, being part of an aspirational and ambitious culture has the potential to help everyone in the long run.
It's important to embrace the changing nature of careers. Where there was once a comfortable and reliable path with the three-stage life approach – find a job, climb the corporate ladder, then retire – now, there are more flatter, fluid career paths you may choose to take. This allows you the opportunity to pivot and reinvent yourself over and over if you so wish.
There are four key steps anyone can follow to ensure you are prepared for the future of work. Here are some tips to get you started:
Evaluate your current skills and work out if there are any you lack. Through self-reflection you are able to better understand your development needs and identify which skills to work on.
Search for potential learning opportunities. This could be through finding a mentor, reading more, or taking an online training course.
Reskill and look at transferable skills. Prioritise the skills you need right now, create a personal development plan, and commit to it.
Learn. Continuous learning is your best chance at keeping up with a world that is constantly changing.
If you wish to learn more about how you can upskill yourself, take a look at our article here.
---
Although technology and automation are accelerating rapidly, they are also creating a multitude of opportunities for you to grasp. New skills will continue to emerge, but by growing and upskilling yourself today, you will be better prepared for the future of work.
---
Further Resources: